HMD Global, the home of Nokia phones, stretched itself too thin by trying to launch phones in all price brackets, so it made the tough choice to pull out of the flagship race. "Making an $800 phone doesn't make sense for us at the moment," Adam Ferguson, HMD's Global Head of Product Marketing, told Android Authority in an interview.
The Nokia 9 PureView launched in 2019 and it was an attempt to return the brand to the premium camera phone market that it once ruled. Unfortunately, the new PureView was not received well and rumors of a sequel were always followed up with new rumors of delays. No Nokia flagship has come since the PureView and none is coming in the foreseeable future.
HMD will focus on its core business for now – entry-level and mid-range smartphones as well as feature phones. It wants Nokia phones to be known as devices that last several years of use, have multi-day battery life and come with an affordable price tag.
The new strategy has been working, the company recently celebrated its first full year of operational profit. In fact, it has been profitable since Q3 2021 and Q4 2021 was the most profitable quarter in the company's short history.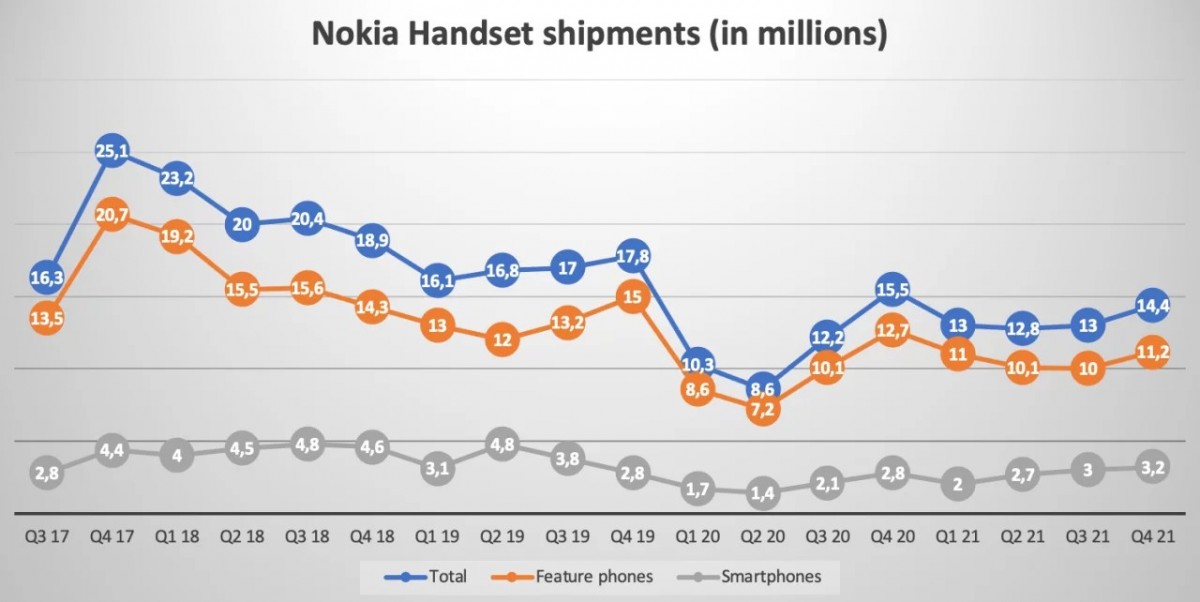 Shipments of Nokia-branded feature phones and smart phones (source: Strategy Analytics)
HMD has plans on how to grow – it wants to be the market leader for pre-paid smartphones in the US by the end of this year. Another move is splitting services into a separate division that will focus on business users (e.g. IoT data roaming and SIM management).
From there, it will slowly build out its business in ways that make sense and that support the core business. Maybe one day that will include a prestigious flagship, but maybe not.
Is this the right approach? Our 8 ball says "ask again later", but it's not hard to see why HMD made that choice. The once mighty HTC is still showing signs of life with the occasional release, but it has been years since we've seen a new HTC flagship. LG kept trying for years, but eventually threw in the towel and stopped making phones altogether. Sony is still making phones, but at this point they are more like accessories for Sony mirrorless cameras than an independent business.
Trying to compete in the flagship segment is tough, especially for smaller companies that have a harder time securing important components in times of silicon scarcity. Maybe sticking to the entry-level and mid-range markets really is the more viable path. Either way, we wish HMD luck as the number of smartphone brands that users can choose from has shrunk quite a bit in recent times. And entering the market is tough – just ask Onward Mobility, which spent several years trying to resurrect the BlackBerry brand, unsuccessfully.
R
I get it But they could at least appease this end of the market by releasing one good high-end mid-range that's not too big say 6 inch. PureView by the way was a great attempt We just marketed incorrectly
S
Hmd global don't need make expensive smartphones That's fine some brands just make budget and affordable smartphones that are good for there price range But hmd global high price low end hardware specs poor soc poor ram capacity ...
m
I am Nokia fans for many years hmd global killing Nokia brand much more
ADVERTISEMENT