HMD announces Nokia 2660 Flip, 5710 XpressAudio and 8210 4G feature phones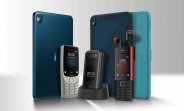 Nokia's latest feature phones are a blast from the past with some modern twists. There's the re-imagined Nokia 8210 4G which introduces 4G to 1999's Nokia 8210 as well as the Nokia 2660 Flip which offers a familiar experience and large tactile buttons. Nokia is also honoring the XpressMusic line with the Nokia 5710 XpressAudio - a candybar handset with built-in wireless earbuds.
Nokia 5710 XpressAudio is the more exciting offering out of the bunch thanks to its built-in wireless earbuds. The back of the phone features a sliding mechanism that houses the buds and charges them while not in use. You can use the buds to listen to music stored on the device (up to 32GB storage via the microSD slot) or FM Radio and you can also connect them to any other device like a smartphone or tablet.
Nokia 5710 brings a 2.4-inch QVGA color screen and signature audio controls on the side of the display. The phone also packs a VGA rear camera and a removable 1,450 mAh battery rated at up to 6 hours of 4G talk time and charges via microUSB. It runs the S30+ interface. Nokia 5710 comes in white/red and black/red colors with the earbuds matching the phone's primary color.
Nokia 8210 4G takes its design from the classic model launched in 1999 but updates the hardware on all fronts. There's a 2.8 QVGA color display, LTE connectivity and support for up to 32GB of storage via a microSD card. The phone is made from polycarbonate and comes in sand, blue and red colors. There's a removable 1,450 mAH battery rated at up to 6 hours of talktime on 4G and up to 19 days on standby. Other extras include an FM Radio receiver that works with both wired and wireless earbuds, a built-in MP3 player and the fan-favorite Snake game.
Nokia 2660 Flip is the third new entry and brings similar specs to the other two new Nokia feature phones but in a clamshell form. It has a 2.8 QVGA main screen, a secondary 1.77-inch panel, a VGA camera, and a 1,450mAh battery rated at up to 20 days on standby.
Nokia 2660 Flip also has large tactile buttons and Hearing Aid Compatibility (HAC), making it a viable alternative for elderly users. The device also runs on the S30+ interface and supports up to 32GB SD cards. It comes in black, blue and red colors.
All three phones are coming top the UK later this month. The Nokia 8210 4G and Nokia 2660 Flip will retail for £64.99 (€59) while the Nokia 5710 XpressAudio will go for £74.99 (€69).
R
Non of them have WiFi nor KaiOS
R
I want to know about 8210
?
2660 flip phone not available in market
ADVERTISEMENT