Display
The Huawei P9 lite has a 5.2" LCD screen of 1080p resolution. So, just like the flagship P9, right? Looking a bit closer at the specs shows it's a mere IPS unit as opposed to the IPS-NEO screen used on the P9.
Neo or not, the P9 Lite screen keeps colors and contrast on the money even at extreme viewing angles. The image quality, in general, is quite impressive.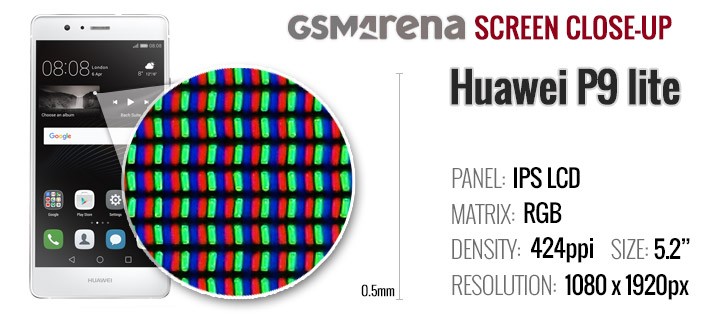 The screen is just as bright and contrast is just as high as on the flagship P9, black levels are quite similar too. Contrast is a solid 1,200:1, better than similar phones in this price bracket. It's bright too at 500 nits, few competitors can do better.
Display test
100% brightness
Black, cd/m2
White, cd/m2
Contrast ratio
Huawei P9
0.46
500
1094
Huawei P9 Lite
0.42
497
1192
LG Nexus 5X
0.30
455
1542
HTC One A9
-
366
∞
Samsung Galaxy A5 (2016)
0.00
421
∞
Samsung Galaxy A5 (2016) max auto
0.00
601
∞
Xiaomi Mi 4S
0.49
475
975
Oppo R7
0.00
362
∞
Lenovo Vibe K5 Plus
0.44
441
998
The minimum brightness is 9.8 nits, which shouldn't hurt sleepy eyes in the middle of the night.
The Auto brightness setting actually moves the brightness slider so you can see it in action. Unfortunately, this also means you can't use the slider to override the auto mode.
From the settings menu, you'll find a Color temperature setting. You can drag the slider from Warm to Cold to find a look that suits you. We found the default setting a bit cold and in fact dragging the slider all the way to Warm produced more accurate colors.
The default setting does okay - an average DeltaE of 7.7 and a max of 14.6 are average and similar to the Galaxy A5 (2016), which proved one of the less accurate Super AMOLEDs.
However, with the Color temperature set to Warm, we got much better readings - an average DeltaE of 4.3 and a max of 6.7. The Huawei P9 lite actually topped its pricier sibling, which got slightly worse readings. Same goes for most other competing phones, aside from the Nexus 5X screen, which comes with a factory calibration.
Sunlight legibility is above average for the class (it even bests some pricier phones). This is the only place where the flagship P9 screen does better.
Sunlight contrast ratio
Samsung Galaxy S6 edge+
4.615
Samsung Galaxy S7 edge
4.439
OnePlus 3
4.424
Samsung Galaxy S7
4.376
HTC One A9
4.274
Samsung Galaxy A3
4.241
Samsung Galaxy S6 edge
4.124
Samsung Galaxy Note5
4.09
Huawei Nexus 6P
4.019
Vivo Xplay5 Elite
3.983
OnePlus X
3.983
Oppo R7s
3.964
Samsung Galaxy A7 (2016)
3.918
Samsung Galaxy A5
3.895
Samsung Galaxy J7 outdoor
3.879
Samsung Galaxy J2 outdoor
3.873
Samsung Galaxy A8
3.859
Apple iPhone 6
3.838
Samsung Galaxy A9 (2016)
3.817
Motorola Moto X (2014)
3.816
Samsung Galaxy J7 (2016) outdoor mode
3.802
Samsung Galaxy A5 (2016)
3.789
Apple iPhone 6s
3.783
Meizu Pro 5
3.781
Microsoft Lumia 650
3.772
Samsung Galaxy J7 (2016)
3.756
Oppo F1 Plus
3.709
Vivo X5Pro
3.706
Apple iPhone SE
3.681
Samsung Galaxy A7
3.679
Meizu PRO 6
3.659
BlackBerry Priv
3.645
Apple iPhone 6s Plus
3.53
Acer Jade Primo
3.521
Microsoft Lumia 950
3.512
Oppo R7 Plus
3.499
Samsung Galaxy J7
3.422
Meizu MX5
3.416
Oppo R7
3.32
Samsung Galaxy J2
3.235
Sony Xperia X Performance
3.234
Motorola Moto X Play
3.222
Huawei P9
3.195
Lenovo Vibe Shot
3.113
Motorola Moto X Force
3.105
LG Nexus 5X
3.092
Huawei Mate S
3.073
Microsoft Lumia 640 XL
3.065
Apple iPhone 6 Plus
3.023
Sony Xperia X
2.989
Samsung Galaxy Note
2.97
Huawei Mate 8
2.949
LG G5
2.905
HTC One S
2.901
Sony Xperia Z5
2.876
Microsoft Lumia 550
2.851
Sony Xperia Z5 compact
2.784
LG V10
2.744
Xiaomi Redmi 3
2.735
Sony Xperia M5
2.69
Huawei P9 Lite
2.679
Vivo V3Max
2.659
Xiaomi Mi 4i
2.641
Sony Xperia XA
2.609
Xiaomi Mi 4c
2.574
LeEco Le Max 2
2.567
Microsoft Lumia 640
2.563
Lenovo Moto G4
2.544
Oppo F1
2.528
Sony Xperia Z5 Premium
2.525
Sony Xperia M4 Aqua
2.503
Motorola Moto G
2.477
Lenovo Vibe K5 Plus
2.473
Huawei G8
2.471
Sony Xperia Z
2.462
Huawei Honor 7
2.406
Sony Xperia E5
2.386
ZUK Z1 by Lenovo
2.382
HTC 10
2.378
Samsung Galaxy J5 (2016)
2.378
HTC One E9+
2.305
Alcatel One Touch Hero
2.272
Lenovo Vibe K4 Note
2.254
Sony Xperia C5 Ultra
2.253
Xiaomi Redmi Note 3 (MediaTek)
2.249
Sony Xperia C4 Dual
2.235
Motorola Moto G (2014)
2.233
LG Nexus 5
2.228
Huawei P8
2.196
Xiaomi Redmi Note 2
2.166
OnePlus Two
2.165
HTC One X
2.158
LG Aka
2.145
Archos 50 Diamond
2.134
Xiaomi Redmi Note
2.119
Xiaomi Mi 4S
2.095
Acer Liquid X2
2.084
Huawei P8lite
2.078
Moto G 3rd gen max manual
2.026
Xiaomi Mi Max
1.996
Sony Xperia E4g
1.972
OnePlus One
1.961
Meizu m3 note
1.923
Meizu m2 note
1.892
BlackBerry Leap
1.892
HTC Butterfly
1.873
ZTE Nubia Z9 mini
1.759
Sony Xperia U
1.758
Asus Zenfone Selfie
1.68
Motorola Moto E (2nd Gen)
1.675
ZTE Nubia Z9
1.659
Jolla Jolla
1.605
Motorola Moto E
1.545
Sony Xperia M
1.473
Xiaomi Redmi 2
1.311
Sony Xperia C
1.283
Meizu MX
1.221
Sony Xperia E
1.215
The P9 lite also has an optional glove mode. Also, the proximity sensor can disable the touchscreen (pocket detection).
Connectivity
The Huawei P9 lite is a dual-SIM phone (using a hybrid slot means you lose the extra line if you need more storage). It offers speedy LTE Cat. 4 for up to 150Mbps down and up to 50Mbps up.
Locally, it has 2.4GHz Wi-Fi b/g/n (no 5GHz or ac, however) and Bluetooth 4.1 LE. NFC is available on some models, but not all - check the model for your region.
Wired connectivity is handled by microUSB 2.0.
There's no Type-C here like the flagship P9 has. USB On-The-Go is not supported either so you can't connect peripherals. There's no wired TV-out option either.
Battery life
At least in the battery department, the phone doesn't deserve the 'lite' label. It has a 3,000mAh battery, same as the flagship variant. The Kirin 650 chipset used in the Huawei P9 lite is built on a 16nm FinFET process, same as HiSilicon's flagship 955 chipset.
The Endurance rating is very good - 79 hours with one SIM, 71 hours with two. If you need to guarantee that some background apps remain active, make sure to lock them. Otherwise the overly aggressive memory manager tends to kill them.
Web browsing and video playback times are excellent, 11 hours and more. The talk time is short in comparison, but still quite good.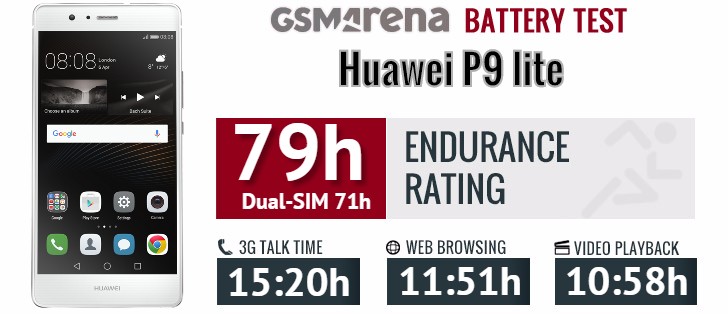 The battery testing procedure is described in detail in case you're interested in the nitty-gritties. You can also check out our complete battery test table, where you can see how all of the smartphones we've tested will compare under your own typical use.
Battery Manager is part of the Phone Manager and includes a selection of three power plans with a varying degree of limiting certain phone features. From here you can also control which apps can remain active after you send the phone to sleep and an estimate of how long the phone is expected to last in each mode.
The most frugal Ultra power saving mode essentially turns the P9 Lite into a feature phone (but more than doubles the expected battery life).