ZTE's booth at the MWC was among the more interesting ones – there we found the nubia Z50 flagship phone, but the company's first 3D tablet also caught our eye, as did a pair of shades that actually creates a virtual 120" display.
ZTE nubia Z50
The Ultra model was just announced, while the vanilla nubia Z50 was launched in mid-December in China. So, it's not exactly new, but it flew out to Barcelona for the MWC and we got to spend some time with the phone.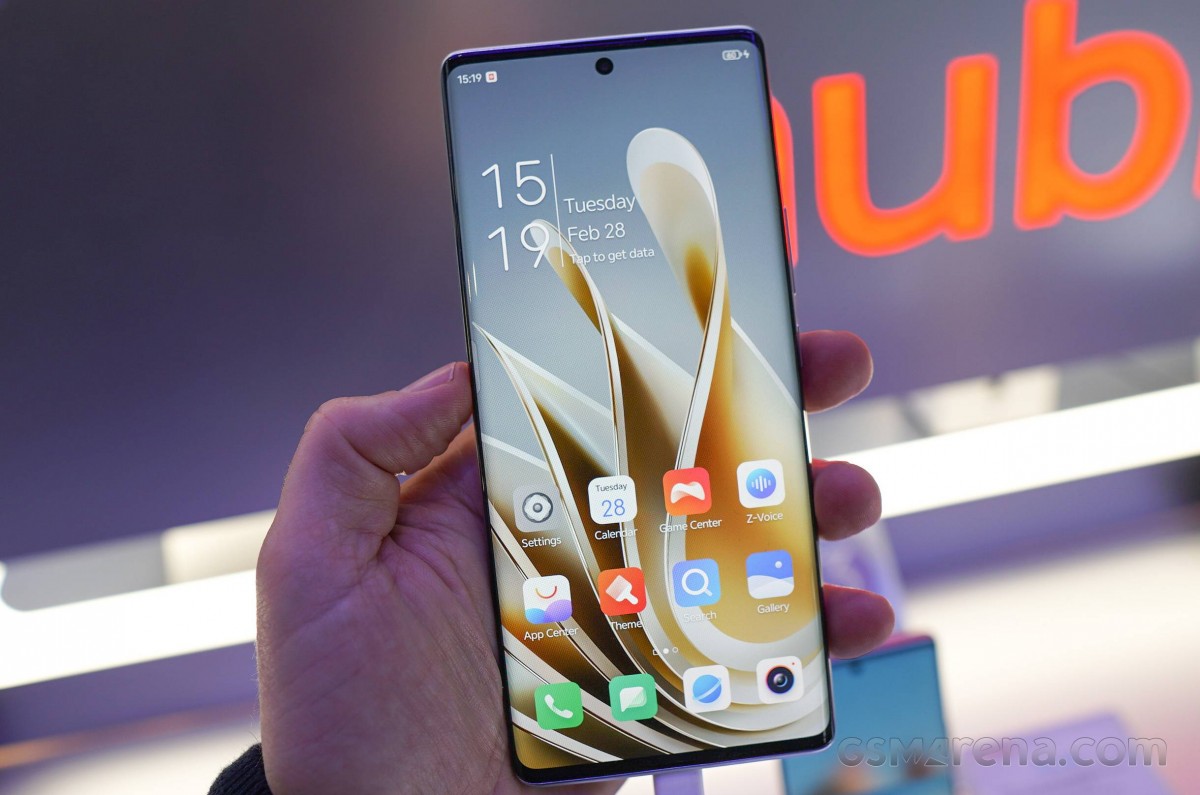 This vanilla model is no slouch, it has a Snapdragon 8 Gen 2 inside and can be configured with up to 16GB of RAM and up to 1TB storage (UFS 4.0). The one major advantage that the Ultra will have over this one is the 85mm tele lens.
If you have been following nubia's recent launches, you won't be surprised to find that the Z50 has a 35mm lens on its main camera (64MP, 1/1.7", Sony IMX787). This offers a good middle ground between a portrait lens and the typical smartphone main lens (which tend to be a good deal wider, around 24mm on average). Anyway, this lens has a bright f/1.6 aperture and OIS. You can easily tell the main camera by its red trim.
Also on board is a 50MP ultra wide module with a 14mm lens (116° FoV). With autofocus, the UW camera is also capable of shooting macro images. The third module,the one surrounded by the LED flash, isn't a camera but a multi-channel color sensor for ambient light.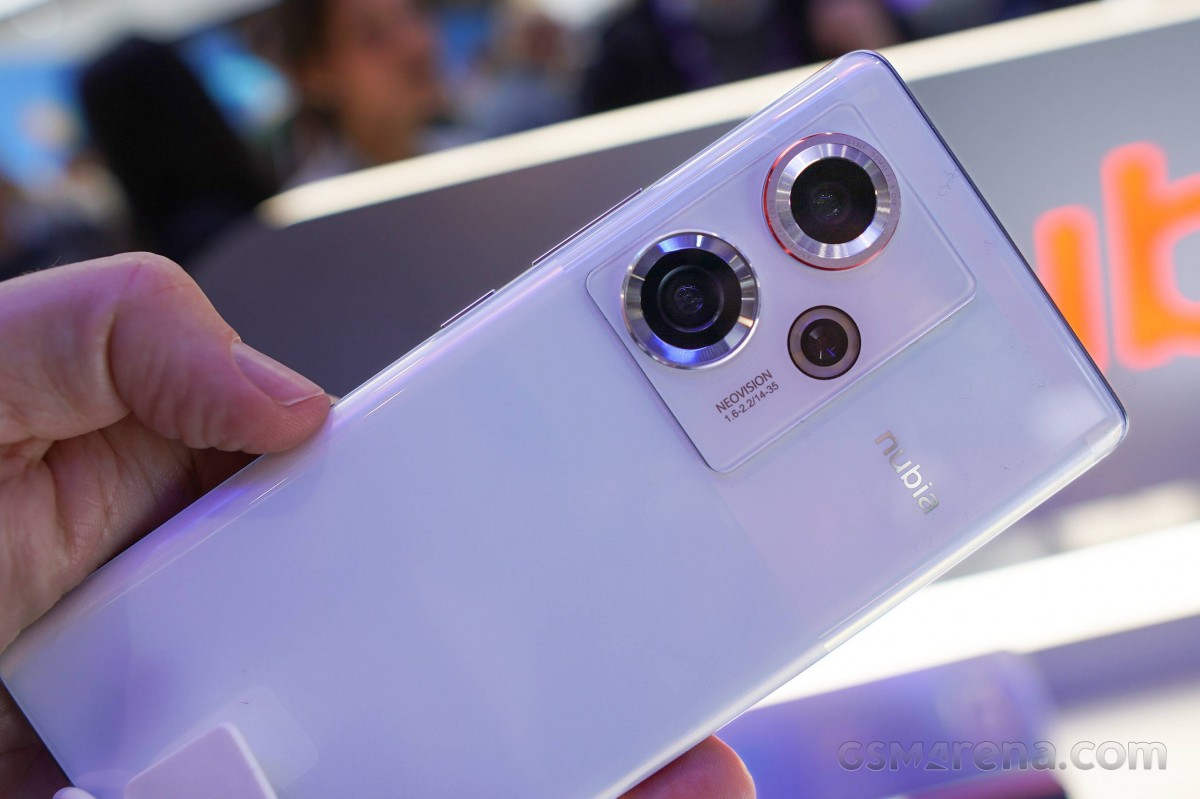 On the front, there is a 16MP camera punch holed into the display. This display is 6.67" in size with FHD+ resolution (20:9), so it's not the sharpest but with 144Hz refresh rate and HDR10+ support, it offers great visuals for multimedia and gaming. The stereo speakers help too with support for DTS:X Ultra.
For comparison, the Red Magic 8 Pro has a 120Hz display. Of course, that one has an active cooling fan, but the 36,462mm² vapor chamber on the nubia Z50 is larger than many flagships.
The nubia Z50 unit that we got to play with was white, but the company is also offering the phone in black as well as a green (vegan) leather option. A red special edition model was released in celebration of the Year of the Rabbit too.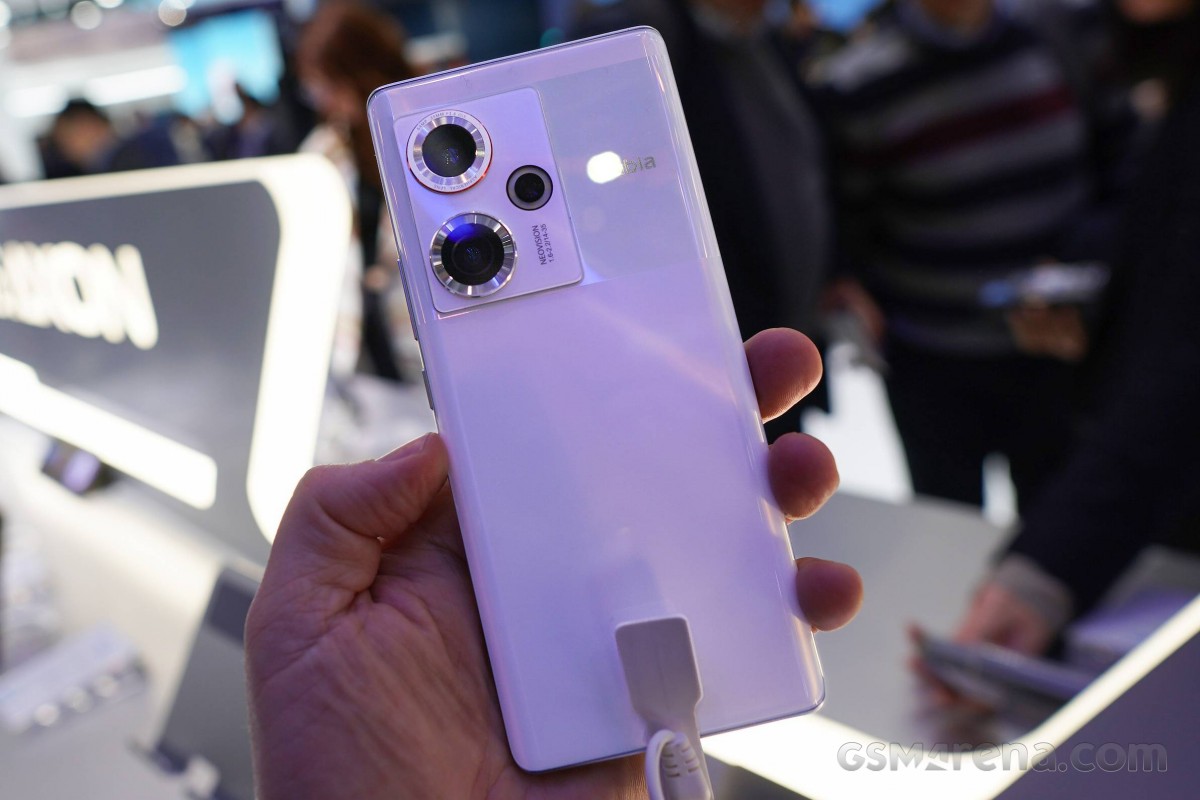 Anyway, the phone is equipped with a large 5,000mAh battery with fast 80W charging (wired only).
Unfortunately, we still don't have any information of when ZTE might bring the nubia Z50 to a global audience.
ZTE nubia Pad 3D
While 3D stuck around in cinemas, it quickly fell out of fashion for TVs and portable devices. Most people will just shrug, but some of you may still find it super cool to watch videos or play games in 3D. If that's you, ZTE has you covered with the new nubia Pad 3D.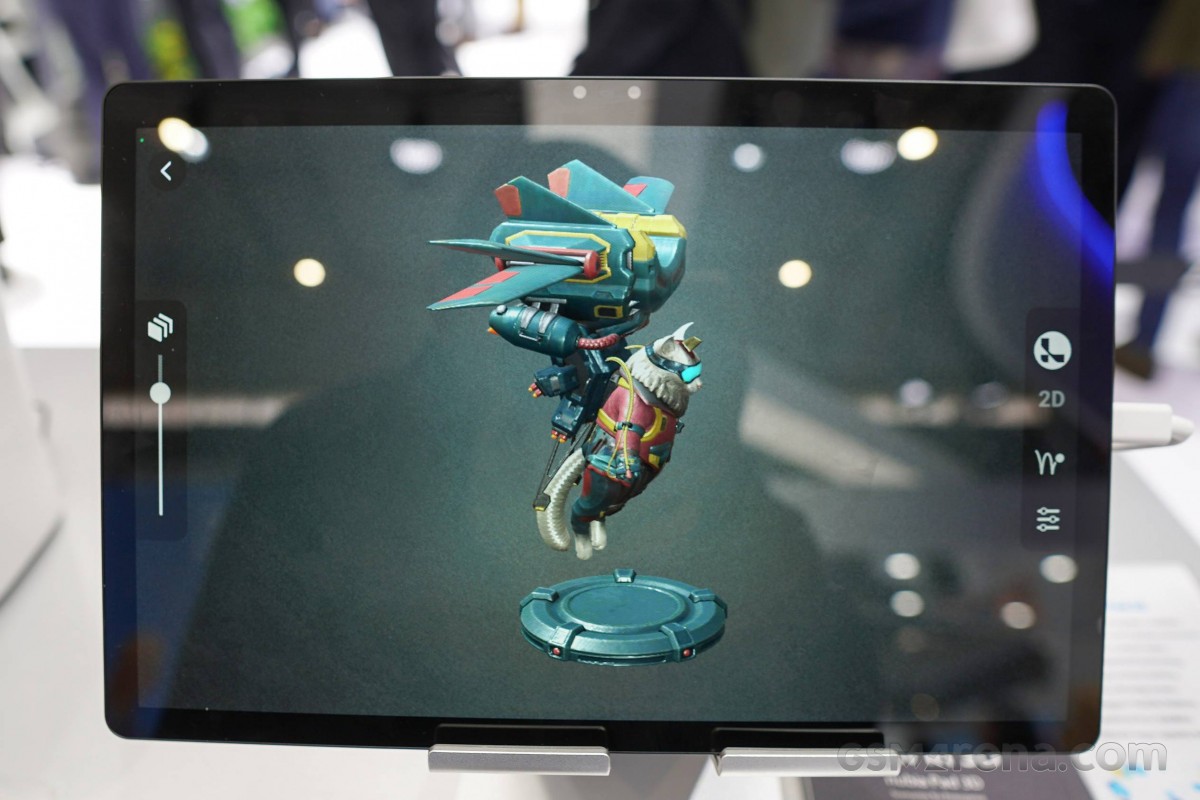 This is a glasses-free display, which is more comfortable. And you won't get strange looks for wearing odd glasses – though if that's your thing, check out the next section. Anyway, the tablet uses face tracking to present an immersive 3D image from your point of view.
The stereoscopic effect is achieved with a proprietary DLB layer on top of the standard 12.4" LCD (120Hz, 2,560 x 1,600px, 16:9). The viewing angles before the 3D effect stops working is surprisingly large too, so you don't have to look at the screen dead on like with early autostereoscopic displays. Unfortunately, the effect is impossible to photograph.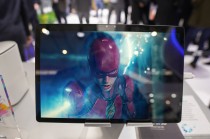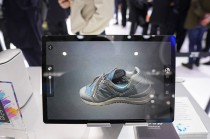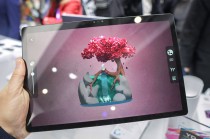 nubia Pad 3D's display offers a glasses-free 3D experience for videos and games
The failure of 3D in the home means that there isn't much easily accessible content. ZTE has thought of that – the pre-installed LeiaTube and LeiaFlix stream 3D videos, LeiaPlayer and LeiaViewer work for on-device content. Also, there is a built-in 2D-to-3D conversion feature for two dimensional content.
3D games can naturally render a second perspective and currently there are over 50 supported titles (courtesy of Gameloft, Invictus, PlayChemy and others), which are available for download from the LeiaAppstore.
Additionally, you can create 3D content yourself with the pair of dual cameras: 2x 8MP on the front and 2x 16MP on the back. These shoot both photos and videos and if you have two nubia Pad 3Ds, you can even do 3D video calls.
Whether you're playing games, watching videos or video chatting, the tablet pumps audio through quad speakers (with Dolby Atmos support) and has two microphones with noise suppression.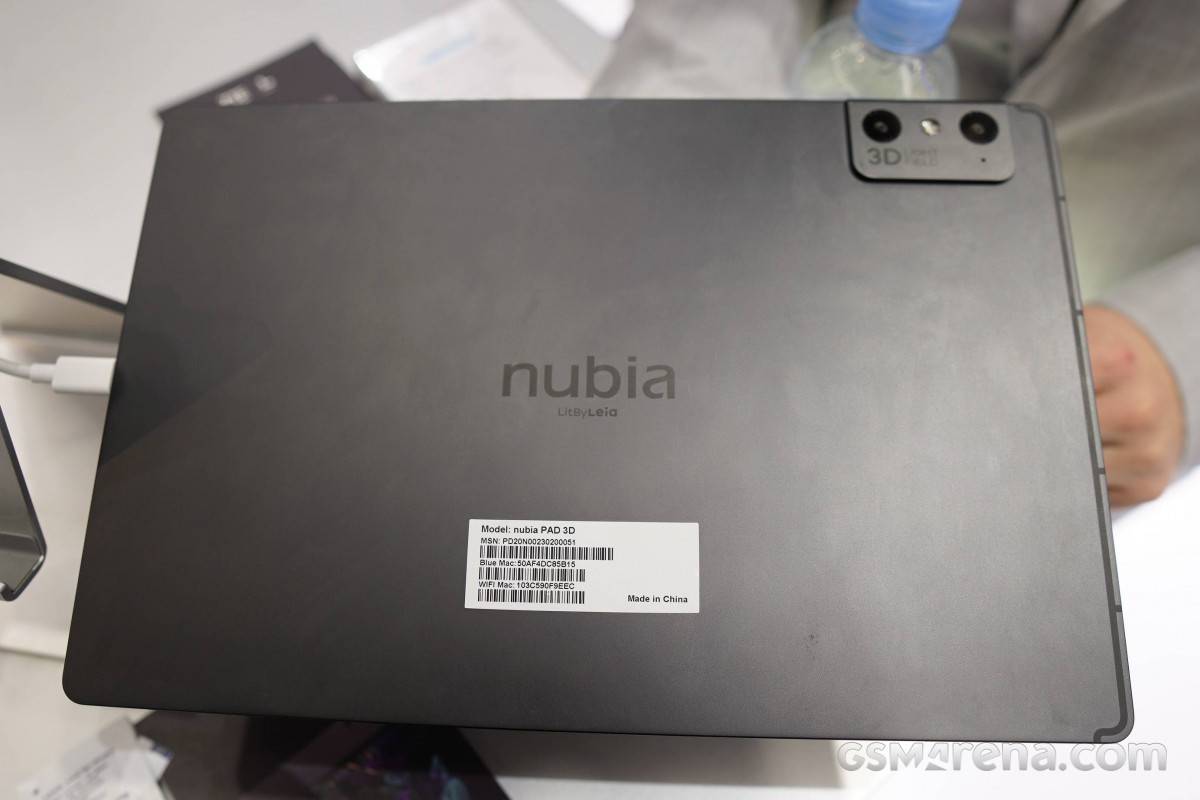 The slate runs Android 13 on the old Snapdragon 888 chipset with 8GB of RAM and up to 256GB storage. There is a microSD slot available, so you can bring along your 3D movie collection.
There is a large 9,070mAh battery inside with 33W fast charging. Five pogo pins are available on the side of the tablet, which are intended for use with charging docks and smart accessories (e.g. a keyboard, though ZTE is yet to unveil one specifically for the nubia Pad 3D).
Pre-orders for the nubia Pad 3D will start later this month, sales will kick off in early April (though we're yet to hear the price).
ZTE nubia Neovision Glass
ZTE also showed off a pair of glasses that are actually a portable head-mounted display. These are fairly light at 79g and while they do draw attention, people might not notice the thicker frame, which houses the electronics. The front "lenses" are magnetically attached so it's quick and easy to customize the look.
The Neovision Glass is not self-contained, you need to hook up an external device to drive it. It works with phones and tablets (e.g. the nubia Z50 and Tab 3D), of course, as well as laptops and consoles (Xbox, PS5, Switch). Ideally, these devices will have native DisplayPort functionality, but if they don't, you can use a projection box to make the connection. Either way, there is no battery built into the glasses (which is why they are so light), so the connected device also supplies power.
The glasses can create a display with an apparent size up to 120" and have 43° field of view. They use Micro-OLED displays with 3,500ppi pixel density and render 1080p video per eye. The displays are quite bright too, reaching a maximum of 1,800 nits and you can adjust the interpupillary distance.
For audio, depending on your setting you can use the built-in omni-directional speakers or just use headphones. Brightness and audio volume are controlled by two pairs of buttons on the frame.
To be clear, these glasses aren't a VR headset – there is no head tracking. This is just a small, portable display that you can stuff in your backpack and use on a plain or train, in your hotel room or just at home when someone else has occupied the TV, for example.
he couldnt even handle neovision glasses.
?
Wonder how will using these glasses affect the eyesight.
?
Look at the man wearing those glasses. very funny. hahah
ADVERTISEMENT