Display
Google was very careful when picking the display of the Pixel XL - yes, a 5.5" diagonal is an industry standard, but the resolution and type of display were chosen to benefit its VR effort Daydream.
QHD resolution makes for a sharp 534ppi pixel density. VR is unforgiving when it comes to pixel density, even though outside this viewing case we find 1080p to be enough.
There is a "Display size" setting that changes the scale of the UI, something we're normally used to seeing in heavily customized ROMs. You can adjust it to your eyesight - if it's good, the high pixel density allows for small, dense text. Or you can take it easy and bump up the scale to make things readable (there's a separate setting for font size).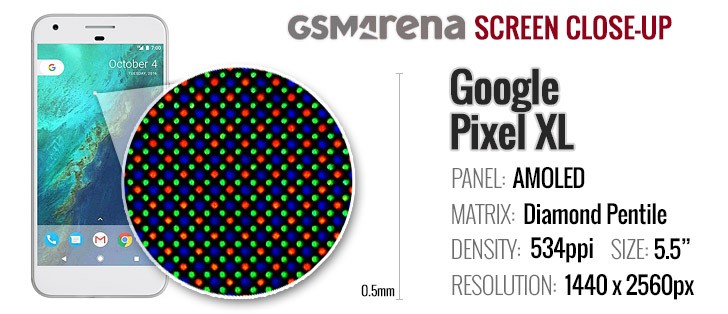 The Pixel XL uses an AMOLED display, specifically a low-persistence display. There is an option called "low motion blur" in the settings and it is specifically for Daydream. You can turn it off entirely, but not enable it for normal operation - it achieves the high frame rate required for VR (and removes ghosting) but is too demanding for regular phone use.
Display test
100% brightness
Black, cd/m2
White, cd/m2
Contrast ratio
Google Pixel XL
0
432
∞
Samsung Galaxy S7 max auto
0.00
563
∞
Samsung Galaxy S7 edge
0.00
392
∞
Apple iPhone 7 Plus
0.41
573
1398
Apple iPhone 7 Plus (max auto)
0.50
681
1362
LG V20
0.43
475
1097
LG V20 Max auto
0.59
628
1064
ZTE Axon 7
0.00
352
∞
OnePlus 3
0.00
433
∞
Huawei P9 Plus
0.00
400
∞
The 5.5" screen is reasonably bright - 430nits at maximum - but lacks the boost some AMOLEDs do in Auto mode and very bright conditions.
This could have affected its best-case sunlight legibility, but the truth is that the Pixel XL screen is one of the best we have tested under a bright light.
Sunlight contrast ratio
Samsung Galaxy S6 edge+
4.615
Samsung Galaxy S7 edge
4.439
OnePlus 3
4.424
Samsung Galaxy S7
4.376
HTC One A9
4.274
Samsung Galaxy Note7
4.247
Samsung Galaxy A3
4.241
Google Pixel XL
4.164
ZTE Axon 7
4.154
Samsung Galaxy S6 edge
4.124
Samsung Galaxy Note5
4.09
Huawei Nexus 6P
4.019
OnePlus X
3.983
Vivo Xplay5 Elite
3.983
Oppo R7s
3.964
Apple iPhone 7
3.964
Huawei P9 Plus
3.956
Samsung Galaxy A7 (2016)
3.918
Samsung Galaxy C5
3.911
Samsung Galaxy C7
3.896
Samsung Galaxy A5
3.895
Samsung Galaxy J7 outdoor
3.879
Samsung Galaxy J2 outdoor
3.873
Samsung Galaxy A8
3.859
Samsung Galaxy A9 (2016)
3.817
Motorola Moto X (2014)
3.816
Samsung Galaxy J7 (2016) outdoor mode
3.802
Xiaomi Redmi Pro
3.798
LG V20 Max auto
3.798
Sony Xperia XZ
3.795
Samsung Galaxy A5 (2016)
3.789
Apple iPhone 6s
3.783
Meizu Pro 5
3.781
Microsoft Lumia 650
3.772
Samsung Galaxy J7 (2016)
3.756
Oppo F1 Plus
3.709
Vivo X5Pro
3.706
Sony Xperia X Compact
3.694
Apple iPhone SE
3.681
Samsung Galaxy A7
3.679
Meizu PRO 6
3.659
BlackBerry Priv
3.645
Apple iPhone 7 Plus
3.588
Apple iPhone 6s Plus
3.53
Samsung Galaxy J3 (2016)
3.523
Samsung Galaxy J3 (2016) outdoor mode
3.523
Acer Jade Primo
3.521
Microsoft Lumia 950
3.512
Oppo R7 Plus
3.499
nubia Z11
3.466
Samsung Galaxy J7
3.422
Meizu MX5
3.416
LG V20
3.402
Oppo R7
3.32
Xiaomi Mi 5s
3.276
Samsung Galaxy J2
3.235
Sony Xperia X Performance
3.234
Motorola Moto X Play
3.222
Huawei P9
3.195
Lenovo Vibe Shot
3.113
Motorola Moto X Force
3.105
LG Nexus 5X
3.092
Huawei Mate S
3.073
Microsoft Lumia 640 XL
3.065
Sony Xperia X
2.989
Samsung Galaxy Note
2.97
Huawei Mate 8
2.949
Xiaomi Redmi 3S
2.913
Sony Xperia XA Ultra
2.906
LG G5
2.905
HTC One S
2.901
Xiaomi Mi 5s Plus
2.884
Sony Xperia Z5
2.876
Microsoft Lumia 550
2.851
Xiaomi Redmi 3 Pro
2.803
Sony Xperia Z5 compact
2.784
LG V10
2.744
Xiaomi Redmi 3
2.735
Sony Xperia M5
2.69
Huawei P9 Lite
2.679
Vivo V3Max
2.659
Xiaomi Mi 4i
2.641
Sony Xperia XA
2.609
Xiaomi Mi 4c
2.574
LeEco Le Max 2
2.567
Microsoft Lumia 640
2.563
Lenovo Moto G4
2.544
Oppo F1
2.528
Sony Xperia Z5 Premium
2.525
Huawei Honor 7 Lite / Honor 5c
2.506
Sony Xperia M4 Aqua
2.503
Oppo F1s
2.481
Motorola Moto G
2.477
Lenovo Vibe K5 Plus
2.473
Huawei G8
2.471
Huawei nova
2.467
Sony Xperia Z
2.462
Lenovo Vibe K5
2.459
Huawei Honor 7
2.406
Sony Xperia E5
2.386
ZUK Z1 by Lenovo
2.382
HTC 10
2.378
Samsung Galaxy J5 (2016)
2.378
Huawei nova plus
2.329
HTC One E9+
2.305
Alcatel One Touch Hero
2.272
Apple iPhone 4S
2.269
Lenovo Vibe K4 Note
2.254
Sony Xperia C5 Ultra
2.253
Xiaomi Redmi Note 3 (MediaTek)
2.249
Sony Xperia C4 Dual
2.235
Xiaomi Mi Note
2.234
Motorola Moto G (2014)
2.233
LG Nexus 5
2.228
Huawei P8
2.196
Huawei Honor 6
2.169
Xiaomi Redmi Note 2
2.166
OnePlus Two
2.165
HTC One X
2.158
Xiaomi Redmi Note 4
2.145
LG Aka
2.145
Archos 50 Diamond
2.134
Xiaomi Redmi Note
2.119
Xiaomi Mi 4S
2.095
Acer Liquid X2
2.084
Huawei P8lite
2.078
Moto G 3rd gen max manual
2.026
Xiaomi Mi Max
1.996
Sony Xperia E4g
1.972
OnePlus One
1.961
Meizu m3 note
1.923
BlackBerry Leap
1.892
Meizu m2 note
1.892
HTC Butterfly
1.873
ZTE Nubia Z9 mini
1.759
Sony Xperia U
1.758
Asus Zenfone Selfie
1.68
Motorola Moto E (2nd Gen)
1.675
ZTE Nubia Z9
1.659
Jolla Jolla
1.605
Motorola Moto E
1.545
Sony Xperia M
1.473
Xiaomi Redmi 2
1.311
HTC Desire C
1.3
Sony Xperia C
1.283
Meizu MX
1.221
Sony Xperia E
1.215
The color accuracy is fairly average - nothing like the accurate Nexus 5X screen or even the HTC 10, which scored pretty well in sRGB mode. The Pixel XL lacks any color screen modes besides the night-time blue light filter, so you are essentially stuck in the Vivid mode of the HTC 10.
For reference, the Pixel XL screen posted an average deltaE of 5.4 and a maximum of 13, compared to HTC 10's avg 2.9/max 5.8 and iPhone 7 Plus' avg 1.3/max 4.
After some digging, we found an sRGB option hidden in the Developer settings. Enabling it dropped the average deltaE to a very good 2.6 and the maximum to 4.7. That makes it better than the HTC 10, though still far from iPhone's accuracy.
Color accuracy is only part of the equation - the color gamut (the number of possible colors) is another. Apple already dove into that market with Wide color gamut displays on the iPad Pro and now iPhone 7 Plus. Samsung has been sticking closely to sRGB and even introduced HDR on the Galaxy Note7 (while that model failed, it's almost certain that the Galaxy S8 will have an HDR screen too).
Connectivity
The Google Pixel XL uses the latest commercially available modem, the Snapdragon X12, and it supports LTE Cat. 11 - that's 600/75Mbps (limited to Cat. 9 450/50Mbps on some carriers).
For supreme audio quality there's Ultra HD Voice, which works either over VoLTE or Wi-Fi (side note: if you use Google's Project Fi carrier, Wi-Fi calling will be a common occurrence). You need carrier support for this, of course, but Qualcomm says it is more resilient towards spotty connectivity than regular HD Voice.
Also, the Qualcomm Fluence Pro technology is used for the noise cancellation. Interestingly, it uses two microphones for the handset and three mics when you use the loudspeaker (as you can imagine, the Pixel XL has three mics).
The rest of the wireless connectivity holds no surprises - fast Wi-Fi a/b/g/n/ac (2x2 MIMO), Bluetooth 4.2 (with A2DP and LE), A-GPS with GLONASS and NFC. The latter is used for the Android Pay service, secured by the fingerprint reader, the Pixel Imprint.
Wired connectivity has USB Type-C running at USB 3.0 speeds, but no TV out functionality. Oh, and let's not forget the headphone jack on top! With USB Type-C supporting analog audio, it wasn't a given that Google will keep the old-school port.
Battery
The Google Pixel XL packs a 3,450mAh battery - not bad for a 5.5" phone. The Nexus devices never had a reputation for great battery life, perhaps the Pixels can turn things around.
The USB Type-C port supports fast charging - Google says that in just 15 minutes of charging, the phone will have 7 hours of "mixed use". In our measurement, the supplied charger charged the battery from 0 to 46% in just 30 minutes.
The charger uses the USB Power Delivery standard (instead of QuickCharge and the like), which is rated at 18W. If you try using a Quick Charge 2.0 or 3.0 charger with the Pixel XL, it would default to 5V/2A charging current, which is not bad either.
Google has fit a fairly large battery and with the latest iteration of the battery-saving Doze feature, it managed to squeeze a 78 hour Endurance rating out of it. This beats the iPhone 7 Plus (which, to be fair, has a smaller battery), but isn't as good as Galaxy S7 edge's 98 hours (well, 67 hours if you want to use the Always on screen).
The Pixel XL lived up to its promised 32 hours of talk time and even over-delivered slightly. It didn't last the promised 14 hours of Wi-Fi browsing, though - we only measured about 9 and a half hours. That's hours behind both the iPhone 7 Plus and Galaxy S7 edge. The video playback got closer to the official 14 hour mark, but not that close. For comparison, the S7 edge lasted 20 hours of playing video.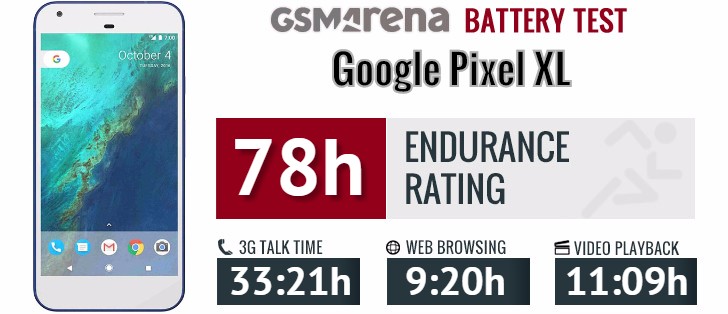 The battery testing procedure is described in detail in case you're interested in the nitty-gritties. You can also check out our complete battery test table, where you can see how all of the smartphones we've tested will compare under your own typical use.