It's been a while since Google last released a tablet - the Pixel C came three years ago. The company has completely changed the formula this time around and we have Intel processors driving Chrome OS, rather than ARM-powered Android.
The Google Pixel Slate is built around a 12.3" IPS screen with a resolution of 3000x2000 pixels and weighs 721g. You get a couple of 8MP cameras - one on each side, which are meant to serve for video calling rather than turn the tablet into your camera of choice.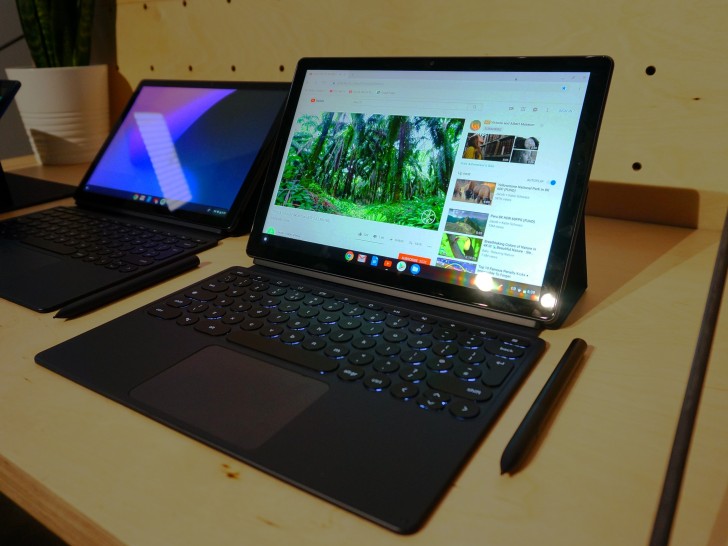 The tablet packs two USB-C ports, Bluetooth 4.2 and Wi-Fi a/b/g/n/ac, but not Cellular connectivity option. There's no 3.5mm audio jack either, which means you either have to go with USB-C headphones or wireless ones.
The base version is $599/£549 and comes with a lowly Celeron CPU, 4GB of RAM and just 32GB storage. At the other end of the spectrum is the Core i7 version with 16GB of RAM and 256GB SSD - that's $1,599/£1,549. The keyboard adds $200, while the Pixelbook Pen is another $100.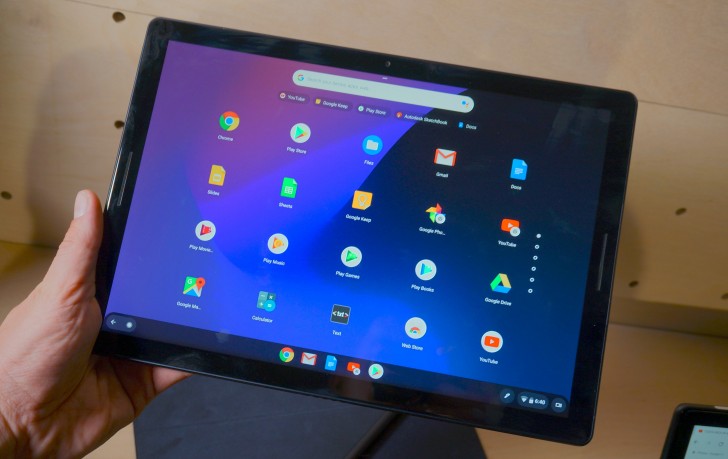 You can rarely see a product cover such broad range of price points and it makes us wonder who exactly is Google targeting with the Pixel Slate. An alternative to the iPad Pro to those finding iOS too limited perhaps? Or an outright competitor of the Surface Pro for those preferring the seamless Google services over the flexibility of the full Windows? We'd need to spend more time with the tablet to know if it can do either, so for now let's focus on what it can do on its own.
At 12.3" the Pixel Slate is not a device you can hold in one hand for prolonged time. We found we needed both for both portrait and landscape usage, which means it's hardly going to make a great couch companion.
It's screen is downright impressive though - its sharpness is impressive, it looks great at any angle and colors are nicely vibrant.
We are also happy with the keyboard, which enables smooth typing with its good for the class key travel and it attaches very firmly to the pogo pins. Plus with Chrome OS being better suited to a keyboard device than a full touch experience we'd probably say this one is a must have for potential Pixel Slate owners.
Unfortunately the stylus is a whole other story - for one there's no holster for it, which means it's rather tricky to carry it around without losing it. It also seemed to lag massively on the unit we tried, making it impossible to draw with fast strokes. It certainly doesn't come anywhere near the experience offered by the Apple Pencil or the Galaxy S Pen.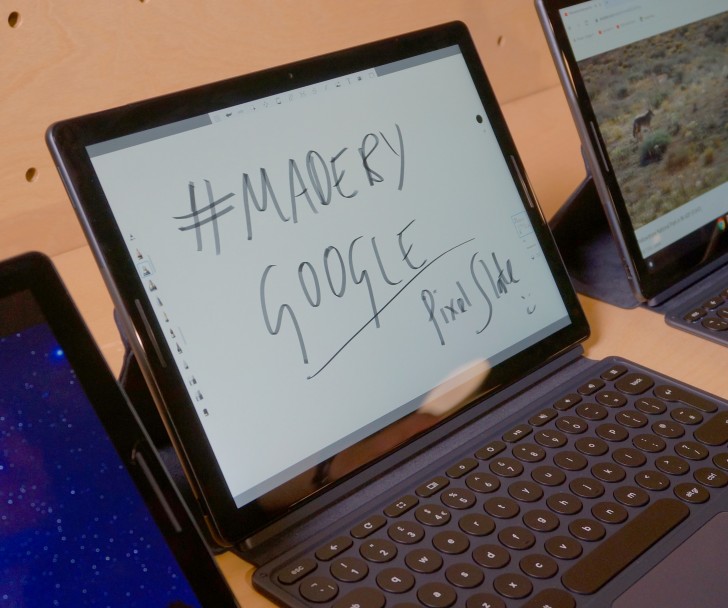 On the software side it's a familiar Chrome OS story - complete with its full fledged Chrome browser (as opposed to the mobile one on Android tablets). There's a decent windowing system and support for Android apps with very good overall fluidity.
This would make the Google Pixel Slate a very decent mix between the smooth, but limited Android and the versatile, but resource heavy Windows. The fact that it's more expensive than both of these options might or might not matter depending on whether there are enough people looking for that specific middle ground.
h
THe argument is that Pixel Slate can run Linux applications NATIVELY. Apple is nowhere near. THe operating system sucks
V
Pretty much pointless to get knowing ipad Pro destroys this one in processing power, even if you take i7 for 1599 dollars will be waste of money, considering ipad Pro cost 799 for almost same performance
G
Google Pixel Slate is ok hardware but useless software/OS! If you want to use Android apps from Google Play it is far better to buy a pure Android tablet, that still makes it possible to use Google Chrome and all Chrome apps, or better versions on An...
ADVERTISEMENT