Portrait mode
The Pixel 7 Pro's Portrait mode operates at two magnifications, both captured on the main camera. They're labeled 1x and 2x in the Portrait mode viewfinder, but they correspond to something like 1.6x and 3x if you match their field of view in Camera mode - why not. Then there's the matter that if you tap on the 2x zoom in Camera mode and then switch to Portrait mode, the Phone will be at 1.3x in Portrait mode (which will match the FoV of the 2x in Camera mode).
That's all part of the otherwise most welcome behavior of the Pixel phone (and none other that we can think of) not to default to 1x whenever you switch between modes, but to maintain whatever magnification you were at. If looked at from that perspective, and with the argument of consistency, perhaps it makes sense. But we still find it disconcerting that the fields of view of the zoom levels in Portrait mode don't match those in Camera mode for the same 'x' designation.
Anyway... The 1x Portrait mode shots are excellent. The 38-ish mm equivalent focal length is just enough to place you at a comfortable distance from your subject, while Google's image processing blurs the line between digital zoom and magic and the subjects are nicely detailed - not quite pixel-perfect nice, but very good. Subject detection is proficient too and the background blur looks as natural as can be.
Things do tend to fall apart at the 2x zoom level in Portrait mode and detail becomes pretty sketchy. With closer background, you may also end up without much blur either.
We also shot the same scenes in regular Camera mode with the main camera in its native field of view. These images do have better per-pixel clarity and there's some of that characteristic Pixel-style texture enhancement, now applied to faces. With distant backdrops you'll also get decent subject separation but you'd be better off in Portrait mode when your subject is placed against a nearby background.
Selfies
There's some wild zoom action on the selfie camera as well, with the supposedly 10.8MP sensor capturing 10MP images at two zoom levels - the native 0.7x and what has to be a crop-and-upscale-and/or-super-res 1.0x zoom level.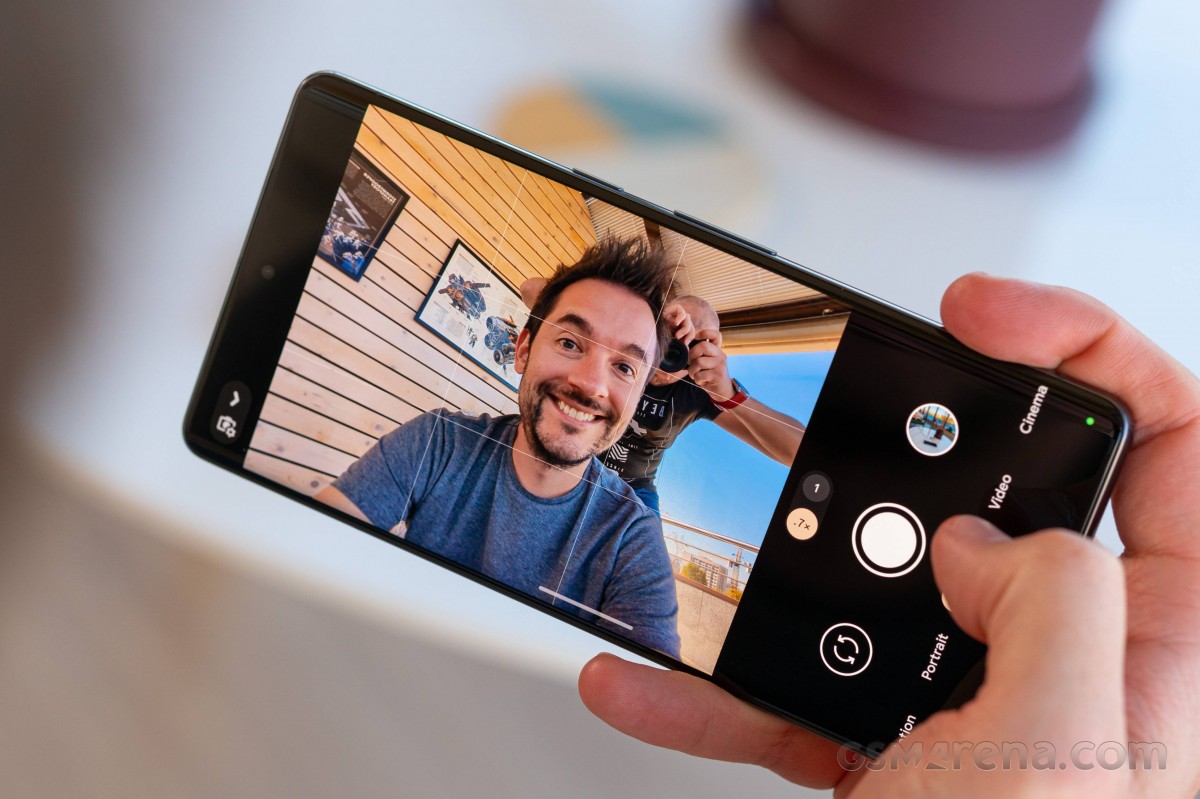 At the wide setting and when treated to good light, the Pixel 7 Pro's selfie camera can produce some very good images. It can be very picky what constitutes good light, however. It doesn't like backlit scenes, where faces tend to end pretty soft. Indoor light isn't ideal either, even though the phone maintains ISOs around 50, and harsh sunlight does not make the list of recommended conditions either. Global properties like color rendition and dynamic range are great, but detail leaves us wanting in all but that first photo, and especially in the backlit scene.
Due to the confusing nature of the 1.0x mode, we can't dismiss it as simply a crop from the main images in the same way Samsung's and Apple's selfie crops work. That said, these do generally look softer than the 0.7x ones (expected), but only ever so slightly so (somewhat surprising). Again, lighting is key and anything remotely demanding hurts the per-pixel quality.
Portrait selfies can be slightly softer still, compared to their respective regular shots, but they do look just fine at fit to screen viewing level. Subject separation isn't infallible and there are occasions where bits of the background will remain unblurred along the border betwe subject and background. Overall, it's not a bad performance, but it's not 'wow' either.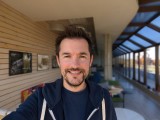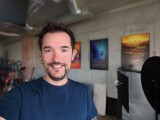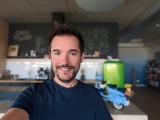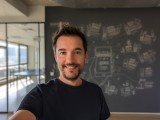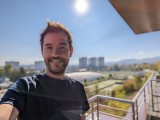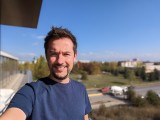 Selfie portrait samples, wide (0.7x)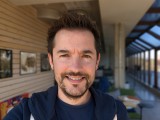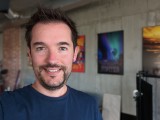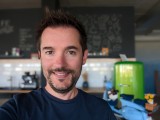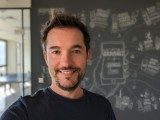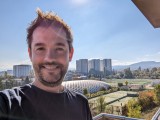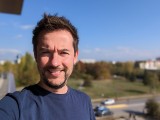 Selfie portrait samples, crop (1x)
Video recording
The Pixel 7 Pro can record video up to 4K60 with all four of its cameras. There's no 8K capability, which only goes to show the level-headedness on Google's part - 4K is good enough. The h.264 codec is used by default, but you can opt for the h.265 in settings. Stabilization is available in all modes on all cameras, and there are several flavors of it, some tailor-made for specific use cases.
Main camera footage at 1x zoom in broad daylight is great. The 4K30 (47Mbps bit rate)and 4K60 (71Mbps) clips have essentially the same picture quality with lots of fine detail (if a little heavily processed) and essentially no noise. You're getting excellent contrast and lovely vivid color output.
The 2x zoom level does look kinda mushy when viewed from up close, but it maintains the overall look of the 1x footage (it's the same camera after all) and if you step back, you'll be okay with the footage. Of course, it's no good for critical work (if we're to assume that native FoV capture is). There's no difference between 30fps and 60fps here either.
You guessed it, 4K30 and 4K60 at 5x zoom look the same between them, as well. They're not the sharpest zoom clips we've seen, but they're almost up there - just behind the Mi Ultras of this world. Just as in stills, there's a fairly prominent green cast if you look at side-by-side comparisons with the main camera, though it may go unnoticed in isolation.
The ultrawide continues the strong performance and captures great-looking clips, be it at 30fps or 60fps.
The main camera is a very competent low-light shooter and shows high detail levels and well controlled noise. Colors maintain their pop, dynamic range is excellent and halos are kept in check too.
2x zoom footage during the night is soft and more evidently exposes the camera's tendency to flare in such conditions - the bright light dots scattered across the frame shouldn't be there.
Neither the tele, nor the ultrawide are impressive when taken out of context as the footage of both can look soft and noisy. However, in their respective realms, both deliver above average results.
Video stabilization on the Pixel 7 Pro can get a review of its own, but we'll try to keep it brief. There are four separate modes, Standard being the default multi-purpose one for all cameras and resolution/framerate combos.
Then there's Locked mode that is only available at the 2x and 5x zoom levels (still up to 4K60) and is meant for distant subjects and you keeping still.
Active mode, conversely, is for action shots and it's somewhat odd that it's limited to 30fps (at 1080p too) - we'd expect 60fps. It's sourced from the ultrawide camera but offers 1x and 2x zoom levels.
Lastly, there's Cinematic pan, which is not to be confused with the standalone Cinematic video mode (more on that later). This one is available on all four rear cameras at both 1080p and 4K resolutions and records at 60fps, but plays back at half speed - 'for professional-looking cinematic shots'. You need to provide sound in post, none is being recorded in this mode.
In Standard mode, the Pixel 7 Pro's camera is ever so slightly too shaky for our liking when it comes to smoothing out walking induced shake. It's great when you're pointing in one direction and pans without abrupt transitions, it's just that walking is stabilized better elsewhere.
The ultrawide, on the other hand, is essentially flawless.
Active mode on the main camera does remove walking shake just fine - or rather running shake. But it limits you to 1080p30 and that's no way to shoot your videos.
The 5x telephoto, in the same regular Standard mode, is stabilized very well, if not quite perfectly so.
We saw no meaningful improvement in the stabilization in the Locked mode on the 5x. We did observe a marked difference in the color rendition - in a positive direction too. We're not sure exactly what to make of it.
The Cinematic mode is sort of like Portrait mode for video, where the phone will apply extra blur to your background (or foreground, depending on subject). It records in 1080p at 24fps on the main camera only.
Here's a glimpse of how the Google Pixel 7 Pro compares to rivals in our Video compare tool. Head over there for the complete picture.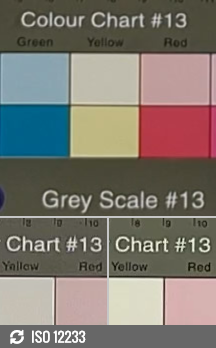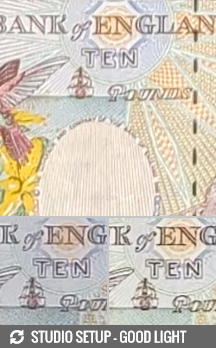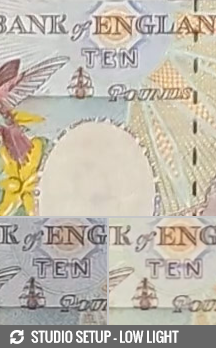 Google Pixel 7 Pro against the Galaxy S22 Utlra and the iPhone 4 Pro Max in our Video compare tool