Clean Android 13 with a Pixel twist
This is one of the Pixel 7 and Pixel 7 Pro's key selling points - the clean, burden-less Android experience without heavy customizations and overlays. Just how Google intended it to be. But that doesn't mean the Pixel 7 Pro lacks exclusive features. Quite the opposite, actually. Many functionalities can only be found on Pixel devices as Google wants to stand out from the crowd.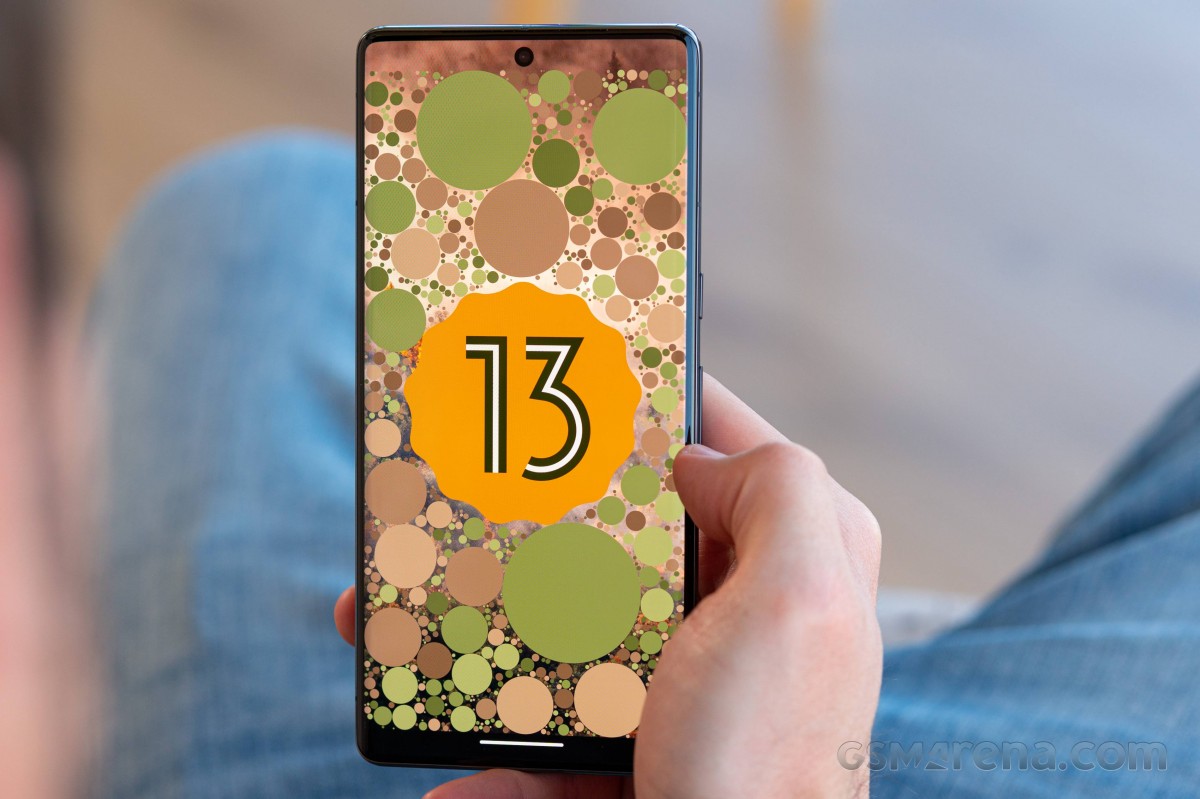 The Pixel 7 Pro is, of course, running the latest Android 13, which leads us to the next big advantage - updates. Google Pixel phones offer the fastest Android updates on the market, and the company promises at least three years of major Android updates and 5 years of security patches.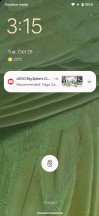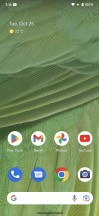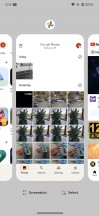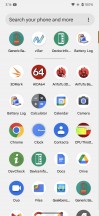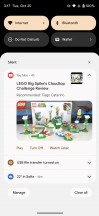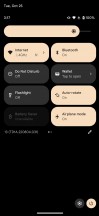 Lock screen • Home screen • Recent apps • App drawer • Quick toggles • Notification shade
If you are familiar with the stock Android look, you will easily feel right at home. The quick toggles are now pill-shaped in the notification shade, and there's still no toggle for the automatic screen brightness.
One of the biggest new additions to the stock Android is support for theming - of the icons too. Music players now change their appearance based on the album art too. Last but not least, swiping up from the home screen opens up the app drawer along with the keyboard for an instant search - though if that's not how you like to operate your app drawer, you can disable the auto keyboard behavior.
Speaking of music, Android 13 has native support for Spatial Audio as long as you have the appropriate headphones. The same goes for Bluetooth LE Audio, which improves quality and offers lower latency connection and broadcasting to multiple devices.
Those are, however, features found in other Android 13-powered devices. To stand out, Google decided to focus on the "smarts". Some even call the Pixel "the smartest smartphone around," and they may have a point there. Most of the features rely on machine learning algorithms leveraging the Tensor G2 SoC. On paper, the SoC doesn't seem all that impressive, but in reality, it has a pretty powerful NPU. More on that later.
One of the most interesting features involves calling and speech. Call screening, for example, lets Google's voice assistant take the call for you and even let you know what the call is all about. When calling a service or a business that requires you to select options using the dialpad, the assistant will transcribe all options, which the robot lists, on the screen and let you choose. No more guessing and remembering options from the voice menu. The dialer will even suggest calling at another time if you are calling the business at a busy time.
Call captions are also an option. You can answer a call during a meeting or class without having to talk. The AI will transcribe what the person is saying on the other end, and you can answer by typing. The voice assistant will, of course, read out what you are typing to the other party in the call. Sadly, many of these features are limited to certain markets and languages, such as the Call screening, for example. The best part is that none of these features require an internet connection - the computational heavy lifting is carried out locally by the Tensor G2's NPU.
While we are still on the subject of calls, we have to mention the advertised noise-suppression feature during phone calls. It works both ways - the other end can hear you more clearly when you're in a noisy environment, while the Tensor G2 can remove the background noise from the other end of the call coming into your ear.
Other AI-based features include the ability to transcribe a whole real-life conversation with speaker labels, even if the phone is in your pocket. It's a built-in function of the audio recorder app. It works really well for English speakers, and it might come in handy to journalists or people often making voice memos. There's also a search function inside the app that would help you find certain parts of a conversation.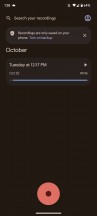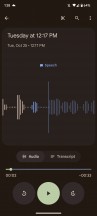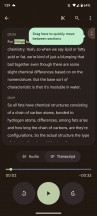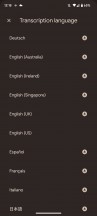 Recorder transcription of a podcast playing on speakers
The audio recognition capabilities of the Pixel 7 Pro include the long-standing 'Now playing' feature, of course. Former Pixel users will be familiar, but newcomers may be surprised by the built-in Shazam-like functionality. You just flick a switch in the Sound settings menu, and the phone will now look for music playing around you and automatically display the name of the track on the lockscreen or Always-on display. It will use Google's audio search in case it can't recognize the track.
The AI can also extract text and images on the go. In the recent apps menu, you will find two buttons - one for screenshot and one called "Select". Once you tap it, you can select, copy, share or select text from the screen, even if it's an image. You can even extract images using this feature. Interestingly, selection also works in the default recent apps menu with a tap-and-hold action.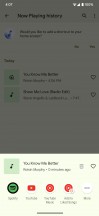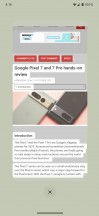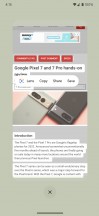 Text and image recognition in apps
Blurry photos in the default gallery app, which is still Google's Photos app, can be easily fixed using machine learning algorithms. Let's just say that your mileage will vary with this one.
The NPU is supposedly put to work to help improve the default face unlock. Since the latter uses the standard selfie camera, it's still unreliable in low-lighting conditions or when half of your face is covered. It's still blazingly fast in ideal conditions, though.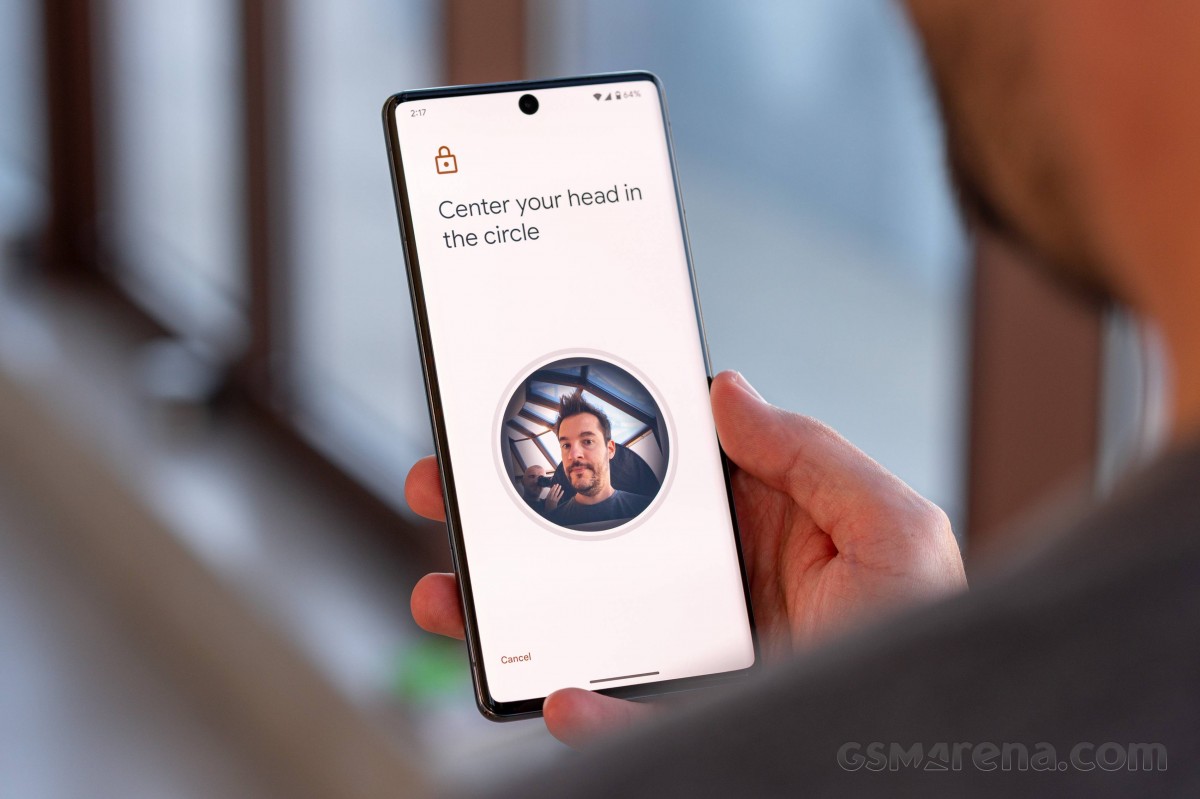 Performance and benchmarks
The Google Pixel 7 series is powered by the second-gen in-house Tensor chip, and when we say in-house, we mean that it's designed by Google's engineering team and tailored to the Pixel's needs. It's co-developed with Samsung, and it comes out of Samsung's factory manufacturing 5nm 5LPE chips.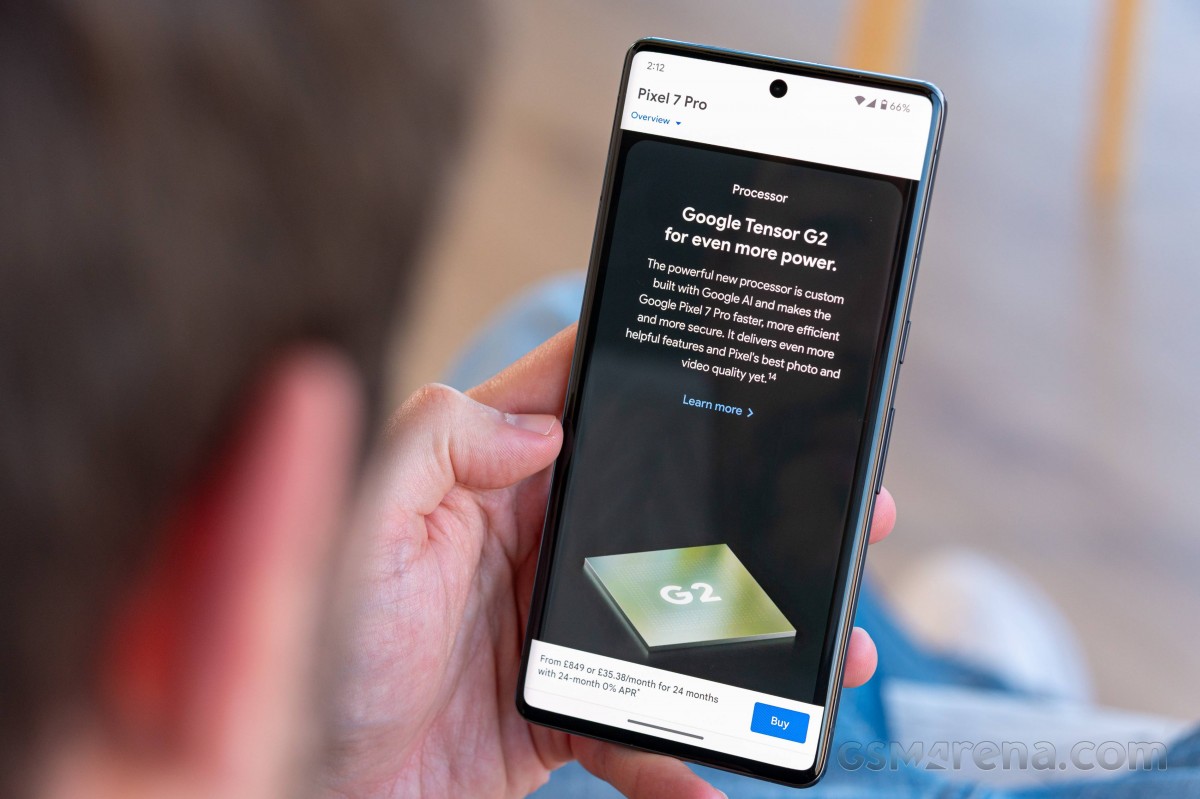 The Tensor G2's CPU is in the same principal configuration as the previous one - 2+2+4 setup - which is still a bit unusual in the industry. The changes for this year include new mid-tier cores - Cortex A78 in place of A76, and they're clocked a wee bit higher - 2.35GHz vs. 2.25GHz. The high-performance X1 cores have gotten a minor nudge from 2.80GHz to 2.85GHz. The quad-core efficiency-focused cluster remains the same - 4xCortex-A55 at 1.8GHz.
The GPU is new now - the Mali-G710 MP7 sits behind the wheel promising gains in the graphics department compared to last year's model. That said, the MP7 designation is 3 fewer than the Mali-G710 MC10 in the Dimensity 9000, and fewer can't be better in this context (not to mention the P vs. C discrepancy).
While the CPU improvements seem incremental on paper, Google promises a much-improved Tensor Processing Unit (TPU), which is capable of some serious number crunching when it comes to AI-related tasks. The camera and machine learning algorithms run about 60% faster here than last year's Tensor G1 TPU. Many of the standout features we outlined in the software section might only be possible because of the new TPU.
We ran the usual set of benchmarks on the Pixel 7 Pro, and here's how it compares to rivals powered by the latest and greatest from Samsung, Qualcomm and MediaTek.
GeekBench 5 (multi-core)
Higher is better
Asus Zenfone 9
4338
Xiaomi 12S Ultra
4300
Motorola Edge 30 Ultra
4265
Xiaomi 12T Pro
4081
Huawei Mate 50 Pro
3839
Samsung Galaxy S22 Ultra (1440p)
3657
ROG Phone 6D
3531
Samsung Galaxy S22+
3528
Honor Magic4 Pro
3512
ROG Phone 6D Ultimate
3505
vivo X80 Pro
3505
Realme GT2 Pro
3501
OnePlus 10 Pro
3447
Oppo Find X5 Pro
3433
Sony Xperia 1 IV
3403
Google Pixel 7
3288
Google Pixel 7 Pro
3187
Google Pixel 6 Pro
2831
Asus ROG Phone 6 Pro
2659
GeekBench 5 (single-core)
Higher is better
Xiaomi 12S Ultra
1324
Asus Zenfone 9
1313
Huawei Mate 50 Pro
1277
Motorola Edge 30 Ultra
1276
Xiaomi 12T Pro
1238
Realme GT2 Pro
1238
vivo X80 Pro
1184
Samsung Galaxy S22 Ultra (1440p)
1180
Samsung Galaxy S22+
1165
Sony Xperia 1 IV
1160
Honor Magic4 Pro
1127
Asus ROG Phone 6 Pro
1110
Google Pixel 7 Pro
1056
Google Pixel 7
1051
Google Pixel 6 Pro
1042
ROG Phone 6D
1015
Oppo Find X5 Pro
1002
ROG Phone 6D Ultimate
1001
OnePlus 10 Pro
975
AnTuTu 9
Higher is better
Asus Zenfone 9
1083092
Motorola Edge 30 Ultra
1074722
Xiaomi 12S Ultra
1039412
Xiaomi 12T Pro
1032185
Oppo Find X5 Pro
1012896
vivo X80 Pro
1002570
Honor Magic4 Pro
980755
Samsung Galaxy S22 Ultra (1440p)
968359
Realme GT2 Pro
966251
ROG Phone 6D
948594
ROG Phone 6D Ultimate
931170
Samsung Galaxy S22+
886916
OnePlus 10 Pro
886248
Sony Xperia 1 IV
838832
Google Pixel 7
813114
Google Pixel 7 Pro
796369
Asus ROG Phone 6 Pro
762090
Google Pixel 6 Pro
719815
GFX Aztek ES 3.1 High (onscreen)
Higher is better
Asus Zenfone 9
67
Motorola Edge 30 Ultra
65
ROG Phone 6D
61
ROG Phone 6D Ultimate
59
Asus ROG Phone 6 Pro
58
Huawei Mate 50 Pro
52
Samsung Galaxy S22+
50
Xiaomi 12T Pro
50
Google Pixel 7
49
Sony Xperia 1 IV
43
Honor Magic4 Pro
40
Xiaomi 12S Ultra
38
OnePlus 10 Pro
37
Realme GT2 Pro
36
Oppo Find X5 Pro
35
vivo X80 Pro
34
Samsung Galaxy S22 Ultra (1440p)
30
Google Pixel 6 Pro
28
Google Pixel 7 Pro
26
GFX Aztek ES 3.1 High (offscreen 1440p)
Higher is better
Asus Zenfone 9
46
Xiaomi 12S Ultra
46
Huawei Mate 50 Pro
45
Xiaomi 12T Pro
45
ROG Phone 6D
43
ROG Phone 6D Ultimate
43
Motorola Edge 30 Ultra
43
OnePlus 10 Pro
43
Realme GT2 Pro
42
vivo X80 Pro
41
Honor Magic4 Pro
40
Oppo Find X5 Pro
40
Asus ROG Phone 6 Pro
37
Google Pixel 7
31
Google Pixel 6 Pro
31
Samsung Galaxy S22 Ultra (1440p)
31
Samsung Galaxy S22+
31
Google Pixel 7 Pro
29
Sony Xperia 1 IV
26
GFX Aztek Vulkan High (onscreen)
Higher is better
Asus Zenfone 9
69
ROG Phone 6D
64
ROG Phone 6D Ultimate
63
Motorola Edge 30 Ultra
62
Xiaomi 12T Pro
58
Asus ROG Phone 6 Pro
56
Huawei Mate 50 Pro
55
Samsung Galaxy S22+
51
Google Pixel 7
46
Honor Magic4 Pro
45
OnePlus 10 Pro
41
Xiaomi 12S Ultra
39
Realme GT2 Pro
39
Oppo Find X5 Pro
36
vivo X80 Pro
34
Sony Xperia 1 IV
31
Samsung Galaxy S22 Ultra (1440p)
29
Google Pixel 6 Pro
26
Google Pixel 7 Pro
25
GFX Aztek Vulkan High (offscreen 1440p)
Higher is better
Asus Zenfone 9
52
Huawei Mate 50 Pro
51
Xiaomi 12S Ultra
51
Xiaomi 12T Pro
50
OnePlus 10 Pro
48
ROG Phone 6D
46
Realme GT2 Pro
46
ROG Phone 6D Ultimate
44
Oppo Find X5 Pro
44
Motorola Edge 30 Ultra
43
Asus ROG Phone 6 Pro
38
vivo X80 Pro
37
Samsung Galaxy S22 Ultra (1440p)
35
Samsung Galaxy S22+
34
Honor Magic4 Pro
32
Google Pixel 7
31
Google Pixel 7 Pro
30
Google Pixel 6 Pro
30
Sony Xperia 1 IV
26
GFX Car Chase ES 3.1 (onscreen)
Higher is better
Asus Zenfone 9
89
Asus ROG Phone 6 Pro
79
Sony Xperia 1 IV
74
Motorola Edge 30 Ultra
73
ROG Phone 6D Ultimate
72
ROG Phone 6D
71
Samsung Galaxy S22+
68
Huawei Mate 50 Pro
68
Xiaomi 12T Pro
65
Google Pixel 7
59
Honor Magic4 Pro
59
Xiaomi 12S Ultra
51
OnePlus 10 Pro
48
Realme GT2 Pro
48
vivo X80 Pro
44
Oppo Find X5 Pro
44
Google Pixel 6 Pro
39
Samsung Galaxy S22 Ultra (1440p)
37
Google Pixel 7 Pro
34
GFX Car Chase ES 3.1 (offscreen 1080p)
Higher is better
Asus Zenfone 9
104
Xiaomi 12S Ultra
104
Asus ROG Phone 6 Pro
102
Huawei Mate 50 Pro
101
Xiaomi 12T Pro
100
OnePlus 10 Pro
97
Realme GT2 Pro
95
Oppo Find X5 Pro
94
Motorola Edge 30 Ultra
93
vivo X80 Pro
90
ROG Phone 6D
84
ROG Phone 6D Ultimate
82
Sony Xperia 1 IV
79
Samsung Galaxy S22 Ultra (1440p)
76
Samsung Galaxy S22+
76
Honor Magic4 Pro
72
Google Pixel 6 Pro
70
Google Pixel 7
66
Google Pixel 7 Pro
63
3DMark Wild Life Vulkan 1.1 (offscreen 1440p)
Higher is better
Xiaomi 12S Ultra
10533
Asus Zenfone 9
10469
Motorola Edge 30 Ultra
10248
Honor Magic4 Pro
10183
Sony Xperia 1 IV
9794
vivo X80 Pro
9778
Oppo Find X5 Pro
9758
OnePlus 10 Pro
9610
Realme GT2 Pro
9487
ROG Phone 6D Ultimate
8687
ROG Phone 6D
8666
Samsung Galaxy S22 Ultra (1440p)
7437
Samsung Galaxy S22+
7405
Google Pixel 6 Pro
6602
Google Pixel 7
6569
Google Pixel 7 Pro
6470
3DMark Wild Life Extreme (offscreen 1440p)
Higher is better
Xiaomi 12T Pro
2740
Asus ROG Phone 6 Pro
2611
ROG Phone 6D Ultimate
2599
ROG Phone 6D
2555
Google Pixel 7
1848
Google Pixel 7 Pro
1835
As you can see from the results, the Tensor G2 is no slouch, but it's also dragging behind the current competition. To be frank, Google Pixel phones have never been particularly strong performers in synthetic benchmarks. What we can report, anecdotally, is that the Pixel 7 Pro feels pleasantly smooth in use, so benchmark scores don't tell the whole story.
For what it's worth, here are the 7 Pro's stability results in the CPU throttling test and in 3DMark Wild Life stress test.