Brighter but smaller OLED
The Google Pixel 7 offers a 6.3-inch OLED panel with 1080 x 2400px resolution and can go up to 90Hz refresh rate. Unlike the Pro model, the vanilla 7 relies on a standard OLED screen, instead of the more advanced LTPO OLED. Either way, the Pixel 7 offers a small but still significant upgrade over its predecessor, mostly in terms of brightness.
On the other hand, almost all of the Pixel 6's competitors have moved over to 120Hz displays, and 90Hz for a flagship phone nowadays is barely cutting it. Admittedly, that's not a deal-breaking feature for some.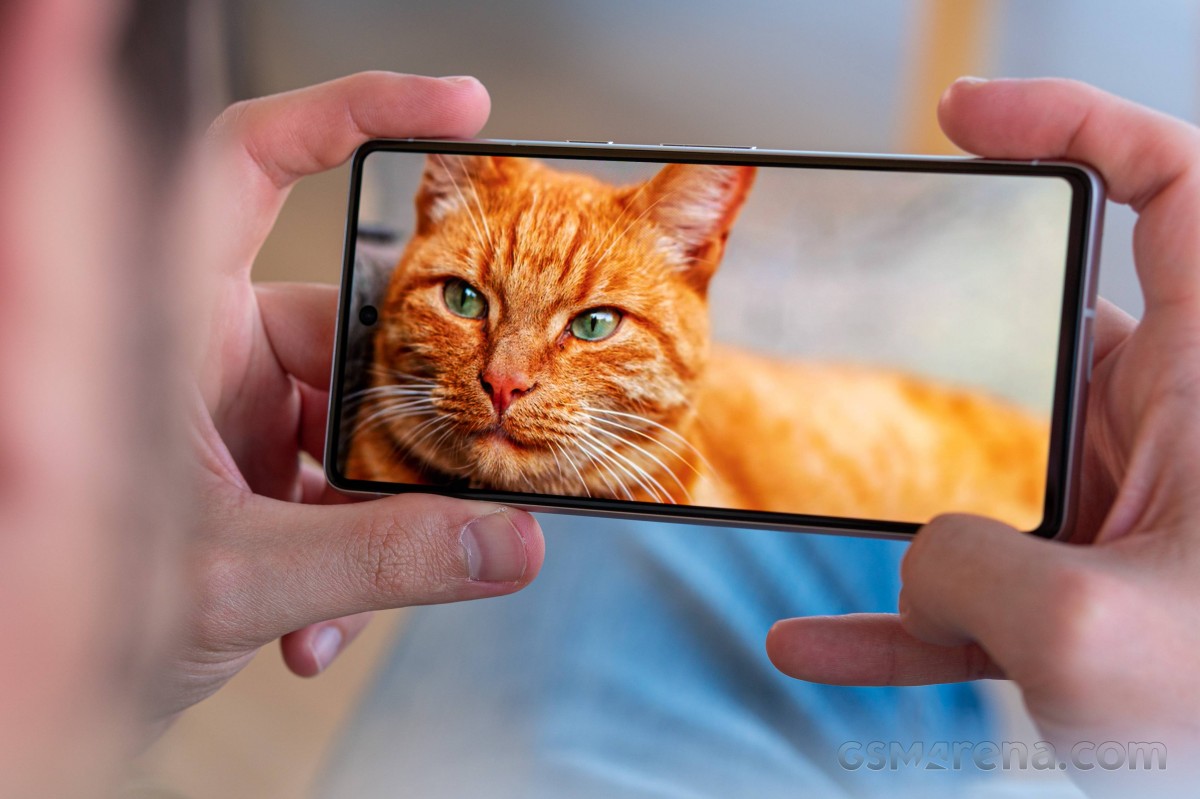 The display also complies with the HDR10+ standard, which works fine on YouTube, Netflix and Amazon Prime Video. Google claims that the panel can reach а peak brightness of 1,400 nits on a small screen area during HDR10+ video playback.
In our usual testing scenario, the screen got up to 460 nits in manual mode and peaked at 974 nits in auto mode. That's more than 100 nits increase over the last generation, and it's close to the advertised 1,000 nits. It's also enough to put the Pixel 7 right up there with the best, even punching slightly above its class.
Display test
100% brightness
Black,cd/m2
White,cd/m2
Contrast ratio
Google Pixel 7 Pro
0
588
∞
Google Pixel 7 Pro (Max Auto)
0
1090
∞
Google Pixel 7
0
460
∞
Google Pixel 7 (Max Auto)
0
974
∞
Google Pixel 6 Pro
0
497
∞
Google Pixel 6 Pro (Max Auto)
0
860
∞
Google Pixel 6
0
477
∞
Google Pixel 6 (Max Auto)
0
846
∞
Google Pixel 6a
0
505
∞
Google Pixel 6a (Max Auto)
0
876
∞
Sony Xperia 5 IV Max Auto (default, Cool WB)
0
870
∞
Xiaomi 12
0
494
∞
Xiaomi 12 (Max Auto)
0
896
∞
Sony Xperia 5 IV (default, Cool WB)
0
597
∞
Samsung Galaxy S22
0
465
∞
Samsung Galaxy S22 (Extra brightness)
0
757
∞
Samsung Galaxy S22 (Max Auto)
0
982
∞
Apple iPhone 14 Pro
0
842
∞
Apple iPhone 14 Pro (Max Auto)
0
1791
∞
Realme GT2 Pro
0
482
∞
Realme GT2 Pro (Max Auto)
0
778
∞
Color accuracy is also great, even in the default color mode. The average dE2000 was just around 2.8, with whites and grays being actual whites and grays. There was no color tinge at all.
An additional Adaptive color mode adapts the color scheme to what's currently displayed on the screen. In that mode, we got even lower average dE2000 of just 1.3.
HRR control
The HRR control of the Pixel 7 is pretty simple - you touch the screen, the refresh rate goes to 90Hz, you leave the display idle for a couple of seconds, system tones down to 60Hz. That's it. The refresh rate remains 90Hz even in video players and streaming apps, but since you are not touching the display during video playback, the refresh rate goes down to 60Hz anyway.
A toggle in the Display settings limits the refresh rate to 60Hz in case you want to preserve battery life. However, from our personal experience, the difference between 60 and 90Hz refresh rates in battery life should be negligible.
Battery life
This is one of those rare instances in which the reduction of battery capacity (4,355 mAh vs. Pixel 6's 4,614 mAh) hasn't affected battery life negatively. In fact, it's quite the opposite. It may be down to the chipset, display, software or a combination of those, but the end result is a more efficient device than the Pixel 6.
The Pixel 7 bumps up the endurance score from 86 to 96 hours with exceptional video playback runtime and great web browsing runtime. The calls and standby tests are where the Pixel 6 is lacking.
That's somewhat expected, though, as smaller batteries tend to score lower in our standby test. And besides, most of us are on the phone at least a couple of times a day, so standby isn't all that important.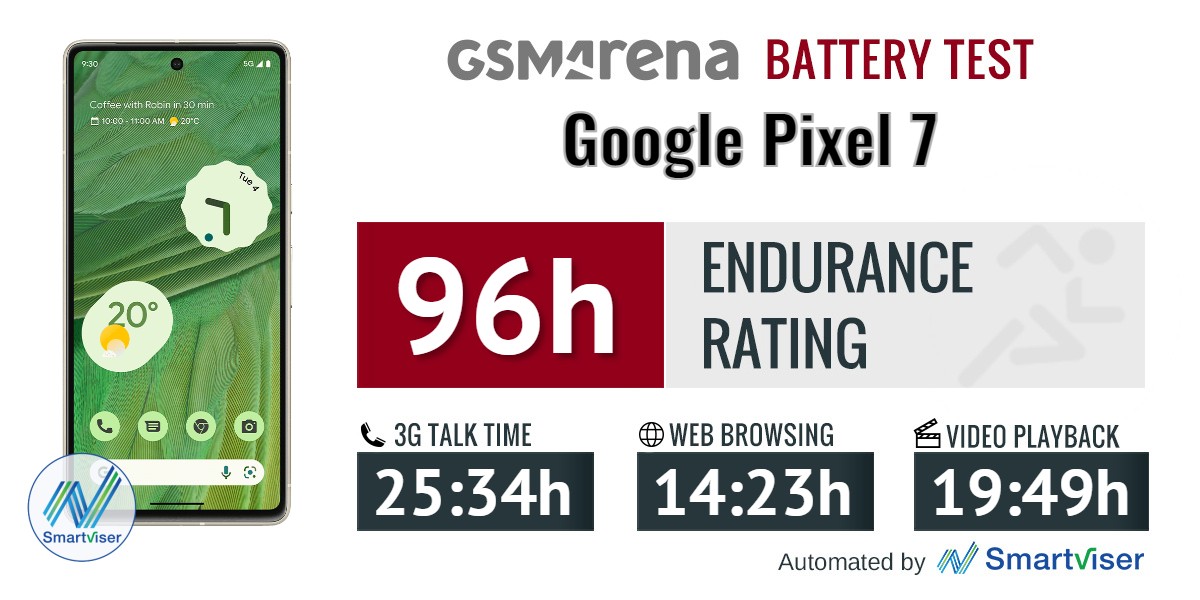 Our battery tests were automated thanks to SmartViser, using its viSerDevice app. The endurance rating denotes how long the battery charge will last you if you use the device for an hour of telephony, web browsing, and video playback daily. More details can be found here.
When put against its competitors, the Pixel 7 is doing pretty well. Most smartphones around the 6.0-inch display category are not the best performers in terms of battery endurance, especially flagships. The Pixel 6 edges out most of them, and it's only beaten by the Sony Xperia 5 IV and the Asus Zenfone 9. However, a deeper look into the scores and you will see that the Pixel 7 scores similarly in the screen-on tests only to be outperformed in the standby component.
Video test carried out in 60Hz refresh rate mode. Web browsing test done at the display's highest refresh rate whenever possible. Refer to the respective reviews for specifics. To adjust the endurance rating formula to match your own usage patterns check out our all-time battery test results chart where you can also find all phones we've tested.
Charging speed
Google's Pixels have always been a bit slow in the charging race, but the Pixel 7 is at least a tad faster than its predecessor. Although, that's probably due to the smaller battery. The 20W Power Delivery standard that the Pixel 7 uses is just too slow to be competitive nowadays. The Pixels are outpaced even by the Galaxy phones, and those are quite slow, too.
A full charge from 0% takes a whopping 1 hour and 40 minutes, while a 30-minute charge would restore 48%. To be fair, the 30-minute charge is decently fast, which explains why the device was a bit warmer than we would like until around the 60% mark. Then the device cooled off considerably as charging slowed down.
30min charging test (from 0%)
Higher is better
Oppo Find X5
94%
Xiaomi 12
87%
Samsung Galaxy S22
63%
Asus Zenfone 9
57%
Google Pixel 7
48%
Google Pixel 6 Pro
48%
Google Pixel 6
48%
Google Pixel 7 Pro
46%
Sony Xperia 5 IV
45%
Time to full charge (from 0%)
Lower is better
Oppo Find X5
0:42h
Xiaomi 12
0:46h
Samsung Galaxy S22
1:03h
Asus Zenfone 9
1:15h
Google Pixel 7
1:40h
Sony Xperia 5 IV
1:45h
Google Pixel 7 Pro
1:49h
Google Pixel 6
1:50h
Google Pixel 6 Pro
1:52h
Speakers
The Pixel 7 offers a set of two stereo speakers in the usual configuration - one at the bottom and another one at the top that acts as an earpiece as well. As it's usually the case, the one that sits behind the earpiece grille is slightly quieter.
In our loudness test, the Pixel 7 got a "Good" score of -26.2 LUFS, which is almost identical to the Pixel 6's score. And combined with the familiar sound quality, it's probably safe to assume that the Pixel 7 borrows the Pixel 6's speakers from last year. That's not necessarily a bad thing, as it's pretty good for a phone of this size. Bass is somewhat pronounced, vocals are clear, and distortion is minimal at high volumes. It's no iPhone level, but one could argue it's a bit better than Samsung's Galaxy S22 phones.
Use the Playback controls to listen to the phone sample recordings (best use headphones). We measure the average loudness of the speakers in LUFS. A lower absolute value means a louder sound. A look at the frequency response chart will tell you how far off the ideal "0db" flat line is the reproduction of the bass, treble, and mid frequencies. You can add more phones to compare how they differ. The scores and ratings are not comparable with our older loudspeaker test. Learn more about how we test here.