6.1-inch OLED display
The Google Pixel 6a is equipped with a 6.1-inch OLED panel with pedestrian 60Hz refresh rate. The resolution of 1080 x 2400 px adds up to a 20:9 aspect ratio and 429ppi density, which is plenty sharp. The panel supports HDR10+ content. The punch-hole selfie camera is centered at the top edge of the panel, all protected by a slab of the more economical Gorilla Glass 3.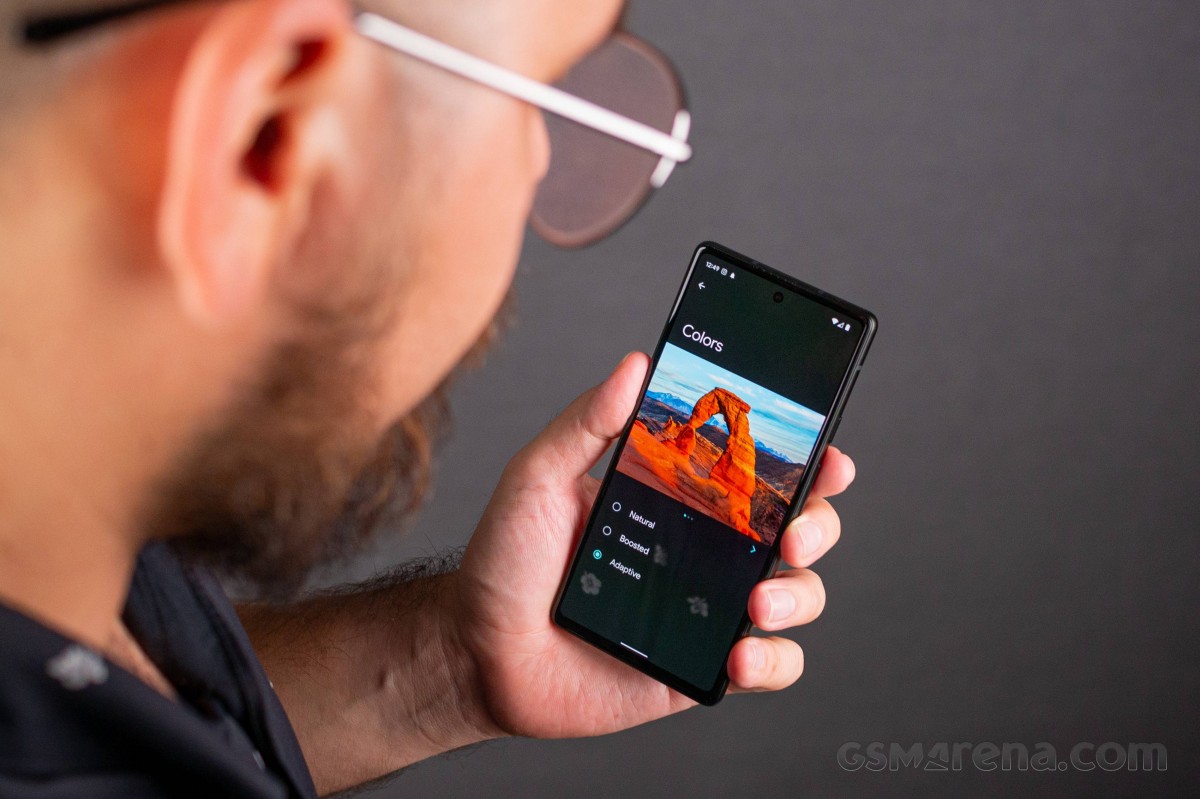 This screen is amply bright even for use under direct sunlight. While the maximum brightness achieved with the manual brightness slider is 505 nits, the Pixel 6a got to the impressive 876 nits when set to the adaptive mode.
Comfortable in bright conditions, this display is just as gentle in darkness with just 2 nits of minimum brightness for non-blinding usage at the bedside.
Display test
100% brightness
Black,cd/m2
White,cd/m2
Contrast ratio
Poco F4 (Max Auto)
0
1003
∞
Google Pixel 6a (Max Auto)
0
876
∞
Google Pixel 5a 5G (Max Auto)
0
861
∞
Google Pixel 6 (Max Auto)
0
846
∞
Asus Zenfone 9 (Max Auto)
0
831
∞
Samsung Galaxy A53 5G (Max Auto)
0
830
∞
Realme GT Neo 3T (Max Auto)
0
803
∞
Nothing phone (1) (Max Auto)
0
663
∞
Apple iPhone SE (2022)
0.425
605
1424:1
Poco F4
0
530
∞
Realme GT Neo 3T
0
516
∞
Google Pixel 5a 5G
0
508
∞
Google Pixel 6a
0
505
∞
Google Pixel 6
0
477
∞
Nothing phone (1)
0
466
∞
Asus Zenfone 9
0
449
∞
Samsung Galaxy A53 5G
0
427
∞
Color accuracy
With an average deltaE of 2.4 and a maximum deviation of 5.6, the default Adaptive color mode (based on the DCI-P3 color space) has reasonable if not amazing color accuracy with an ever-so-slight warm tint. The colors are vivid and pleasing though.
The Natural profile is based on the sRGB color space and we got far more accurate colors here. Average deviation was 1.3 with a maximum deltaE of 3. Finally, the Boosted profile (also based on sRGB) displays slightly more vibrant colors with an average deltaE of 1.6 and maximum deviation of 4. Remember, anything under 2 deviations is indistinguishable to the naked eye.
Refresh rate
Though some competitors best Google with higher refresh rate displays, most consumers searching for a device in this price category would not consider a standard display refresh rate to be a deal breaker. That said, the 60Hz refresh rate certainly isn't winning the Pixel 6a any extra points.
Battery life
The Pixel 6a uses a solid 4,410 mAh battery. Google officially advertises the Pixel 6a to have 24 hours of battery life or up to 72 hours of battery using Extreme Battery Saver mode.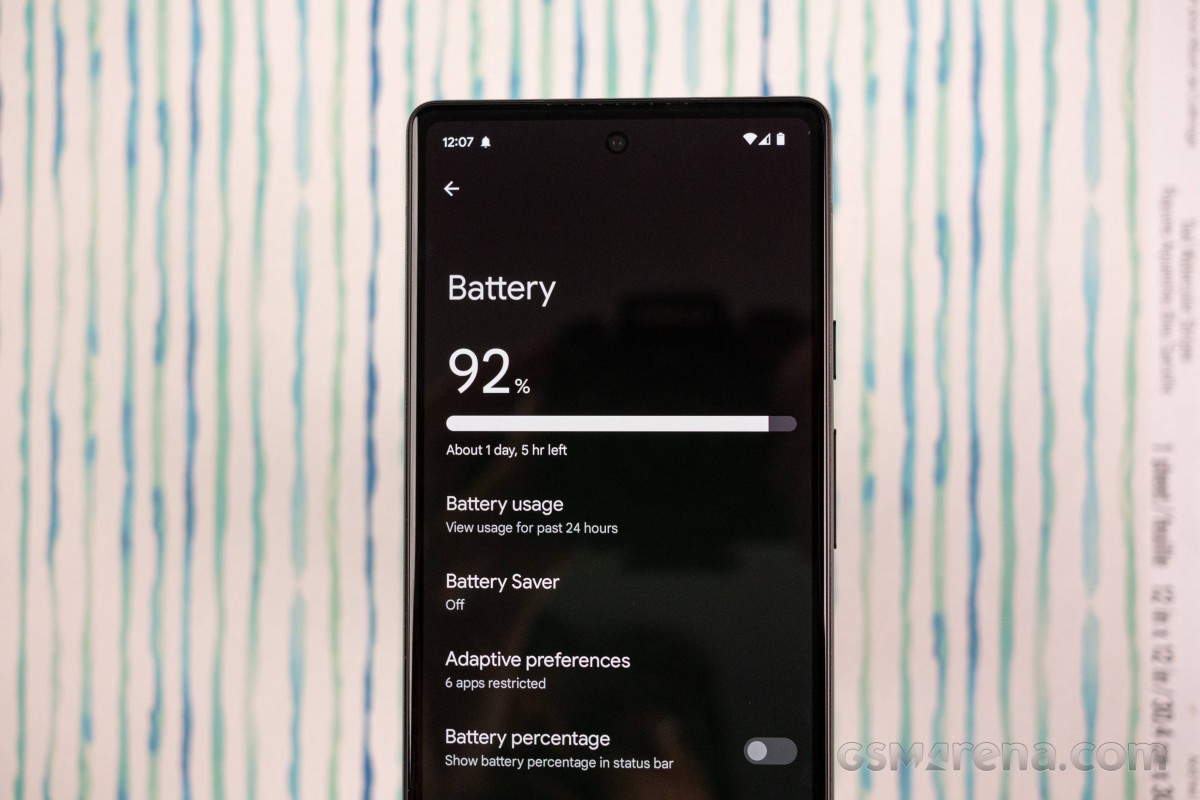 While we admit we were apprehensive about the battery endurance of another Google Tensor-powered device, we were pleased with its endurance this time around. The Pixel 6a managed a respectable, overall battery score of 94h with nearly 20h of video playback, 15:23h of browsing, and 23:45h of call time.
We are perfectly happy with the screen-on tests, but both the standby and call test endurance scores were somewhat disappointing.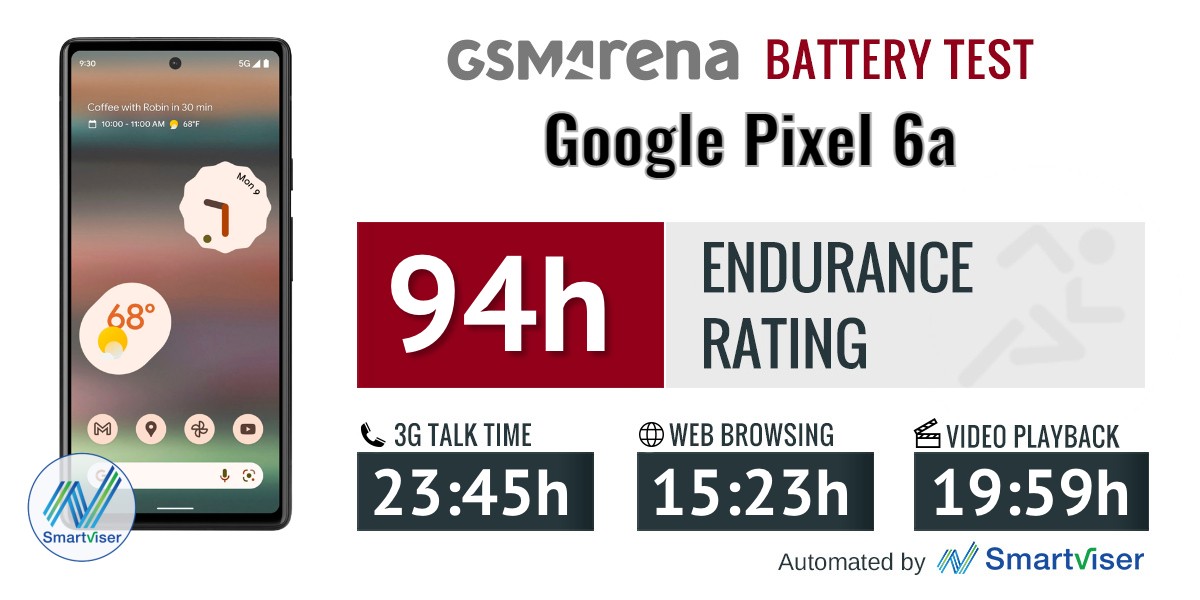 Our battery tests were automated thanks to SmartViser, using its viSerDevice app. The endurance rating denotes how long the battery charge will last you if you use the Google Pixel 6a for an hour of telephony, web browsing, and video playback daily. More details can be found here.
Video test carried out in 60Hz refresh rate mode. Web browsing test done at the display's highest refresh rate whenever possible. Refer to the respective reviews for specifics. To adjust the endurance rating formula to match your own usage patterns check out our all-time battery test results chart where you can also find all phones we've tested.
Charging speed
This generation of Google Pixel doesn't include any charger in the box. Luckily we had Google's official 18W USB-C PD charger at hand for testing the charging speeds.
We were able to get to 42% during the first 30 minutes of charging.
30min charging test (from 0%)
Higher is better
Realme GT Neo3T
95%
Poco F4
92%
Xiaomi 11T
86%
Apple iPhone SE (2022)
61%
Asus Zenfone 9
57%
Apple iPhone 11 (18W)
55%
Apple iPhone 13
54%
Nothing phone (1)
48%
Samsung Galaxy A53 5G
45%
Google Pixel 6a
42%
Google Pixel 6 (18W)
41%
After that, charging speeds taper off rapidly and a full charge clocked in at 1:51h.
Time to full charge (from 0%)
Lower is better
Poco F4
0:38h
Realme GT Neo3T
0:40h
Xiaomi 11T
0:41h
Asus Zenfone 9
1:15h
Apple iPhone SE (2022)
1:18h
Samsung Galaxy A53 5G
1:24h
Nothing phone (1)
1:31h
Apple iPhone 13
1:46h
Google Pixel 6a
1:51h
Google Pixel 6 (18W)
1:53h
Stereo speakers
The Pixel 6a's speakers are set up like many other devices: there is one downward-firing speaker, and another front-facing speaker that also doubles as the earpiece.
These speakers are dynamic, and they sound well enough. Though they are not as dynamic as the best we've heard, we've certainly heard lesser speakers from even more expensive devices. Sound output is amply loud with little to no distortion at higher volumes too.