Lowlight with Night Sight
With each of the Pixel 6 Pro's cameras sporting newer, larger sensors, you can expect there to be an improvement to lowlight photography. As before, you don't need to do anything to activate Night Sight mode. If you're in the main Camera mode and Night Sight is set to Auto, it'll kick in when it needs to, and you'll know when it does by the moon symbol that appears on the shutter button.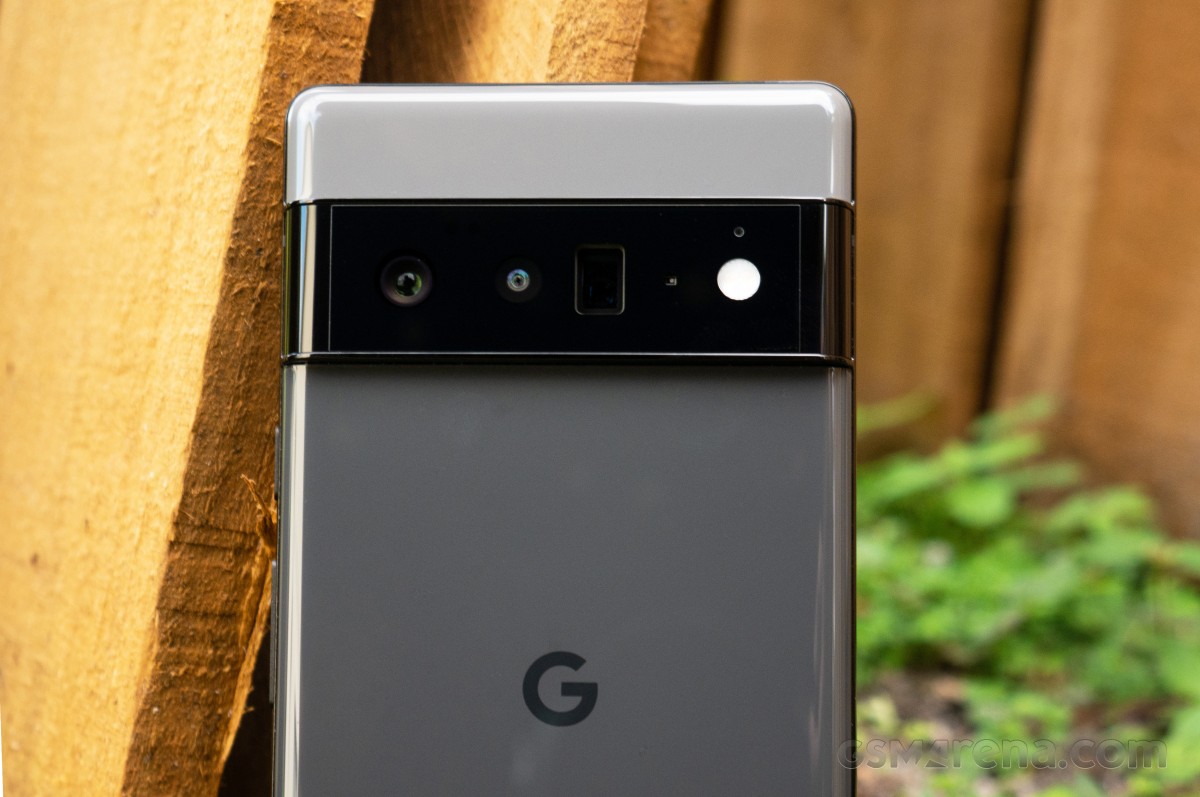 Google mentioned that the Pixel 6 Pro's main camera sensor can capture 2.5X more light than the Pixel 5's main sensor. That, along with pixel binning and HDR+ should make for an unbeatable low-light photography package. All three cameras work with Night Sight. First, let's see how the cameras did without Night Sight's help.
The main camera's images were decently great. With the exception of some expected noise in darker areas, the main camera can see plenty at night without activating Night Sight. In these shots, scenes are accurately represented, and white balance is quite consistent and accurate, even when there's more than one light source.
Now, zooming all the way into the periscope camera shows us that this 4X zoom mode can still see what's further away while relying purely on HDR+. The fuzz factor is significantly higher, though.
The ultrawide camera shouldn't be used at night without Night Sight enabled. You can see there's significantly more noise and fuzz all over. Now let's look at these same shots with Night Sight enabled.
Google's Night Sight sees tremendous improvement out of the main camera and there's so much detail out of these Night Sight photos. As appealing and bright as these shots look, they aren't natural-looking, but they sure do capture a lot out of the scene with very little light needed.
Here's just a few Night Sight shots from the Pixel 5's primary camera for comparison.
Next up, here are Night Sight shots with the auxiliary cameras. If you look closely, you can tell which shots failed to properly activate the 4X periscope zoom camera conditions - which results in a very fuzzy photo with no details.
The zoom camera normally kicks in when you set the zoom at 4X or above, but the camera may not activate under really low-light conditions. Keep this in mind when shooting zoomed photos at night - it should kick in so long as there's a light source nearby.
The ultrawide camera is capable of some decent-looking ultrawide shots, but why bother shooting with the ultrawide camera in this mode when there are such crisp-looking ones from the main camera?
Although accurate for the most part, white balance may see inconsistencies between the main and ultrawide cameras when shooting in low light.
HDRnet Video with Tensor
During Google's launch presentation, the company explained that Google's Tensor chip supports a new algorithm called HDRnet for processing video frames. While leveraging Tensor, the Google Pixel 6 Pro can record up to 4K video at 60fps with HDRnet that basically allowing tone mapping to be processed, and an HDR correction is applied to every frame of video. Video frames are partially processed directly on the ISP. The number Google used was 498 million: the number of pixels per second that Tensor can process per second of video recording.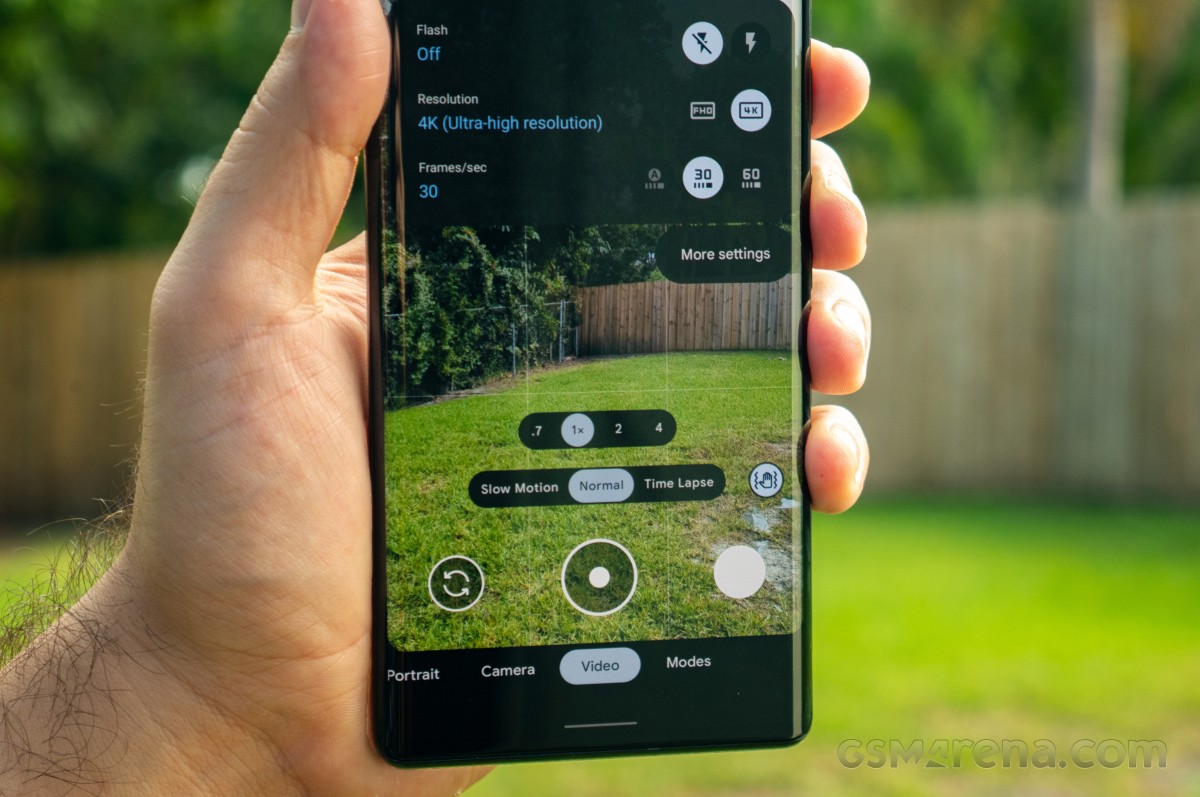 For some strange reason, the Pixel 6 Pro will only record video using the 4X periscope zoom camera when the resolution is set to 4K @30fps. The Full HD recording modes only crop 4X from the main camera, and we're not sure why.
That said, here's 4K video from all zoom modes.
4K video from the main camera looks amazing. There's hardly any noise, and dynamic range is excellent while colors are vibrant and dynamic range is accurate. Details look really good as well. Something cool about this footage is that any still frame from the video is usable as an image. 4X video from the periscope camera looks quite good as well, with great details and dynamic range. The same bit about using a still-frame applies here, too.
Like we've seen with the other camera modes, the main and ultrawide cameras are color-tuned a tad bit differently. We noticed that ultrawide footage was more vibrant than the main camera's, and the ultrawide video also appeared to be tuned cooler than the main camera. Other than that, ultrawide footage was generally great. We just can't say the same about using a still image from here.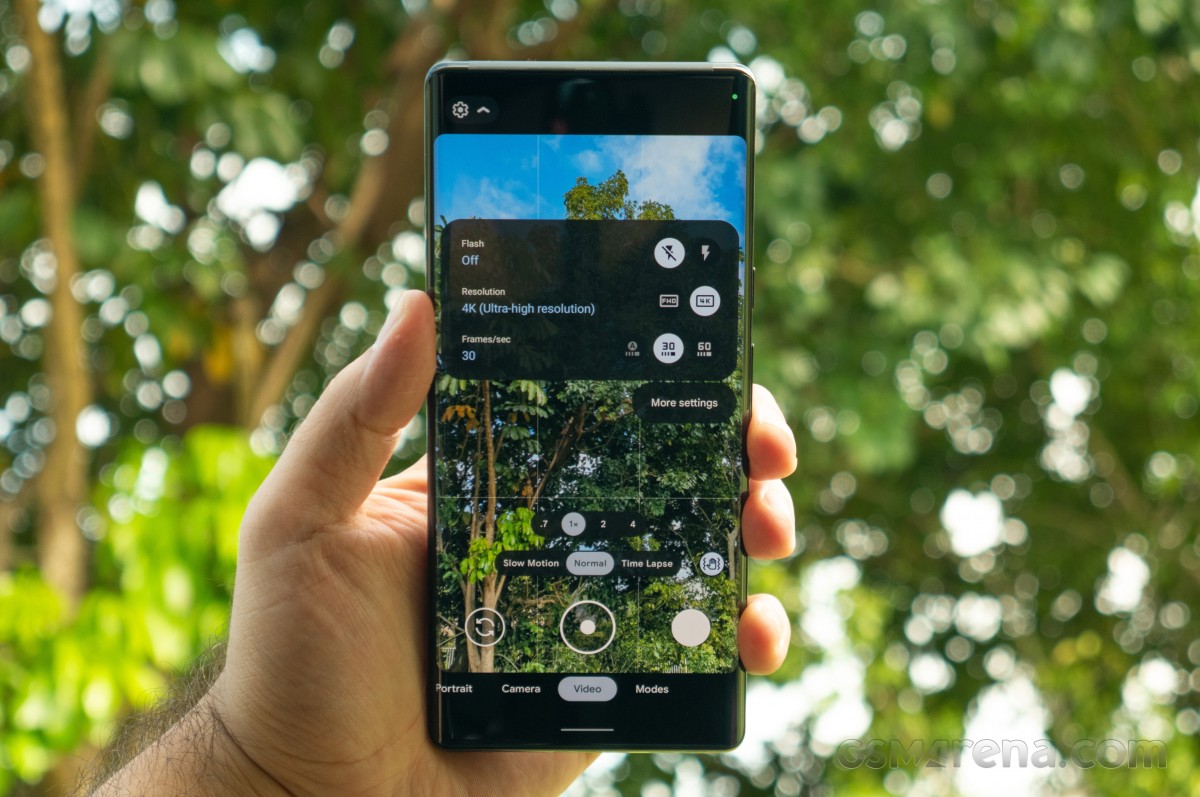 There's a 2X zoom mode for shooting video, and perhaps it doesn't need one. Maybe it's just us, but cropped 2X video simply doesn't look as good. There's a noticeable tumble in quality, and details suffer too.
4K @60fps is only possible with the main camera. Even then, we wish it didn't suggest that we shoot 4K@60 with the 2X crop - it just doesn't look good. Even so, 4K video at 60fps within 1X mode looks very nice. Noise is kept to a minimum, and the resulting video is smooth - we're also glad to see that there's no jitter from holding the camera that sometimes happens when shooting 60fps video.
With the exception of a minor moiré effect from a faraway building, we're quite content with the video output of the Pixel 6 Pro so far.
Video stabilization
The Pixel 6 Pro is equipped with both OIS and EIS for video stabilization of the main camera.
Stabilization is quite good. Google's stabilization model for previous Pixel phones was great, and we're glad to see the trend continue. There's no jelly-effect, and the motion is smooth. We even tried running in the ACTIVE stabilization mode for high movement - this mode only works in 1080p @30fps, though. There are other stabilization modes, including a "Cinematic Pan" mode that shoots at 60fps and automatically slows it down by half.
Selfie video
The Pixel 6 Pro's new 11.1MP selfie camera can record video at up to 4K resolution, though limited to 30fps. There's also a 'speech enhancement' mode that's only possible in 4K recording.
Selfie videos look surprisingly good. Resolved details are great, and colors are pleasing. Dynamic range is also quite good, and changes in exposure are handled smoothly. As you can see, stabilization here is quite good as well, the video doesn't jitter when walking and talking.
Resolved details in the selfie videos look great, but not in the 1080p @60fps mode. There's a noticeable change in the image quality - video looks over-sharpened and dynamic range takes a hit when in this mode.
We tested the "Speech enhancement" mode while walking over a very busy overpass road above the highway with lots of road noise. This feature works in a pinch, and it really does reduce a lot of background noise. It managed to isolate spoken word, and even though it made the vocals sound weaker and tinnier, they were easier to understand.