Revamped triple camera setup
The Google Pixel 6 Pro brings completely revamped camera hardware that was long overdue and highly appreciated. All four cameras (three main + one selfie) bring newer, larger sensors, while the Google Tensor chip leverages the new camera hardware and shooting modes.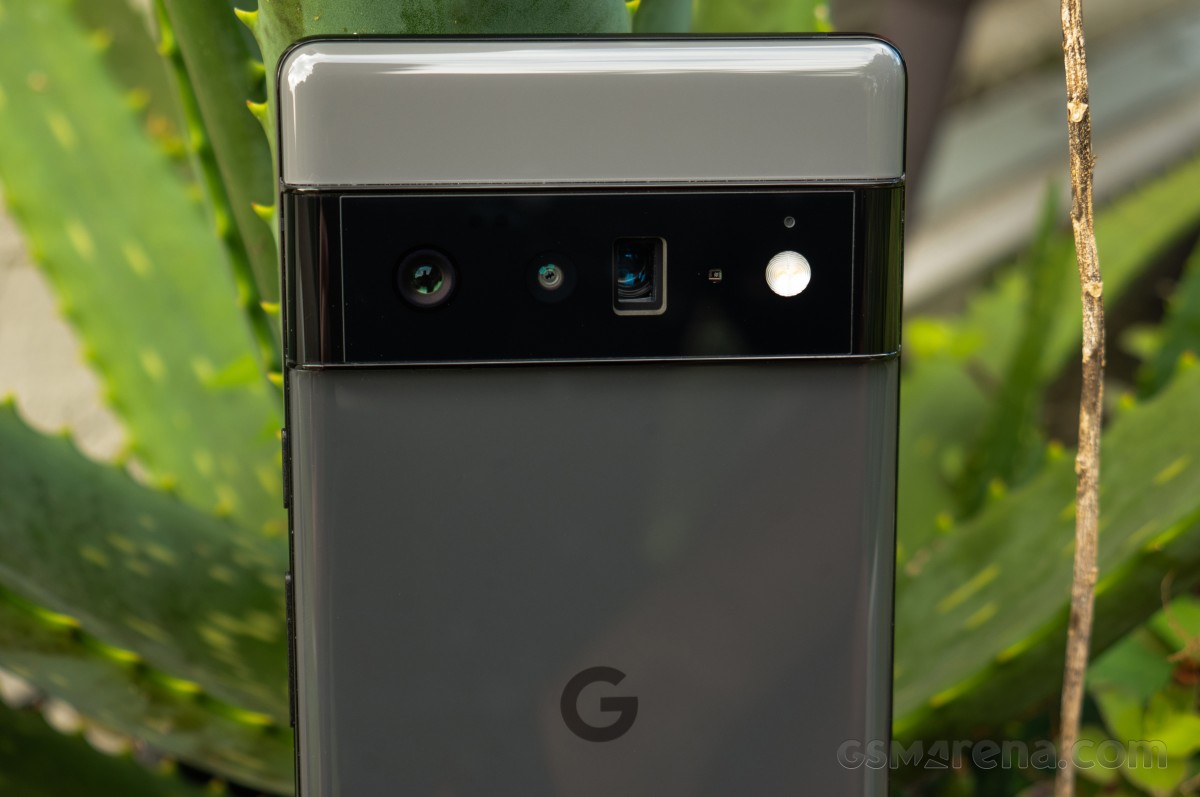 The main camera is a 50MP Samsung ISOCELL GN1 1/1.31" sensor with dual-pixel autofocus and optical image stabilization behind an f/1.85 lens, and 1.2µm sized pixels - with pixel binning math that comes out to 2.4µm pixels compared to the Pixel 5's 1.4µm. This sensor can pick up 2.5X more light than the previous 12.2MP sensor. There's also a laser-assisted autofocusing module in the camera cluster, and the Spectral/Flicker sensor is back. Despite the 50MP main sensor, images are output in 12.5MP.
The Pixel 6 Pro has an updated 11.1 MP Selfie camera with a wide 20mm compared to the Pixel 5's 24mm lens. Pixels here are slightly larger at 1.22µm compared to 1.12µm on the Pixel 5. On the Pro, 4K video recording is possible with the front camera, though only in 30fps.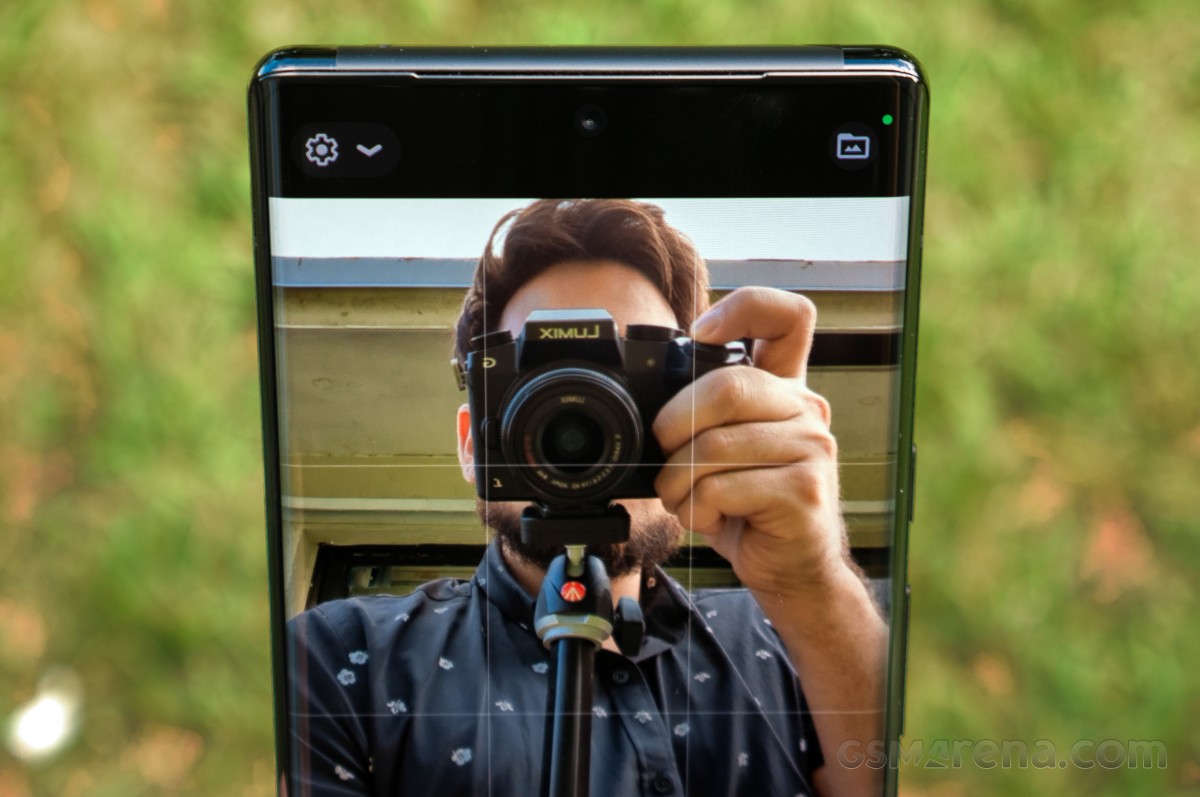 The other headlining camera is the 48MP periscope zoom camera with 4X optical zoom. This 1/2" sensor has 0.8µm pixels and sits behind an f/3.5 aperture lens assembly. This camera also features PDAF and OIS. Using a combination of Super Res zoom and this optical 4X zoom, the Pixel 6 Pro can achieve up to 20X zoom. Finally, the updated ultrawide camera is a 12MP sensor with 1.25µm pixels and an f/2.2 aperture lens. The front camera is now 11.MP with an ultra-wide lens and is capable of recording 4K video.
Google talked about its Real Tone feature that's baked into Pixel 6 cameras. It's a result of collecting thousands of photographs from visual artists whose works highlight communities of color. These samples, along with feedback from dozens of photographers and cinematographers, let Google improve every aspect of capturing a person of color with the Pixel 6 and 6 Pro's cameras.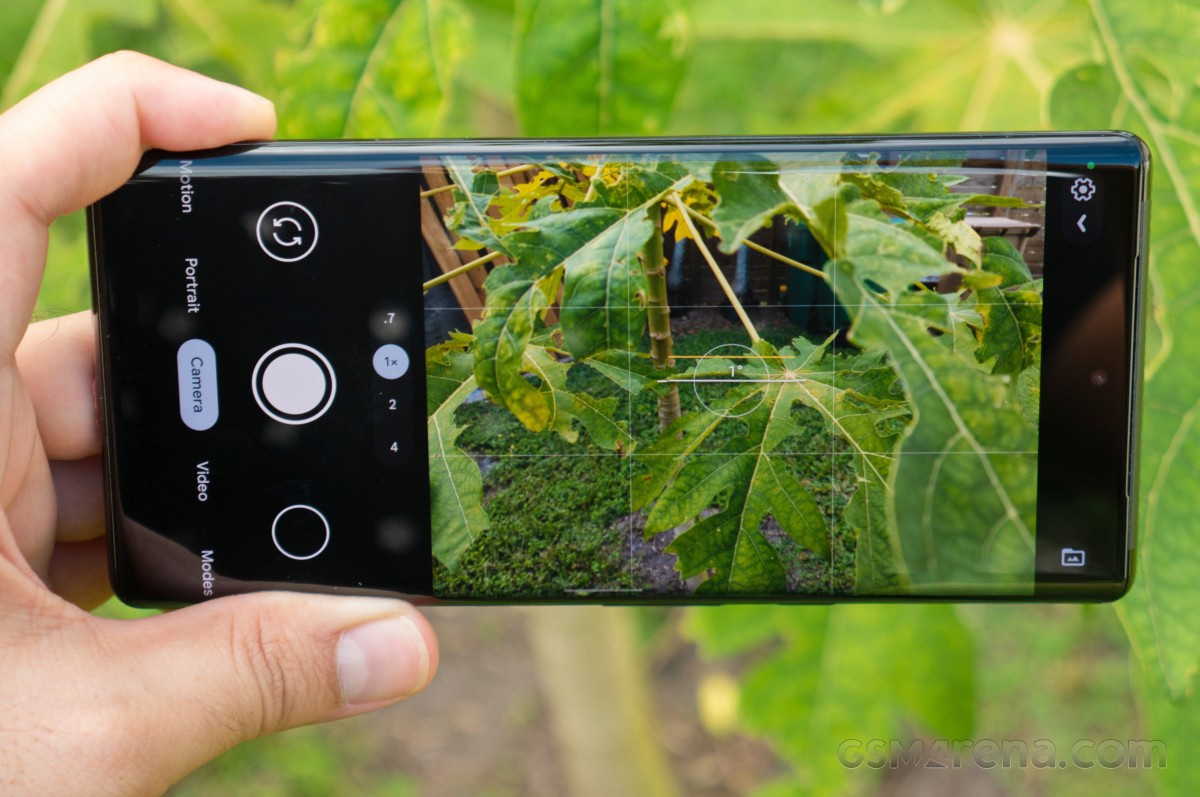 In addition to improved face detection, it improved exposure and color reproduction of darker skin tones, so they more accurately represent these communities without skin tones looking too bright, dark, saturated, or washed out. Real Tone will work with third-party camera apps as well. The Google Photos app will include Real Tone in its Auto-enhance feature so you can apply the Real Tone to older photos.
Camera app
The camera app is new for Android 12. In the main viewfinder, you'll see a Settings cog in the upper left corner and a location option in the upper right corner where you can decide whether to save photos or videos taken to the Photo Gallery or the Locked Folder.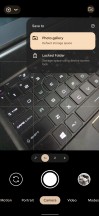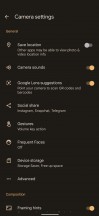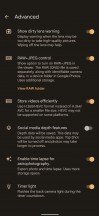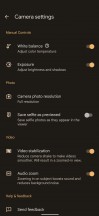 Save location • Camera settings
The camera app will always default to the "Camera" photo mode. From left to right, the shooting modes are: Night Sight, Motion, Portrait, Camera, Video, and Modes which lets you access the Panorama, Photo Sphere, and Google Lens modes. Lens has modes for Translate, Text, Search, Homework, Shopping, Places, and Dining.
There's a new meter to adjust the white balance right in the viewfinder, along with the Shadow and Light sliders. There's an option to shoot RAW images as well, but you need to enable this in the settings first. Despite there being a 50MP camera sensor, the phone is only capable of outputting 12.5MP images, and there's no setting to take full-res images. It also looks like "Motion Photo" has been renamed to "Top Shot" as to not confuse the user with the Motion camera mode that's new to the Pixel 6 Pro.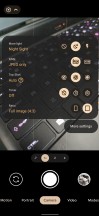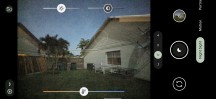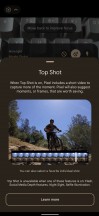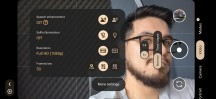 Viewfinder settings • Manual adjustments • Top Shot *Selfie settings
The Motion camera mode has two shooting options. One is called "Action Pan" and the other "Long Exposure". When equipped, Action Pan will capture an object that's moving quickly when you are following its motion with the camera. This captures the subject while blurring the background.
Long exposure is the inverse: you press the shutter button to capture something like a train, car trail lights, or something that's moving quickly, and the background stays clear. Motion modes are currently in Beta but available out of the box.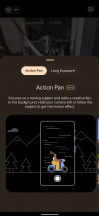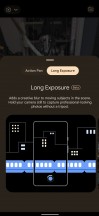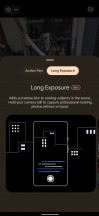 Motion Modes: Action Pan • Long Exposure
Daylight Image quality
In daylight, images rendered great details with outstanding dynamic range, vibrant colors, and high contrast.
We also notice Google's white balance leans slightly cool as is customary with the Pixel cameras. Photos are ridiculously clear, maybe too clear sometimes. It doesn't always happen, and it will depend on the lighting situation.
Sharpness is up there. There's a certain "softness" to other cameras that is missing here. That separation from what's in focus to what's out of focus or in the background is what gives us depth perception. With the Pixel 6 Pro's images, however, images look like they are over-sharpened and perfectly manicured, and we have to rely almost entirely on lighting and shadows for us to perceive depth.
Speaking of lighting and shadows - we think shadows could be a little darker and highlights could be a little brighter. Look at these comparison photos that we shot with the Samsung Galaxy S21 Ultra.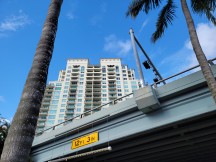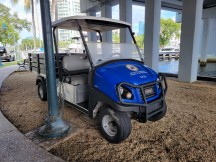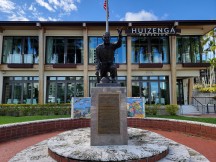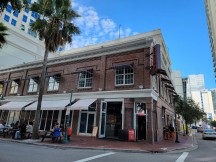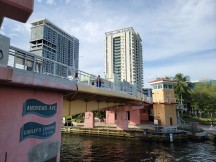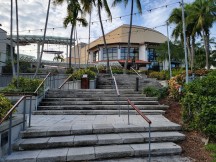 1X camera samples from Galaxy S21 Ultra
You can't see this while looking at the overall image, but when pixel peeping, you'll notice that the S21 Ultra's images, aside from being slightly more color-accurate, all have some grain towards the edges of the photo. Meanwhile, there may be a noticeable amount of noise towards the corners of the frame on the Pixel 6 Pro's images, signaling that HDR+ is trying to make everything look clear, even where it doesn't need to be. HDR+ is a bit too aggressive and doesn't let white be white or blacks stay dark.
As with Pixels before this one, the camera tends to expose higher-than-reality in scenes that are packed with darker tones or shady areas. Now that the larger 50MP sensor can capture more light, it feels like the camera is still trying to maximize the exposure in darker areas, and usually in high dynamic range situations (particularly when the subject is backlit), shadows are more exposed than they need to be, resulting in a flat-looking image. Take a look at these comparison shots taken with the Pixel 5.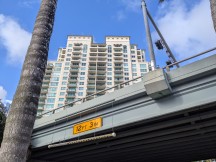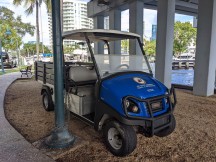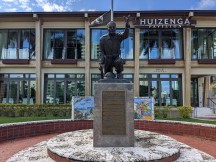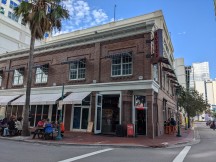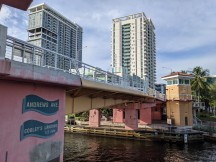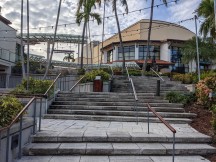 1X camera samples from Google Pixel 5
The Pixel 5 seemed to be more consistent overall. It's not to say that Google's approach to photography here is the wrong way to go about it, we just think that the camera's computational photography model, which is phenomenal in itself, might be carrying the camera hardware just a little further than it needs to. Perhaps a slight tweaking is all that's needed to achieve consistency, and this is possible with firmware updates.
In the viewfinder, there's a preset for 2X zoom, which crops an image from the main camera. There's a very subtle softness to these photos that only an experienced eye could notice, but they do look nice. There's a slightly more processed look to these shots, and when looking up close, details have more of a "watercolor" texture to them.
The periscope camera supports 4X optical zoom, and images shot with this camera don't match up exactly with those that came from the main camera sensor. These images aren't getting as much of that over-processed look that we are seeing from the main camera.
These photos look more accurate than those coming from the main camera. Here, the details look less later watercolor, and images aren't over-sharpened, so images look more natural. Dynamic range is excellent, and colors are true to life. We do wish there was more contrast here, though.
Now, for fun, we took the Pixel 6 Pro's 4X zoom and tuned it up to 10X Super Res Zoom to compare it directly to the Galaxy S21 Ultra's 10X periscope zoom. Let's see how they did.
The Pixel 6 Pro's 10X shots are very clean, resolved details are a little on the noisy side as they are remnants of Super Res Zoom, but the shots are quite usable.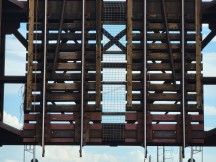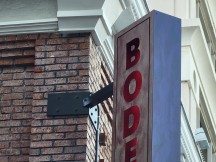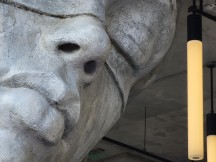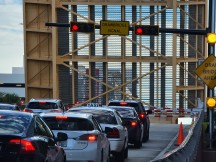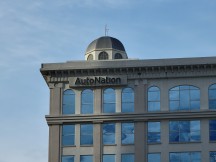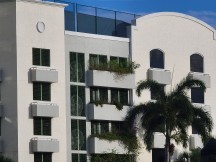 10 optical zoom from Galaxy S21 Ultra
You'll notice that the shots from the Galaxy S21 Ultra are a bit darker in the shadows, and they more accurately represent the live scene. The Pixel 6 Pro's 10X zoom shots, however, might be favored by some over the S21 Ultra's due to their vibrant colors and easy-to-see clarity.
Here are some shots taken with the Pixel 6 Pro's ultrawide camera, and we've added some shots from the Google Pixel 5's ultrawide camera as well.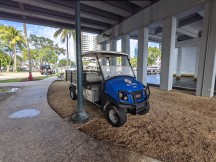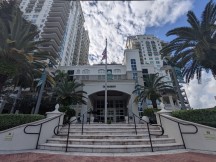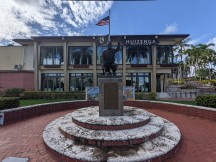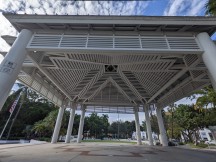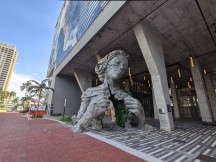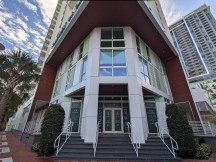 Ultrawide shots with the Pixel 5
The Pixel 6 Pro's ultrawide camera is able to capture more light thanks to its larger pixels. Dynamic range is the most noticeable improvement, followed by the improved vibrancy of the colors. Noise suppression is also better with this new ultrawide camera sensor, but there are some situations where the Pixel 5 and Pixel 6 Pro's ultrawide shots are more difficult to tell apart. At the end of the day, improvement is good. Just know that there's no autofocus on this ultrawide camera, so macro photos are not possible with the Pixel 6 Pro.
Portrait photos have 1X and 2X modes which seem like they are based on 50mm and 70mm focal lengths, rather than 1X referring to the 26mm focal length (35mm equiv.) of the main lens.
Portraits look awesome with the Pixel 6 Pro. Google's subject separation is pretty good and can find its way around loose hair to make the image really pop. We have to admit that portraits don't look as good as they did on the Pixel 4 XL with its 2X telephoto camera, which was used to calculate depth for a more believable bokeh that gradually blended with the natural depth of the background. With the Pixel 6 Pro, the main camera is doing all the heavy lifting, and we can see some details left behind here and there.
Portrait photos are meant to be shot from further away, but the 2X portraits simply don't look as good as those shot at 1X. We think it has to do with the computational aspect of combining both Super Res Zoom with the artificial bokeh. We also notice the bokeh of the 2X zoom isn't as aggressive as that of the 1X zoom. Thankfully you can adjust blur natively in the Google Photos app.
Selfies look about the same as before, though the wider lens is a welcome feature. The 1X view is the default, but 0.7X uses the full sensor. Regardless of which mode you use, images always come out at 11MP.
By default, the front-facing camera opens up in the cropped 1X mode. These selfies generally look great, but harsher lighting reveals this camera's weakness in processing. Details in the subject's face may sometimes appear over-processed and noisy, particularly on the highlights of the face and hair. Dynamic range is otherwise great, and details in the background are well-preserved.
Using the 0.7X full frame mode on the selfie camera yielded much better details and textures on the subject's face. Users concerned about the amount of details in the face could opt to enable the face smoothing feature, which has two levels of intensity. Overall, the dynamic range is excellent, but the colors are a little strange, particularly with white clothing.
Even with the main camera, white clothing is represented inconsistently, and it has to do with the way that the camera exaggerates whenever a splash of light reflects on a subject. The most accurate representation of Ricky's shirt in the selfies is in the last selfie in front of the bridge, where he's getting a bit of direct sunlight.
Here are some selfies shot with the Pixel 5 and Galaxy S21 Ultra.
The Pixel 5's selfies don't have as much dynamic range, but they look truer to the scene. Here's where you can note the improvement in details on the Pixel 6 Pro's selfie camera.
Meanwhile, you'll notice that Galaxy S21 Ultra's selfies show a more consistent white in the clothing across the different lighting conditions, but you can also notice how the Pixel ended up with vastly different renditions in each light. Details are also vastly superior here - they are softer and look less processed, but Samsung has the edge here with a 40MP selfie camera and an autofocusing lens.
As is the case with regular selfies, Portrait selfies look better when shot from the full view (0.7X) of the camera.
These portrait selfies look really nice, and there's noticeable improvement around the subject's outline, particularly around hair and glasses.
There are two Motion photo modes, and these effects will only apply to the photo if they are activated before you shoot the images. You need to have the intent to shoot a Motion photo, or you won't really get a nice-looking shot. Again, these modes are in beta.
Action Pan shots are difficult to shoot with the main 1X camera since a moving subject needs to be moving close to you to capture it in the frame. Sometimes the effect won't trigger properly even if it is enabled. Shots look better if the subjects were further away and the 4X camera was used. The resulting images will look better if you capture them in the 1X or 4X modes.
There are few situations for when it'd be appropriate to use either of the Motion modes: Action Pan is for racing or sporting events where subjects are moving swiftly, and Long Exposure is for adding drama to the movement of something like a train, car taillights, or flowing water.