Android 12 and Tensor-exclusive features
Android 12 has been out for some time now and we have a full review of Google's latest OS running on a previous-gen Pixel. The Pixel 6 we have here, however, has some exclusive features enabled by the custom Tensor chipset that are worth some extra words - Voice Typing, Live Translate, and Calling Assist.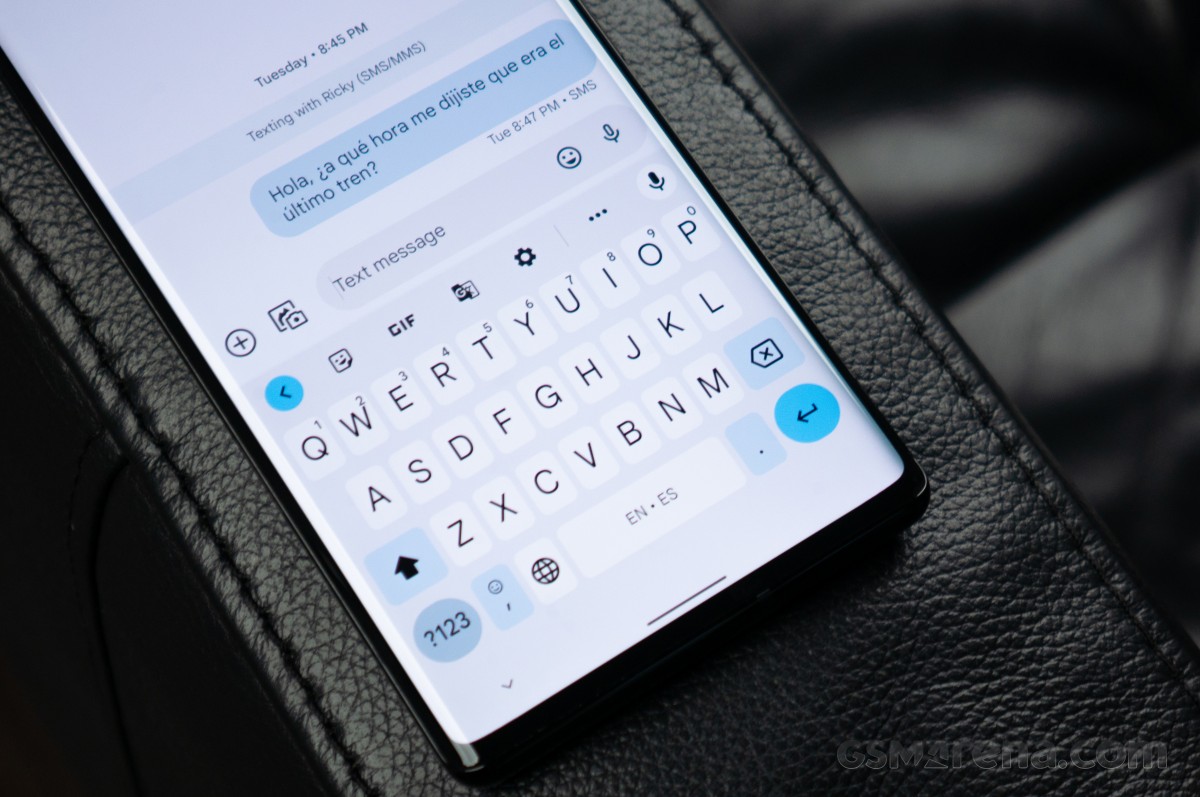 It was always possible to input text using voice with Gboard, but the Tensor chip brings Assistant Voice Typing: a far better way to type by voice. This will work without an internet connection since the language model is on-device and processes language near-instantaneously.
To initiate typing with voice, you can press the microphone button or say "Hey Google, type" and start yapping away. You'll be able to reply with your voice far more naturally since the Assistant will take care of punctuation, so you don't even have to say things like "period" or "question mark".
If you tap on a dictated word, suggestions will now show alternatives that are phonetically close to what you are saying, versus suggestion words that are meant for text Input. You can also say "Clear" to delete the last thing you entered with voice, "Send" (in supported apps), "Clear all" to wipe the entire text field, or "Stop" to discontinue voice input.
You can tap on a word and re-speak it to correct it, or you can move the cursor prior to inserting more text, all without having to press the voice button again. Some emojis can be inserted by voice too, like "smile with teeth emoji," and you can spell out words that Assistant may not understand.
The new language model enables the much quicker and more reliable transcription of voice to text, thus speeding up Google Assistant's turnaround times for voice queries. The translation is added to the mix as well, which improves Google's Interpreter mode when you need help speaking to someone in their native language, or if you are using a supported messaging app. If you wanted to carry on a text conversation with someone in another language, you could do so, and Google will translate both directions on the fly.
Live Translate worked well enough, except for a couple of bugs. This feature is hidden away in the System Settings, and you have to manually download the language that's to be translated from. The translations were okay, and the results will depend on whether the other person writes in complete sentences. Even still, after setting everything up, the feature works as advertised and beats having to manually translate each message you send and receive.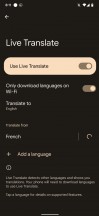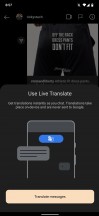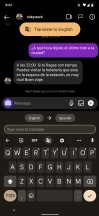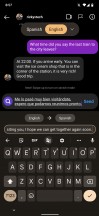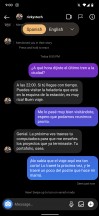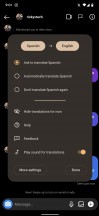 Live Translate via Instagram DM
Live Translate for messaging is currently only supported on a dozen or so messaging apps, and in the following languages: English, French, Japanese, Spanish, German, Italian, Portuguese, Simplified Chinese, Hindi, Polish, and Russian.
Live Translate also works to translate spoken-word content, so long as it's in English, French, German, Italian, or Japanese (Beta) - not in Finnish, for example. Sound coming from a video or audio source can be transcribed and translated in real-time.
The downside to using this feature is that the actual translation is still a bit slow and clunky. Since the words begin to appear as they are said in their native language, the text you read in the translated language morphs the whole duration of its recital until the sentence is completed and the punctuation is added. This can make reading Live Translated subtitles disorienting and difficult to understand. But if you don't understand the original language, what are your options anyway?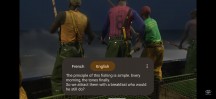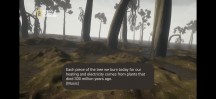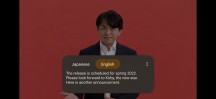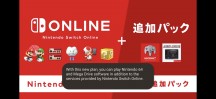 Live Captions translated from French and Japanese content
You may not be able to use Live Translate for apps with copyrighted content. For example, Live Translate wouldn't work for captioning a Japanese TV show on the Netflix app as the feature was disabled for the app. While the feature works as advertised and the concept is quite useful, it seems like it needs another few years before it's fully fleshed out.
As a general taste of Android 12 on a Pixel 6, here are a few screenshots of basic UI elements. You'll note the rounded corners of rectangles, the large quick toggles, the oversized labeling, the creamy accent colors - it's overall a very cozy place to be in.
Performance and benchmarks
The Pixel 6 is powered by the proprietary Tensor chipset, a joint effort between Google and Samsung. It enables advancements in machine learning and computational photography that Google wouldn't have been able to achieve by using a Qualcomm chip.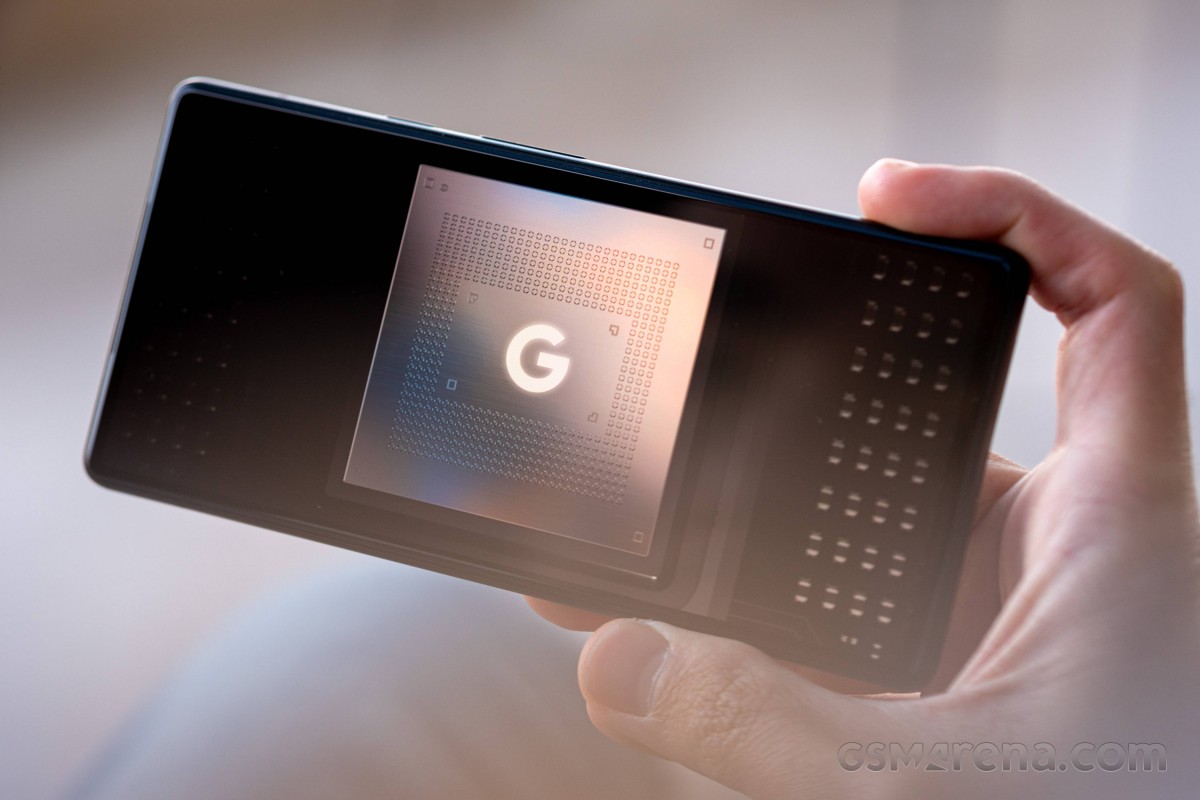 The CPU is in a different setup than competing designs, offering a 2+2+4 core configuration, as opposed to the prevailing 1+3+4 arrangements. You get two powerful Cortex-X1 cores going all the way up to 2.8GHz, a pair of Cortex-A76 cores at 2.25Ghz, and a low-power quad-core cluster of Cortex-A55 cores clocked at 1.8GHz. Google's Tensor is optimized for the dual X1 cores to handle medium-level tasks by using a portion of the workload more efficiently rather than maxing out the mid-cores. For graphics, there's a 20-core Mali G78 MP20.
The TPU (Tensor Processing Unit, after which the whole chip is named) has a machine learning engine that is built for "where ML engines are heading, not where they are today." This component of the Tensor chip handles new camera features, including the new HDRnet algorithm for shooting video and an updated language model used by Google Assistant that enables improved translation speed and accuracy.
This model also enables the new Live Translate features built into Pixel 6 and 6 Pro. There's also a "Context Hub" which handles background tasks or "ambient experiences" like the always-on display and Now Playing features without draining power.
Quoted from Google's press event: "As software applications on mobile phones become more complex, they run on multiple parts of the chip. This is heterogeneous computing." Google's aim with the Tensor chip is that all the components inside work together efficiently rather than optimizing for peak speed.
With that premise, we weren't expecting chart-topping benchmark results, and, indeed, we got rather meh numbers in GeekBench for both single-core and multi-core performance.
GeekBench 5 (multi-core)
Higher is better
Asus Zenfone 8 Flip
3673
OnePlus 9
3629
Asus Zenfone 8
3604
Asus ROG Phone 5s Pro
3521
Sony Xperia 1 III
3515
Xiaomi Mi 11
3489
vivo X70 Pro+
3469
Oppo Find X3 Pro
3316
Galaxy S21 Ultra 5G (Snapdragon)
3244
Samsung Galaxy Z Fold3 5G
3239
Samsung Galaxy S21 5G
3238
Google Pixel 6
2899
Google Pixel 6 Pro
2831
GeekBench 5 (single-core)
Higher is better
Sony Xperia 1 III
1130
OnePlus 9
1129
Asus Zenfone 8 Flip
1126
Asus Zenfone 8
1118
Asus ROG Phone 5s Pro
1117
Galaxy S21 Ultra 5G (Snapdragon)
1109
vivo X70 Pro+
1106
Samsung Galaxy Z Fold3 5G
1095
Xiaomi Mi 11
1085
Google Pixel 6 Pro
1042
Samsung Galaxy S21 5G
1032
Google Pixel 6
1030
Oppo Find X3 Pro
926
The Pixel 6 did manage to inch ahead of an Exynos powered Galaxy S21 in Antutu, but that's about it.
AnTuTu 9
Higher is better
vivo X70 Pro+
837833
Asus Zenfone 8
799738
Asus Zenfone 8 Flip
797484
Samsung Galaxy Z Fold3 5G
752218
Sony Xperia 1 III
749132
Asus ROG Phone 5s Pro
735588
Google Pixel 6 Pro
719815
Google Pixel 6
676831
Samsung Galaxy S21 5G
650829
The Pixel 6 is a lot happier when faced with graphics benchmarks, however, and in these it did manage to record some victories against fellow Androids. It was also, understandably, way ahead of the 6 Pro in onscreen benchmarks - it's the same GPU having to drive a lot fewer... pixels here.
GFX Manhattan ES 3.1 (offscreen 1080p)
Higher is better
Asus ROG Phone 5s Pro
120
OnePlus 9
119
Asus Zenfone 8 Flip
118
Google Pixel 6
117
Asus Zenfone 8
117
Oppo Find X3 Pro
113
Sony Xperia 1 III
111
Xiaomi Mi 11
111
Google Pixel 6 Pro
110
Galaxy S21 Ultra 5G (Snapdragon)
109
vivo X70 Pro+
105
Samsung Galaxy S21 5G
97
Samsung Galaxy Z Fold3 5G
71
GFX Manhattan ES 3.1 (onscreen)
Higher is better
Asus Zenfone 8
105
Asus Zenfone 8 Flip
104
Asus ROG Phone 5s Pro
103
Samsung Galaxy S21 5G
95
Sony Xperia 1 III
91
Google Pixel 6
90
Google Pixel 6 Pro
65
OnePlus 9
60
vivo X70 Pro+
58
Galaxy S21 Ultra 5G (Snapdragon)
58
Xiaomi Mi 11
57
Oppo Find X3 Pro
55
Samsung Galaxy Z Fold3 5G
40
GFX Car Chase ES 3.1 (offscreen 1080p)
Higher is better
Google Pixel 6 Pro
70
OnePlus 9
70
Asus ROG Phone 5s Pro
70
Oppo Find X3 Pro
70
Asus Zenfone 8
69
Asus Zenfone 8 Flip
69
Sony Xperia 1 III
68
Xiaomi Mi 11
67
Google Pixel 6
66
vivo X70 Pro+
66
Galaxy S21 Ultra 5G (Snapdragon)
66
Samsung Galaxy S21 5G
60
Samsung Galaxy Z Fold3 5G
55
GFX Car Chase ES 3.1 (onscreen)
Higher is better
Asus Zenfone 8 Flip
62
Asus Zenfone 8
61
Asus ROG Phone 5s Pro
59
OnePlus 9
58
Google Pixel 6
57
Sony Xperia 1 III
54
Samsung Galaxy S21 5G
54
Google Pixel 6 Pro
39
Samsung Galaxy Z Fold3 5G
38
vivo X70 Pro+
33
Xiaomi Mi 11
33
Galaxy S21 Ultra 5G (Snapdragon)
33
Oppo Find X3 Pro
33
GFX Aztek Vulkan High (onscreen)
Higher is better
Asus Zenfone 8
45
Asus Zenfone 8 Flip
45
Google Pixel 6
43
OnePlus 9
43
Asus ROG Phone 5s Pro
42
Samsung Galaxy S21 5G
29
Google Pixel 6 Pro
26
vivo X70 Pro+
26
Galaxy S21 Ultra 5G (Snapdragon)
25
Sony Xperia 1 III
24
Xiaomi Mi 11
24
Samsung Galaxy Z Fold3 5G
18
GFX Aztek ES 3.1 High (onscreen)
Higher is better
Google Pixel 6
46
Asus Zenfone 8
41
Asus Zenfone 8 Flip
41
OnePlus 9
40
Asus ROG Phone 5s Pro
40
Samsung Galaxy S21 5G
38
Sony Xperia 1 III
36
Google Pixel 6 Pro
28
Samsung Galaxy Z Fold3 5G
25
vivo X70 Pro+
25
Galaxy S21 Ultra 5G (Snapdragon)
23
Xiaomi Mi 11
22
3DMark Wild Life Vulkan 1.1 (offscreen 1440p)
Higher is better
Google Pixel 6
6832
Google Pixel 6 Pro
6602
Sony Xperia 1 III
5807
Asus Zenfone 8 Flip
5677
Xiaomi Mi 11
5673
OnePlus 9
5667
Asus Zenfone 8
5666
Oppo Find X3 Pro
5653
Samsung Galaxy Z Fold3 5G
5635
Asus ROG Phone 5s Pro
5556
Galaxy S21 Ultra 5G (Snapdragon)
5547
Samsung Galaxy S21 5G
5412
vivo X70 Pro+
5332
This peak performance proved difficult to sustain, and in the 3DMark Wild Life stress test, the Pixel 6's result dropped from a class-leading first run to less than half that at the very last loop. CPU stability wasn't stellar either, with a drop to 61% of peak performance in the CPU throttling test. Naturally, these are synthetic loads and very extremes ones at that, so they shouldn't be taken as a representation of real-world usage.