6.34" OLED screen
The Google Pixel 5a sports a 6.34" OLED screen with a traditional 60Hz refresh rate. This display has a resolution of 1080x2400 px, coming out to about 413 ppi. Support for HDR video is nice to have on this bright and vivid screen. The OLED panel is protected by Gorilla Glass 3.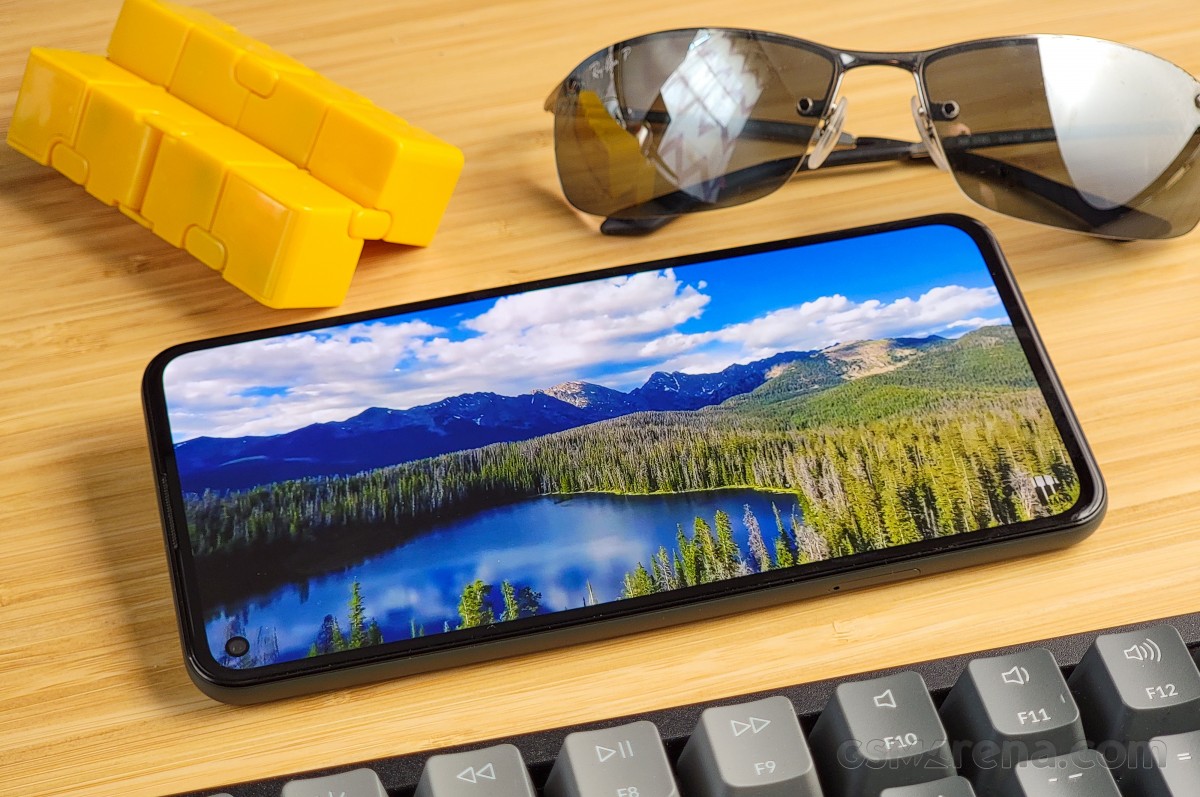 In our brightness measurements, the 5a maxes out at 508 nits when brightness is adjusted manually. Google advertised a maximum brightness of 800 nits, and we were happy to see that our readings surpassed even Google's estimates. With Adaptive brightness enabled, we were able to achieve 861 nits of peak brightness. Indeed impressive, performing just as well as Samsung's entry-level Galaxy S21.
The minimum brightness tested was 2.2 nits, comfortable enough to use in the dark, just as it is easy to see in bright daylight.
Display test
100% brightness
Black,cd/m2
White,cd/m2
Contrast ratio
Google Pixel 5a 5G (Max Auto)
0
861
∞
Samsung Galaxy S21 5G (Max Auto)
0
856
∞
Xiaomi Mi 11 Lite 5G (Max Auto)
0
846
∞
vivo X60 Pro (Max Auto)
0
818
∞
Google Pixel 4a (Max Auto)
0
803
∞
Samsung Galaxy A52 5G (Max Auto)
0
787
∞
OnePlus Nord (Max Auto)
0
756
∞
Poco F3 (Max Auto)
0
716
∞
Google Pixel 5 (Max Auto)
0
699
∞
Realme GT 5G (Max Auto)
0
650
∞
Apple iPhone 12
0
639
∞
Oppo Reno5 5G (Max Auto)
0
634
∞
OnePlus Nord 2 5G (Max Auto)
0
633
∞
Realme 8 5G (Max Auto)
0.408
577
1414:1
Xiaomi Mi 11 Lite 5G
0
514
∞
Poco F3
0
511
∞
Google Pixel 5a 5G
0
508
∞
Google Pixel 5
0
475
∞
vivo X60 Pro
0
472
∞
Realme 8 5G
0.334
472
1413:1
Google Pixel 4a
0
456
∞
Oppo Reno5 5G
0
444
∞
Realme GT 5G
0
443
∞
OnePlus Nord 2 5G
0
438
∞
Samsung Galaxy S21 5G
0
416
∞
Samsung Galaxy A52 5G
0
378
∞
OnePlus Nord
0
323
∞
The 5a's display comes tuned to the DCI P3 color space (Adaptive mode) and offers an sRGB (Natural) mode. If both of those are too saturated or not saturated enough for your liking, Boosted mode is a nice balance between the two. Even so, the default Adaptive profile is pleasantly saturated.
The Natural setting yields the most accurate colors with an average deltaE of 1.3 and max deltaE of 2 deviations. Maximum brightness and color calibration are both strong points for the Pixel 5a's display, as well as its size. The size sits in a sweet spot that's not too large nor too small.
Sadly, there's no high refresh rate capability on this display and it's limited to 60 Hz. Not a deal-breaker, but considering the feature is widely seen on many mid-range and entry-level smartphones, we can't help feel some disappointment that we don't get it here.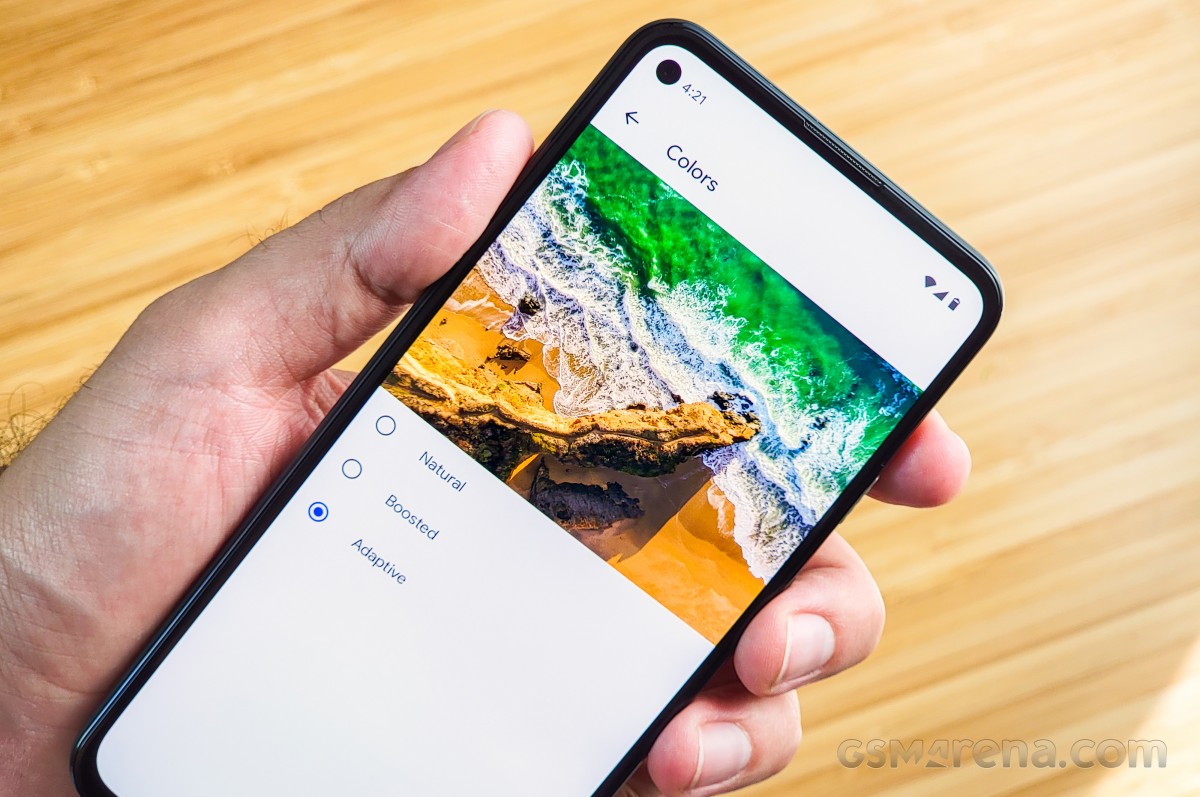 The Pixel 5a's display is compatible with HDR content, though the app will specifically need to support HDR playback for the Pixel 5a, such as with the Netflix app. YouTube offers HDR compatibility, and there's a lot of HDR content you can watch.
Aside from not using a higher refresh rate to enhance the experience, there's not much to complain about on the Pixel 5a's OLED panel. It's excellently bright and amply sized for content consumption. It's also well-tuned for color accuracy and pleasantly vivid by default.
Battery life
The phone is equipped with a considerably larger battery compared to its predecessors. The Google Pixel 5a has a 4,680 mAh battery, which pairs nicely with the power-efficient Snapdragon 765G. We expected to see great battery life here, and we have to say we were not disappointed with the results.
The Google Pixel 5a receives an overall score of 122h, the highest of any Google Pixel device that we've tested. The previous record for a Pixel device was held by another "a" Series Pixel, the 3a XL scored 98h (overall) when we reviewed it.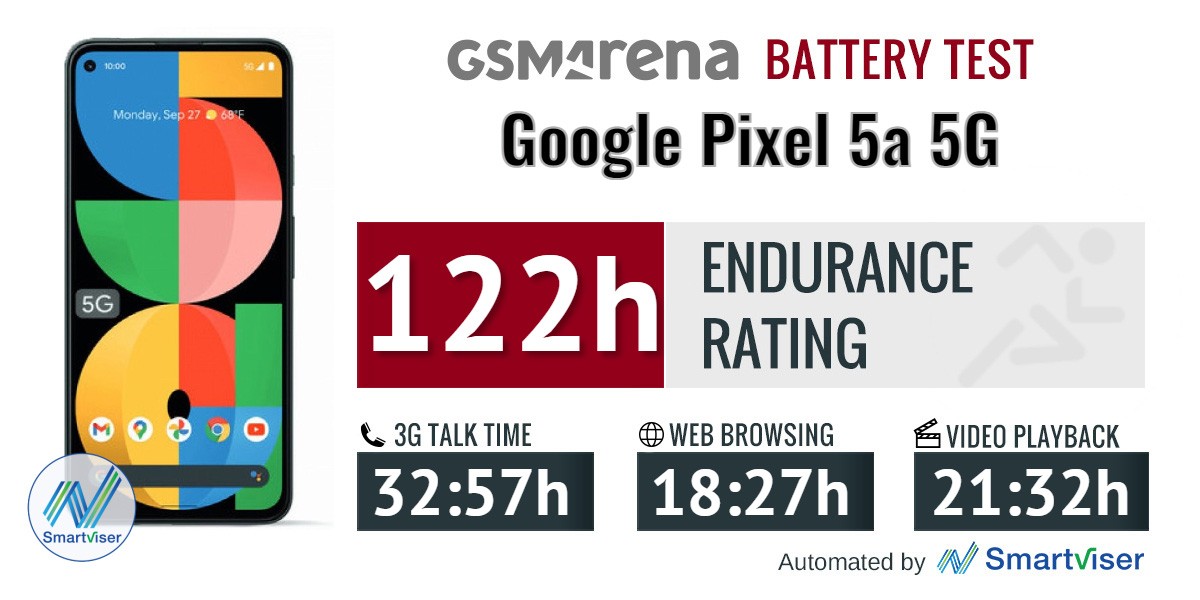 Google appears to be using a much more power-efficient display panel, which managed impressive web and video scores of 18:27h and 21:32h, respectively. Combined with a call score of 32:57h and great standby times, the Google Pixel 5a 5G can delve into two-day battery life depending on your usage. We were quite surprised with the Pixel 5a's screen-on performance. We actually thought the web test result seemed kind of high that we had to run it more than once to confirm our results.
Our battery tests were automated thanks to SmartViser, using its viSerDevice app. The endurance rating denotes how long the battery charge will last you if you use the device for an hour of telephony, web browsing, and video playback daily. More details can be found here.
Charging speeds
The Pixel 5a ships with the same 18W USB-C charger we've seen included with several Pixels before. It's rated at 5V@3A and 9V@2A, and using a faster adapter won't make it charge any quicker.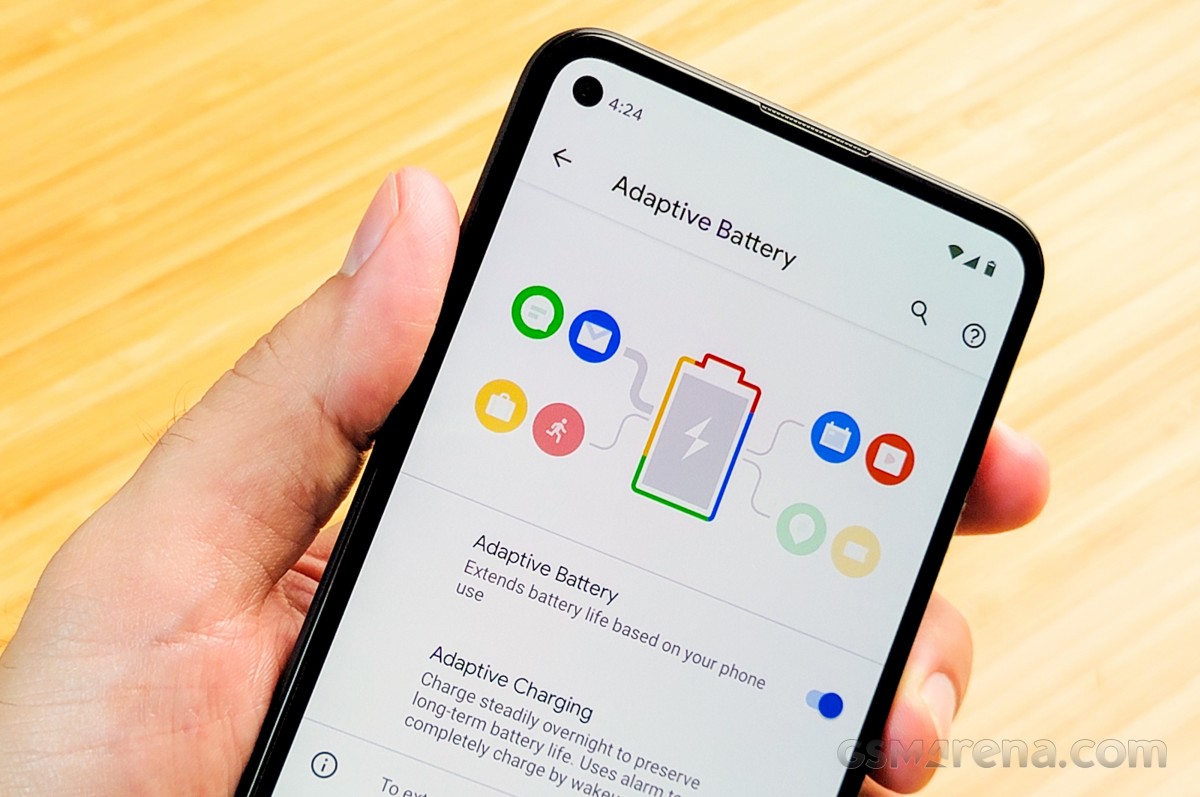 The Pixel 5a reached a 42% charge in 30 minutes and 75% after one hour. A full charge was finally achieved about 1h40m after plugging in. While the charging speeds aren't as impressive as other devices we've seen in this price range, battery endurance makes up for it.
30min charging test (from 0%)
Higher is better
OnePlus Nord 2
98%
vivo X60 Pro
68%
Poco F3
67%
OnePlus Nord N10 5G
65%
OnePlus Nord
60%
Apple iPhone 12
58%
Xiaomi Mi 11 Lite 5G
58%
Samsung Galaxy S21 5G (25W PD)
55%
Apple iPhone 12 Pro Max
55%
Google Pixel 4a
45%
Google Pixel 5a 5G
42%
Google Pixel 5
41%
Samsung Galaxy S21 5G (18W QC3.0)
40%
Realme 8 5G
29%
Time to full charge (from 0%)
Lower is better
OnePlus Nord 2
0:31h
OnePlus Nord N10 5G
0:52h
Poco F3
0:56h
vivo X60 Pro
0:58h
Xiaomi Mi 11 Lite 5G
1:04h
OnePlus Nord
1:05h
Samsung Galaxy S21 5G (25W PD)
1:13h
Samsung Galaxy S21 5G (18W QC3.0)
1:25h
Apple iPhone 12
1:30h
Apple iPhone 12 Pro Max
1:32h
Google Pixel 4a
1:37h
Google Pixel 5a 5G
1:40h
Google Pixel 5
1:54h
Realme 8 5G
2:20h
Stereo loudspeakers
Unfortunately, we're unable to replicate our usual in-studio sound test from where we've conducted our review of the Pixel 5a 5G. Still, we can offer a few words about how these loudspeakers sound.
The Pixel 5a's stereo speakers are plenty loud, and they don't suffer from distortion at maximum volumes. Listening to voice-only audio like podcasts or YouTube videos through these loudspeakers is very pleasant. You can hear depth in spoken word with no noticeable distortion. Cranking up the volume to show a few co-workers a funny video shouldn't be a problem with this phone.
Drum and bass tend to drown out at anything above 60% volume when listening to music. You can kind of make out most of the music's nuances and instrumentals when listening at around 50% volume, but anything higher than that will make the track sound tinny and small.