Bright and compact OLED display
The Pixel 4a has a 5.81-inch display with a taller 19.5:9 aspect ratio. It's smaller than many smartphones of this class, but smaller phones are rare these days. Most midrange phones are pushing upwards past 6.5-inches sometimes, so we welcome the more compact size for some variety.
The display has a resolution of 1080 x 2340px and a pixel density of 443ppi. It looks sharp and the contrast of the OLED screen is great as well.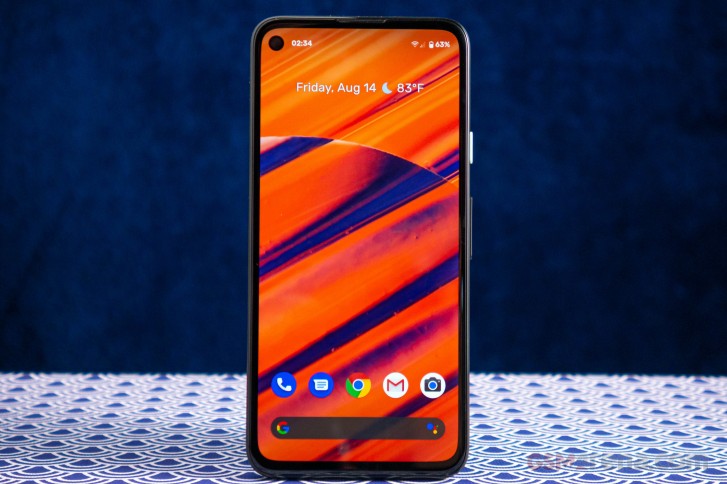 There's no high refresh rate on the Pixel 4a, and that's okay. Although it seems like 90Hz is becoming a new standard in smartphone displays - even in the entry level - it is still considered to be a purely cosmetic feature.
We tested 803 nits of maximum brightness when set to "adaptive brightness". With the manual brightness slider, we got a maximum of 451 nits. This is a great device to use outdoors and even in direct sunlight.
This is the highest brightness of any Pixel phone we've ever tested. In fact, the Pixel 4a is the first Pixel phone to actually push brightness past the manual slider when set to the automatic adjustment. Pixel phones in the past have always been average in brightness, but the Pixel 4a is excellent for its class.
Display test
100% brightness
Black,cd/m2
White,cd/m2
Contrast ratio
Xiaomi Poco F2 Pro (Max Auto)
0
854
∞
Oppo Reno4 Pro (Max Auto)
0
843
∞
Google Pixel 4a (Max Auto)
0
803
∞
OnePlus Nord (Max Auto)
0
756
∞
OnePlus 7T (Max Auto)
0
743
∞
Apple iPhone SE (2020)
0.434
670
1544:1
Apple iPhone 11
0.428
644
1505:1
Samsung Galaxy A51 5G (Max Auto)
0
642
∞
Realme X50 Pro 5G (Max Auto)
0
635
∞
Xiaomi Mi Note 10 Lite (Max Auto)
0
596
∞
Motorola Moto G 5G Plus (Max Auto)
0.466
543
1165:1
Realme X50 Pro 5G
0
525
∞
OnePlus 7T
0
525
∞
Sony Xperia 10 II (Max Auto)
0
520
∞
Xiaomi Poco F2 Pro
0
516
∞
Oppo Reno4 Pro
0
508
∞
Google Pixel 4a
0
456
∞
Google Pixel 3a XL
0
451
∞
Motorola Moto G 5G Plus
0.349
443
1269:1
Google Pixel 4 XL
0
436
∞
Xiaomi Mi Note 10 Lite
0
424
∞
Google Pixel 4
0
423
∞
Samsung Galaxy A51 5G
0
410
∞
Sony Xperia 10 II
0
379
∞
OnePlus Nord
0
323
∞
You have three options for color profiles: Adaptive, Boosted, and Natural. The default display tuning is set to Adaptive, which is based on the DCI-P3 color space, showing vivid colors and pleasing images. This profile had an average deltaE of 2.8 and a maximum of 6.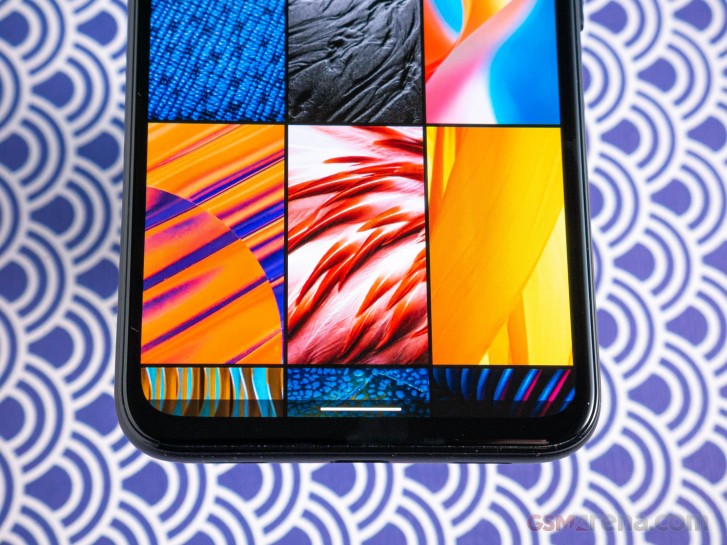 The Natural profile yielded the most accurate scores (based on the sRGB color space) with an average deltaE of1.7 and a maximum of 2.5. Finally, the Boosted setting is a slightly more saturated version of the latter, with an average deltaE at 2.2 and a max of 4.3.
Across the board, whites were always within 2 deltaE units, which is indistinguishable to the naked eye. We're very happy with the display on the Pixel 4a. Now would be a great time to mention that the Pixel 4a is one of the latest devices certified to stream Netflix in HDR10.
Battery life and charging
The Google Pixel 4a gets a slight increase in battery capacity. 3140 mAh up from last year's 3,000 mAh on the Pixel 3a but it still doesn't sound like much. Perhaps the switch to a more efficient 8nm CPU might be enough to offset the added screen size of the 4a. So how did it do with battery endurance?
In our battery tests, the Pixel 4a did okay. It scored 76h overall in our tests with talk times of 22:45h, 11:48h of web time, and 12:17h of video playback. For 2020, these numbers are about average. We're seeing cheaper phones with 4,000mAh and even 5,000mAh batteries push past 100h of endurance scores.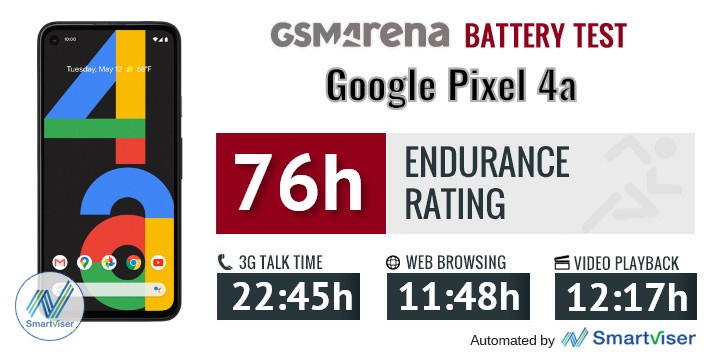 The Pixel 4a should last you through the day and partially into the next day, so it will definitely last a solid day.
Our battery tests were automated thanks to SmartViser, using its viSer App. The endurance rating above denotes how long a single battery charge will last you if you use the Google Pixel 4a for an hour each of telephony, web browsing, and video playback daily. We've established this usage pattern so that our battery results are comparable across devices in the most common day-to-day tasks. The battery testing procedure is described in detail in case you're interested in the nitty-gritty. You can check out our complete battery test table, where you can see how all of the smartphones we've tested will compare under your own typical use.
Charging speed
The phone comes with the same 18W USB-C Power Delivery charger that Pixel phones have included for a few generations now.
Using the included charger, the Pixel 4a recharged to 45% in 30 minutes. It took 1:37h to get to a 100% charge. Naturally, the last 10 percent takes the longest.
Loudspeaker test
We couldn't perform our new loudspeaker test since the review was performed far away from the office.
There are dual loudspeakers on the Pixel 4a. Sound output is quite loud with some distortion heard at higher volumes. We're happy with the loudness of these stereo speakers.
Audio output quality
We've recently discontinued our audio output quality test.
The reason for that is that most phones were already excellent in this regard and whatever difference there was, it was marginal and probably indistinguishable to anything but lab equipment.