5.0-inch AMOLED isn't blue when looked at from the side
The Pixel 2 is equipped with a 5-inch FullHD display, just like the original Pixel from last year. Unlike the Pixel 2 XL and its LG-made screen, the small Pixel 2 uses a Samsung AMOLED panel.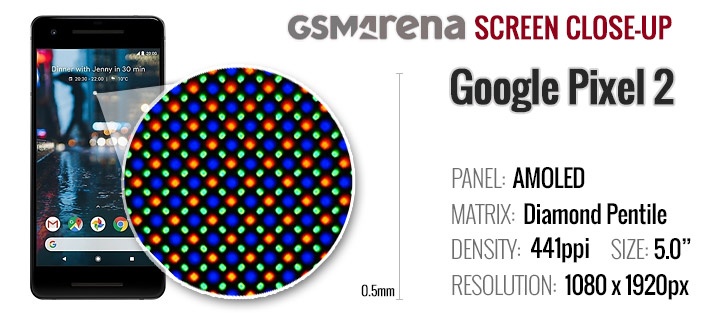 The Pixel 2 is about as bright as last year's model and the Galaxy S8. Unlike the Samsung phone, however, the Pixel 2 doesn't get a boost in Auto mode - the 430-ish nits are as high as it would go. This being an AMOLED display, it's got infinite contrast - the blacks are truly black.
Display test
100% brightness
Black, cd/m2
White, cd/m2
Contrast ratio
Google Pixel
0
445
∞
Google Pixel 2 XL
0
482
∞
Google Pixel 2
0
428
∞
Apple iPhone 8 (True Tone)
0.397
554
1395
Apple iPhone 8 (Standard)
0.399
566
1419
Apple iPhone 8 (Max Auto)
0.468
640
1368
Apple iPhone X
0
679
∞
Samsung Galaxy S8
0
440
∞
Samsung Galaxy S8 Max auto
0
618
∞
Huawei P10
0.416
592
1423
Sony Xperia XZ1
0.409
575
1406
Sony Xperia XZ1 Compact
0.515
640
1243
HTC U11
0.308
483
1568
HTC U11 (Max Auto)
0.373
583
1563
Out in the sunlight the Pixel 2 is clearly legible, but we've seen better from Samsung's own. Actually, the 2 XL posts a higher number in our test. That said, the Pixel 2's sunlight contrast is virtually the same as the LG V30's and higher than pretty much any non-OLED display (the Nokia 8 being responsible for the 'pretty much').
Sunlight contrast ratio
Samsung Galaxy S8
4.768
Samsung Galaxy S8+
4.658
Samsung Galaxy S6 edge+
4.615
Motorola Moto Z2 Play
4.459
Oppo R11
4.454
Samsung Galaxy S7 edge
4.439
OnePlus 3
4.424
Samsung Galaxy S7
4.376
HTC One A9
4.274
Samsung Galaxy Note7
4.247
Samsung Galaxy A3
4.241
Nokia 8
4.239
Google Pixel 2 XL
4.234
OnePlus 3T
4.232
Google Pixel XL
4.164
ZTE Axon 7
4.154
Samsung Galaxy Note8
4.148
Meizu Pro 7 Plus
4.147
Samsung Galaxy A7 (2017)
4.124
Samsung Galaxy S6 edge
4.124
Huawei Mate 10 Pro (normal)
4.096
Samsung Galaxy Note5
4.09
Google Pixel 2
4.023
LG V30
4.022
Huawei Nexus 6P
4.019
OnePlus X
3.983
Vivo Xplay5 Elite
3.983
Apple iPhone 7
3.964
Oppo R7s
3.964
Apple iPhone 8 (True Tone)
3.957
Huawei P9 Plus
3.956
Meizu Pro 6 Plus
3.935
Lenovo Moto Z
3.931
Samsung Galaxy A7 (2016)
3.918
OnePlus 5
3.914
Samsung Galaxy C5
3.911
Samsung Galaxy C7
3.896
Samsung Galaxy A5
3.895
Samsung Galaxy J7 outdoor
3.879
Samsung Galaxy J2 outdoor
3.873
Samsung Galaxy A8
3.859
Sony Xperia XZs
3.818
Samsung Galaxy A9 (2016)
3.817
Motorola Moto X (2014)
3.816
Samsung Galaxy J7 (2017)
3.812
Samsung Galaxy A5 (2017)
3.804
Samsung Galaxy J7 (2016) outdoor mode
3.802
LG V20 Max auto
3.798
Xiaomi Redmi Pro
3.798
Sony Xperia XZ
3.795
Samsung Galaxy A5 (2016)
3.789
Apple iPhone 6s
3.783
Meizu Pro 5
3.781
Microsoft Lumia 650
3.772
Xiaomi Mi 6
3.767
Sony Xperia XZ1
3.765
Samsung Galaxy J7 (2016)
3.756
Sony Xperia XZ1 Compact
3.729
Apple iPhone 8 Plus (True Tone)
3.725
Oppo F1 Plus
3.709
Vivo X5Pro
3.706
Samsung Galaxy A3 (2017)
3.688
Apple iPhone SE
3.681
Huawei Mate 9
3.68
Samsung Galaxy A7
3.679
Meizu PRO 6
3.659
BlackBerry Priv
3.645
Sony Xperia XA1 Ultra
3.597
Apple iPhone 7 Plus
3.588
LG G6
3.556
Apple iPhone 6s Plus
3.53
Motorola Moto Z Play
3.526
Samsung Galaxy J3 (2016)
3.523
Samsung Galaxy J3 (2016) outdoor mode
3.523
Acer Jade Primo
3.521
Microsoft Lumia 950
3.512
Oppo R7 Plus
3.499
nubia Z11
3.466
Huawei P10 Plus
3.456
HTC U Ultra
3.453
Samsung Galaxy J7
3.422
Meizu MX5
3.416
LG V20
3.402
Huawei P10
3.379
Samsung Galaxy J5 (2016)
3.378
Oppo R9s
3.352
Honor 8 Pro
3.341
Oppo R7
3.32
Lenovo P2
3.316
Honor 9
3.289
Xiaomi Mi 5s
3.276
Nokia 5
3.261
Nokia 6 (Chinese version)
3.244
Nokia 6 (Global version)
3.238
Samsung Galaxy J2
3.235
Sony Xperia X Performance
3.234
Xiaomi Mi Note 2
3.228
Motorola Moto X Play
3.222
Oppo F3 Plus
3.218
Huawei Mate 9 Pro
3.206
Huawei P9
3.195
Xiaomi Mi Mix 2
3.19
ZTE Nubia Z17
3.159
Lenovo Vibe Shot
3.113
Motorola Moto X Force
3.105
LG Nexus 5X
3.092
HTC U11
3.089
Huawei Mate S
3.073
Microsoft Lumia 640 XL
3.065
Sony Xperia XA1
3.012
Sony Xperia L1
2.994
Sony Xperia X
2.989
Huawei P10 Lite
2.974
Samsung Galaxy Note
2.97
Sony Xperia Z1
2.95
Huawei Mate 8
2.949
Xiaomi Redmi 4
2.92
Xiaomi Redmi 3S
2.913
Sony Xperia XA Ultra
2.906
LG G5
2.905
HTC One S
2.901
Xiaomi Redmi 3s Prime
2.893
Xiaomi Mi 5s Plus
2.884
Sony Xperia XZ Premium
2.877
Sony Xperia XZ Premium (sRGB)
2.877
Sony Xperia Z5
2.876
Nokia 3
2.871
Microsoft Lumia 550
2.851
Lenovo Moto M
2.813
Xiaomi Redmi 3 Pro
2.803
Sony Xperia Z5 compact
2.784
Meizu MX6
2.751
LG V10
2.744
Huawei Mate 10 (normal)
2.742
Xiaomi Redmi 3
2.735
Xiaomi Redmi Note 4 (S625)
2.714
Meizu M5
2.71
Sony Xperia M5
2.69
Xiaomi Mi A1
2.689
Huawei P9 Lite
2.679
Xiaomi Redmi 4 Prime
2.679
Vivo V3Max
2.659
Xiaomi Mi Mix
2.658
Doogee Mix
2.642
Xiaomi Mi 4i
2.641
Xiaomi Redmi 4a
2.635
Xiaomi Mi 5X (Standard)
2.616
Sony Xperia XA
2.609
Motorola Moto G4 Plus
2.582
Motorola Moto G4 Plus (max auto)
2.582
Meizu M5s
2.58
Xiaomi Mi 4c
2.574
LeEco Le Max 2
2.567
Asus Zenfone 3 ZE552KL
2.563
Microsoft Lumia 640
2.563
Xiaomi Mi Max 2
2.561
Motorola Moto G 4G
2.546
Lenovo K6 Note
2.544
Lenovo Moto G4
2.544
Oppo F1
2.528
Sony Xperia Z5 Premium
2.525
Huawei Honor 7 Lite / Honor 5c
2.506
Sony Xperia M4 Aqua
2.503
Oppo F1s
2.481
Motorola Moto G
2.477
Lenovo Vibe K5 Plus
2.473
Huawei G8
2.471
Huawei nova
2.467
Lenovo Vibe K5
2.459
Meizu m3 max
2.447
Xiaomi Mi 5X (Auto)
2.417
HTC 10 evo
2.407
Huawei Honor 7
2.406
Sony Xperia E5
2.386
ZUK Z1 by Lenovo
2.382
HTC 10
2.378
Oppo F3
2.376
vivo V5 Plus
2.371
Meizu m1 note
2.362
Huawei nova plus
2.329
HTC One E9+
2.305
Alcatel One Touch Hero
2.272
Apple iPhone 4S
2.269
Lenovo Vibe K4 Note
2.254
Sony Xperia C5 Ultra
2.253
Xiaomi Redmi Note 3 (MediaTek)
2.249
Sony Xperia C4 Dual
2.235
Xiaomi Mi Note
2.234
Motorola Moto G (2014)
2.233
LG Nexus 5
2.228
Huawei P8
2.196
Meizu M5 Note
2.189
Huawei Honor 6
2.169
Xiaomi Redmi Note 2
2.166
OnePlus Two
2.165
HTC One X
2.158
Xiaomi Redmi Note 4 (X20)
2.145
LG Aka
2.145
Archos 50 Diamond
2.134
Xiaomi Redmi Note
2.119
Xiaomi Mi 4S
2.095
Acer Liquid X2
2.084
Huawei P8lite
2.078
vivo V5
2.059
Moto G 3rd gen max manual
2.026
Xiaomi Mi 3
2.001
Xiaomi Mi Max
1.996
Sony Xperia E4g
1.972
OnePlus One
1.961
Meizu m3 note
1.923
BlackBerry Leap
1.892
Meizu m2 note
1.892
HTC Butterfly
1.873
Sony Xperia Z1 Compact
1.772
ZTE Nubia Z9 mini
1.759
Sony Xperia U
1.758
Asus Zenfone Selfie
1.68
Motorola Moto E (2nd Gen)
1.675
ZTE Nubia Z9
1.659
Jolla Jolla
1.605
Motorola Moto E
1.545
Sony Xperia M
1.473
Sony Xperia L
1.351
HTC Desire C
1.3
Meizu MX
1.221
Sony Xperia E
1.215
A lot has been said and written about this year's Pixels and the screen has turned out to be a rather sore point. We're glad to report that the Pixel 2 doesn't have any of the display issues observed on its XL sibling.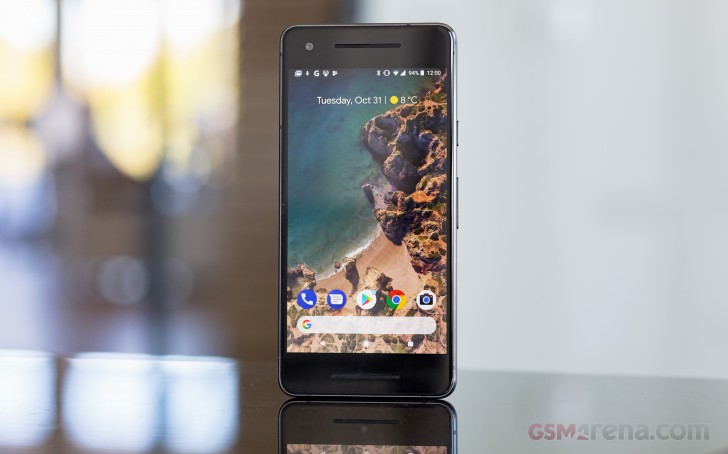 We measured an average DeltaE of 1.9, which means its color output is incredibly accurate. The Pixel 2 is as color accurate as the iPhone X and the Galaxy S8 in its Basic mode. Compare that to the Pixel 2 XL's average DeltaE of 3.8.
Then, this color accuracy doesn't come at the expense of color liveliness. Regardless whether you've got Vivid mode on or not, the display colors here are not as dull and muted as on the Pixel 2 XL.
And finally, it's worth noting that the Pixel 2 doesn't suffer from the blue color shift the XL exhibits when viewed at an angle.
Connectivity
The Pixel 2 shares its connectivity package with its XL brother, quite expectedly. That includes Cat. 15 LTE (800/75 Mbps) [3x DL CA, 4x4 MIMO, 256-QAM DL and 64-QAM UL depending on carrier support], 5 bands of 3G (1/2/4/5/8), and Quad-band 2G.
The Pixel 2 supports Sprint and Verizon's CDMA networks in the US and all other GSM carriers in the US and ROW. Both Pixel smartphones are also eSIM compatible for use on Google's Project Fi network in the US. For all other carriers, a nanoSIM slot is in order. There is no microSD card slot in the card tray.
The Google Pixel 2 also uses Bluetooth 5.0 + LE, Wi-Fi 802.11 a/b/g/n/ac and 2x2 MIMO. NFC connectivity offers mobile payments through your payment app of choice and communication with other NFC devices, tags, etc. GPS and GLONASS positioning systems are supported.
There's a new feature for Wi-Fi as part of Android 8.0. Wi-Fi scanning (usually used when Wi-Fi is switched off to help with location accuracy) is used to detect nearby Wi-Fi networks and will automatically turn on Wi-Fi and connect to a saved network when one is detected nearby. We're not entirely sure how this is much different from leaving Wi-Fi on all the time, but okay.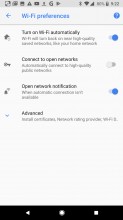 Wi-Fi network automatically turned on/off
Google has removed the headphone jack for this generation of Pixel smartphones in favor of routing audio to the USB-C port. A dongle is included - yay. The port adheres to the USB 3.1 Gen. 1 spec for transfer speeds up to 5Gbps.
Instant Tethering is a relatively new feature that works with other Nexus or Pixel devices including the incoming Pixel Book. A Nexus tablet on the same Gmail account as the Pixel 2 can prompt you to connect to the phone's cellular connection by automatically turning on its Hotspot and tethering to the network. This requires both devices to have Bluetooth and Wi-Fi switched on.
Google Pixel 2 battery life
The Pixel 2 packs a 2,700mAh battery - not a strikingly large number, but it is a 5-incher we're talking about after all. The iPhone X has about as much juice inside (2,716mAh), while the Galaxy S8 relies on a larger 3,000mAh power pack.
The Pixel 2 is quite efficient with its battery usage, at least with the display on, our testing shows. It can loop videos for 11 full hours, and can do an hour more with Wi-Fi web browsing. It's less impressive when it comes to 3G related tasks - the 15+ hours of voice calls are merely okay, and standby longevity isn't spectacular. Even so, overall endurance ended up fine - the 75 hour rating is one thing, but in practice you'd be enjoying the rather good battery life you'd get when actually using the phone.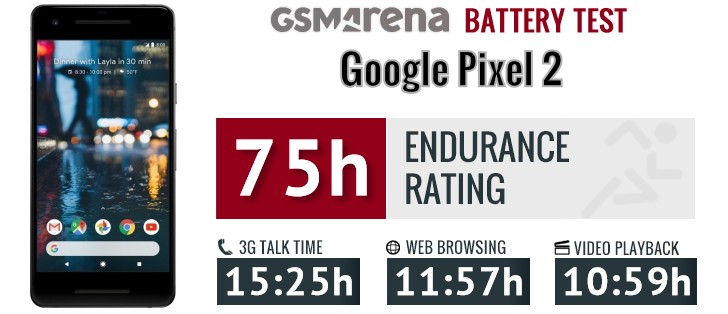 The Pixel 2 comes with a Power Delivery 2.0 charger in the box. The unit takes the Pixel 2 from flat to 100% in 1:50h, while a 30-minute charge from 0% gets it to 43%.
Our endurance rating denotes how long a single battery charge will last you if you use the Google Pixel 2 for an hour each of telephony, web browsing, and video playback daily. We've established this usage pattern so our battery results are comparable across devices in the most common day-to-day tasks. The battery testing procedure is described in detail in case you're interested in the nitty-gritties. You can also check out our complete battery test table, where you can see how all of the smartphones we've tested will compare under your own typical use.