Display
The Google Pixel rocks a 5-inch Samsung AMOLED screen with 1080p FullHD resolution and it carries the same pixel density as the LG Nexus 5 did back in 2013 with a ppi of 441. For a phone in late-2016, many would expect it to have a QHD screen by default but that's perhaps an overkill on a 5-inch screen.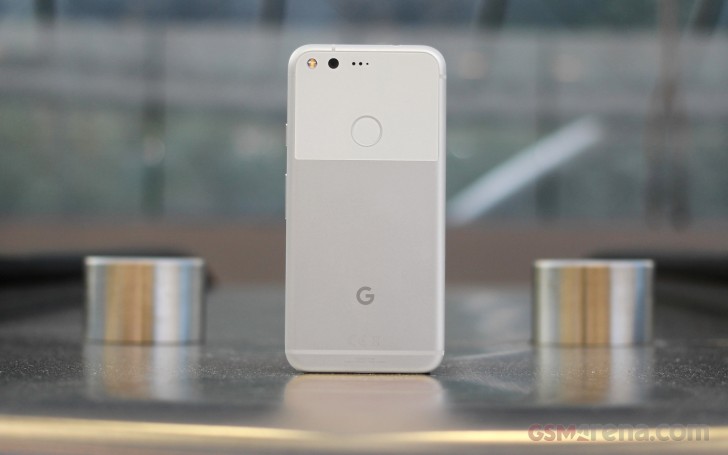 The AMOLED display is gorgeous and colors, though vibrant, don't look too oversaturated. The screen sits behind a panel of 2.5D Gorilla Glass 4, which subtly curves into the screen's bezel.
Google included a new "Night light" feature which can be used to add a strong yellowish hue to the screen in the evenings (perhaps too strong, there is no way to adjust it). This serves to block white and blue lights from reaching your eyes, thus reportedly preventing late night device use disrupt your natural sleep cycle as some studies suggest that blue light makes the body stop producing melatonin.
We measured the screen brightness of the Google Pixel and it peaks at 445 nits. Other flagships like the Samsung Galaxy phones of this year and the iPhone 7 duo were easily pushing 600 nits on the brightness scale.
Unfortunately, the Pixel does not offer any brightness overdrive while using Adaptive mode.
On the other hand, we were able to dim the brightness to as low as 6.7 nits manually. It's worth noting, the screen got even dimmer (1.4 nits) in adaptive brightness mode.
Display test
100% brightness
Black, cd/m2
White, cd/m2
Contrast ratio
Google Pixel
0.00
445
∞
HTC 10
0.29
428
1543
Apple iPhone 7
0.35
561
1603
Apple iPhone 7 (max auto)
0.40
656
1640
Samsung Galaxy S7 max auto
0.00
563
∞
Samsung Galaxy S7
0.00
391
∞
LG Nexus 5X
0.30
455
1542
LG G5
0.17
306
1855
LG G5 max auto
0.20
378
1881
The Pixel looks just fine in direct sunlight. It's not the greatest phone outdoors, but you shouldn't have problems checking up who's calling you.
When it comes to color accuracy, there is no other color mode to choose from in the display settings. However, if you really need to work on color sensitive materials, you can enable sRGB display mode in the developer options. To reveal the Developer options menu, you should tap the Android build number in the Settings menu 5 consecutive times.
The default color mode showed us an average deltaE of 4.9 and a maximum detlaE of 11.6. With the sRGB mode enabled, the accuracy was significantly better, with a deltaE average of 2.2 and a max delta E of 4.5 (the red channel).
Connectivity
The Google Pixel uses the newest, commercially available modem, the Snapdragon X12 which supports LTE Cat. 11 - That's 600/75Mbps (limited to Cat. 9 450/50Mbps on some carriers).
For superb audio quality there's Ultra HD Voice, which works either over VoLTE or Wi-Fi (side note: if you use Google's Project Fi network, Wi-Fi calling will be more common than the former). You need carrier support for this, of course, but Qualcomm says these calls are less likely to drop in spotty connectivity than regular HD Voice.
Also, the Qualcomm Fluence Pro technology is used for noise cancellation during phone calls. Interestingly, it uses two microphones for the handset and three mics when you use the loudspeaker.
The rest of the wireless connectivity holds no surprises - fast Wi-Fi a/b/g/n/ac (2x2 MIMO), Bluetooth 4.2 (with A2DP and LE), A-GPS with GLONASS and NFC. The latter is used for the Android Pay service, secured by the fingerprint reader, the Pixel Imprint.
Wired connectivity has USB Type-C running at USB 3.0 speeds, but no TV out functionality. Oh, and let's not forget the headphone jack on top! With USB Type-C supporting analog audio, it wasn't a given that Google will keep the old-school port.
Battery life
The Google Pixel carries a non-removable 2,770 mAh battery. Now while Google's Nexus devices have never been great with battery life in the past, we are happy to report the Google Pixel doesn't disappoint, though it certainly doesn't impress either. The battery life we got out of it has been consistent, and we like that.
The USB-C fast charger is not of the Qualcomm Quick Charge sort. Rather, it uses the USB Power Delivery standard and charges quickly with 5V @ 3A. Even though the charger is rated for 5V (15W) and 9V (18W), the smaller Pixel will never use the 9V mode. The Pixel XL on the other hand makes use of the charger's maximum wattage. Even then, it still takes longer to charge it than the smaller phone. It's worth noting: the USB PD charger brought the small Pixel from 0 to 53% in 30 minutes.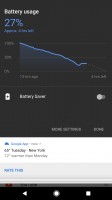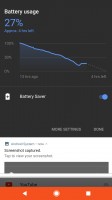 Graph and Power Saver are accessible in quick settings
The Google Pixel's battery life is about in-line with the iPhone 7 which scored 61h in our endurance tests. However, that's nothing close to the 80h that the Exynos version of the Galaxy S7 yielded. Although it had a slightly larger, higher res display, and a slightly larger 3,000 mAh battery, the Exynos chip proved to be far more power-efficient than the Snapdragon 820-powered alternative.
Google promised approximately 13 hours of video playback, 13 hours of web browsing, and 26 hours of talk time. We don't know under what conditions Google tested these batteries, but the test numbers we got were lower. Talk time yielded 20:43h, video playback scored 11:27h, which was a bit short of the 13h promised, while the web score was around half of what Google promised at 7:40h.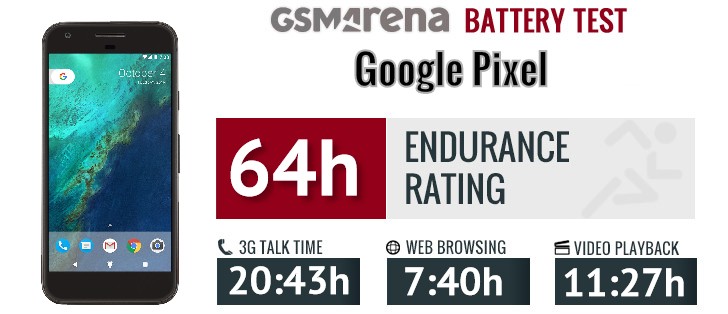 The battery testing procedure is described in detail in case you're interested in the nitty-gritties. You can also check out our complete battery test table, where you can see how all of the smartphones we've tested will compare under your own typical use.