The effect that ChatGPT's recent popularity has had on Google is still quite surprising - the search giant has basically been scrambling, in public, for the past few months, to come up with some alternative of its own. Today at its I/O conference, it unveiled its own take on inserting AI into search.
Google is starting small, however, with a Labs labeled experiment. This is available now only for people in the US, only in English, and only on Chrome for desktop and the Google app for Android and iOS.
So what do you get if you try this Labs feature? Let's go with Google's example, since it helps get the picture. You can search for "what's better for a family with kids under 3 and a dog, bryce canyon or arches", and, with generative AI, you'll get a snapshot of key information to consider. There are also links if you want to dig deeper.
You can then ask a custom follow-up, or pick from one of the suggested follow-up questions. This will take you to a new conversational mode, where context is carried over from question to question, and you'll find helpful jumping-off points to web content and "a range of perspectives you can dig into".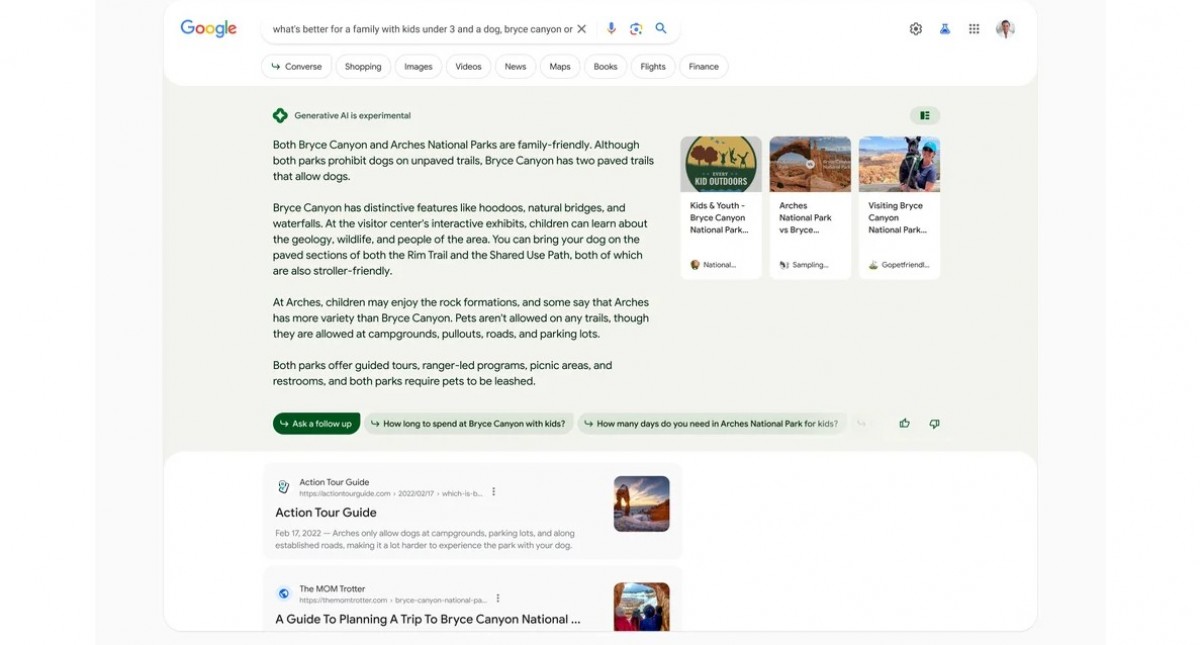 Generative AI can also help you shop, since it can understand complex search terms. Again, when searching for a product you'll get a snapshot, that this time includes noteworthy factors to consider and products that fit the bill. Product descriptions include relevant, up-to-date reviews, ratings, prices, and images.
Google says that it's committed to continue sending valuable traffic to sites across the web, and not just have you stay on its search page all day talking to the AI. The company also believes that "ads are a vital piece of how the web works, and help people find relevant products and services", and so ads will continue to appear in dedicated slots throughout the search page.
Google promises that it's trained its models to "uphold Search's high bar for quality", and it will continue to make improvements to the models over time. Signups for Search Labs are opening today, and you'll be able to access the new generative AI features "beginning in the coming weeks".
?
now wait just a minute... VR isn't dead...
ADVERTISEMENT