iOS 9.0
iOS 9 was introduced during Apple's Worldwide Developers Conference on June 8, 2015 and was released to the public on September 16, 2015.
iOS 9 introduced a new system-wide feature providing Proactive assistance was introduced, though Siri and advanced search, users are now presented with contextually aware information. The Notes app within iOS 9 received notable (pun intended) updates now with the ability to add photos, hand-drawn sketches, different fonts within a note.
Apple added a new app called News, providing curated lists of personalized news content for iOS users, offering content from favorite websites and newspapers
The iPad multitasking experience improved by introducing Slide Over, Split View and Picture in picture.
3D touch introduced providing 'peek' & 'pop' functionality.
Night Shift introduced, making the display color warmer for more comfortable viewing.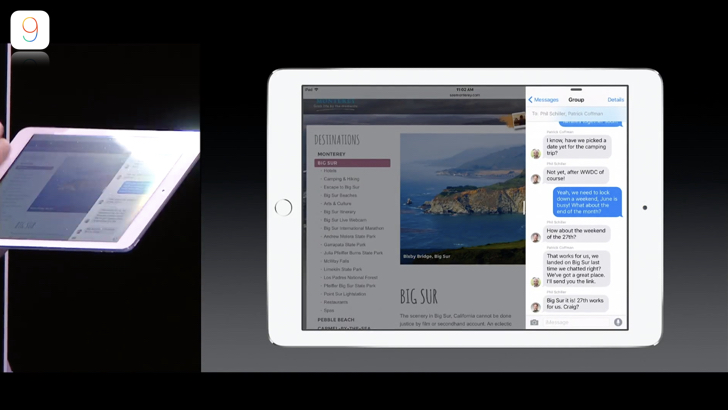 Version History
iOS 9.0 - 9.0.1
iOS 9.2 - 9.2.1
iOS 9.3 - 9.3.5
iOS 9 Features
Intelligence
Proactive assistance
• Presents relevant information even before you start typing
• Notifies you when you need to leave for appointments using traffic conditions
• Learns what you listen to in a certain location or at a particular time of day and can automatically display playback controls for your preferred music and audio apps
• Suggested events and contact details are added to apps based on information found in Mail
Siri improvements
• Search your personal photos and videos based on dates, locations and album names
• Ask Siri to remind you about things you're looking at in your apps, including Safari, Mail, Notes and Messages
• Request directions via public transit
Spotlight search improvements
• Get sports scores, weather conditions and stock prices
• Simple math calculations and conversions
• Initiate messages, phone calls and FaceTime calls from contact search results
New iPad Features
Slide Over
• Quickly use a second app without leaving the one you're in
• Easily switch between Slide Over apps
• Support for Apple apps and enabled third party apps
Split View
• View and interact with two apps at once
• Ability to resize your view to give equal attention to both apps or prioritize one app over another
• Support for Apple apps and enabled third party apps
Picture in picture
• Continue watching a video while using your favorite apps
• Support for Safari video, FaceTime, Videos and Podcasts and enabled third party apps
QuickType improvements
• Multi-Touch gestures for easier text selection on iPad
• Quick access to text editing tools with Shortcut Bar on iPad
• Support for hardware keyboard shortcuts
• Support for all Unicode emoji flags
Built-in Apps
Map improvements
• Support for public transit lines, station details with exits and entrances, schedules and directions in select major cities
• Browse for places around you by category, including Food, Drinks, Shopping, Fun and more
• Apple Pay support is indicated on place cards at participating retail locations
• Place cards include Wikipedia information for landmarks and cities
Redesigned Notes app
• Add photos to your notes with the built-in camera or from your Photo Library
• Create useful checklists and check off completed items with a tap
• Sketch a quick thought using just your finger
• Save interesting items directly from other apps using the Share menu
All-new News app
• Read your favorite newspapers, magazines, and blogs, or choose from over a million topics
• Beautiful typography and layouts, photo galleries, videos, animations, and more
• Browse articles that are chosen based on your interests in For You. Find channel and topic recommendations in Explore. News gets more personalized the more you read
• Easily share articles with friends or save them to read later — even when you're offline
Mail improvements
• Search improvements help you quickly find what you're looking for by filtering results based on sender, recipient, subject or a combination of options
• Support for Markup lets you annotate an image or PDF attachment with text, shapes and even your signature, then send it back — without leaving Mail
• Easily save the attachments you receive or add files from iCloud Drive or other document providers while composing a new message
Apple Pay and Wallet improvements
• Support for Discover cards
• Support for rewards cards and store credit and debit cards
• To check out even faster, you can prepare an upcoming payment by double-clicking the Home button from the Lock Screen and keeping your finger on Touch ID
New iCloud Drive app
• Easily search for a file or browse in the new iCloud Drive app by date, name, or tags you added on your Mac
• Open files in any compatible app or share with those you choose
• Organize folders and files
• Get the iCloud Drive app in Settings > iCloud > iCloud Drive and select Show on Home Screen
CarPlay improvements
• Plays back audio messages, letting you hear from people in their own voices
• Full support for car knob controls, so you can tilt and spin to scroll through lists or pan around in Maps
• Support for CarPlay apps from auto manufacturers
Foundation
• Longer battery life
• Up to one hour of additional time before you need to charge your battery
• Facedown detection for turning display off when not in use
• Low power mode optimizes device performance to extend battery by up to an additional three hours
• Software updates require less space to download and offer an option to install later
• iOS apps and user interface now use Metal to deliver faster scrolling, smoother animation, and better overall performance
• Improved security with two-factor authentication support and a default 6 digit passcode support for Touch ID devices
Other improvements
• New San Francisco system font
• Leave a message option if recipient isn't available for a FaceTime call
• Share voicemails from the Phone app using the share sheet
• Flight and package tracking for data detectors
• Health app adds support for reproductive health, UV exposure, water intake and sedentary state data types
• HomeKit adds support for motorized windows and shades, motion sensors and home security system accessories
• Podcasts has an all-new design, makes it easy to find the latest episodes of your favorite shows and notifies you when new episodes become available for you
• Support for Wi-Fi calling on iPad, iPod touch and Mac, without iPhone in proximity on participating carriers
• Wi-Fi Assist to automatically use cellular data when Wi-Fi connectivity is poor
• Transfer content from an Android device with the Move to iOS app, visit http://www.apple.com/move-to-ios for more details
Expanded language support
• New PingFang Chinese system font
• Improved predictions, learning and autocorrection for Chinese in QuickType
• Redesigned punctuation input on 10-key Chinese keyboard
• Redesigned User Interface for right-to-left languages
• Added Siri support for Austria, Belgium (French and Dutch), and Norway
• Added Spotlight search support for Mexico
• New keyboards for French (Belgium), German (Austria), Gujarati, Hindi (Transliteration), Hinglish, Punjabi, Spanish (Mexico), and Telugu
• Predictive input for French (Belgium), German (Austria), Korean, Russian, Spanish (Mexico), and Turkish
• Dictation support for Dutch (Belgium), English (Ireland, Philippines, South Africa), French (Belgium), German (Austria), and Spanish (Chile, Colombia)
• Spell check for Finnish and Korean
• Definition dictionary for Hindi, Norwegian and Swedish
• Bilingual dictionary for French-English and German-English
• New Japanese autocorrection and improved predictions and learning in QuickType
• Option to switch between number systems for Arabic and Hindi
Enterprise & Education
• Assign apps directly to iOS devices without needing to have an iTunes Store account configured
• Improved calendar reliability for customers using Microsoft Exchange ActiveSync v16
• Expanded Per App VPN support for the built-in IPSec and IKEv2 VPN clients
• New networking controls for managed apps to help limit international data roaming costs
• New restrictions to prevent changes to passcodes, device names and wallpapers, or to disable AirDrop on managed devices
• Third party app extension support for VPN, advanced content filtering, and captive Wi-Fi networks
Accessibility
• Touch Accommodations provides additional touch control for those with physical motor limitations
• Switch Control Recipes to customize features or create your own
• Support for Siri Voices for VoiceOver users
• Additional customization of AssistiveTouch
• Hardware keyboard support for Key Repeat, Slow Keys and Sticky Keys
• Improved MFi hearing aid audio routing to choose where audio is played
iOS 9.1 Features
• Live Photos now intelligently senses when you raise or lower your iPhone, so that Live Photos will automatically not record these movements
• Over 150 new emoji characters with full support for Unicode 7.0 and 8.0 emojis
• Improved stability including CarPlay, Music, Photos, Safari, and Search
• Improved performance while in Multitasking UI
iOS 9.2 Features
Apple Music improvements
• You can now create a new playlist when adding a song to a playlist
• Your most recently changed playlist is now listed at the top when adding songs to playlists
• Download albums or playlists from your iCloud Music Library by tapping the iCloud download button
• See which songs have been downloaded with the new download indicator next to each song in My Music and Playlists
• See works, composers, and performers while browsing Classical music in the Apple Music catalog
Other features
• A new Top Stories section in News so you can stay up to date with the most important news of the day (available in the United States, United Kingdom, and Australia)
• Mail Drop in Mail for sending large attachments
• iBooks now supports 3D Touch to peek and pop pages from the table of contents, your notes and bookmarks, or from search results inside a book
• iBooks now supports listening to an audiobook while you browse your library, read other books, or explore the iBooks Store
• iPhone support for the USB Camera Adapter to import photos and videos
• Improved stability of Safari
• Improved stability of Podcasts
• Siri support for Arabic (Saudi Arabia, United Arab Emirates)
iOS 9.3 Features
Night Shift
• When enabled, Night Shift uses your iOS device's clock and geolocation to determine when it's sunset in your location, then it automatically shifts the colors in your display to the warmer end of the spectrum and may even help you get a better night's sleep.
Notes improvements
• Protect notes that contain your most personal data with Touch ID or a passcode
• Sort notes alphabetically, by date created, or by date edited
• When sketching, quickly bring up a fresh canvas with a two finger swipe, or by tapping the New Sketch button
• A new checklist button at the bottom of every note makes it easier to create lists
• Show thumbnails instead of large images and attachments by long-pressing on any image or attachment in a note
• Choose whether photos and videos taken within Notes are stored only in Notes, or also added to Photos
• Long-press on an Evernote Export file to import its contents into Notes
News improvements
• New Top Stories section in For You highlights the most important stories of the day
• Discover something great to read in Editors' Picks, a selection of channels and topics handpicked by our Apple News editors
• Swipe left on stories in For You on iPhone to quickly share or save or swipe right for more options
• Play video stories right from For You — without opening the article
• Read stories and watch videos in landscape orientation on iPhone
• Change the text size in articles to make reading easier
Health improvements
• Related third-party apps for select data types such as weight, workouts and sleep are displayed in the Health app
• Health dashboard adds support for move, exercise, and stand Activity data and goals from Apple Watch
• Easy access to Dashboard and Medical ID using 3D Touch Quick Actions from the Home screen
• Third-party apps now have access to Activity rings and summaries from Apple Watch through HealthKit
Apple Music improvements
• Add songs from the Apple Music catalog to playlists without having to add them to your library
• Watch music videos on iPad in full screen
• See what's playing on Beats 1 directly from the Radio tab — without having to tune in
• Tap the name of the currently playing song in Now Playing to go to the album
• See which songs are most popular on albums in the Apple Music catalog
Photos improvements
• Extract the still image from a Live Photo by tapping Duplicate which will give you the option to duplicate the Live Photo, or just the still image
• Improved download performance of full size original photos or videos stored in iCloud Photo Library
• Share Live Photos between iOS and OS X through AirDrop and Messages
iBooks improvements
• Adds the ability for iBooks to store your PDFs in iCloud, making them available across all of your devices
• Adds support for downloading previously purchased audiobooks from the iBooks Store
• Adds the ability to share your audiobook purchases with any of your family members using Family Sharing
• New controls for reading Manga more comfortably with faster page turns and simple controls for enlarging text
• Adds Apple Pencil support to highlight and save your favorite passages for later
Education improvements
• Introduces a preview of Shared iPad that enables multiple students to use the same iPad at different times throughout the day
• Adds support for signing into iCloud with Managed Apple IDs
• Adds compatibility for the new Classroom app
• New configuration options to control the organization of apps on the Home Screen
• New controls to determine which apps to show or hide on the Home Screen
• Adds support for new restrictions for iCloud Photo Library and Apple Music
CarPlay improvements
• Apple Music members now have access to their For You and New content in CarPlay
• New Nearby screen in Maps to quickly find Gas, Parking, Restaurants, Coffee, and other driving essentials
• Siri speaks more concisely when reading back and composing messages in CarPlay
• Equalized sound levels between different audio sources in CarPlay
Dolby Digital Plus
• Adds support for playing video encoded with Dolby Digital Plus audio streams with support for multichannel output using the Apple Lightning Digital AV Adapter
Hardware keyboard improvements and fixes
• Enables the use of arrow keys to navigate through lists in Spotlight, Mail and Safari
• Enables the use of space bar to scroll in Mail
• Improves performance when using the space bar to scroll in Safari
• Adds the ability to bring up the software keyboard from the Shortcut Bar when a hardware keyboard is connected
• Fixes an issue that could prevent unlocking an iPad using the hardware keyboard
• Fixes an issue that caused hardware keyboards to become unresponsive in captive login pages
• Fixes an issue that could cause the Messages input field to disappear behind the Shortcut Bar when connected to a hardware keyboard
Other improvements
• Maps adds support for getting a highlighted view of destinations and stops for a specific transit line by tapping on it
• Maps now displays whether there are multiple transit line options for each route suggestion
• Wallet app adds the ability to view the app related to a card or pass in the Wallet app by tapping an icon on the card or pass
• Apple Pay adds support for signing up for store rewards programs with Apple Pay at point of sale terminal
• Podcasts adds support for fullscreen video playback
• Activity app adds a new Workout tab with monthly summaries of key metrics and the ability to filter by workout type
• Move to iOS now offers app suggestions from the App Store based on apps installed on your Android device
• iCloud Storage adds proactive status information and in-app notifications to let you know before you run out of space
• Two-factor authentication is now available for all iCloud accounts
• Support for Spanish (Latin America) system language
• Siri support for Finnish (Finland), Hebrew (Israel), and Malay (Malaysia)