iOS 8.0
iOS 8 was introduced during Apple's Worldwide Developers Conference on June 2, 2014 and was released to the public on September 17, 2014.
iOS 8 was a mjaor release for Apple introducing several new major user facing features. iOS 8 in addition to mopping up some of the outstanding issues, also brought together Apple's iOS devices and Mac computers by introducing Hand Off and Continuity features. Allows tasks started on one device to be picked up seamlessly on another. Answer a phone call on an iPad or Mac or send and receive SMS/MMS messages on an iPad or Mac. Apple Pay launched and supported by the iPhone 6/6 Plus. Later releases of iOS 8 would bring support for the Apple Watch and the launch of Apple Music.
Apple also introduced Metal, a low overhead 3D hardware accelerated API providing improved performance for graphically rich games and applications.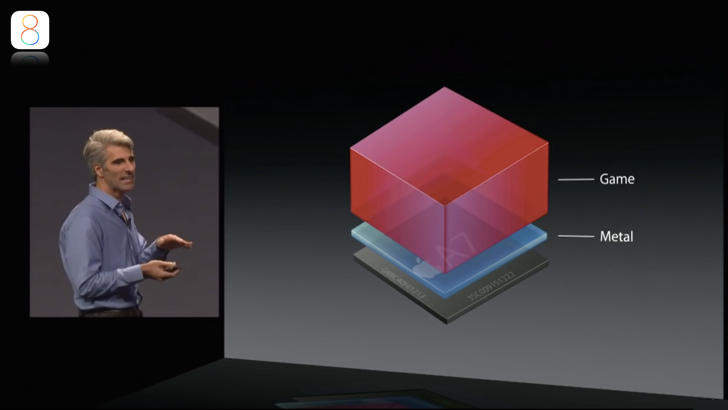 Version History
iOS 8.0 - 8.0.2
iOS 8.1 - 8.1.3
iOS 8.4 - 8.4.1
iOS 8 Features
iCloud
• Photo Library – all photos and videos are automatically available in the iCloud Photo Library, and is consistent on all the linked devices automatically.
• iCloud Drive – various files that are being written or worked on are automatically saved in iCloud Drive and is consistent on all linked devices automatically, including a Mac or PC.
• iCloud settings now display account information, payment information and security settings.
App Store
• Trending searches.
• Related searches.
• TestFlight – a new system for developers to let others test their app; up to a 1,000 users per app.
• App Bundles.
• Video previews.
• Editors choice badge.
• Essentials badge.
• If an installing app is paused, it now shows a pause icon.
• App Store search results scroll vertically on iPhone.
• Explore tab, which includes Near Me.
• Apps now show supported languages and if the app is Family Sharing compatible.
Calendar
• Calendar week numbers are displayed.
• Custom calendar repeat events.
• Travel time in calendar appointments.
• Alert "When I need to leave" for calendar events.
• Decline a calendar with a comment.
• More days shown at once in week view on new iPhones.
• Improved landscape view added to select iPhones.
Control Center
• UI Changes in Control Center: the buttons no longer have an outline.
• Screen is no longer dimmed when brightness control is selected.
• iTunes Radio "buy" song button in Control Center.
• iTunes Radio skips remaining displayed in Control Center.
• Bringing up the Control Center is now much easier while the keyboard is up.
Messages
• Ability to send voice messages instantly by using a new "microphone" button to the right of the text entry field.
• Pressing and holding on the microphone button lets you record your voice and then swipe up to send it.
• Messages can be listened to by either pressing play or raise to listen. Messages can also be listened and responded to on the Lock Screen by raising to listen and raising to respond.
• Ability to send photo and video messages instantly by using the "camera" button to the left of the text entry field.
• Pressing and holding on the camera button lets you take a photo or record a video and instantly send it.
• Tapping the camera button shows the most recent photos in your camera roll. Options are also present for taking a new photo or video and to view your entire photo library. Multiple photos and videos can be selected to send at once.
• A new details menu is available for each conversation which contains many new functions:
• You can now title group message threads.
• A list of everyone participating in a message thread is listed with buttons to call, FaceTime and view their full contact card.
• Ability to drop or add people to groups.
• Ability to leave groups.
• Send current location.
• Can share location with an individual or group for one hour, until the end of the day or indefinitely until you choose to stop.
• Do Not Disturb option per group.
• A collection of all photos that have been sent in a message thread.
• Batch save/delete all images in a message thread.
• Messages threads are now synced between all of your devices.
• Images in conversations are now much larger.
• Scrolling to the top of a message will now automatically cause older messages to load.
• Can mark all texts as read.
• Added options to automatically delete standard messages after 1 year, 30 days or never.
• Added options to automatically delete video/audio messages after 2 minutes or never.
• Faces of contacts display next to contact name on select iPhones.
Music
• Left swipe to delete albums.
• Can add music to a playlist from another playlist.
• Updated Icon.
Multitasking UI
• The faces of recently conversed people now appears above the open applications, and with a swipe to the right one can also access their favorites.
• The animation speed when entering and leaving the app switcher is now much faster.
Share sheets
• Share sheet action icons are now redesigned.
• Share sheet icons can now be rearranged and hidden.
UI
• Improved animation system. Gestures such as bringing down Notification Center won't be blocked by an animation, such as the home screen icons flying in.
• Landscape view added to iPhone 6 Plus.
FaceTime
• Call waiting.
• FaceTime Audio conference calls.
• H.265 (HEVC) support added iPhone 6 and iPhone 6 Plus.
• Slight tweaks to the interface.
Mail
• Can swipe to the left for options to flag it for follow-up, move it to a folder or delete.
• Can swipe all the way across the screen to the left to delete immediately.
• Can swipe all the way across the screen to the right to mark as read/unread.
• Ability to swipe mail compose sheet down allowing access to the rest of ones mailbox to gather the information needed in order to compose the message.
• When Mail recognizes a reservation, flight confirmation, or phone number in an email, a notification appears at the top of the message. In order to add it to the calendar or contacts, one needs to tap the notification(s).
• Mail conversations are now threads.
• Individual threads can be set as VIP so that the user will receive a notification when a reply is received.
• Per thread S/MIME.
• Automatic reply messages.
• Can delete attachments.
• New mailboxes: Unread, To or CC, Attachments, Thread Notifications, Today.
Notes
• Rich-text editing.
• Image support.
Notification Center / Notifications
• Support for third-party widgets in Today view.
• Interactive notifications – one can take action on texts, email, calendar invitations, reminders, and messages from apps like Facebook and other third-party apps.
• Can be performed from within Notification Center by swiping a notification to the left to reveal actions available.
• Can be performed directly within an apps notification banner/alert all without having to leave the app one is in.
• Notifications in Notification Center can be individually dismissed.
• Removal of "Missed Notifications" section.
iBooks
• Now pre-installed on iOS 8.
• Auto night mode.
• Books can now be categorized into series.
Passbook
• Updated Icon.
• Supports Apple Pay by taking a photo of your Credit/Debit Card and incorporating it into Passbook for NFC Payments
• A history of recent purchases made with Apple Pay is available within Passbook.
• Passbook "info" card now only displays if no other cards are present.
Safari
• The Tab view from iPhone is now available on iPads.
• A search function to search through all open tabs has been added in Tab view on iPad and select iPhones.
• Two-finger pinch to reveal Tab view on iPads and select iPhones.
• New Sidebar that slides out to reveal bookmarks, Reading List, and Shared Links on iPads and select iPhones in landscape view.
• Address bar now hides when scrolling down on iPads.
• Spotlight Search is now available from Safari's address bar.
• Option to "Scan Credit Card" when filling out credit card info on a web form.
• WebGL support.
• APNG support.
• Private browsing per tab.
• RSS feeds in Shared Links.
• DuckDuckGo support.
• Option to Request the desktop site while entering in a web address.
• Option to add website to Favorites while entering in a web address.
• Swipe to close iCloud tabs from other devices.
• Hold the "+" (new tab button) in tab view to list recently closed tabs is now available on iPhone.
• Can delete individual items from History.
• Safari now blocks ads from automatically redirecting to the App Store without user interaction.
• Bookmark icon updated.
• Improved, iPad-like interface available on select iPhones in landscape view.
Maps
• Flyover city tours.
• Indoor Mapping – iOS 8 adds the M7 and M8 processor's and iPhone motion sensors to the CoreLocation API, allowing venue owners to create indoor positioning systems.
Siri
• Hey, Siri – when plugged into power the user can say "Hey, Siri" and Siri will automatically be activated.
• Shazam song recognition.
• Purchase iTunes content.
• Download apps via Siri.
• Streaming voice recognition.
• 22 new dictation languages.
Phone
• Wi-Fi calling (Dependent on Carrier support).
• Person's name scrolls while in a call when all of it won't fit on screen at once.
• Can access full Phone app during a call.
• Return of full screen Caller ID.
Accessibility
• Braille keyboard for direct 6-dot Braille.
• Gray scale mode.
• Improved zoom.
• Speak screen.
• Alex voice.
• New voices and gesture for speech accessibility.
• New options in AssistiveTouch (being able to call Notification Center and Control Center).
Guided Access
• Exit Guided Access with Touch ID.P5S P6 P6P
• Time limits and countdown timer for Guided Access.
Privacy
• Background location notifications – popup asking to "continue to allow" apps accessing Location information while running in the background.[107]
• More Location Services options per app.
• Camera added to Privacy settings.
• HomeKit added to Privacy settings.
• Health added to Privacy settings.
Photos
• Camera Roll and My Photo Stream removed and replaced by "Recently Added, Videos, Recently Deleted" albums.
• Search Photos by location and more.
• Date, time and location information displayed.
• Photos can now be favorited.
• Photos and videos can be hidden from Moments.
• Hidden photos and videos get added to the "Hidden" album.
• New Albums added for Bursts, Slo-Mo Videos, and Time-Lapse Videos.
• Option to auto optimise storage on device by removing local copies of pictures and videos.
• Improved editing.
• Smart composition tools.
• Smart adjustments.
• Extension support.
Voice Memos
• Play/Pause button next to the record button in Voice Memos.
Lock Screen
• App shortcuts for Handoff on the Lock Screen.
• App shortcuts on the Lock Screen based on your location.
• Audio iMessages received while the phone is locked can be listened to by raising to listen and responded to by raising to respond.
• iTunes Radio "buy" song button on Lock Screen.
• iTunes Radio skips remaining displayed on Lock Screen.
• New animation when opening apps from the Lock Screen.
• Access to Medical ID from emergency dialer.
• New "Slide to Unlock" text in certain languages.
Keyboard
• QuickType – as one types, they see choices of words or phrases one would probably type next, based on their past conversations and writing style, using a more formal language for mail, and a casual one for Messages. The system also adjusts the system based on the person one converses with, and the region of the user (currently available in 14 countries).
• QuickType can be hidden by swiping down.
• QuickType can be toggled on or off from within the keyboard switcher.
• Extra functions added to the keyboard on select iPhones.P6 P6P
• Smiley icon for when emoji keyboard is the only alternate keyboard set up. Becomes a globe icon when multiple keyboards are set up.
• Streaming voice recognition for Speech to Text.
• iOS 6 keyboard no longer appears in apps that are not optimized or updated to a version optimized for iOS 7 or higher.
• New keyboards (Indian language and Indian English keyboards, Tagalog, Irish Gaelic, and Slovenian).
Family Sharing
• Supports iBooks purchases, iTunes purchases, and App Store purchases.
• All group members must pay for family purchases with the same credit/debit card.
• Ask To Buy – a parent can approve youngsters' spending right from a parent's device.
• Coincides with iCloud Photo Library – automatically sets up a family photo stream where you can share photos, videos, and comments, and all the family photos are available from any device within the family.
• Offers shared calendar and Reminders.
• Family Sharing can automatically share the user's location with the family members, or keep their location hidden.
• With the Find My iPhone app, family members can use their devices to locate one that's lost and have it play a sound.
• Apple IDs for youngsters under age of 13 years are now possible due to Family Sharing.
Health app
• Shows the heart rate, calories burned, blood sugar, cholesterol, etc. of the user.
• One can create an Emergency card with medicinal details, from within either the application or the lock screen.
• Natively tracks steps taken and other movement activity within the Health app.
• Export health data.
Continuity
• AirDrop now works with OS X Yosemite.
• Handoff – start writing an email or surfing a website on one device, then continue on another device, for devices connected to the same iCloud account.
• Answer a phone call, receive and send SMS/MMS from an iPhone on an iPad or a Mac (all devices must run iOS 8 or OS X Yosemite, and be connected to the same Wi-Fi network or to the device's hotspot).
• Intelligent hotspot – intelligently discover when an iPhone is nearby and automatically list the device under Wi-Fi networks in Settings.
Spotlight
• Spotlight now also searches Wikipedia, iBooks, iTunes, App Store, nearby places, news, Suggested Websites, and Movie showtimes.
• Also works within Safari.
• Spotlight will remember any prior searches.
Weather
• Data is now provided by The Weather Channel instead of Yahoo!.
• More days are shown.
• Additional weather information is displayed at the bottom.
iTunes
• Wish List includes new category for songs tagged with Siri.
• Trending searches.
Enterprise
• Improved security – expanded data protection and finer control over mail encryption.
• IT departments have more ways to manage information securely.
Camera
• Panorama Mode for iPad.
• Time Lapse mode.
• Separate focus and exposure controls.
• Shutter Mode (timer can be set to 3 or 10 seconds).
• Burst photos can now be taken with the FaceTime camera in addition to the iSight camera.
Settings
• Every app installed now has its own settings panel, regardless of whether the app specifies its settings to appear in the Settings app (e.g. Notifications, Privacy, Background App Refresh, and Cellular Data usage).
• A new "Allow Notifications" setting for each app.
• "Raise to Listen" setting for Messages.
• "Display Zoom" added to select iPhones.
• New Wallpapers.
• New "Handoff and Suggested Apps" menu under General.
• Wallpapers and Brightness has been split into two separate menus.
• "Display and Brightness": Brightness settings were moved here and Text Size and Bold Text from General and Accessibility is now included.
• "Wallpapers" is now a standalone menu.
• EU options for roaming.
Wi-Fi
• Wi-Fi network scanning will use random, locally administered MAC addresses, to aid users' security/privacy concerns.
Bluetooth
• Supports MIDI over Bluetooth LE.
Podcasts
• Now pre-installed on iOS 8.
China features
• Vector based maps.
• Turn-by-turn navigation.
• Lunar calendar support.
• Improved predictive input.
• Improved weather data.
Other features
• "Send Last Location" option for Find My iPhone.
• Screen activity recording as a video camera device using OS X Yosemite through Lightning cable.
• New Tips app gives tips about using certain features of iOS 8.
• New definition dictionaries for Russian, Brazilian Portuguese, Thai, Turkish and Hindi localization.
• 24-hour time is now formatted correctly (e.g. "0010" instead of "010").
• Home screen landscape view added to iPhone 6 Plus.
iOS 8.1 Features
Apple Pay support for iPhone 6 and iPhone 6 Plus (U.S. only)
Photos includes new features, improvements and fixes
• Adds iCloud Photo Library as a beta service
• Adds Camera Roll album in Photos app and My Photo Stream album when iCloud Photo Library is not enabled
• Provides alerts when running low on space before capturing Time Lapse videos
Messages includes new features, improvements and fixes
• Adds the ability for iPhone users to send and receive SMS and MMS text messages from their iPad and Mac
• Resolves an issue where search would sometimes not display results
• Fixes a bug that caused read messages to not be marked as read
• Fixes issues with group messaging
Other improvements
• Resolves issues with Wi-Fi performance that could occur when connected to some base stations
• Fixes an issue that could prevent connections to Bluetooth hands-free devices
• Fixes bugs that could cause screen rotation to stop working
• Adds an option to select between 2G, 3G or LTE networks for cellular data
• Fixes an issue in Safari where videos would sometimes not play
• Adds AirDrop support for Passbook passes
• Adds an option to enable Dictation in Settings for Keyboards, separate from Siri
• Enables HealthKit apps to access data in the background
Accessibility improvements and fixes
• Fixes an issue that prevented Guided Access from working properly
• Fixes a bug where VoiceOver would not work with 3rd party keyboards
• Improves stability and audio quality when using MFi Hearing Aids with iPhone 6 and iPhone 6 Plus
• Fixes an issue with VoiceOver where tone dialing would get stuck on a tone until dialing another number
• Improves reliability when using handwriting, Bluetooth keyboards and Braille displays with VoiceOver
iOS 8.2 Features
Apple Watch support
• New Apple Watch app to pair and sync with iPhone, and to customize watch settings
• New Activity app for viewing fitness data and achievements from Apple Watch; appears when Apple Watch is paired
• Available on iPhone 5 and later
Health app improvements
• Adds the ability to select the unit of measurement for distance, body temperature, height, weight and blood glucose
• Improves stability when dealing with large amounts of data
• Includes the ability to add and visualize workout sessions from 3rd-party apps
• Addresses an issue that may have prevented users from adding a photo in Medical ID
• Fixes units for vitamins and minerals
• Fixes an issue where Health data wouldn't refresh after changing data source order
• Fixes an issue where some graphs showed no data values
• Adds a privacy setting that enables turning off tracking of steps, distance and flights climbed
iOS 8.3 Features
Improved performance for:
• App launch
• App responsiveness
• Messages
• Wi-Fi
• Control Center
• Safari tabs
• 3rd-party keyboards
• Keyboard shortcuts
• Simplified Chinese keyboard
Other improvements
• Adds the ability to report junk messages directly from the Messages app
• Adds the ability to filter out iMessages that are not sent by your contacts
• Introduces a redesigned Emoji keyboard with over 300 new characters
• iCloud Photo Library has been optimized to work with the new Photos app on OS X 10.10.3 and is now out of beta
• Improves the pronunciation of street names during turn-by-turn navigation in Maps
• Includes support for Baum VarioUltra 20 and VarioUltra 40 braille displays
• Improves the display of Spotlight results when Reduce Transparency is turned on
• Adds Italic and Underline format options for iPhone 6 Plus landscape keyboard
• Adds the ability to remove shipping and billing addresses used with Apple Pay
iOS 8.4 Features
Apple Music
• Become an Apple Music member to play from millions of songs in the Apple Music catalog, or keep them offline for playback later
• For You: Members can see playlist and album recommendations, handpicked by music experts
• New: Members can find the latest, greatest new music available—direct from our editors
• Radio: Tune in to music, interviews, and exclusive radio shows on Beats 1, play radio stations created by our editors or create your own from any artist or song
• Connect: See shared thoughts, photos, music, and videos from artists you follow, then join the conversation
• My Music: Play from all of your iTunes purchases, songs from Apple Music, and playlists in one place
• Completely redesigned music player that includes new features such as Recently Added, MiniPlayer, Up Next, and more
• iTunes Store: Still the best place to buy your favorite music—one song or album at a time
• Availability and features may vary by country
iBooks improvements and fixes
• Browse, listen and download audiobooks from inside iBooks
• Enjoy the all-new Now Playing feature, designed specifically for audiobooks
• Books that are Made for iBooks now work on iPhone in addition to iPad
• Find and pre-order books in a series right from your library
• Improves accessibility of widgets, glossary and navigation in books made with iBooks Author
• New default Chinese font
• New setting to turn off Auto-Night theme in your library