Sixes and sevens
Samsung Galaxy S7 vs. Apple iPhone 6s: Sixes and sevens
Introduction
The Galaxy S and the iPhone release schedules are out of lockstep, so each gets a shot at sticking around at the top level for at least half of the year. This season, the new Samsung Galaxy S7 lands right in the fast lane with the iPhone 6s already at cruising speed. Come fall, the lanes will change but the chase will continue.
Samsung's flagship has never been stronger - the company finally managed to reconcile the wealth of features its loyal fans love with a long-overdue redesign that was meant to win new converts. The S6 tried hard to appeal to the latter at the risk of alienating the former.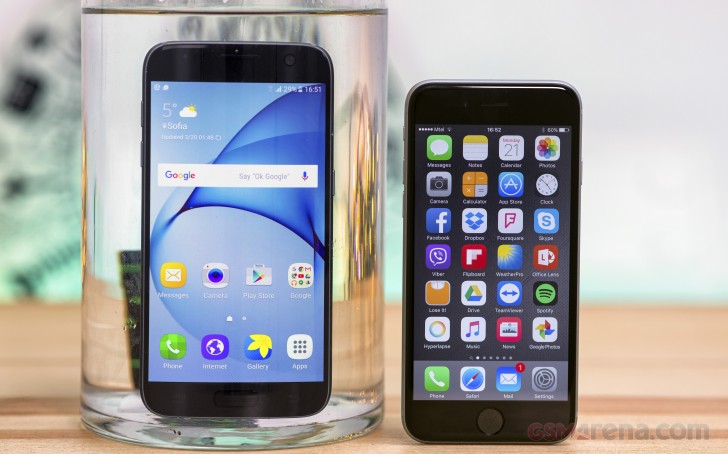 The iPhone 6s has the crowd its predecessors had - things there change slowly though to be fair Apple added a few bells and whistles to the UI (3D Touch), the camera (4K videos and Live photos), the chipset (2 gigs of RAM, at long last).
Samsung Galaxy S7

Apple iPhone 6s

IP68 water and dust resistance
Bigger, higher-res screen with Always On mode
OIS-enabled camera geared for low-light shooting, Dual Pixel autofocus
Bigger battery; fast and wireless charging too
More base storage plus a microSD slot
Heart rate sensor with SpO2; NFC and Magnetic card emulation
Dual-SIM model
More base storage (32GB vs. 16GB, but no 128GB option)

All metal body
3D Touch
Reversible USB connector (Lightning)
More compact
Larger storage options available
Faster fingerprint reader
Apple's conservative approach to adding new features leaves the iPhone 6s with little to brag about, but every Apple higher-up will tell you it's about the overall experience and not on-paper specs.
The Galaxy S7 is very fresh - it only just started shipping - and its youth gives it a leg up in this fight. Is it enough to make it the most popular 5-or-so inch phone out there?
D
I love the Samsung s7, and iPhone 6s is good sha Just that you can't use memory card,
n
no because from iPhone 7 onwards all iPhones are waterproof
?
Does Iphone 6s resist water??