Flashback: smartphone camera sensors grew not only bigger, but smarter too
When it comes to film photography 35mm was by far the most popular option and was used on anything from simple point-and-shoot cameras to pricey SLRs. It was so common that focal length of lenses is still usually listed in 35mm equivalent. The digital transition brought the "full frame" DSLRs where the size of sensors matched that of a 35mm still. However, it also brought smaller digital cameras – small enough to put in your pocket.
For them the 1" sensor is the holy grail with cameras like the Sony RX100 series being a popular example. Those fell out of fashion as smartphone cameras massively improved in capabilities, but they did have an influence on smartphones.
The Sony Xperia Pro-I borrowed the 1" sensor from its RX100 cousins, though it doesn't have the optics to make full use of it (it's a 20MP sensor, the Pro-I uses only 12MP of that). We should note that the the so-called 1" sensors don't actually measure 1 inch in size, they are more like 2/3". Like the 35mm thing this is another holdover from old-timey cameras.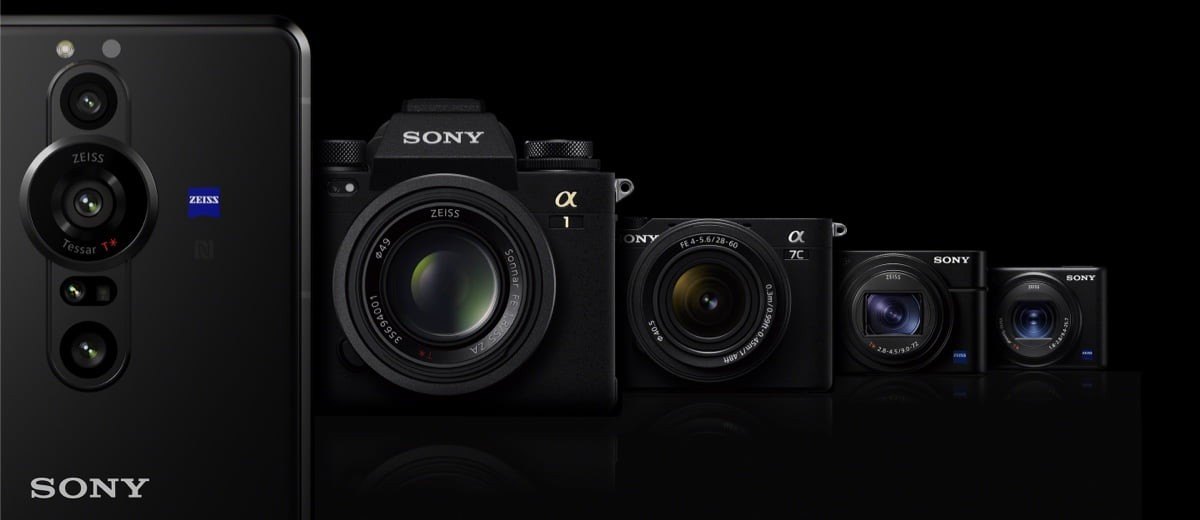 The Sony Xperia Pro-I borrowed a 1" sensor from the RX100 line of premium point and shoot cameras
Anyway, the Pro-I image sensor has impressively large 2.4µm pixels – the 200MP ISOCELL HP3 we talked about last week only goes up to 2.24µm pixels with 16-in-1 binning. Of course, these two sensors are designed for two different cameras with two different use cases.
You probably know that the Pro-I is not the first smartphone with a 1" sensor and it certainly won't be the last – 2023 is promising to be the year when this type of sensor becomes the norm for flagships.
Some of you may remember the Panasonic Lumix Smart Camera CM1. The styling of the case leaves little doubt that this is a camera phone and it packed impressive brand-name hardware: a 20MP 1" sensor behind an f/2.8 Leica lens and a "Venus engine" that could record 1080p videos at 30fps (and 4K at 15fps).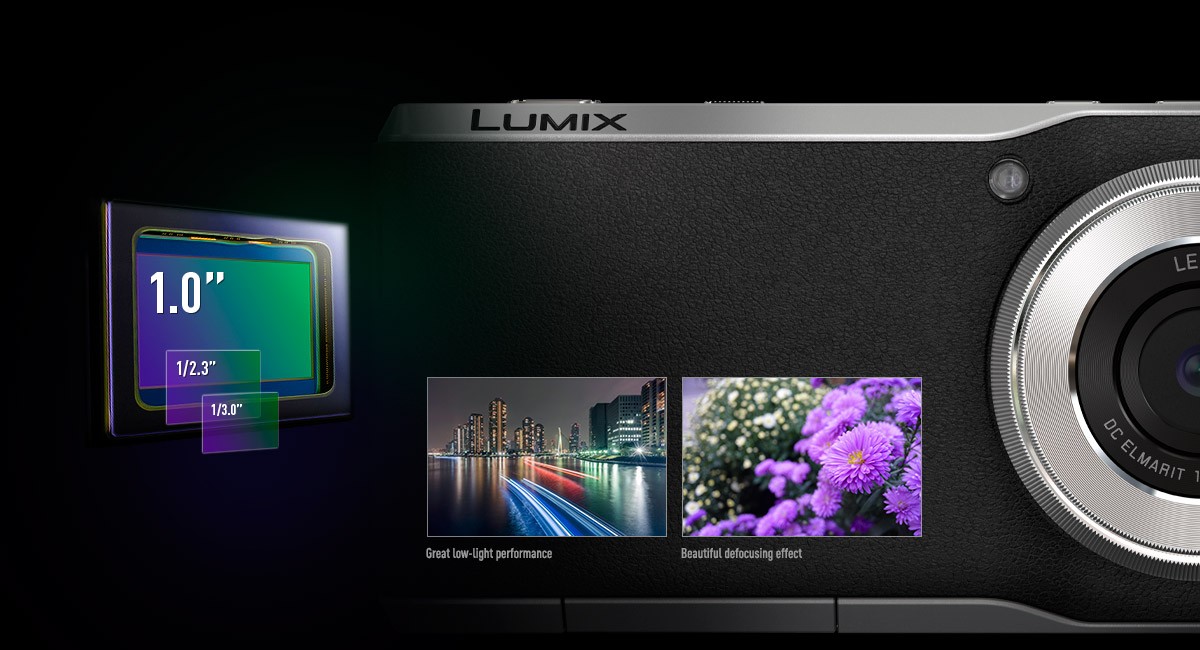 The Panasonic Lumix Smart Camera CM1 is an early example of a smartphone with a 1" sensor
It was a chunky phone at 21mm thick and 204g of weight (okay now, a lot for 2014). The CM1 ran Android 4.4 and the bespoke camera app offered full manual controls.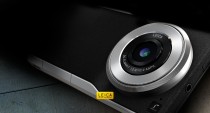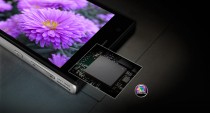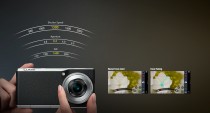 Lumix CM1: Leica lens • Venus video engine • Physical dial for control
One really cool feature was that the silver ring around the lens was actually a dial that can be used to change the settings of the camera. The Lumix CM1 cost a whopping $1,000, which at the time was deemed pricey but not too bad for such a specialized piece of kit.
Let's go even further back in time. We have talked at lengths about the Nokia 808 PureView, a phone so advanced that it felt like it was from the future. When it came out in 2012 no other phone could really challenge it and its absolutely massive 1/1.2" sensor. The Toshiba HES9 dwarfed the sensors of contemporary phones – here it is next to the puny 1/3.2" Sony IMX145 (8MP) that was used in the Galaxy S III from the same year.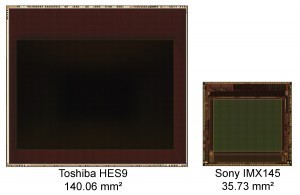 The massive 1/1.2" sensor (Toshiba HES9) of the Nokia 808 PureView
The PureView sensor had fairly large pixels even by modern standards, 1.4µm, and a lot of them too – 41MP. As we discussed last week, the first smartphone to beat it at the resolution game only came in 2018.
And it was exactly the high resolution that made the Nokia 808 feel so futuristic – the supersampling technology used defaulted to 8MP photos and produced stunning per-pixel quality and allowed for lossless digital zoom. Modern smartphones are using a very similar approach, though with some important differences.
By the way, if you're wondering how the Nokia 808 PureView compares against a modern smartphone, last year we put it to the test.
We compared it against the Xiaomi Mi 11 Ultra, the phone with the largest camera sensor of its day – the Samsung ISOCELL GN2 was bigger than even 808's sensor with a 1/1.12" optical format (at 50MP that makes for 1.4µm pixels).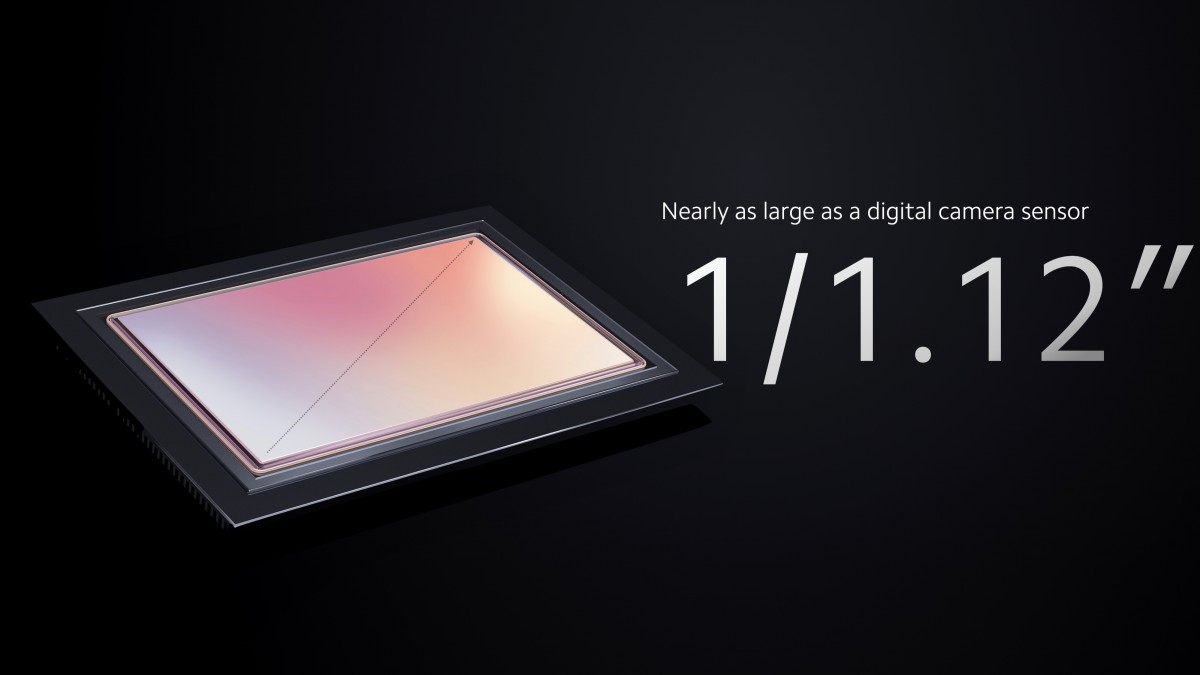 The Xiaomi Mi 11 Ultra packed a huge 1/1.12" sensor, surpassing the 808 PureView (in more ways than one)
We want to take a small detour here and talk about pixels. When talking about digital cameras you often see details about the aperture, sensor and pixel sizes listed. But not all pixels are born the same.
The 808 PureView's sensor may have been impressively large and with very high resolution, but it was outdated tech. It was a Front-Side Illuminated (FSI) sensor, which means that the sensor's circuitry gets in the way of the photodiodes. The Lumia 1020, Nokia's next 41MP phone that launched the following year, used a smaller (1/1.5") Back-Side Illumination (BSI) sensor.

Front-side illumination, aka FSI vs. Back-side illumination, aka BSI (image credit)
That's not all, either. The name "ISOCELL" comes from the physical barriers that isolate individual pixels, which reduces crosstalk. Samsung continued developing the technology and touts many more advantages (e.g. bigger full-well capacity, which measures how many photons a pixel can collect before hitting its maximum).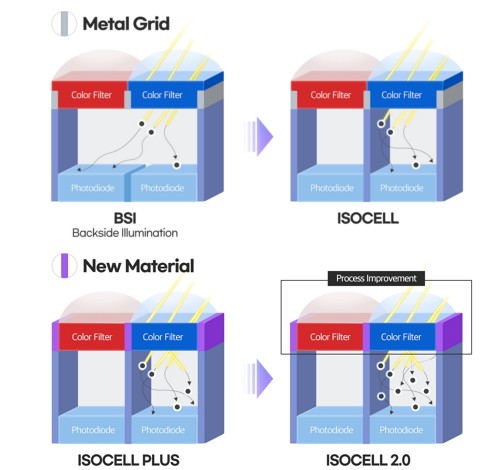 The transition from BSI to ISOCELL and the continued evolution of ISOCELL
Samsung is not alone in this design, OmniVision, for example, has a similar technology named PureCel Plus: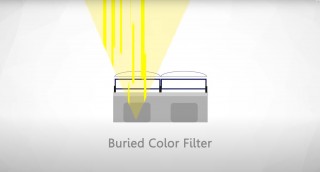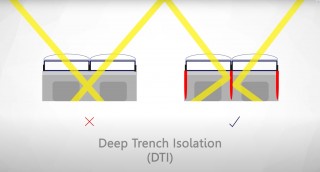 OmniVision is also working on improving pixels by isolating them from each other
There are other new developments, like Sony's stacked sensor design that separates the photodiodes and the transistors reading them into two separate layers rather than having them side by side, which increases the surface area of the photodiodes.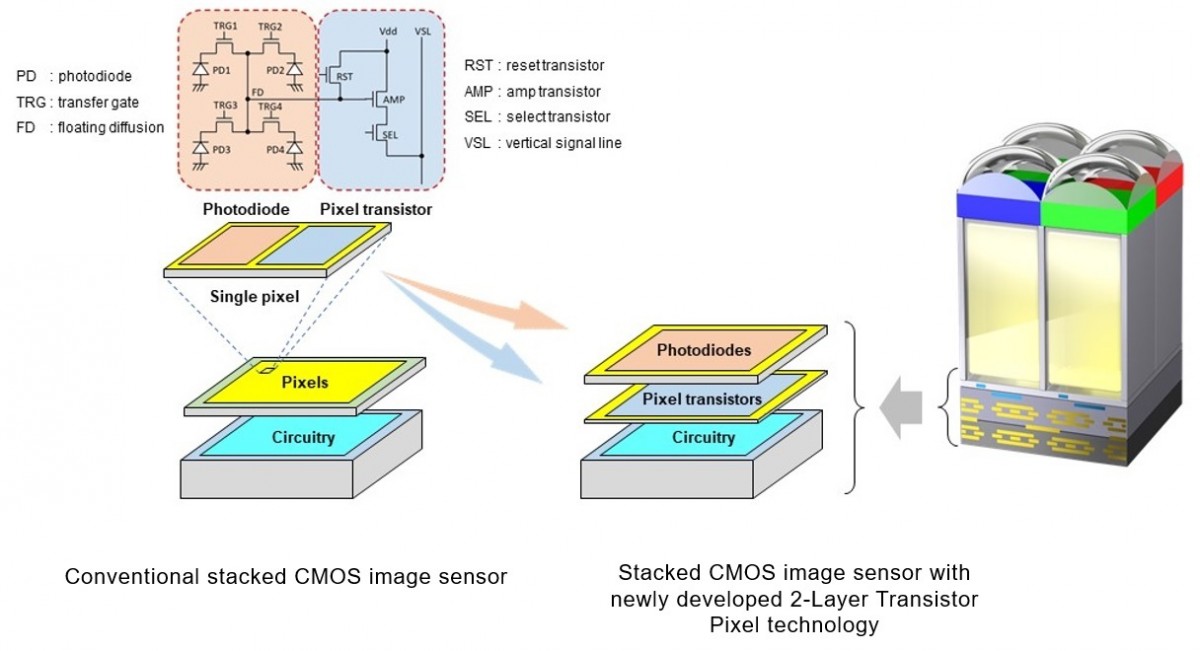 Sony is developing a stacked CMOS sensor design
All of this is to say that pixel size alone isn't the ultimate metric of image quality. In fact, it's clever designs like these that have allowed sensors makers to shrink pixels to as little as 0.56µm (fun fact: the 150MHz Pentium Pro from 1995 was fabbed on a 0.5µm node and had 5.5 million transistors).
The successor to the Mi 11 Ultra is the Xiaomi 12S Ultra, which switched teams and features a Sony IMX989 sensor for its main camera – an impressive 1" 50MP sensor. It's much larger than 1/1.5" commonly found in phones today and even 1/1.3" sensors. The Pixel 7 and iPhone 14 Pro fall in this category and have comparable resolution (and thus pixel size). The Galaxy S22 Ultra also has a 1/1.3" sensor (a hair smaller), but due to its 108MP resolution its physical pixels are smaller.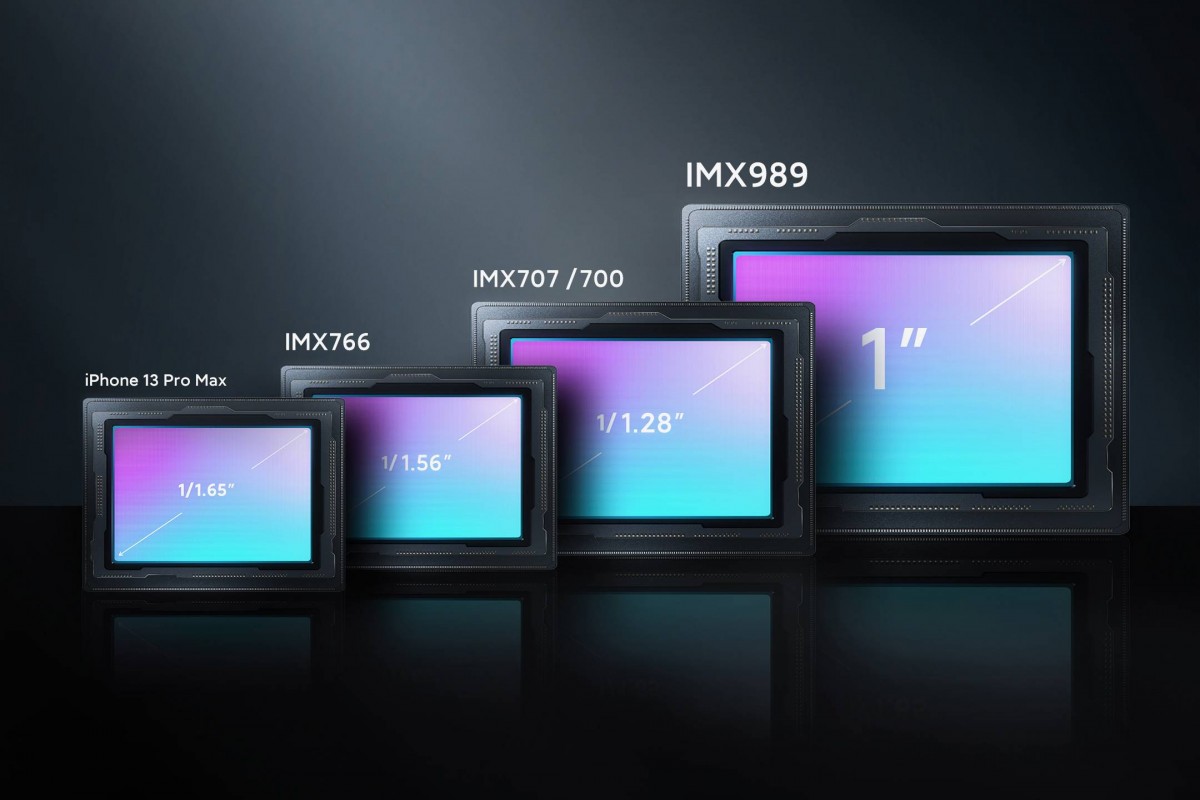 The current state of the art for huge smartphone sensors: the 1" Sony IMX989 used in the Xiaomi 12S Ultra
But before the 12S Ultra there was another phone to use the IMX989 – the Sharp Aquos R6. Funnily enough, the Aquos was also plastered with the Leica logo, which co-developed the camera with Sharp. So it has that in common with the Xiaomi. Sharp is responsible for many firsts in the mobile industry, though the brand's limited presence in the smartphone market means that those groundbreaking phones often fly under the radar.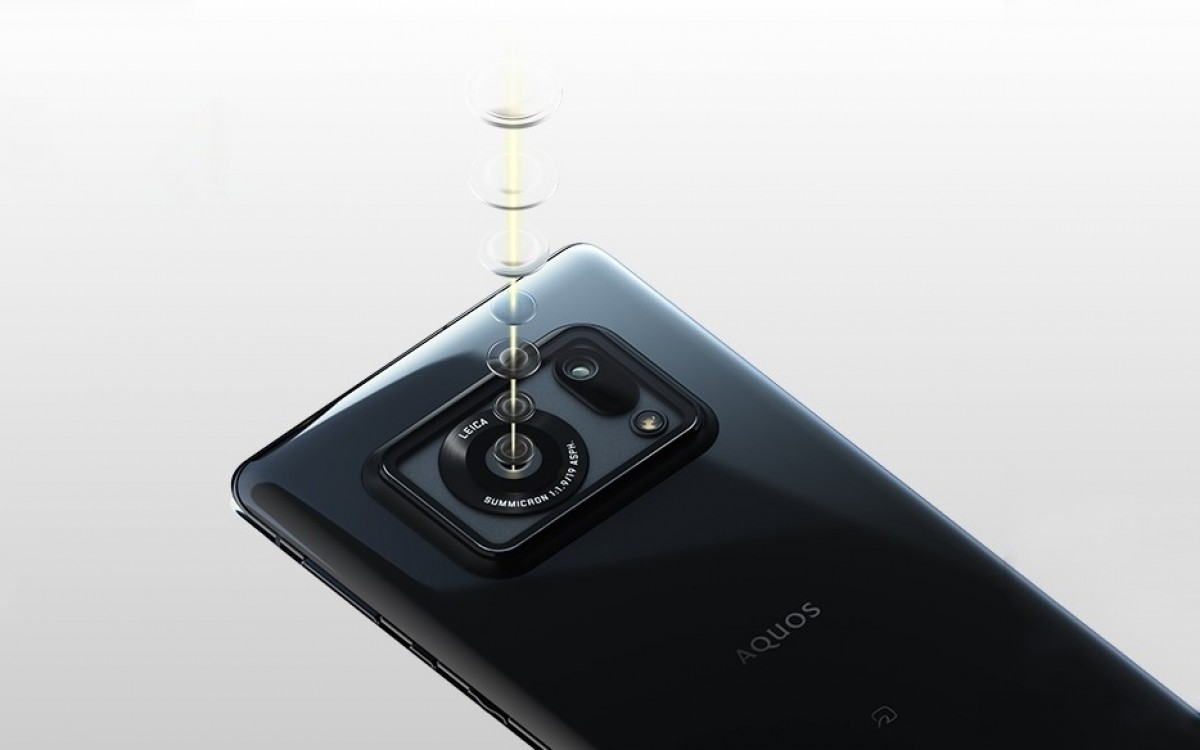 The Sharp Aquos R6 was the first with the IMX989 and its camera was co-developed with Leica as well
Rumors are circulating that multiple smartphone makers are working on flagships with 1" sensors, specifically one with medium resolution and large pixels. There will be quite a few models with 200MP cameras and smaller pixels as well. We can't wait to see how the battle of the two philosophies will unfold.
S
What now? As much as I can see I stated that Kirin 980 in my P30 Pro didn't get even warm under heavy load. I have no idea what are You talking about.
ADVERTISEMENTS