Flashback: LG V40 ThinQ, the first penta-camera phone, aimed to lift the company's fortunes
Last week we looked back at the fist quad camera phone, well, quad camera if you only look at the back. Adding the selfie camera brings the total to five. But the Galaxy A9 (2018) wasn't the first phone to have five cameras on board – the LG V40 ThinQ beat it by a few weeks.
The V-series flagship from late 2018 is the topic of today's Flashback. We'll talk about its cameras, its other awesome features, some less awesome ones and a troubled launch.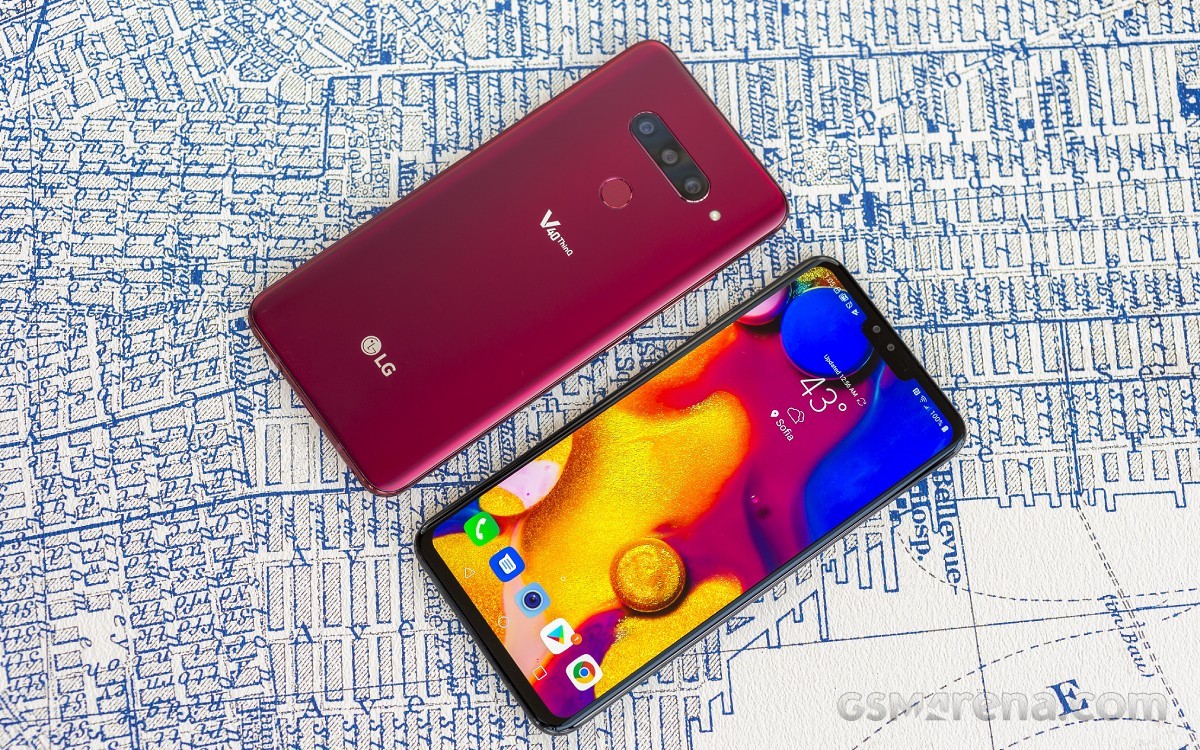 The V40 was officially announced on September 27, but that announcement was a bit short on details. The full reveal happened a few days later on October 3. The phone became available soon after (October 16), though some regions had to wait longer (e.g. the Indian launch wasn't until late January of the following year).
But even before the official launch there was trouble brewing - renders showed that LG was about to commit the sin of adopting a notched display, spoiling the clean look that people enjoyed with the V30.
And it was a fairly wide notch too, but it did have a reason for it – it housed two cameras (in addition to the earpiece). Those were an 8 MP module with an 80° FoV and a wider 5 MP camera with a 90° FoV. How much difference do 10 degrees make? Well, here are some comparison shots: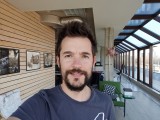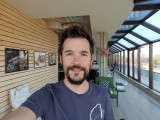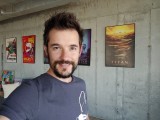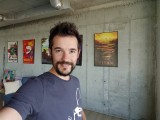 Selfie samples: Normal • Wide angle
As you can probably tell, the image quality was far from perfect. That's downer considering that there are two not-so-good cameras and that they are notched into the display.
LG had been an early pioneer in multi-camera setups, but the V40 was the first to assemble the trinity: wide, ultra wide and telephoto. This allowed users to photograph groups of people and single individuals, to take up close shots and shoot faraway subjects.
The main module was well-equipped, it had a 12 MP sensor (1/2.6") with 1.4 µm pixels and Dual Pixel autofocus, plus a 78° lens with an impressively bright f/1.5 aperture and OIS. For a 2018 release, those are some excellent specs on paper.
And the phone did make good use of it. The daylight shots were good, though nothing special. Color rendering was pleasant and the shots were nice overall, but the dynamic range left something to be desired and the shots weren't the sharpest we had seen.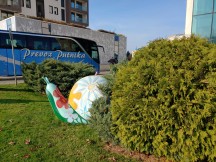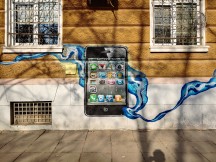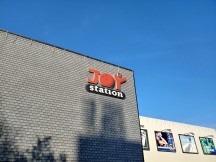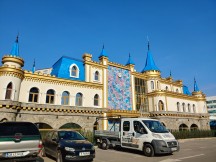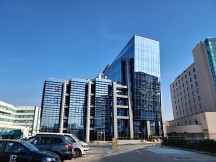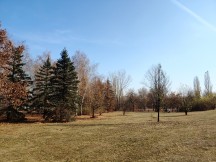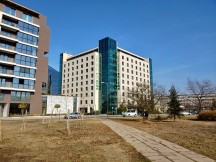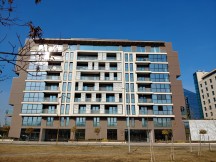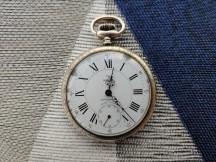 Camera samples, primary camera
However, the relatively large pixels, the wide aperture and optical stabilization really came into their own in the dark. The photos hold up quite well: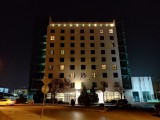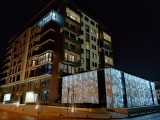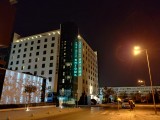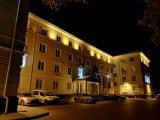 Low-light samples, primary camera
The ultra wide-angle camera was not as impressive, but still good. It was equipped with a 16 MP 1/3.1" sensor (1.0 µm pixels) and a fixed-focus lens. Nighttime performance was solid as well. The camera wasn't all that wide at 107° (for comparison, the LG G5 brought a really wide 135° lens in early 2016), on the plus side it showed very little distortion.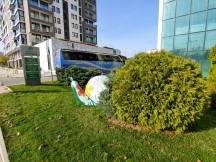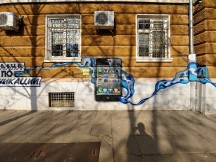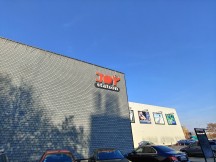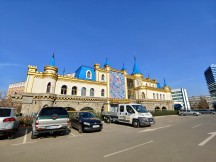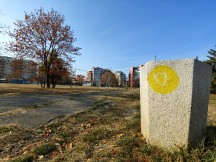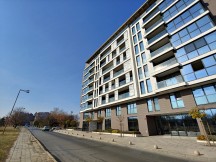 Camera samples, ultra wide angle camera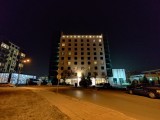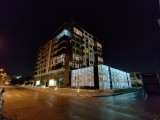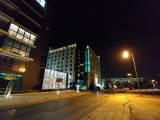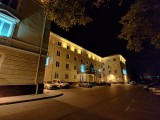 Low-light samples, ultra wide angle camera
The final member of the trio was the telephoto module. The 52 mm lens offered 2x optical magnification (45° FoV) and had a 12 MP sensor (1/3.4", 1.0 µm pixels). It was a solid first effort from LG – previous models packed a wide + ultra wide setups – and was competitive with contemporary offerings from Samsung and Apple. It just wasn't usable in the dark, so the phone switched over to upscaling images from the main camera.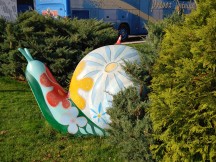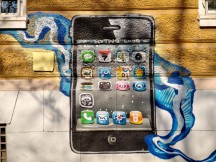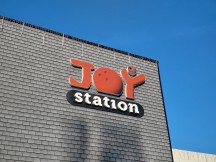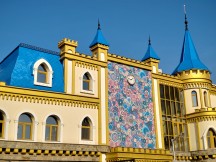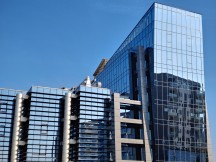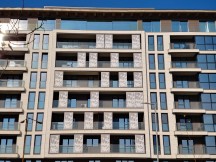 Camera samples, telephoto camera
Going back to the main camera for a moment, it recorded superb 4K video. Somehow the 60 fps clips were crisper than the 30 fps ones, but we weren't about to complain.
This may be subjective, but LG managed to design a good-looking triple camera – arranged horizontally on a modest bump, with an LED flash to the side and a fingerprint reader below.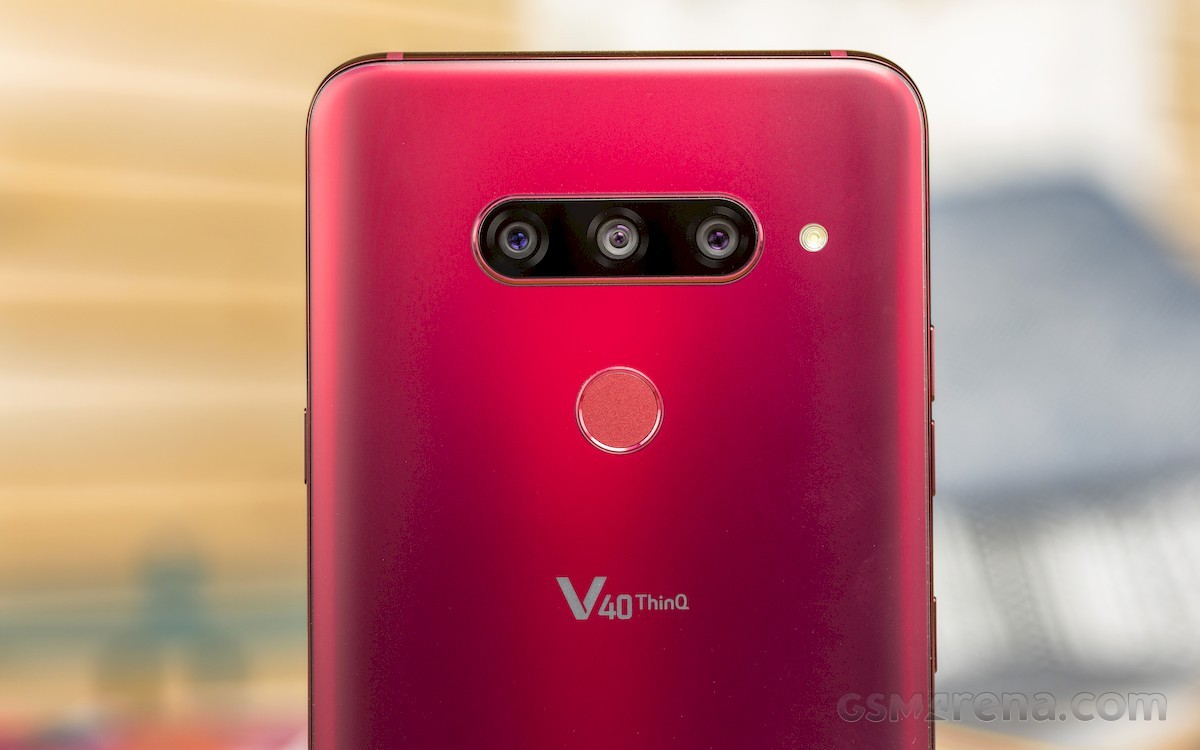 The front, well, that was an acquired taste. The phone packed a 6.4" P-OLED display, so it was quite good at hiding the notch by blending it into the status bar. But you knew it was there and that bugged some people.
On the plus side, it was a flat panel with good features. It was sharp with 1,440 x 3,120 px resolution (537 ppi) and supported HDR10. Color accuracy wasn't perfect, but the brightness was quite high.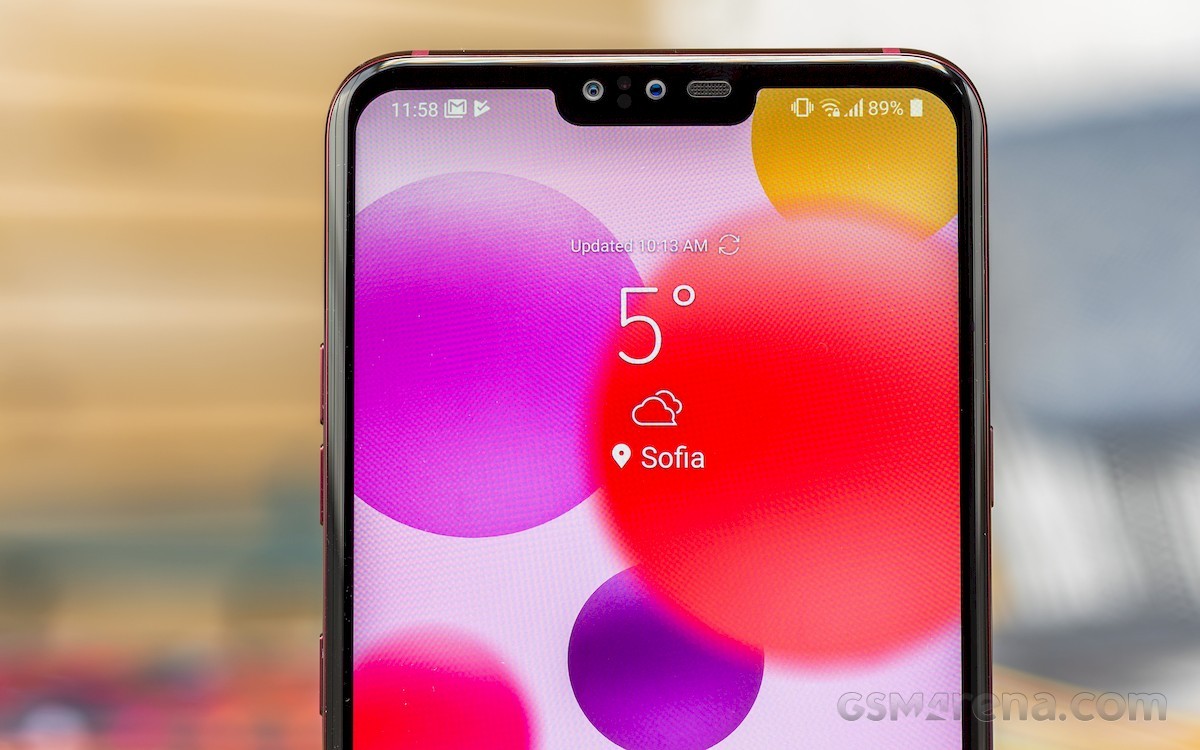 There was always on functionality on the full display, something that was introduced with the LG V30, after the V10 and V20 tried using only a thin strip as the always-on portion.
The sleek look of the LG V40 ThinQ was far from the utilitarian design of the series progenitor, the LG V10, but the phone still passed several MIL-STD-810G tests, had an aluminum frame, featured Gorilla Glass 5 protection on the front and back as well as an IP68 rating for dust and water resistance.
When we first handled the phone we were surprised at how light it felt – and that wasn't an illusion, it tipped the scales at just 168g. The Galaxy S9+ and Huawei Mate 20 Pro, two competitors from the same time period, both weighed 189g.
This was partly due to the small battery – 3,300 mAh capacity wasn't much to go on. Predictably, the phone posted a disappointing Endurance rating of just 64 hours, around 20 hours less than some competitors.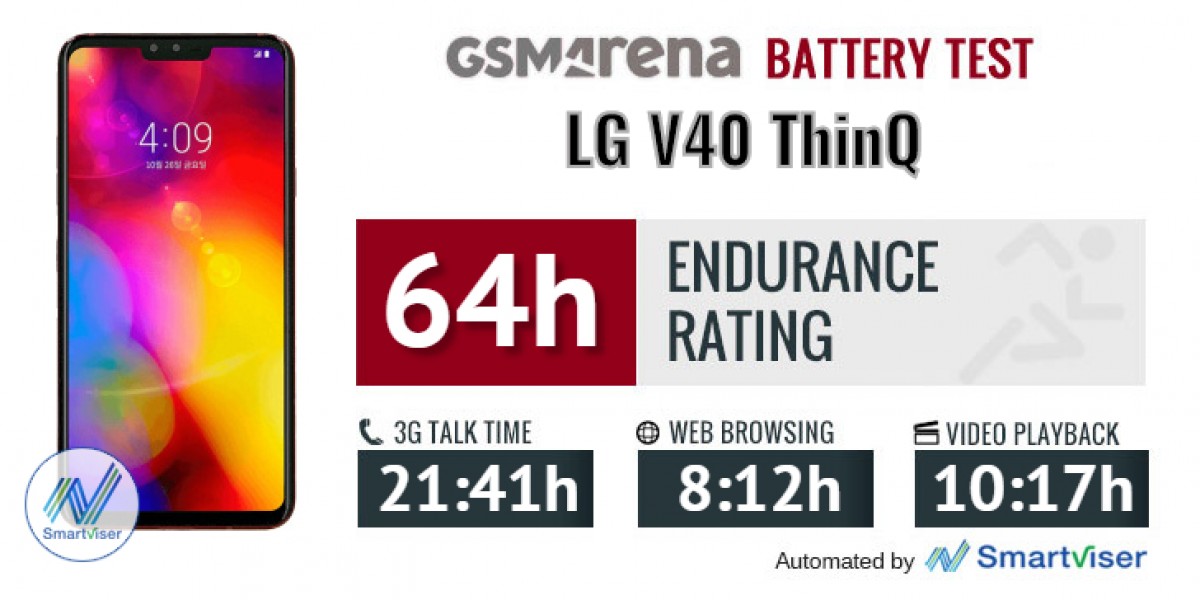 Using the supplied 18W charger required 1 hours and 53 minutes for a full charge. That wasn't bad for the day, the bad thing was that you had to do it more often than with other flagships.
On the plus side, LG knew what its fans liked and kept the Quad DAC for the 3.5 mm jack, which resulted in loud, high-quality audio piping into a pair of wired headsets.
The LG V20 was the first to launch with Android 7.0 Nougat (just two months after Google launched the new version), the V40 wasn't as quick. It launched with Android 8.1 Oreo a few months after 9.0 Pie was made official. It did get Pie in June and later Android 10, but 11 wasn't on the cards.
Anyway, the V40 was powered by the Snapdragon 845, the chipset of choice for a 2018 flagship Android. It was paired with 6 GB of RAM and 64 or 128 GB storage (expandable via a microSD slot).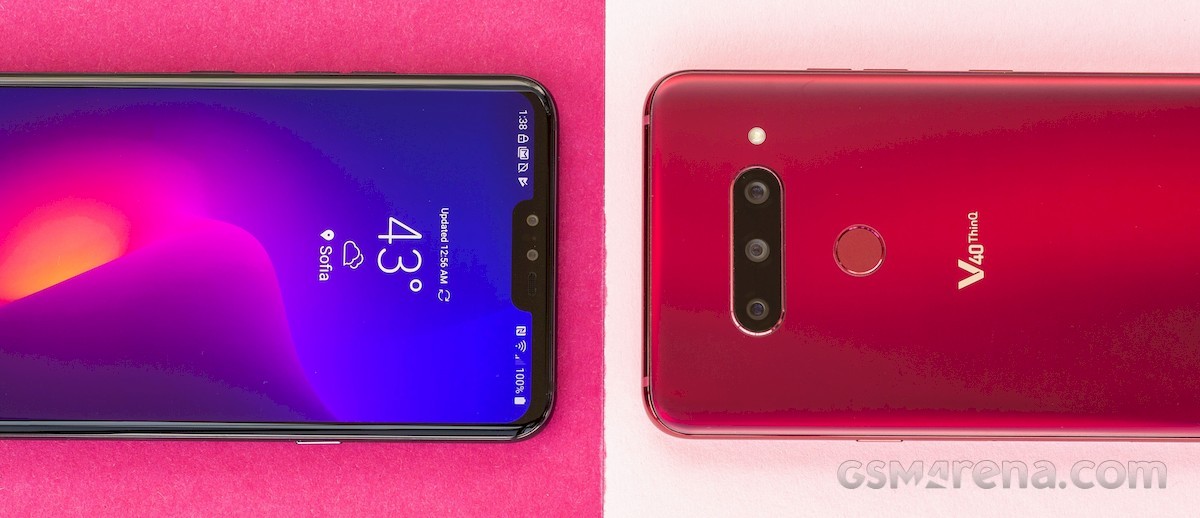 The LG V40 ThinQ wasn't a perfect phone. The short battery life was its biggest flaw and it could have done with some display calibration. A better pair of selfie cameras too. It was still a really interesting flagship and LG had pinned its hopes on it selling well.
With a new Mobile Communications director in charge, the company was changing its approach to the market and to its R&D efforts. Alas, things didn't pan out – LG as a whole posted record profits, while the mobile division lost money in 2018. Q1 of 2019 brought a loss as well and eyes had already turned towards the V50 ThinQ. Troubles continued into 2020.
That is how it went with LG's mobile efforts. It created some of the most interesting phones, yet they were mostly a curiosity that few people bought. Since closing the money-losing mobile division, the company is posting impressive results, but we know many of you still miss the kooky LG phones. Sometimes we do too.
I
ironically, the pioneers of phone tech are the one that succumbed to lack of profit. those that follow after are the one that profiting from the innovations. i'm still eyeing for lg v50. it's to bad lg close its mobile division. they are ah...
N
You can now get this phone refurbed for around $150-200 on Aliexpress. And most of them are virtually brand new.
A
Is one of our favorites phones for video recording. Indeed, is one of the best thanks to super steady options, brigth main camera, one of the best ultrawides, 10bit video recording, and superb audio rec/play. Also, is enough for replace a mirrorle...
ADVERTISEMENT