Display
The Doogee S88 Pro features a 6.3" IPS LCD screen of extended 1080p resolution making for 410ppi density. It is protected by a flat Gorilla Glass, though the maker hasn't specified the model number.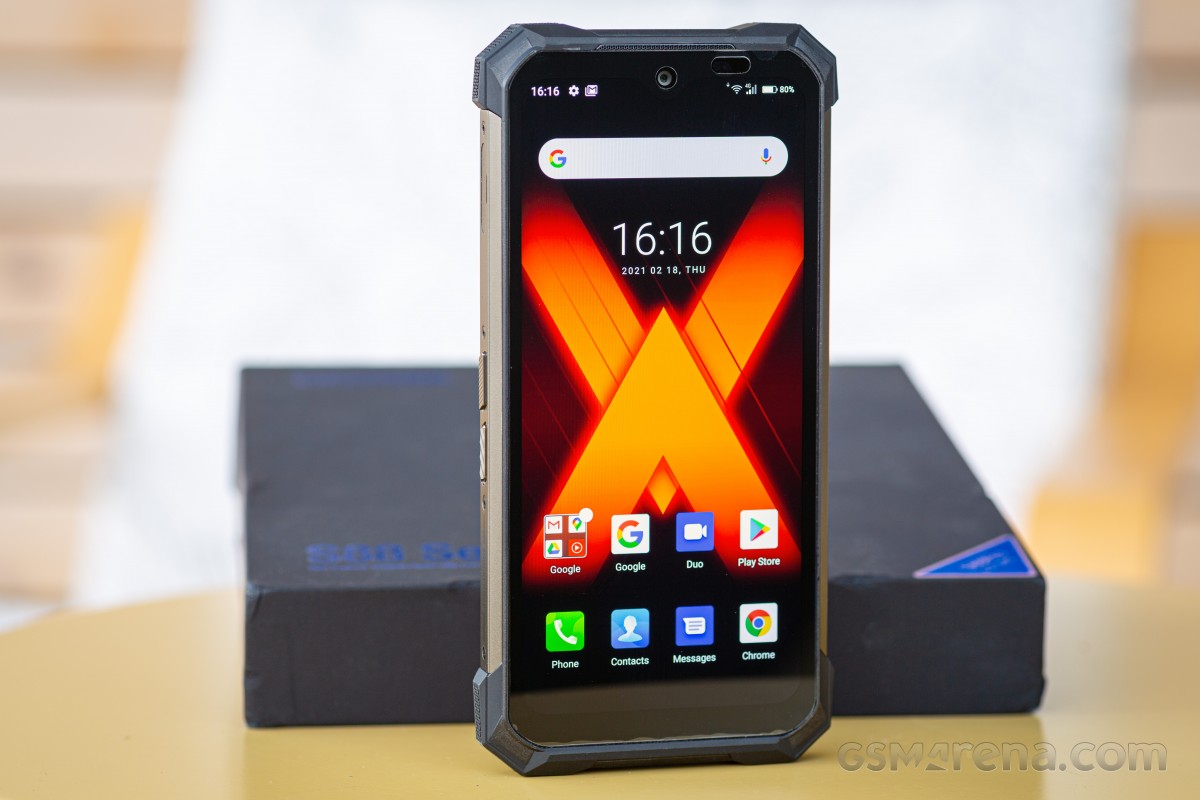 The panel has a waterdrop-shaped notch, and the selfie camera is in there, though it didn't have to be this way - there is more than enough room on the bezels for it. Another peculiarity we found is that the black paint forming the bezels on the glass extends a bit more than it should around the notch, and it looks really awkward when you notice there are more pixels underneath. The whole eyesore thing is one big misunderstanding, but it is what it is.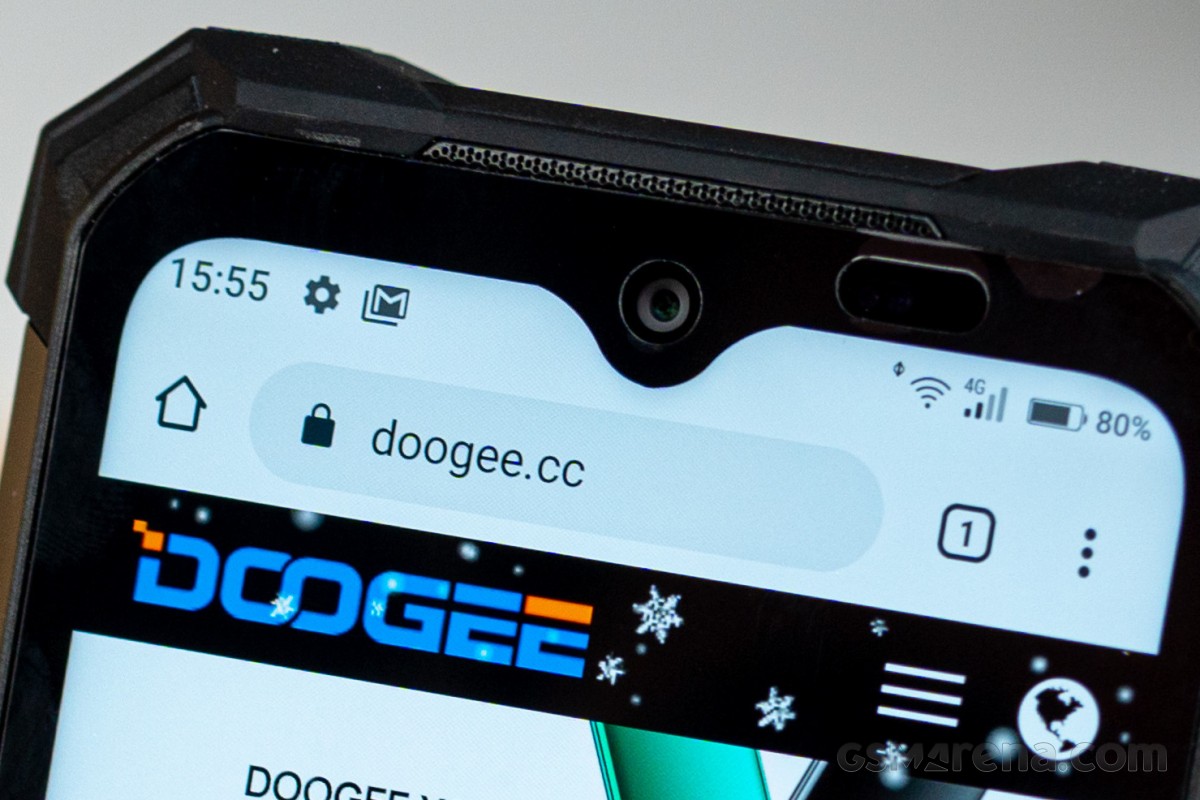 Doogee is promising 1500:1 screen contrast, and the phone did deliver on this promise. We measured a maximum brightness of 530 nits, and when we combine this with the nicely deep blacks, we get 1640:1 contrast ratio.
There is no sunlight boost when using Auto Brightness.
The minimum brightness we captured was 19.6 nits on white color, quite unimpressive.
Display test
100% brightness
Black,cd/m2
White,cd/m2
Contrast ratio
Doogee S88 Pro
0.323
530
1641:1
Ulefone Armor 7
0.279
406
1455:1
Ulefone Armor 9
0.357
550
1541:1
Samsung Galaxy A12
0.292
398
1363:1
Samsung Galaxy A12 (Max Auto)
0.349
472
1352:1
Xiaomi Redmi Note 9S
0.303
421
1389:1
Xiaomi Redmi Note 9S (Max Auto)
0.42
575
1369:1
Realme 7 Pro
0
459
∞
Realme 7 Pro (Max Auto)
0
585
∞
Realme 7
0.31
457
1474:1
Realme 7 (Max Auto)
0.374
526
1406:1
The screen is pre-calibrated in the factory, and there are no settings you can tweak. There is a massive blue tinge, and you cannot get rid of it.
Battery life
Well, hello there! We guess a bunch of you jumped right here as the battery life has to be the most intriguing part of this review. The Doogee S88 Pro is powered by a 10,000 mAh battery - the first phone we meet with such a behemothian cell. And we were quite eager, too, so without further ado, here come the numbers!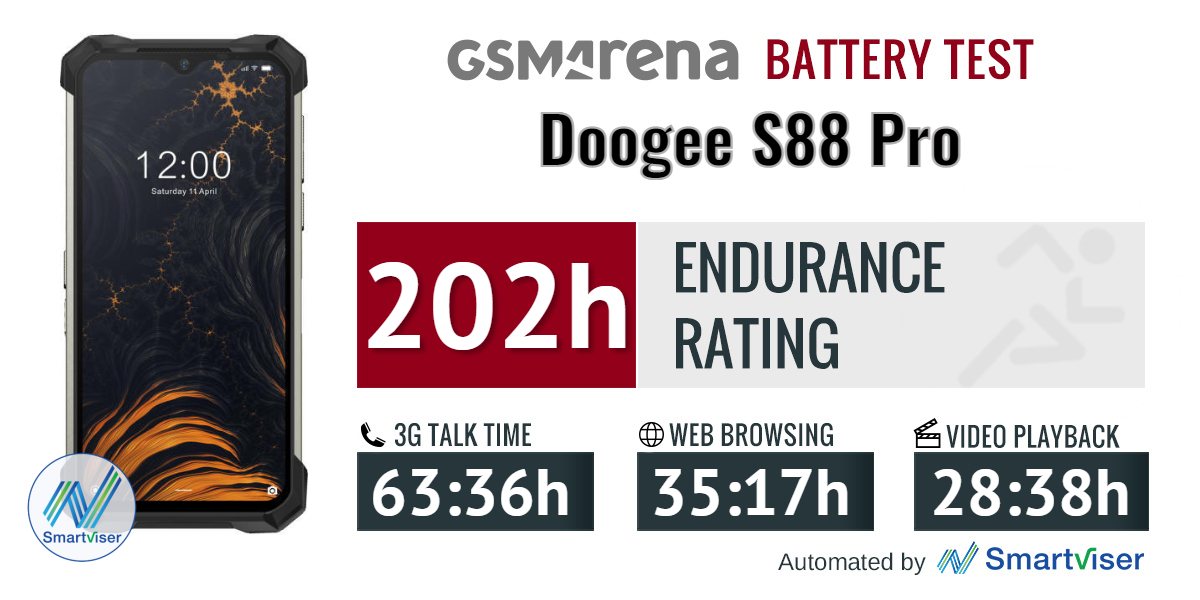 The 202 hours endurance rating is easily the best one we've captured to this very day and tops all other smartphones we've tested so far. It was achieved via a mix of unbelievable screen-on times, more than 60 hours of 3G talks, and more than 22 days of standby!
This large battery is also very hard to deplete if you want to do it faster than usual. It took us more than 6 hours on 3DMark WildLife Unlimited Stress Test to drain just 42% of it, meaning it will take about 15 hours to kill a full battery even if you did your absolute best. For comparison - it takes only 2 hours on the iPhone 12 Pro Max.
When playing a game, the battery drops at half the rate, meaning you can play your favorite title for more than a day and then have some juice left for a couple of hours with your favorite TV show.
Charging speed
The Doogee S88 Pro supports 24W fast charging and comes with a proper 12V/2A power adapter. While this is fast enough for most phones, it can't but feel inadequate for a 10,000 mAh battery. We suspected charging this thing will be sluggish, and we were right.
After we finally depleted the Doogee S88 Pro battery, the supplied charger refilled merely 16% of it in 30 minutes.
30min charging test (from 0%)
Realme 7 Pro
94%
Xiaomi Redmi Note 9 Pro
63%
Realme 7
58%
Xiaomi Redmi Note 9S
37%
Ulefone Armor 9
35%
Ulefone Armor 7
27%
Doogee S88 Pro
16%
A 90-minute charge will take you to 47%. And a complete top-up requires 3 hours and 49 minutes.
Time to full charge (from 0%)
Realme 7 Pro
0:37h
Realme 7
1:05h
Xiaomi Redmi Note 9 Pro
1:11h
Xiaomi Redmi Note 9S
1:45h
Ulefone Armor 9
2:30h
Ulefone Armor 7
2:40h
Doogee S88 Pro
3:49h
The Doogee S88 Pro supports up to 10W wireless charging, but we tried recharging it on our Realme wireless charger overnight and found that one night is not enough for a full charge.
You can't use the phone as a power bank via a cable but you can make use of reverse wireless charging.
Speaker
The Doogee S88 Pro has a single rear-facing speaker. It scored a Below Average mark (-31.6 LUFS) in our loudness test, and the same applies to its audio quality. The speaker is tuned mostly for mid-tones and is lacking in bass and especially in high notes. The S88 Pro sounds a lot like those old wired radios, if you are old enough to remember them.
Use the Playback controls to listen to the phone sample recordings (best use headphones). We measure the average loudness of the speakers in LUFS. A lower absolute value means a louder sound. A look at the frequency response chart will tell you how far off the ideal "0db" flat line is the reproduction of the bass, treble, and mid frequencies. You can add more phones to compare how they differ. The scores and ratings are not comparable with our older loudspeaker test. Learn more about how we test here.