Everyone interested in mobile phones knows that Samsung makes one of the best - if not the best - OLED panels. Every Samsung flagship for years has offered great viewing experience, so no wonder every OEM wants to get its hands on the Korean firm's crisp OLED displays.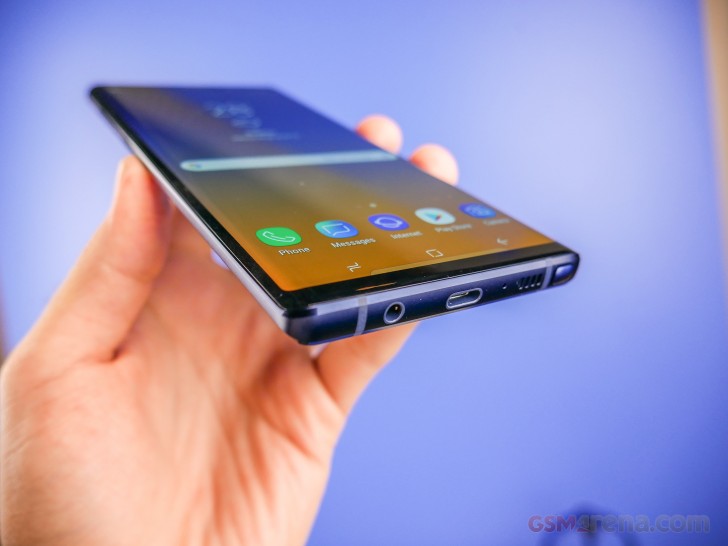 But how good is the recently announced Galaxy Note9's panel? Well, according to DisplayMate, it's the best so far. Just like every Samsung flagship since the Note 4. For yet another year the Korean company has managed to outdo itself.
As always, the Note9 went under extensive testing and broke a few records along the way. Well, "a few" is an understatement. One of the key findings in the review says that the panel reaches a maximum brightness of 710 nits in manual mode and 1,050 nits in automatic mode. It also covers 113% DCI-P3 and 142% of the sRGB color space and has the highest absolute color accuracy.
Interestingly, the Note9's display offers the lowest reflectance (4.4%) ever recorded as well. We wonder if this has something to do with one of the earliest rumors regarding glass thickness of the front panel.
Anyway, here's what the Note9's display is best at:
Highest Absolute Color Accuracy (0.5 JNCD) – Visually Indistinguishable From Perfect.
Smallest Change in Peak Luminance with the Image Content APL (2 percent).
Smallest Shift in Color Accuracy and Intensity Scale with the Image Content APL (0.7 JNCD).
Highest Peak Display Brightness (1,050 nits with 710 nits at 100% APL).
Largest Native Color Gamut (113% DCI-P3 and 142% sRGB / Rec.709).
Highest Contrast Ratio (Infinite).
Lowest Screen Reflectance (4.4 percent).
Highest Contrast Rating in Ambient Light (239).
Smallest Brightness Variation with Viewing Angle (27 percent at 30 degrees).
Smallest Color Variation of White with Viewing Angle (1.3 JNCD at 30 degrees).
Highest Screen Resolution 3K (2960x1440) – 4K Does Not appear visually sharper on a Smartphone.
D
I definitely believe that the Note9 has the best screen ever. But I just have problem with one of the statistics: Highest Screen Resolution 3K (2960x1440) Okay, the Sony Premiums may have 4K screens, but doesn't LG G7 have a higher resoluti...
?
Especially on TV. The larger the screen gets the more and more apparent it becomes just how much better those oleds look and how strong the advantages are.
V
Could be regional. I didint see anyone having amoled problems at my area. As I mentioned never had issues with any galaxy phone screens or know anyone who had. Amoleds build to last year's. They use pentile matrix my galaxy s4 is like new. Maybe some...
ADVERTISEMENT