De Billas makes the Samsung Gear S3 classic precious with 24K gold plating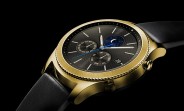 We have to admit we're not huge fans of gold plated phones, but a gold plated smartwatch does make a lot more sense - luxury mechanical watches often flaunt gold or other precious metals. If you feel the same, you can snag a Samsung Gear S3 plated with 24K gold.
It will set you back $600 (double the price of a regular S3 classic). De Billas boasts about applying two layers of gold "with a high thickness." Also, nickel is not used for the plating process (you can develop a nickel allergy after a prolonged exposure).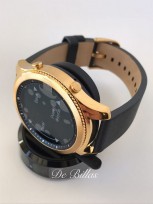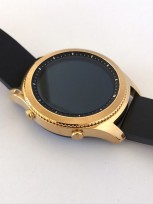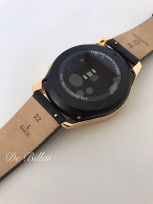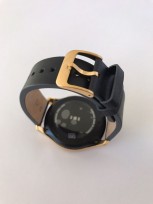 24K gold plated Samsung Gear S3 classic (by De Billas)
De Billas says that the Gear S3 is still good to go for a swim, the gilding process did not impact its water resistance. Note that the watch comes with the original band, but its buckle has been plated as well. The charger also got a 24K gold surface.
You can order a custom box and a personalized message if the gilded Gear S3 classic smartwatch is for a gift.
d
Depends on what yardstick you measure your watches by. Time was when accuracy was a Big Thing. So let's put them to that test: Patek Philippe accuracy +/- 4 seconds a day (good) Sa,sung Gear S3 Classic: +/- 1 second every 600 million years (be...
J
I bought one of this 3 months ago on their website and I couldn't be happier, their gold plating is top quality, their customer service and communication are excellent, I emailed them the picture of the exact band I wanted and they went above and bey...
D
Totally unnecessary not exactly, since you did reply. Anyways, whoever claims Grand Seiko is not on the leagues of Rolex, Omega, IWC, etc., cant call themselves a watch connoisseur. Its like luxury watch racism, if the word ever existed. I dont ...
ADVERTISEMENTS