CR: Smartphone market in India declines in Q3 as iPhone 13 becomes best-selling model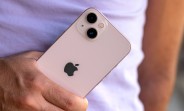 Counterpoint Research posted its quarterly analysis of the smartphone market in India. The numbers for Q3 2021 revealed an 11% overall decline in sales on a yearly basis - down to 45 million units. This is the first yearly decline for the July-September period in India, mostly due to pent-up demand from Q3 2021, as well as lower demand in Q2 2022 due to the global macroeconomic situation.
In the three-month period, Xiaomi remained on top, but Samsung managed to close the gap as the Korean company was among the few to achieve annual growth. Apple reached its highest share ever in India at 5%, and the iPhone 13 from 2021 became the best-selling model in Q3.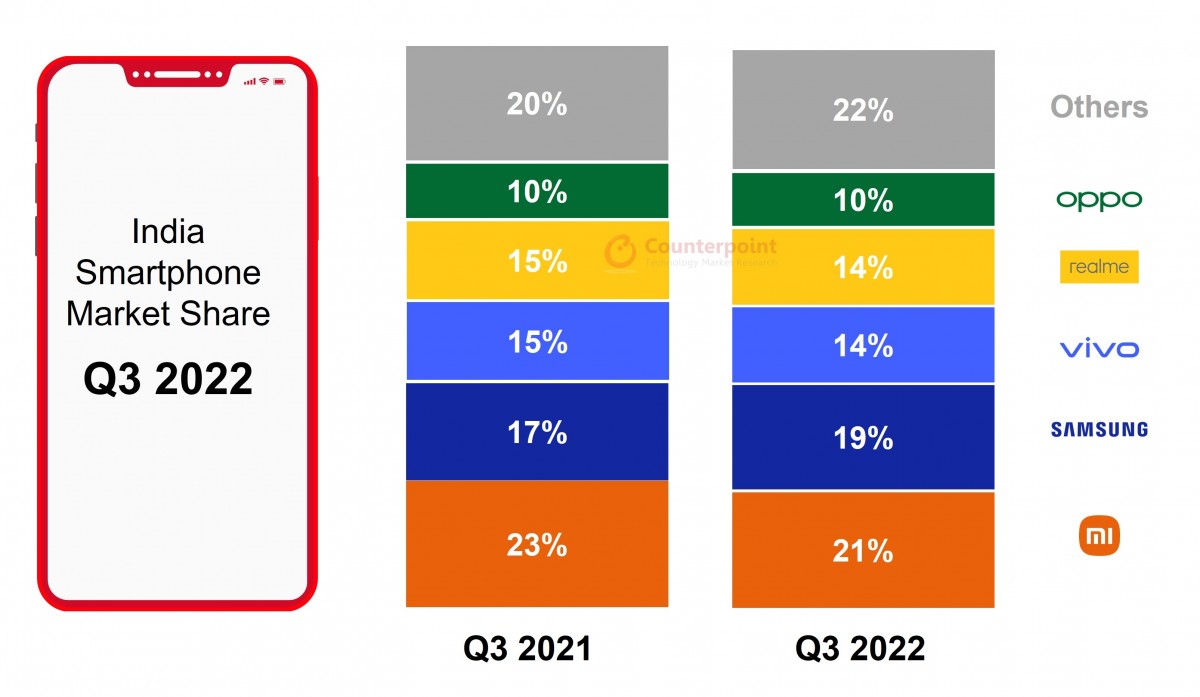 The market exited with high inventory in Q2 2022, which lead to modest demand in the following period, revealed Prachir Singh, Senior Research Analyst at Counterpoint. The entry-tier and budget segments were most impacted, and the "unfavorable macroeconomic conditions" will continue in Q4 as well.
According to the report, 32% of all smartphones were 5G-enabled. Expectations are the 5G phones' share to grow even more as India begins its 5G rollout and users are eager to upgrade their devices.
Featurephone sales sank 24%, bringing the total decline of mobile handset shipments to 15% YoY. The current economic situation impacts mostly low-income households, or "bottom-of-the-pyramid users", as Counterpoint put it. The leader in featurephones has been itel for three years in a row and this remained unchanged in Q3 2021.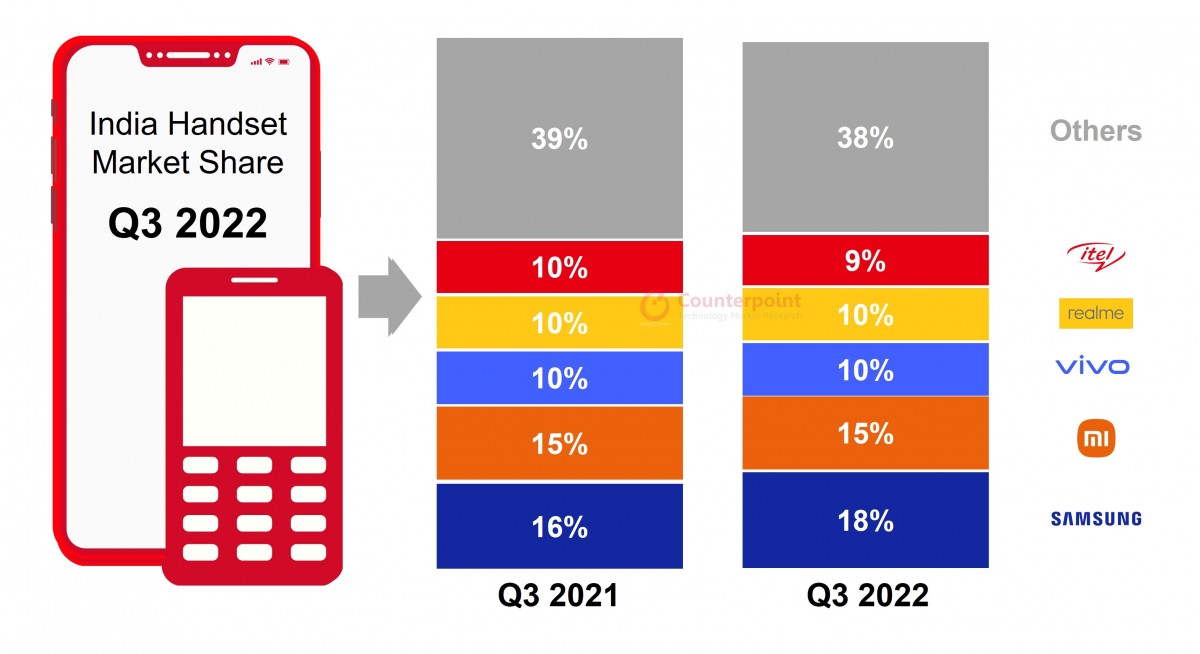 Xiaomi's declining lead is mostly due to the low demand for midrangers and entry-level phones. Samsung managed to close the lead with attractive offers for Galaxy M and Galaxy F smartphones, while vivo came in third with strong sales of the V series and the iQOO sub-brand.
Transsion could have climbed to fifth place if we count all the brands under one umbrellar. The conglomerate that owns itel, Infinix and Tecno recorded 12% of the sales, driven by strong demand for the Tecno Pop 5 LTE and Spark Go 2022 - both devices are in the sub-INR8,000 price range.
K
Happy to see free country of India slowly stop buying Chinese stuff. Do a moral choice and dont support China!
-
Exactly, There's very simple reason why only Apple and Samsung "have" them, they are only ones who press and news cares. Every smartphone company have somekind of problems with batteries, it's nature of batteries, but it's not worth of news. On...
D
Hence past 7 years i am member of this site GSMArena never spoken of any other brand just Samsung and Apple. If there are so lots how do you explain me this???
ADVERTISEMENT