Counterpoint: Sony's smartphone camera sensor business is on the rise thanks to iPhone upgrades
The smartphone market shrunk in 2022, which impacted the suppliers of image sensors. Some fared better than others though – Sony was the only supplier to see its revenue grow on a yearly basis.
And it was mostly thanks to Apple upgrading the cameras on the iPhone 14 series. The two Pro models brought new 48MP sensors in the main cameras and larger 12MP sensors in the ultra wide cameras. The selfie cam on all four models was upgraded with autofocus too. Apple exclusively uses Sony sensors, you can see the breakdown by camera type below:.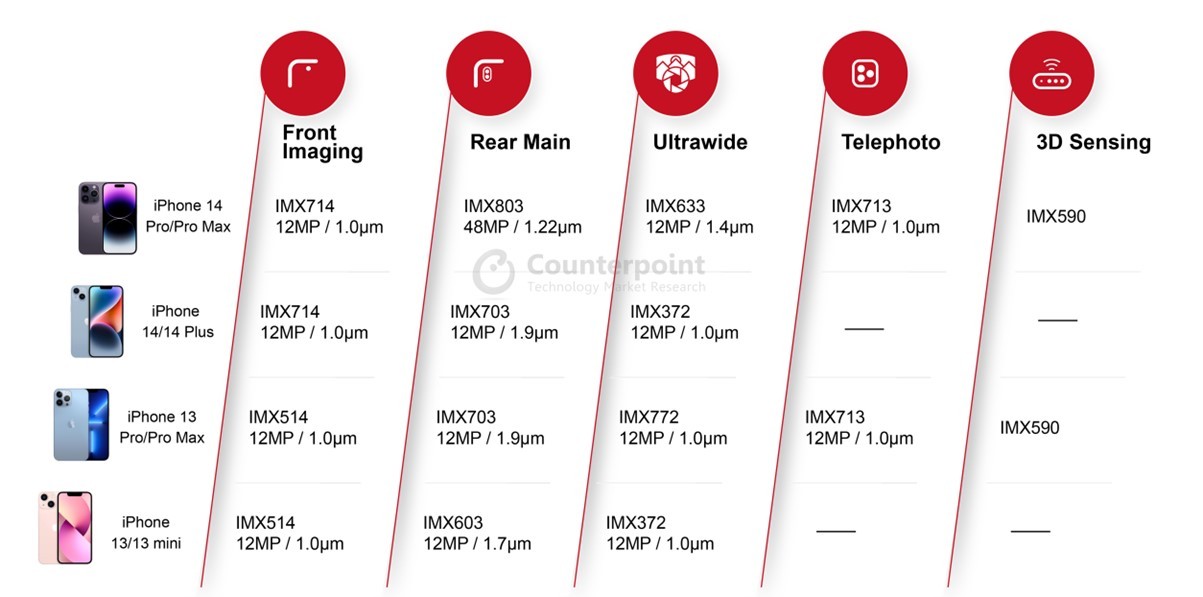 The Sony sensors inside the last two generations of iPhones (source: Counterpoint BoM analysis service)
Adding it all together, Sony made an extra $6 per unit for a total of around $300 million in the second half of 2022. The end result is that Sony took in 54% of the total revenue for the year, up 5 percentage points compared to 2021.
Samsung LSI did well for itself, even though its revenue share contracted by 1 percentage point to 29%. The company raked in the benefits of high resolution, small pixel size sensors (sub-0.7µm pixels).
The affordable 50MP sensors proved quite popular and Samsung shipped an estimated 200 million of them in 2022. These are used in the main cameras of lower end phones and in the selfie cameras of more premium devices. The company still dominates the 100+ megapixel sensor market and shipped an estimated 150 million units since it launched the first one.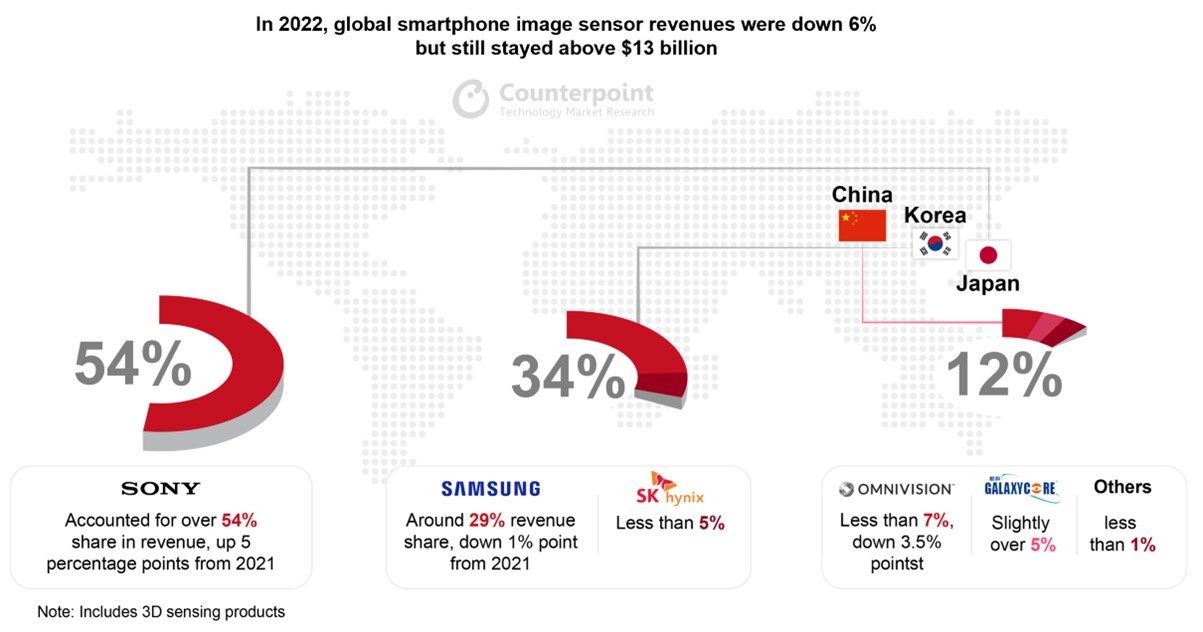 Last year the smartphone image sensor market contracted by 6% compared to 2021, but the total revenue remained above $13 billion. Sony and Samsung took in the lion's share of that, 83% in total.
D
That's because Sony has it all wrong in terms of camera ethos. If you want full manual control and granular modification of the scene and exposure triangle parameters to get the shot YOU WANT, you get their mirrorless cams and suitable lenses so...
?
MKBHD didn't even give the phone it's chances to shine. The phone is advertised to use manual mode not auto mode. And MKBHD didn't use manual. So you can't call it fair. I've seen a lot of reviews and comparisons from real ph...
?
Well I saw places where the iphone photos were too artificial than the Sony. Comparing side by side you can see the Sony has a point
ADVERTISEMENT