Canalys: Smartphone sales in the US grew in Q2, Apple and Samsung led the way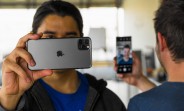 According to the latest Canalys report, smartphone shipments in the US grew by 11% during the April - June period compared to the previous quarter. The market is still in 5% decline compared to the same time last year. The average price of a new smartphone in the US was $503 which is 10% less than the value in Q1 2020. Canalys estimates 70% of smartphones shipped in the US for Q2 2020 were made in China, a 10% QoQ increase.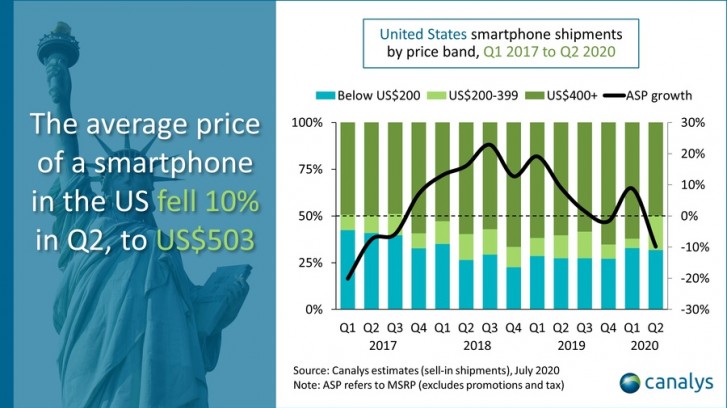 7 out of 10 devices sold in the US were either Apple or Samsung phones with Apple alone to shipping an impressive 15 million units and securing a 47% market share. Next in line was Samsung which managed 7.4 million shipments equaling its figures from last year. LG rounded out the top-three with 3.5 million shipments and an 11% market share. Lenovo (2.2 million shipments) and TCL (1.3 million) completed the top 5.
Company
Q2 2020
Shipments (in million)
Q2 2020
Market share
Q2 2019
Shipments (in million)
Q2 2019
Market share
Annual
growth
Apple
15.0
47.1%
13.6
40.8%
+10.0%
Samsung
7.4
23.2%
7.4
22.3%
-1%
LG
3.5
11.0%
4.3
13.0%
-19%
Lenovo
2.2
6.9%
2.0
6.1%
+8%
TCL
1.3
4.0%
2.3
6.8%
-43%
Others
2.4
7.7%
3.7
11.1%
-34%
Total
31.9
100.0%
33.4
100.0%
-5%
According to Canalys' Vincent Thielke, the COVID pandemic coupled with tightened consumer spending prevented 5G phone adoption from taking off. Coupled with the limited network coverage, users preferred to stick with 4G devices. Apple's iPhone 11 and SE (2020) were the best selling phones in the quarter. Samsung saw disappointing Galaxy S20 series shipments though its entry-level Galaxy A10e and A20 got a lot of attention from buyers.
?
I got a budget phone built in china, ZTE Grand X Max+ running Android 5.1. May not be the fastest, but it rivals Nokias build quality. I've dropped it a lot, and still no cracks on front or back. Great camera at 1440p, 1080p video, yes Chinese p...
?
EMUI is utter crap, and the lack of Google apps and services makes it utterly useless.
?
How so? Most people here buy flagships from the top two best smartphone makers in the world. The rest buys whatever affordable Android device their carrier is selling at the time. All you have is cheap Chinese knockoffs that are all about paper specs...
ADVERTISEMENTS