Canalys reported the Chinese smartphone market contracted by 11% in Q1 on a yearly basis, following a wider trend around the world. According to the data, it was the worst Q1 period since 2013.
Shipments in the first quarter were 67.6 million, 11% down from the same period last year. Apple went through it with relatively minor 3% decrease in sales, which helped it overtake Oppo for the lead.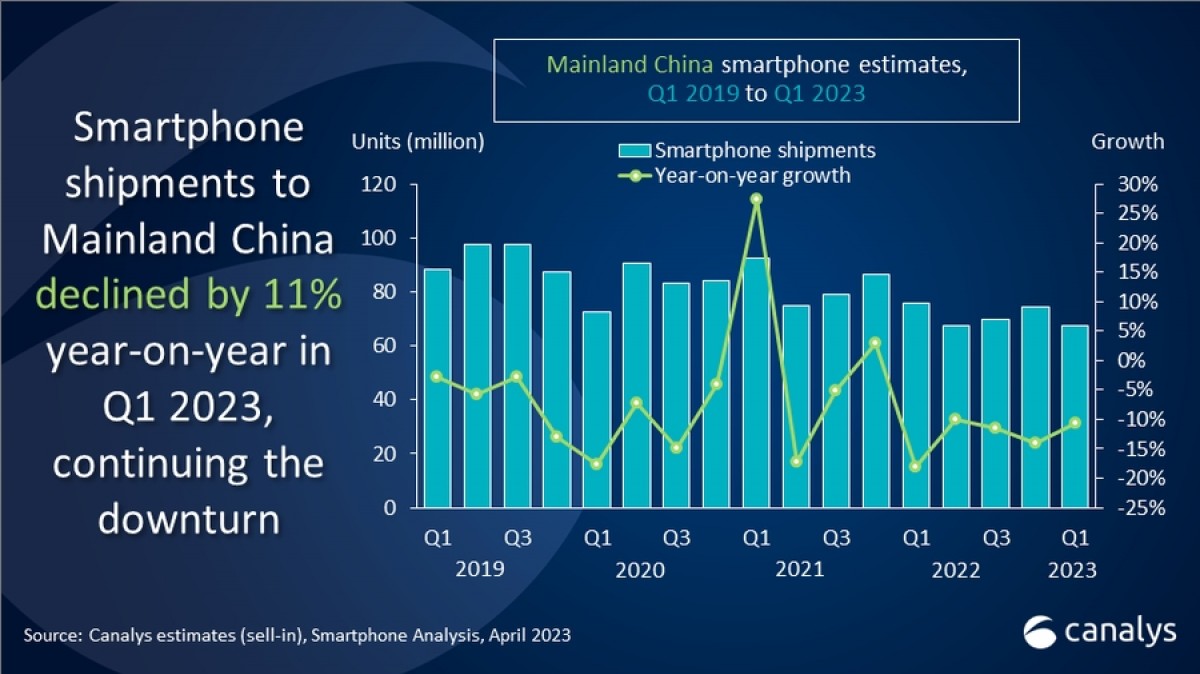 This period was the fifth consecutive quarter of double-digit decline, revealed Lucas Zhong, Research Analyst at Canalys. The pandemic affected consumer behavior in the medium to long term, and now people prefer to spend income on more necessary expenses and going rational towards electronic goods.
Smartphone companies have gradually adapted to the shrinking market. Inventory is still an issue, just like all other major markets around the world, catalyzing intense competition in the lower-tier categories.
Company
Q1 2023 Shipments
(in million)
Market share
Q1 2022 Shipments
(in million)
Market share
Annual growth
Apple
13.3
20%
13.7
18%
-3%
Oppo
12.6
19%
13.9
18%
-10%
vivo
11.3
17%
12.2
16%
-7%
Honor
9.7
14%
15.0
20%
-35%
Xiaomi
8.5
13%
10.6
14%
-20%
Other
12.2
18%
10.2
13%
19%
Total
67.6
100%
75.6
100%
-11%
Amber Liu, an analyst, stated this year will be important for vendors to balance market share and profitability, but almost all of the major players are already looking ahead to 2024 growth plans, seeking breakthroughs in hardware technology.
not at all xD
S
You've just proved me right and also contradicted yourself lol. Over and above that, even if China sees an iPhone as a "domestic product" they know full well its not a local brand unlike OPPO, Xiaomi and Huawei, yet the Chinese marke...
y
You are wrong, the main reason is that all 3 countries have the income to afford an iPhone. In addition, in China, apple is considered a domestic product, and the price is cheap.
ADVERTISEMENTS