PC sales are still on the rise according to the latest Canalys report which saw a 5% increase in shipments for the July-September period. Combined shipments for desktops and notebook PCs totaled 84.1 million units which is 4.9% more than the combined 80.2 million figure seen in Q3 2020.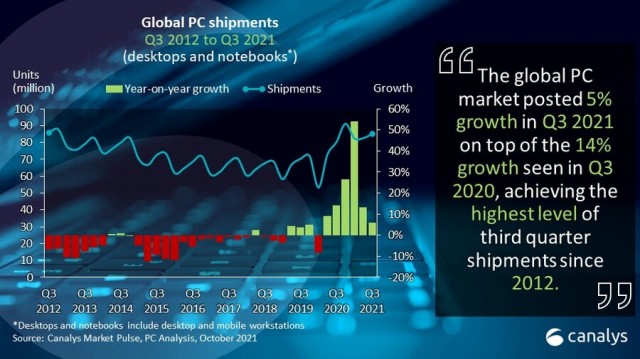 Worldwide desktop, notebook and workstation shipments (Canalys PC Market Pulse Q3 2021)
Lenovo is still the leader in terms of total shipments (19.8 million) and market share (23.5%) for Q3 2021. HP is close by in second place with 17.6 million shipments and a 20.9% market share despite a 5.7% yearly decline compared to last year's values. Dell rounds out the top-three with 15.2 million shipments and an 18.1% hold of the market. Dell had the highest annual growth out of any brand in the PC market at 26.7% with an impressive market share gain of over 3%.
Company
Q3 2021 Shipments
(in million)
Q3 2021
Market share
Q3 2020 Shipments
(in million)
Q3 2020
Market share
Yearly change
Lenovo
19.8
23.5%
19.3
24.1%
+2.5%
HP
17.6
20.9%
18.6
23.3%
-5.7%
Dell
15.2
18.1%
11.9
15.0%
+26.7%
Apple
7.8
9.3%
6.8
8.5%
+5.7%
Acer
6.1
7.2%
5.7
7.2%
0.0%
Others
17.6
21%
17.6
22%
-58%
Total
84.1
100%
80.2
100%
+4.9%
On the per-region basis, South America experienced the highest annual growth in terms of shipments at 17% followed by Europe, Middle East and Africa's (EMEA) 16% and Asia Pacific's 13% though without taking Japan into account which had a 30% decline in PC shipments. Shipments in North America also saw a decline though much less harsh at 9%.
Looking ahead, Canalys Research Director Rushabh Doshi sees new opportunities for the PC market with small and midsize businesses (SMBs) in the tourism and travel industries. However, supply chain issues and the ongoing chipset shortage is likely to affect PC vendors as they battle to adjust their strategies for different markets.
P
Lenovo is the best computer brand
l
Imagine using my lawschool program using a phone. That is a complete nightmare!
ADVERTISEMENT