Canalys: competitors gobble up Huawei's lost market share in Q4, Honor faces uphill battle
2020 ended with a strong three months for Apple – the company shipped the most iPhones ever in a single quarter, specifically 81.8 million units, according to data from Canalys.
This pushed Apple to the top spot in terms of market share. Samsung failed to defend its position as shipments declined 12% year-on-year (YoY), down to 62 million units. But the Apple/Samsung fight wasn't the highlight of the quarter.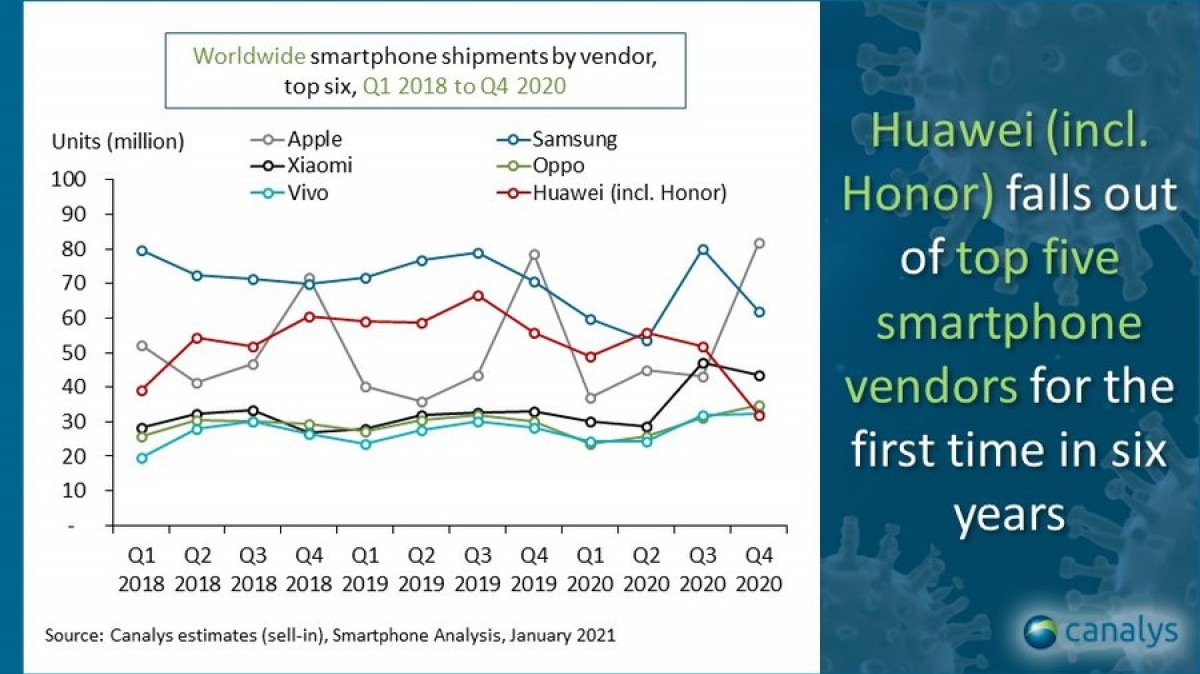 Huawei fell out of the Top 5 smartphone makes for the first time in six years. Competitors from China were quick to gobble up its market share with Xiaomi growing an impressive 31%, up to 43.4 million units shipped.
Huawei's numbers include Honor shipments, both of which suffered due to US sanctions. Honor was split off towards the end of 2020, so analysts will be keeping an eye on its performance now that it has regained access to components suppliers.
This independence comes with hurdles, however. First, Honor needs to expand to fill the niches previously reserved for the parent company (Honor was more youth oriented, Huawei held the premium position). Second, it needs to sign its own deals with carriers and retailers.
The pandemic caused a small 2% decline in total smartphone shipments for the final quarter of this year (359.6 million). However, makers had a game plan and beefed up online sales channels, so they fared better than they did at the start of the pandemic.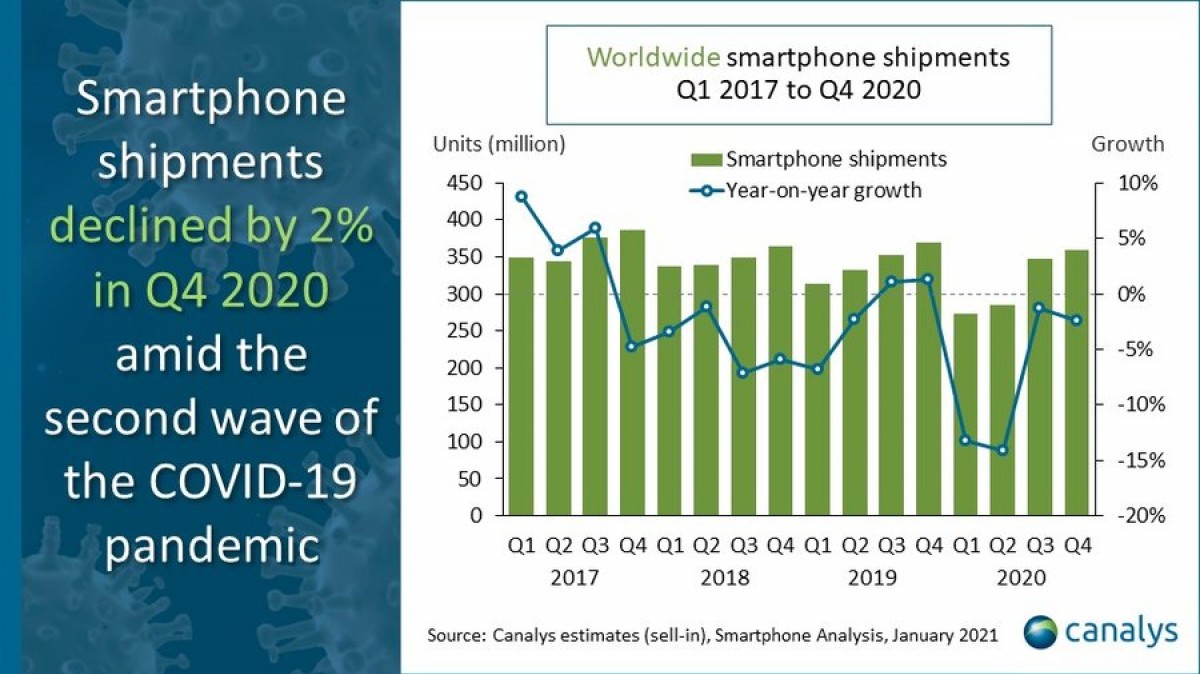 Interestingly, analysts note that Apple's decision to drop the charger from the retail package gave it an edge – the smaller, lighter boxes are easier to ship, which is vital at a time when freight expenses are higher than normal.
Looking at 2020 as a whole, Samsung was the biggest player with 20% market share, followed by Apple and Huawei (which had a lot of inertia early on). The outlook for 2021 is positive, especially now that vaccination efforts have started.
As for Honor, analysts expect that it will be an uphill battle to reclaim lost market share.
Vendor
2020 shipments (million)
2020 Market share
2019 shipments (million)
2019 Market share
Annual growth
Samsung 
255.6
20.00%
298
22.00%
-14.00%
Apple
207.1
16.00%
198.1
14.00%
5.00%
Huawei (incl. Honor)
188.5
15.00%
240.6
18.00%
-22.00%
Xiaomi
149.6
12.00%
125.5
9.00%
19.00%
Oppo
115.1
9.00%
120.2
9.00%
-4.00%
Others
348.9
28.00%
384.3
28.00%
-9.00%
Total
1264.7
100.00%
1366.7
100.00%
-7.00%
Note: percentages may not add up to 100% due to rounding Source: Canalys estimates (sell-in shipments), Smartphone Analysis, January 2021
S
Here are actual facts kiddo :) https://m.gsmarena.com/counterpoint_flagship_smartphone_shipments_dipped_by_13_in_q1_apple_had_4_of_the_5_best_sellers-news-43799.php Androids that cost more than $400 barely sell, Apple has 57% of the premium se...
S
All the brands you named make accessories for most Apple products so your argument is invalid :'D and all their CEOs use iPhones to! LOL! In fact they all collaborate with Apple for their infotainment systems anyway, and your argument continues to we...
He is right... they aren't officially sold by the company. BMW, Lamborghini all want to collaborate with Android manufacturers to put their logo on the smartphones. No one wants to collaborate with fruit logo greedy company. Only poor p...
ADVERTISEMENT