The Indian smartphone market continues to grow with a reported 37.1 million shipments in the first three months of 2021 according to analyst firm Canalys. The figure represents an 11% jump compared to the same period last year with all major players recording increased sales.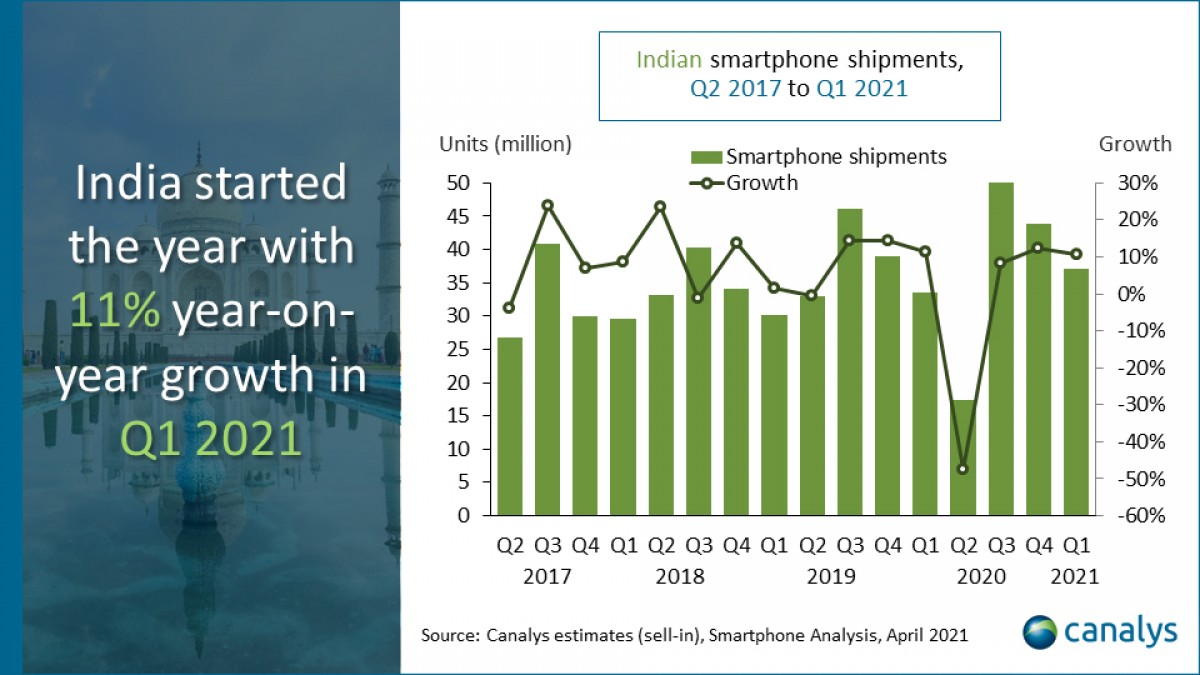 Xiaomi once again stood at the top with 10.5 million smartphone shipments and a 28% market share. Samsung came in second with 7 million shipments and a 19% market share closely followed by vivo with its 6.7 million shipments capturing 18% of the total market. Oppo brought in 4.7 million shipments as well as the highest annual growth of all companies at 35% while Realme rounded out the top-5 standings with its 4.3 million sales.
Vendor
Q1 2021 shipments (million)
Q1 2021 Market share
Q1 2020 shipments (million)
Q1 2020 Market share
Annual growth
Xiaomi
10.5
28%
10.3
31%
2%
Samsung
7.0
19%
6.3
19%
11%
vivo
6.7
18%
6.7
20%
1%
Oppo
4.7
13%
3.5
10%
35%
Realme
4.3
12%
4.0
12%
9%
Others
3.9
10%
2.8
8%
35%
Total
37.1
100.00%
33.5
100.00%
11%
Note: percentages may not add up to 100% due to rounding | Source: Canalys estimates (sell-in shipments), Smartphone Analysis, April 2021
Canalys describes favorable factors of remote education and work which prompted a higher demand for smartphones. Looking towards Q2, predictions are far less favorable given the ongoing COVID wave sweeping through India as well as the chipset shortage and weakening Indian rupee.
The INR 15,000 ($200) smartphone segment is predicted to be the main victim according to Canalys analyst Varun Kannan.
?
Comments are not getting added.beaware...
V
This is bogus info.. which means data is shared by mobile company's.. people be careful don't purchase anything..
b
Ok India belongs to Xiaomi, while China belongs to Vivo.
ADVERTISEMENT