RIM (well, BlackBerry now) has opened a new chapter in the history of its platform with the release of its first to BB10 OS devices, the BlackBerry Z10 and Q10.The new OS is centered around touch gestures, even the Q10, which has a hardware QWERTY.
The BlackBerry Z10, however, joins the ranks of the touch-only army with a 4.2" WXGA screen (1,280 x 768, 356ppi pixel density). A dual-core Krait CPU at 1.5GHz has been enlisted to run the new OS and there's 2 gigs of RAM to make sure there's room for multitasking, which plays a huge part of the new experience.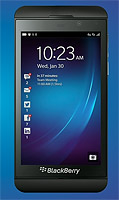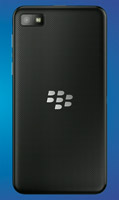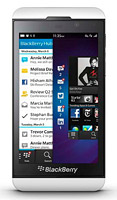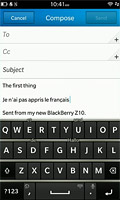 BlackBerry Z10 • the on-screen keyboard
The company also made sure the Z10 is capable in terms of multimedia with an 8MP main camera that has TimeShift (Scalado-powered tech) and shoots 1080p video and an HDMI port. The phone packs 16GB of storage and you can throw in a microSD card (up to 32GB) to expand it.
On the connectivity side, there's LTE (market dependent), Wi-Fi a/b/g/n, Bluetooth 4.0 and NFC.
The Z10 boasts an advanced touchscreen keyboard, which should completely make up for the lack of hardware keyboard.
And if you still need a physical keyboard, the BlackBerry Q10 is the one you should be looking for. The smartphone keeps the trademark hardware QWERTY keyboard. It has a touchscreen too - it's a bit unorthodox, a 3.1" square AMOLED screen with 720 x 720 resolution and 330ppi pixel density.
The BlackBerry Q10 has a stainless steel frame and an "edge-to-edge" glass on the front. The chipset of the Q10 is the same as the one on the Z10.
The BlackBerry Z10 will launch in UK first (tomorrow!) from all the major carriers and retailers, with a choice between getting it on contract or pre-paid. It goes to Canada on February 5 for $150 (with three-year contract). US consumers will have to wait until March though. Then they'd be able to snag it for $200 from AT&T, Verizon, T-Mobile and Sprint(with a two-year contract).
The BlackBerry Q10 is expected to hit carriers globally in April.
D
sir . i want to buy bb10 but i am an andriod user but i am lost cannot make any decision please help i need a sincere advice .
T
I think i will grab the Q10 because i like the keypad idea but I'll have to wait which is what i hate doing. Why the delay in the release of the Q10? Z10 and Q10 should have hit the market together. Blackberry is quite a helpful tool and i can imagin...
ADVERTISEMENT