6.67-inch 10-bit, 144Hz AMOLED display
The Black Shark 5 Pro is rocking the same 6.67-inch diagonal as last year's model. The 1080 x 2400 pixels, 20:9 ratio resolution is also identical, which means that you still get a perfectly sharp pixel density of around 395 ppi. The Black Shark 5 Pro display still does 144Hz, is HDR10+ certified and has an advertised peak brightness of 1300 nits.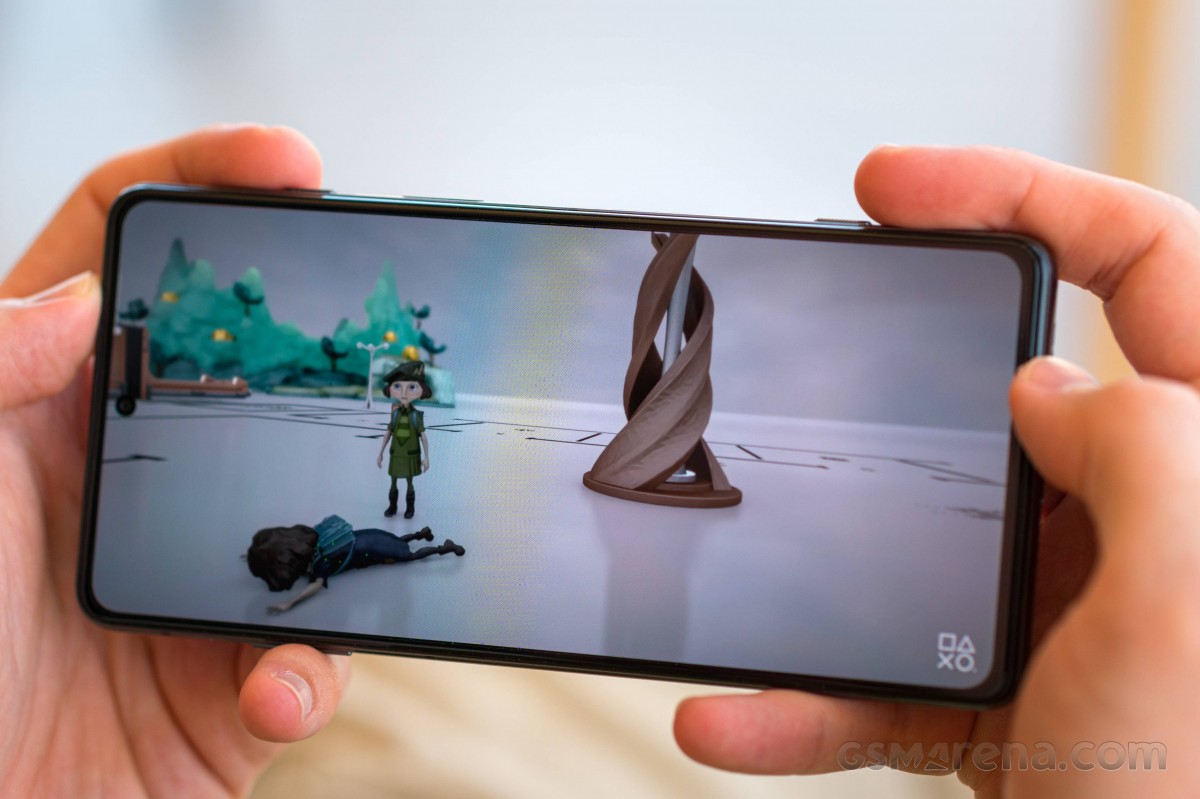 The one significant change for this year is the 10-bit color depth on the new Samsung AMOLED panel. While OLED panels have infinite contrast, Xiaomi advertises a 5000000:1 figure. We ran our traditional set of display tests and got some impressive results. In terms of brightness, we measured a maximum of 504 nits by maxing out the slider in manual mode.
The Black Shark 5 Pro does include a special option to boost brightness in sunlight even with auto brightness turned off, which is nifty. Neither it nor the auto mode managed to get us anywhere close to the advertised 1300 nits, though, and we got a max of 682 nits instead.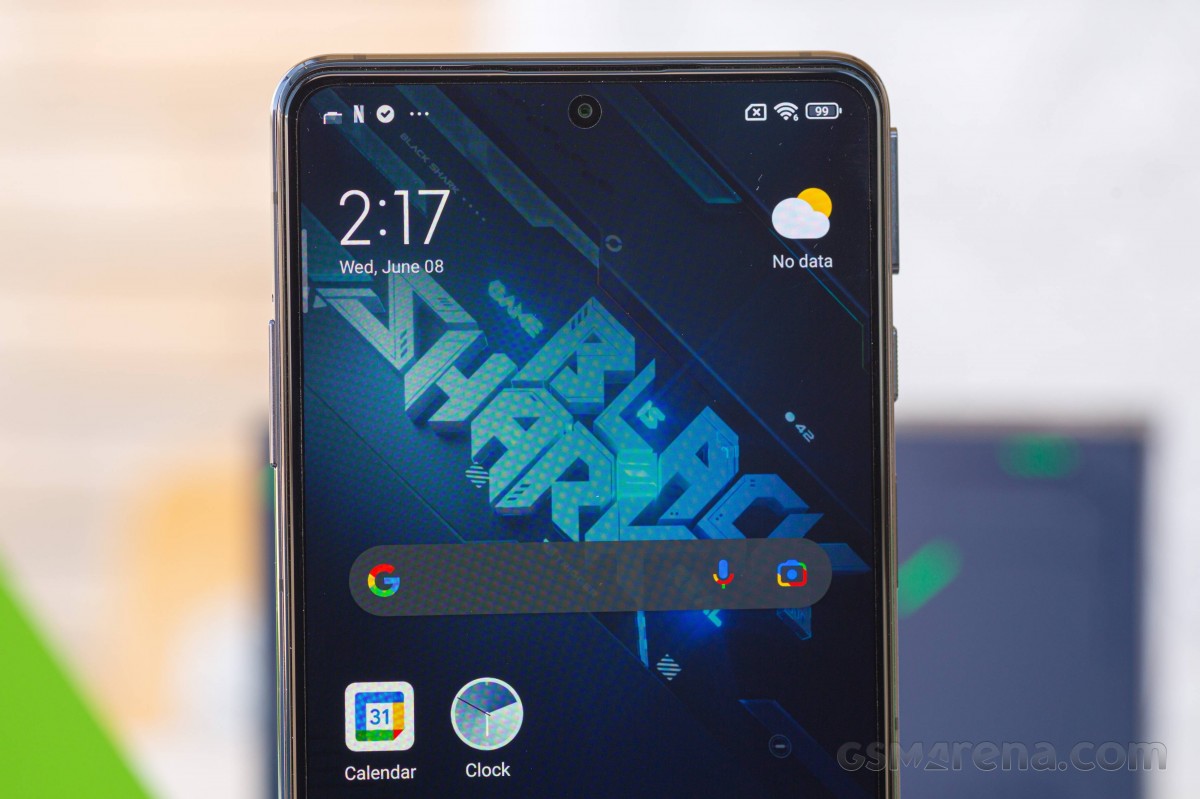 That's not too bad, and we noticed that the display got even brighter still outside in direct sunlight. Since the Black Shark 5 Pro has two separate ambient light sensors, we probably didn't manage to set up a proper test scenario to measure max brightness.
Display test
100% brightness
Black,cd/m2
White,cd/m2
Contrast ratio
Google Pixel 6 (Max Auto)
0
846
∞
Samsung Galaxy A53 5G (Max Auto)
0
830
∞
Samsung Galaxy S21 FE 5G
0
792
∞
Poco F4 GT (Max Auto)
0
761
∞
Xiaomi Redmi Note 11 Pro+ 5G (Max Auto)
0
760
∞
Poco X4 Pro (Max Auto)
0
754
∞
Xiaomi Redmi Note 11 (Max Auto)
0
736
∞
Samsung Galaxy A33 5G (Max Auto)
0
728
∞
Xiaomi Black Shark 4 (Max Auto)
0
694
∞
Xiaomi Black Shark 5 Pro (Max Auto)
0
682
∞
OnePlus Nord 2 5G (Max Auto)
0
633
∞
Xiaomi Black Shark 5 Pro
0
504
∞
Xiaomi Black Shark 4
0
498
∞
Xiaomi Redmi Note 11 Pro+ 5G
0
479
∞
Poco X4 Pro
0
477
∞
Google Pixel 6
0
477
∞
Poco F4 GT
0
468
∞
Xiaomi Redmi Note 11
0
465
∞
OnePlus Nord 2 5G
0
438
∞
Samsung Galaxy A53 5G
0
427
∞
Samsung Galaxy A33 5G
0
407
∞
In any case, the phone was perfectly usable outdoors, which is the crucial bit. Black on this display is perfect, as is usually the case with OLEDs.
In terms of color reproduction, the Black Shark 5 Pro has a total of three color modes, plus manual color temperature adjustment. The default Saturated mode aims for the DCI-P3 color space and mostly manages to cover it completely. However, accuracy isn't that great. Reds and greens are a bit oversaturated and blues particularly so. There is no way to correct all three at once with the color temperature adjustment, but you can warm up the cold whites a bit.
The Natural color mode aims for the sRGB color space but still has a more saturated pallet. The kind that looks more pleasing and has more "pop" on an OLED panel but isn't precisely color-accurate. For that, you have to go for the Standard mode, which nails the sRGB color space and is perfectly accurate.
HDR support on the Black Shark 5 Pro, or at least our review unit is a bit weird. Mind you, most of these things are fixable via OTA updates, so hopefully, things change for the better. However, for the time being, our device reports software support for decoding HDR and HLG. No HDR10+ nor Dolby Vision. As per the official press materials, the display on the phone is certified for HDR10+, though.
While testing HDR, we noticed that the Netflix app is not available for the Black Shark 5 Pro on the Google Play Store. We had to sideload it, and even then, it reports a lack of HDR support. Again, there is plenty of time for this to change since Netflix runs its own whitelist for phone models. The YouTube app does offer HDR content and manages to visibly trigger and display HDR on the Black Shark 5 Pro.
On another positive note, the Black Shark 5 Pro has the highest Widevine L1 DRM support, and Netflix was more than happy to offer up FullHD streams to saturate its resolution fully.
High refresh rate handling
The Black Shark 5 Pro has a maximum refresh rate of 144Hz. It combines that with 720Hz touch sampling rate for the best possible gaming experience. The way the OS handles refresh rate is a bit convoluted, though.
First off, there are four total refresh rate settings available in the Display menu. Standard is the easiest to explain - it just locks the display at 60Hz. Then there is Ultrahigh, which, with few exceptions, runs the UI and most apps at 90Hz. Ultimate claims to offer up the full 144Hz but runs the UI and almost every app locked at 120Hz.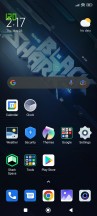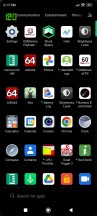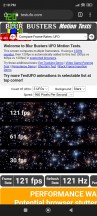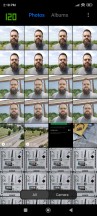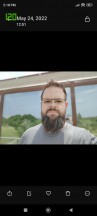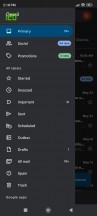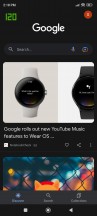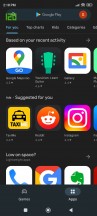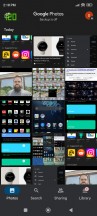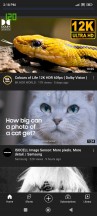 Ultimate mode actually runs at 120Hz
Then there is Auto mode, which promises to automatically switch the refresh rate based on what is happening on screen. In reality, the logic driving it is not overly complicated. There seems to be no timeout period for touches or detection for static on-screen images to automatically lower the refresh rate. Instead, most of the UI runs at 120Hz, whereas most apps run at 60Hz. There are certain apps, like many browsers, that do work at 120Hz in Auto mode, but you do have to go through your own apps one by one with refresh rate visualization enabled through the developer menu to make proper sense of the entire logic.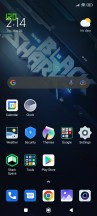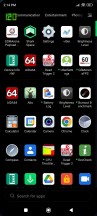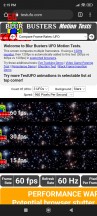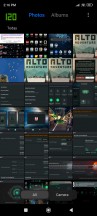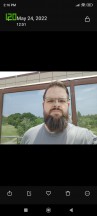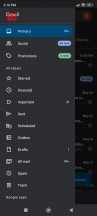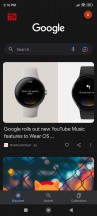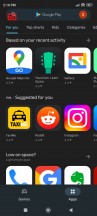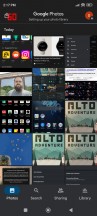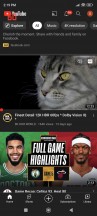 Auto mode mostly runs at 120Hz with the occasional drop to 60Hz
What about 144Hz, then? Well, the Black Shark 5 Pro is reluctant to enter 144Hz mode of its own volition. You can, however, force it to do so at will using the Game Assistant overlay that gets triggered by the Shark Space game launcher. Beyond some monitoring and quick shortcuts for certain features, Game Assistant also has an entire section of per-game settings.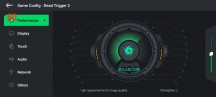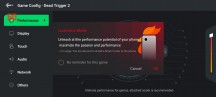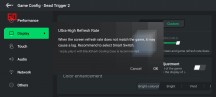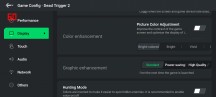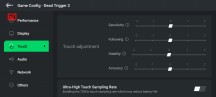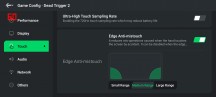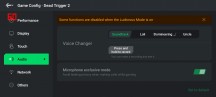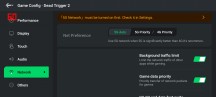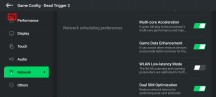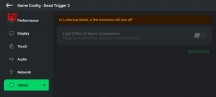 Game Assistant per-game settings
This is where you can adjust things like your preferred performance profile and disable or enable certain additional features like internet lag-limiter and no interruption mode. This is also where a custom refresh rate menu selector is located. A short warning message later, and you can set the Black Shark 5 Pro's display to 60Hz, 90Hz, 120Hz or 144Hz as you see fit. This allows you to make the most out of games that you know support frame rates higher than 60fps.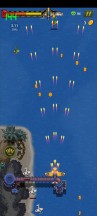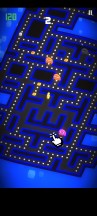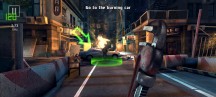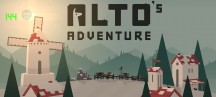 Games running at high refresh rate
While we appreciate this level of manual overwrite control, there is one major issue - you have to do your research and know what max frame rate every one of your games supports so as to strike the best possible balance of smooth refresh rate and battery efficiency.
Alternatively, suppose you tend to game with access to mains power. In that case, you can just plug in the charger and enable the special power passthrough feature to avoid strain on the battery and just rock every game at 144Hz whether it supports a high refresh rate or not. The worst that could happen is a bit of tearing. If you notice that, just drop to 120Hz, and all should be well.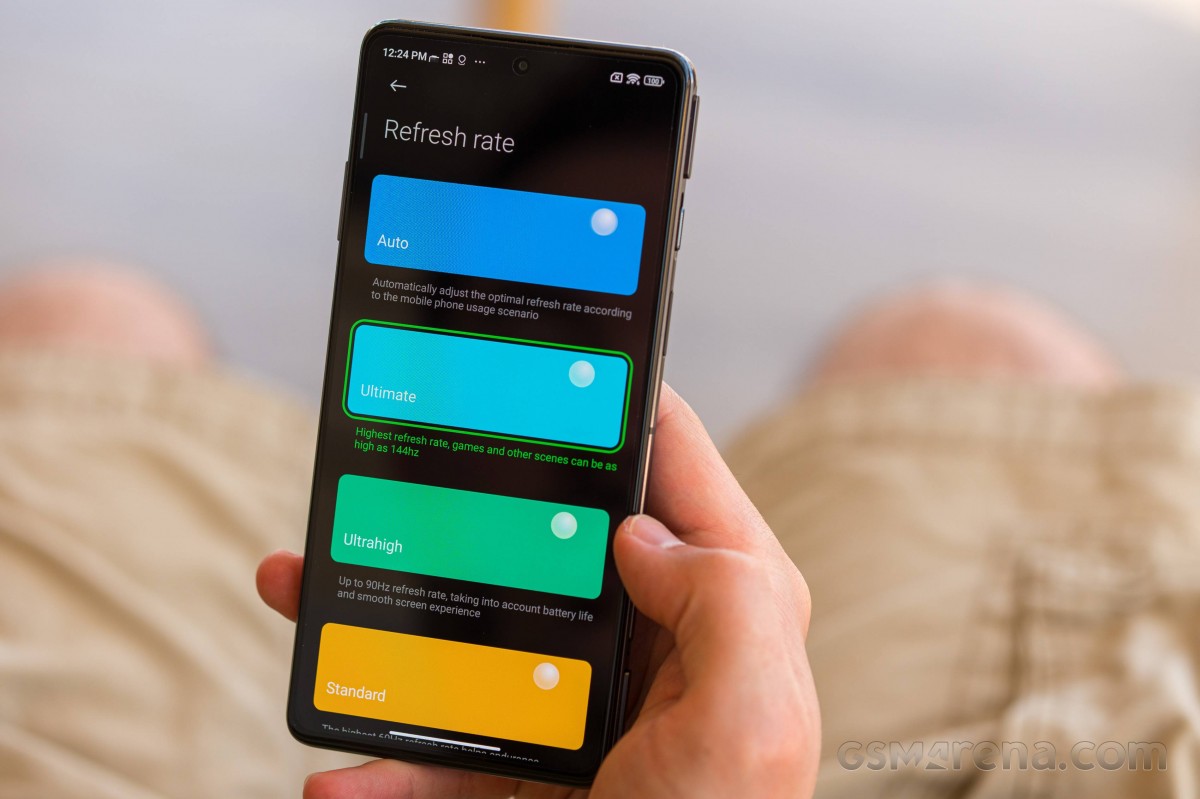 Last but not least, it is worth noting that the Black Shark 5 Pro also employs MEMC technology (Motion Estimation, Motion Compensation). We can only assume that it's always on and a chip that is part of the display pipeline. There are both positives and negatives from MEMC, but as long as you take care to run your games at the max possible frame rate and match that with the display refresh rate as close as possible, you shouldn't have any issues with interpolated "fake" frames. While using the device, we never noticed any "soap opera effect," as it is commonly known, which is a plus.
Battery life
The Black Shark 5 Pro has a 4,650 mAh battery pack on board. While we would have loved to see 5,000 mAh crammed in there, this still represents a small bump up from the 4,500 mAh inside last year's Black Shark 4 Pro. After all, extras like the beefy dual vapor chamber cooling setup and those nifty pop-up shoulder buttons take up space.
There were no real surprises with the endurance testing of the Black Shark 5 Pro. It scored well in line with what we would expect from a modern flagship with a Snapdragon 8 Gen 1 and a battery of its size with a respectable total endurance rating of 83 hours.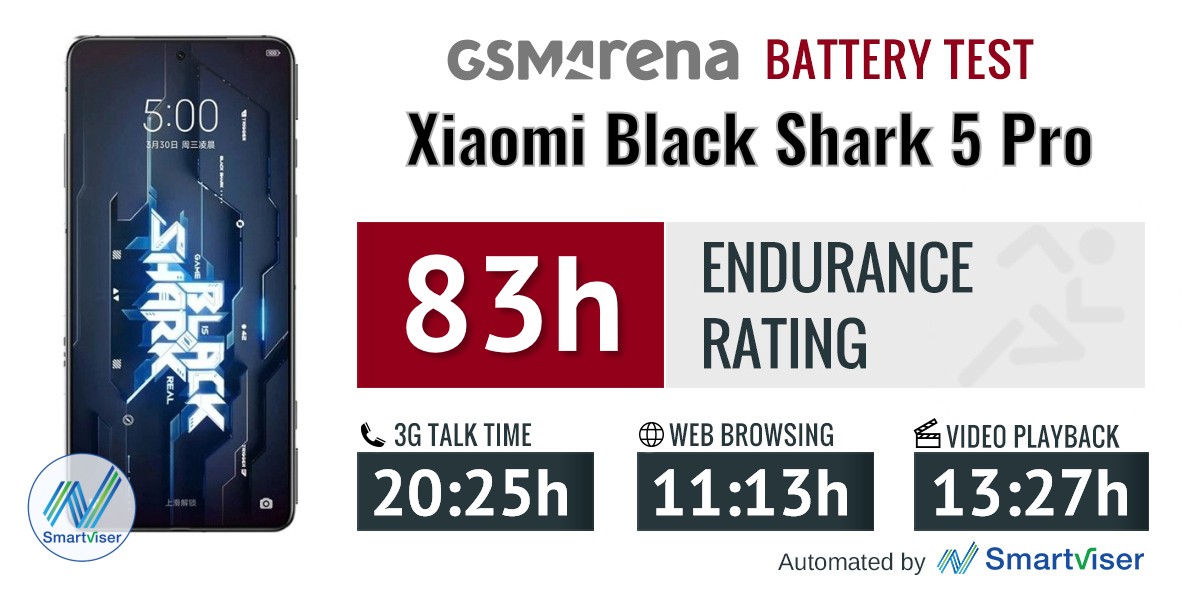 In fact, when we compare these numbers to other similarly-equipped Xiaomi devices like the Xiaomi 12, the Xiaomi 12 Pro or the Poco F4 GT we can clearly see that Xiaomi managed to squeeze out a bit more endurance on the newer Black Shark 5 Pro likely through software optimization alone. Not a lot, mind you, but still a noticeable difference.
Our battery tests were automated thanks to SmartViser, using its viSerDevice app. The endurance rating denotes how long the battery charge will last you if you use the device for an hour of telephony, web browsing, and video playback daily. More details can be found here.
Video test carried out in 60Hz refresh rate mode. Web browsing test done at the display's highest refresh rate whenever possible. Refer to the respective reviews for specifics. To adjust the endurance rating formula to match your own usage patterns check out our all-time battery test results chart where you can also find all phones we've tested.
Charging
The Black Shark 5 Pro supports up to 120W hyper charge tech from Xiaomi and comes with a compatible 120W charger and cable in the box. You should probably hold on to those since they are both proprietary.
There are two different charging modes available on the Black Shark 5 Pro too: "Super flash filling" and "Constant temperature charging". The first is "pedal to the metal" mode, which is enabled by default and, according to Xiaomi's testing, should only take 15 minutes to get the Black Shark 5 Pro from empty to full.
We didn't quite manage to match that number and got an average of 18 minutes across three separate charging sessions. To be honest, we are perfectly content with that number and only slightly scared by how much the phone heats up as it charges. Then again, it got way hotter during our thermal-throttling testing, which just means that Xiaomi has optimized the heat dissipation with little regard for hand comfort. After all, performance comes at a price in a passively-cooled and sealed system.
30min charging test (from 0%)
Higher is better
Xiaomi Black Shark 5 Pro
100%
Xiaomi Black Shark 4
100%
Realme GT Neo3
100%
Honor Magic4 Pro
100%
iQOO 9
100%
ZTE nubia Red Magic 7 Pro
100%
Xiaomi Redmi Note 11 Pro+ 5G
100%
Poco F4 GT
100%
Asus ROG Phone 5s Pro
71%
Samsung Galaxy S21 FE 5G
51%
Google Pixel 6 (65W)
48%
Time to full charge (from 0%)
Lower is better
Realme GT Neo3
0:16h
iQOO 9
0:16h
Xiaomi Redmi Note 11 Pro+ 5G
0:16h
Poco F4 GT
0:17h
Xiaomi Black Shark 5 Pro
0:18h
Xiaomi Black Shark 4
0:19h
ZTE nubia Red Magic 7 Pro
0:28h
Honor Magic4 Pro
0:30h
Asus ROG Phone 5s Pro
1:03h
Samsung Galaxy S21 FE 5G
1:15h
Google Pixel 6 (65W)
1:50h
The other charging mode - Constant temperature charging - goes a bit easier on the juice and tries to keep the temperature at bay way better. Xiaomi claims it can fill the battery in as little as 24 minutes. Since this intelligent mode is even harder to control and with many more variables involved and the phone actually trying to optimize its charging cycle, there was no point in testing this mode as well.
In any case, the Black Shark 5 Pro charges exceptionally quickly and is up there with the best of them. However, it is worth noting that the Black Shark 5 Pro still lacks wireless charging.
Speakers
Xiaomi seemingly put a lot of effort into the sound setup on the Black Shark 5 Pro, which shows. The phone is among the cleanest and loudest we've even heard. And many other outlets like DxO Mark seem to agree with our findings. The ROG Phone 5 Pro achieves its excellent sound through a pair of symmetrical speakers with oversized 1.5cc cavities. Also, through a partnership with DTS and Cirrus Logic Technology.
But subjective opinion can only get you so far, so we are happy to report that the Black Shark 5 Pro also aced our standardized audio testing. It scored a "VERY GOOD" loudness score, which lets it rub shoulders with the best out there.
Its frequency response curve is also very clean and tight. Perhaps not as impressive as top performers like the Apple iPhone 13 Pro Max or the Asus ROG Phone 5, but not far off either.
Use the Playback controls to listen to the phone sample recordings (best use headphones). We measure the average loudness of the speakers in LUFS. A lower absolute value means a louder sound. A look at the frequency response chart will tell you how far off the ideal "0db" flat line is the reproduction of the bass, treble, and mid frequencies. You can add more phones to compare how they differ. The scores and ratings are not comparable with our older loudspeaker test. Learn more about how we test here.