Display
The Zenfone 8's most advertised feature is the premium yet compact Samsung-made E4 AMOLED. It's a 5.9" 20:9 panel with 2,400 x 1,080 pixels or 445ppi. The screen is protected by a flat piece of Gorilla Glass Victus.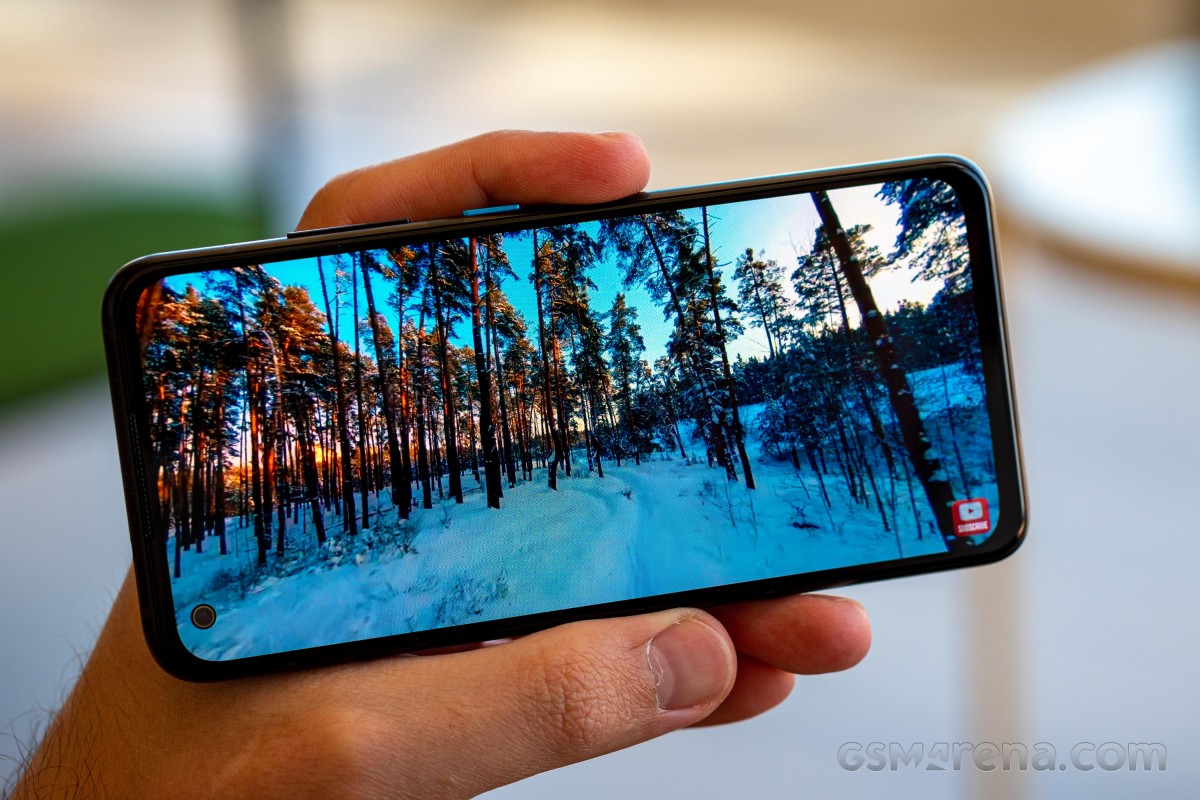 The display supports 120Hz adaptive refresh rate, 240Hz touch sampling, and is HDR10+ certified (Widevine L1 is present). It has a tiny punch-hole around the top left corner - it's for the 12MP selfie camera.
Finally, Asus promises 800nits of maximum outdoor brightness and 1100 nits of peak brightness.
The display is indeed as bright as the manufacturer has promised - we measured exactly 800nits when simulating bright outdoor conditions, while the maximum user-controlled brightness is 440 nits - in line with other Samsung-made AMOLEDs.
In case you are interested in the minimum possible brightness - it's just 2.2 nits!
Display test
100% brightness
Black,cd/m2
White,cd/m2
Contrast ratio
Asus Zenfone 8
0
440
∞
Asus Zenfone 8 (Max Auto)
0
800
∞
Asus Zenfone 8 Flip
0
518
∞
Asus Zenfone 8 Flip (Max Auto)
0
735
∞
Samsung Galaxy S21 5G
0
416
∞
Samsung Galaxy S21 5G (Max Auto)
0
856
∞
Samsung Galaxy S20 FE
0
404
∞
Samsung Galaxy S20 FE (Max Auto)
0
823
∞
Apple iPhone 12
0
639
∞
Apple iPhone 12 mini
0
627
∞
Xiaomi Mi 11
0
498
∞
Xiaomi Mi 11 (Max Auto)
0
926
∞
Xiaomi Mi 11 Ultra
0
514
∞
Xiaomi Mi 11 Ultra (Max Auto)
0
943
∞
Sony Xperia 5 II
0
336
∞
Sony Xperia 5 II (Max Auto)
0
532
∞
Poco F3
0
511
∞
Poco F3 (Max Auto)
0
716
∞
Asus promises full DCI-P3 coverage with a deltaE < 1. Well, we can confirm that the screen is tuned to the DCI-P3 color space, but it isn't quite as accurate as promised no matter which color mode we've used. The default (Splendid) one yields an average deltaE of 5.3. The sRGB color accuracy (Standard mode) is a lot better, with an average deltaE of 2.
Even if we weren't able to capture the promised deltaE < 1, the screen has fairly accurate colors, excluding the bluish white and grays. But you can tweak these to be less blue by using the color temperature slider.
Now, let's talk about the refresh rate.
Asus is offering three refresh rate modes - 60Hz, 90Hz, 120Hz and Auto. Auto is the default one, and it is probably the most adaptive setting. It goes to 60Hz on static content and videos - whether it's streaming or local. The UI is always shown at 90Hz and all compatible HRR apps that aren't games (including Netflix and the likes).
Unfortunately, all games we tested, including the HRR-compatible, were displayed at 60Hz. Odd, indeed.
The 90Hz and 120Hz modes do not revert to 60Hz on static content (UI, web browser, etc.). They do for video playback, though. And to make even more confusing, when using the 90Hz mode, games run at 60Hz, but when set on 120Hz - some games run at 90Hz. Go figure! And figure it out we did.
It turned out that the refresh rate is also dependent on the Battery Mode (in Battery settings). Dynamic is chosen by default, and the phone behaves the way we described it. If High Performance is chosen, 120Hz will be forced on everything - all games that can do 120Hz will do 120Hz, but streaming and video playback is also showed at 120fps. This could lead to different (lower) battery life.
We think Asus needs to optimize its Auto refresh-rate mode and make it properly dynamic by removing the battery mode dependance. Because as things are right now - you can't never have a truly dynamic option.
Finally, before we wrap up this chapter - we'll mention some of the advanced display features. There is low brightness DC dimming to reduce flickering, you can change the animation speed during transitions, scrolling and window opening without going into the Developer settings like on other phones.
Dark Mode is available, too, it can be either Auto or Scheduled. Night Mode (reduces blue light) is present, of course. There is also Always-on option (always or scheduled). And raise to wake (or Lift-to-check in Asus' words), is available, too.
Battery life
The Zenfone 8 is a compact device, and yet it comes with a properly large battery with 4,000 mAh capacity. Asus says it took some clever engineering and board stacking, but it managed to free just enough space to keep both the large battery and the 3.5mm jack.
The phone scored an average (for this screen size and battery capacity) endurance rating of 88 hours on our battery test. The good news is that the on-screen times are rather good - you can browse for more than 12 hours or watch videos for nearly 16 hours.
The web test was carried out at 120Hz, though using 60Hz or 90Hz adds about 30-40 minutes on top of that time. Naturally, the video test always runs at 60Hz as that's the screen's behavior.
The overall endurance score was held back by the below-average standby performance, and that's the culprit for the < 100h endurance rating.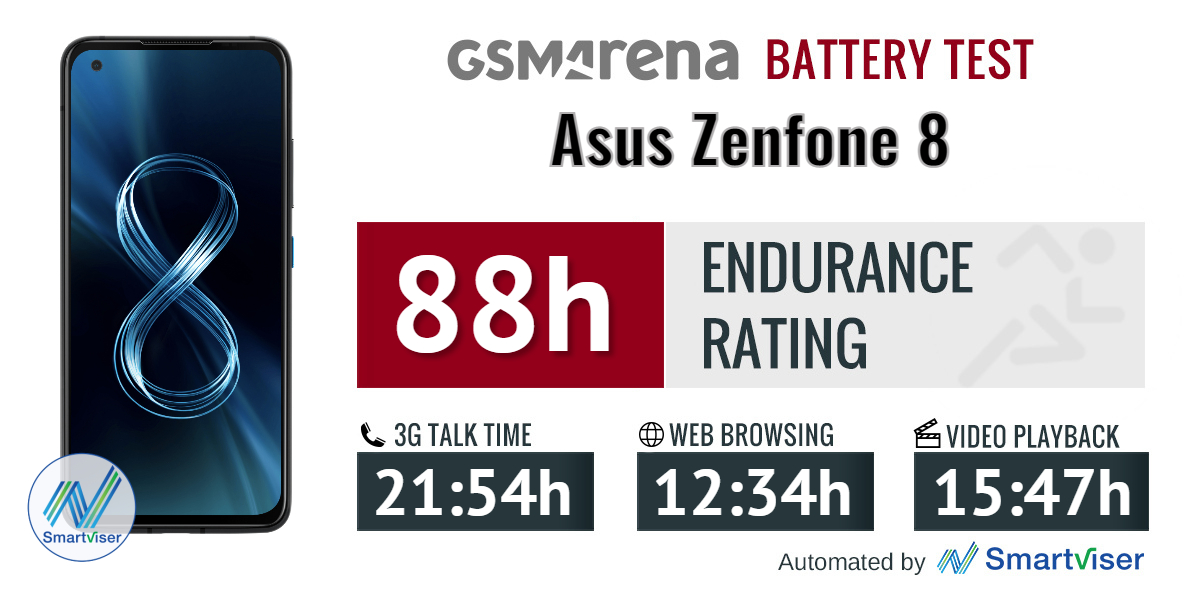 Our battery tests were automated thanks to SmartViser, using its viSerDevice app. The endurance rating denotes how long the battery charge will last you if you use the device for an hour of telephony, web browsing, and video playback daily. More details can be found here.
All test results shown are achieved under the highest screen refresh rate mode. You can adjust the endurance rating formula manually so it matches better your own usage in our all-time battery test results chart where you can also find all phones we've tested.
Charging speed
The Zenfone 8 supports 30W fast charging, and it comes with the needed power brick and a USB-C cable. This isn't the fastest of charging solutions, sure, but Asus is promising 60% charge in 25min, 80% in 38min and 100% in 80min - pretty good numbers.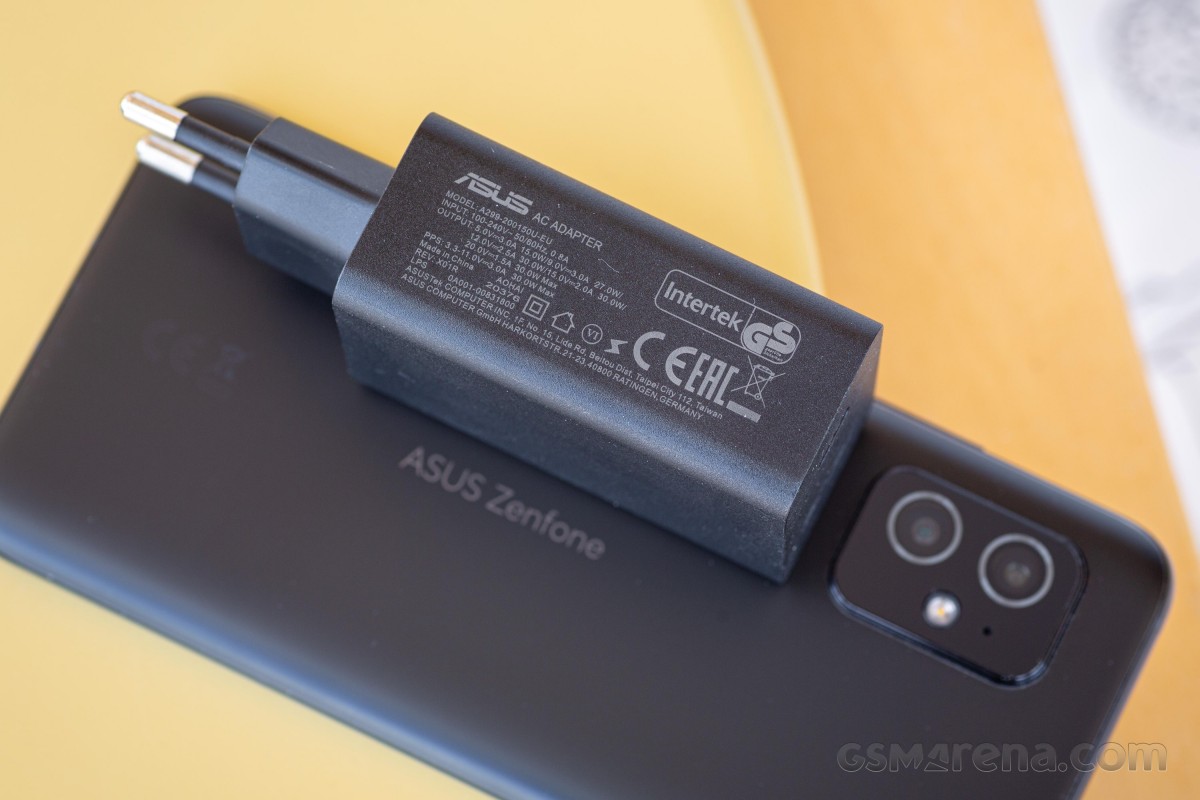 We did our usual test, and the supplied charger recharged 60% of the flat battery in 30 minutes. That's 10 minutes more than promised, though we suspect Asus may have done its testing with a turned off Zenfone 8, which usually yields a bit better result.
30min charging test (from 0%)
Realme 8 Pro
88%
Xiaomi Mi 11
83%
Poco F3
67%
Asus Zenfone 8
60%
Apple iPhone 12 mini
60%
Apple iPhone 12
58%
Xiaomi Mi 11 Lite 5G
58%
Asus Zenfone 8 Flip
53%
Sony Xperia 5 II
45%
Samsung Galaxy S21 5G
40%
Samsung Galaxy S20 FE (15W bundled)
37%
A full charge took 88 minutes in our testing - in the ballpark of the promised 80 minutes by Asus.
Time to full charge (from 0%)
Realme 8 Pro
0:38h
Xiaomi Mi 11
0:50h
Poco F3
0:56h
Xiaomi Mi 11 Lite 5G
1:04h
Samsung Galaxy S21 5G
1:25h
Asus Zenfone 8
1:28h
Apple iPhone 12 mini
1:29h
Apple iPhone 12
1:30h
Samsung Galaxy S20 FE (15W bundled)
1:35h
Asus Zenfone 8 Flip
1:40h
Sony Xperia 5 II
1:49h
Speakers
The Asus Zenfone 8 features a stereo speaker setup with two large speakers - one sits at the bottom on the frame, while the other one front-facing and also acts as an earpiece.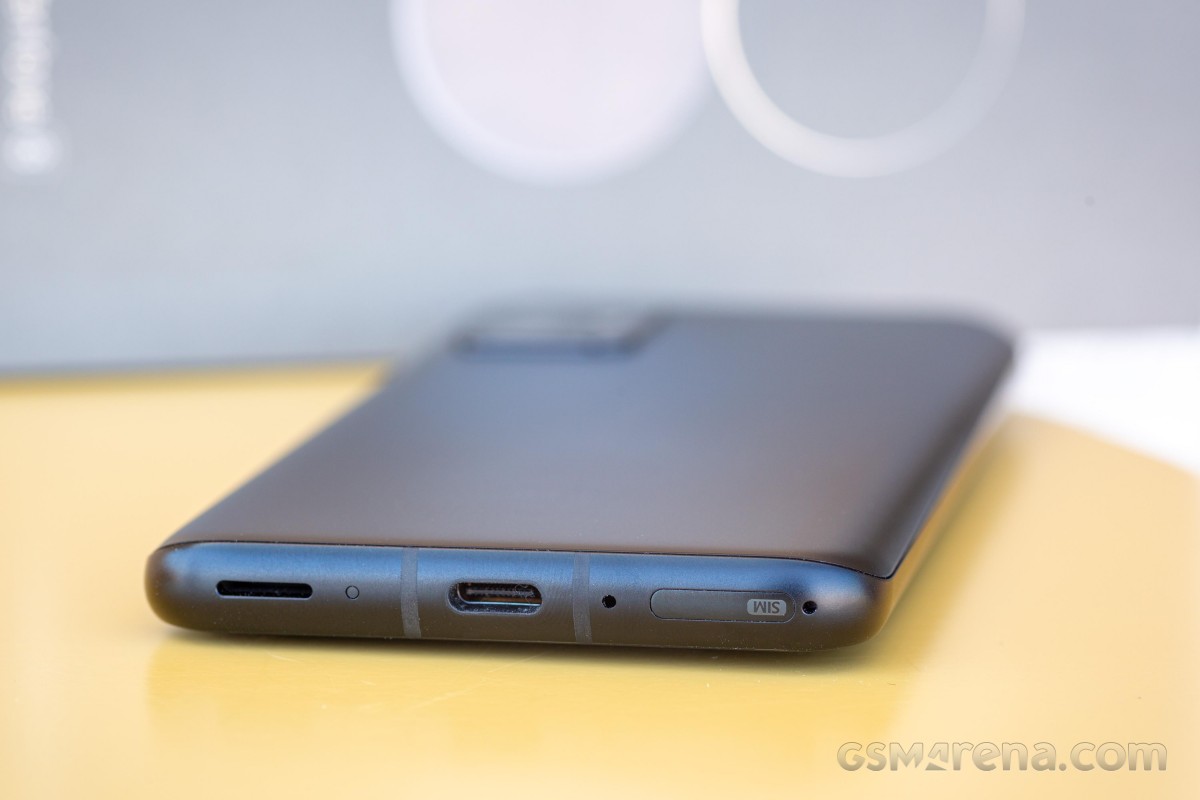 The top speaker is 10x12mm 7-magnet piece, while the bottom one is a bit larger at 12x16mm 3-magnet thing, and the space is filled with foam balls for deeper bass. The setup is powered by a dual Cirrus Logic CS35L45 Mono AMP.
Use the Playback controls to listen to the phone sample recordings (best use headphones). We measure the average loudness of the speakers in LUFS. A lower absolute value means a louder sound. A look at the frequency response chart will tell you how far off the ideal "0db" flat line is the reproduction of the bass, treble, and mid frequencies. You can add more phones to compare how they differ. The scores and ratings are not comparable with our older loudspeaker test. Learn more about how we test here.
The Zenfone 8 setup scored a Good mark on our loudness test. There is an Outdoor Mode in sound settings, which boosts the speaker loudness, and if that's enabled, the score becomes -26.6LUFS, which is still a Good result by our test. You CAN hear the difference, though.
The setup has one of the best sound qualities we've heard since we do this test. The two speakers provide a balanced output with rich mid- and high-tones, and you can even hear the bass. Comparing the sound to other phones we've tested so far easily shows the Zenfone 8 superior output.
The phones also has a Bass enhancement technology like the one we saw introduced in the ROG Phone series. Relying on psychoacoustics, the system adds specific over-tones to the speaker's output that extends the perceived bass tone. In simpler terms, your brain is tricked into perceiving a wider frequency range than what the physical speakers can physically output.
The key thing to note here is that the increase is just in perceived bass. That means that the tech works better in certain situations than others and is more convincing to some people than others. It is something hard to put into words, but when it works, you can swear that that kind of low-frequency, deep bass sound can not, possibly be coming from a smartphone speaker.