Android 9.0 with ZenUI bits hidden here and there
The Zenfone 6 boots Android 9.0 Pie in mostly stock attire, though there's a healthy helping of Asus ZenUI bits hidden underneath. Android Q is right around the corner and Asus is planning for the Zenfone 6 to be among the first devices to get it this fall. An update to the next OS version (Android R) is also promised, as are security patches for the next two years.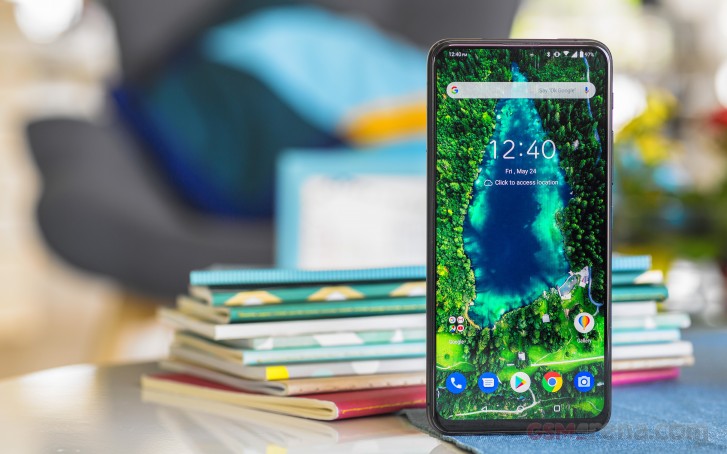 The lockscreen and homescreen implementations are close to what you'd find on a Pixel, as is the app drawer. A minor difference is the folder view, where you'd get a full screen interface unlike the pop-up view in Google's implementation, but still the icons are conveniently placed in the bottom half of the screen (unlike, for example, Samsung's OneUI which pushes the icons high up).
The Zenfone 6 offers three types of navigation and the default is the classic three-button nav bar. There's a gesture based option that replaces the onscreen buttons with swipes where the buttons are. In those two scenarios you can assign a long press on the task switcher button (or a swipe and hold for the gesture) to capture a screenshot or take you to multi window (or, you know, do nothing other than open the task switcher). Then there's also the pill-based solution, if you're into the Pixel way of doing things.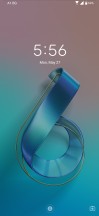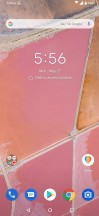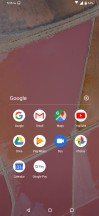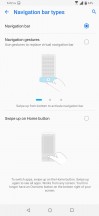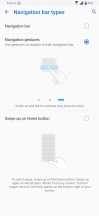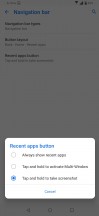 Lockscreen • Homescreen • Folder view • Navigation options
To get to the navigation in the first place, you have the usual unlocking options - PIN, password, and pattern, and then fingerprint and face unlock. Fingerprint enrollment takes about a dozen taps including the peripheral ones. The sensor is always on and is quick to unlock - not the quickest around, but certainly not keeping you waiting. Repeated attempts were a rarity, the norm in our experience was unlocking on the first try.
Then there's face unlock, which is pretty fast all in itself. However, you need to wake the phone up first, then swipe on the homescreen to trigger the flip camera, which does slow down the entire process considerably. The reasoning behind this approach is obviously to prevent unnecessarily of the motor in a pocket, but perhaps a toggle to skip the swipe step will be appreciated - if you're waking the phone, you probably want to unlock it also and the proximity sensor should be able to handle the pocket scenario.
The notification area is pretty standard. Asus has added a twist to the quick toggles, and it displays 4 icons per row instead of 3 for a total of 12 - there's room, why not. Another proprietary feature is the option to pick which icons to shows in the status bar - or, rather, which ones to hide. There's little to note when it comes to the multi window implementation - it's pretty basic, just as the task switcher - it gets the job done, but nothing more.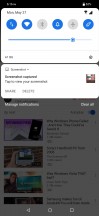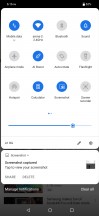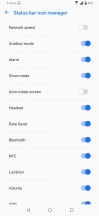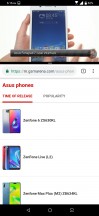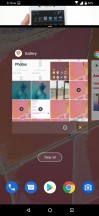 Notifications • A dozen toggles • Hide a bunch of status bar icons • Multi window
Asus includes a bunch of in-house apps, which do try to stick with the stock Android aesthetic. The Clock, Dialer, Gallery and File manager have been tweaked by Asus, but won't have you scrambling to find what's where.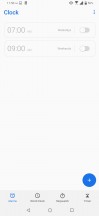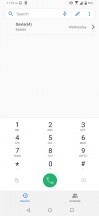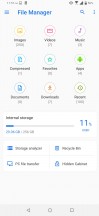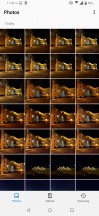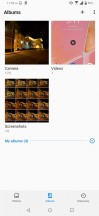 Clock • Dialer • File Manager • Gallery
Perhaps more interesting are Mobile Manager and Power Master utilities. The former lets you stay on top of data usage, memory utilization, and privacy. Power Master has the battery saving modes options, as well as a battery care function which monitors your charging habits and administers advice accordingly.
Asus also has a powerful screen recorder available. It's activated by a toggle in the notification shade, but a long press on the icon lets you tweak the resolution, quality, audio source, and other granular settings. You can also record calls with the built-in sound recorder.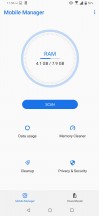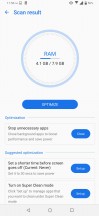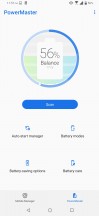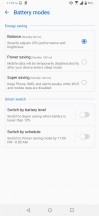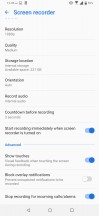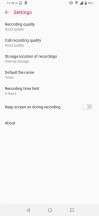 Mobile Manager • Battery care • Screen recorder • Sound recorder
Everyone and their grandmother has a gaming mode these days and the Zenfone 6 will not be left behind. It's called Game Genie, and offers the expected functionality, and then some. Sure, it keeps alerts at bay and can disable the navigation buttons, but also lets you stream directly to Twitch or YouTube and it can record macros to execute in-game.
And we've kept the best for last. The hardware Smart Key is set up by default to activate Google Assistant. However, you can assign the three actions (press, double press, long press) to different tasks - toggle DND mode, toggle the sound mode, take a screenshot, or even turn on the flashlight. Quite useful, right, Bixby?
Synthetic benchmarks
Power users demand performance, naturally, and the Zenfone 6 delivers. Looking at GeekBench first, we see that the Asus smartphone's numbers are among the highest in the Android world when it comes to the single-core test - effectively, only the Exynos 9810 powered Galaxy S10s can outperform the Zenfone. The Mi 9 is on par with the Asus offering, while the OnePlus 7 Pro's result is marginally lower. Of course, the per-core power of Apple's processors remains unmatched and the iPhone XR is way ahead.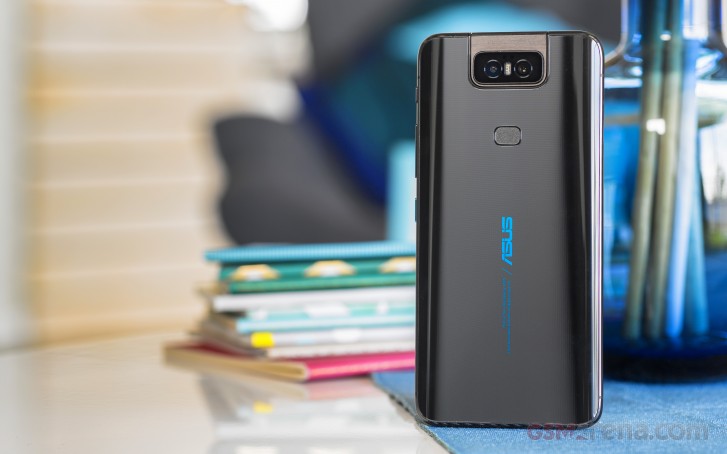 It's worth pointing out here, that the Zenfone's software recognizes benchmarking apps and offers to go in a performance boost mode - it's not cheating, if you're aware, right? The results we got out of it, however, weren't markedly better than the regular ones, and with the abundance of power the Snapdragon 855 has, an extra couple of percent improvement is mostly irrelevant.
GeekBench 4.1 (single-core)
Higher is better
Apple iPhone XR
4818
Samsung Galaxy S10e
4518
Asus Zenfone 6
3505
Xiaomi Mi 9
3503
Asus Zenfone 6 (Zen Power Boost)
3499
LG G8 ThinQ
3419
OnePlus 7 Pro
3402
Huawei P30 (perf. mode)
3351
Huawei P30
3295
Honor View 20
3211
OnePlus 6T
2431
Xiaomi Mi Mix 3
2429
Nokia 9 PureView
2405
Samsung Galaxy A70
2391
Google Pixel 3 XL
2363
Google Pixel 3a XL
1615
Oppo F11 Pro
1560
In the multi-core test, the Zenfone 6 puts out some of the highest scores as well, even though it's bested by both the 7 Pro and the Mi 9 by a thin margin. For what it's worth, the Zenfone outperforms the S10e, while the XR's CPU advantage isn't as pronounced here - it still takes the top spot, of course.
GeekBench 4.1 (multi-core)
Higher is better
Apple iPhone XR
11437
Xiaomi Mi 9
11181
OnePlus 7 Pro
10943
Asus Zenfone 6 (Zen Power Boost)
10800
LG G8 ThinQ
10735
Asus Zenfone 6
10721
Huawei P30 (perf. mode)
10114
Samsung Galaxy S10e
10081
Huawei P30
9789
Honor View 20
9530
Xiaomi Mi Mix 3
9065
Nokia 9 PureView
8986
OnePlus 6T
8977
Google Pixel 3 XL
8088
Samsung Galaxy A70
6584
Oppo F11 Pro
6020
Google Pixel 3a XL
5176
In Antutu is where we got the biggest difference from the Zenfone 6's boost mode. The 4% increase allowed it to inch ahead of the Mi 9 and OnePlus 7 Pro, whereas it's slightly behind in the regular mode. Obviously, that's splitting hairs and these marginal difference have few real-world implications.
AnTuTu 7
Higher is better
Asus Zenfone 6 (Zen Power Boost)
377024
Xiaomi Mi 9
372006
OnePlus 7 Pro
364025
Asus Zenfone 6
361679
Apple iPhone XR
341196
LG G8 ThinQ
331537
Samsung Galaxy S10e
325192
Huawei P30 (perf. mode)
314595
OnePlus 6T
293994
Xiaomi Mi Mix 3
292353
Nokia 9 PureView
288473
Huawei P30
287960
Honor View 20
275413
Google Pixel 3 XL
258244
Samsung Galaxy A70
167750
Google Pixel 3a XL
159110
Oppo F11 Pro
150218
In graphics benchmarks, the Zenfone 6 continues its excellent streak, matching or outperforming competitors.
GFX 3.1 Manhattan (1080p offscreen)
Higher is better
Apple iPhone XR
97
Asus Zenfone 6
71
Asus Zenfone 6 (Zen Power Boost)
71
Xiaomi Mi 9
70
OnePlus 7 Pro
68
Samsung Galaxy S10e
67
LG G8 ThinQ
65
OnePlus 6T
60
Xiaomi Mi Mix 3
60
Nokia 9 PureView
60
Huawei P30 (perf. mode)
56
Huawei P30
54
Honor View 20
53
Google Pixel 3 XL
44
Google Pixel 3a XL
20
Samsung Galaxy A70
15
Oppo F11 Pro
14
GFX 3.1 Manhattan (onscreen)
Higher is better
Apple iPhone XR
60
Asus Zenfone 6
57
Asus Zenfone 6 (Zen Power Boost)
57
Samsung Galaxy S10e
57
Xiaomi Mi 9
56
OnePlus 6T
53
Xiaomi Mi Mix 3
52
Honor View 20
50
Huawei P30
48
Huawei P30 (perf. mode)
48
LG G8 ThinQ
33
OnePlus 7 Pro
33
Nokia 9 PureView
33
Google Pixel 3 XL
24
Google Pixel 3a XL
19
Samsung Galaxy A70
13
Oppo F11 Pro
12
GFX 3.1 Car scene (1080p offscreen)
Higher is better
Apple iPhone XR
60
Xiaomi Mi 9
42
Asus Zenfone 6
42
Asus Zenfone 6 (Zen Power Boost)
42
Samsung Galaxy S10e
42
OnePlus 7 Pro
41
LG G8 ThinQ
40
OnePlus 6T
35
Xiaomi Mi Mix 3
35
Nokia 9 PureView
35
Huawei P30 (perf. mode)
33
Honor View 20
30
Huawei P30
29
Google Pixel 3 XL
28
Google Pixel 3a XL
11
Oppo F11 Pro
8.5
Samsung Galaxy A70
8
GFX 3.1 Car scene (onscreen)
Higher is better
Apple iPhone XR
58
Samsung Galaxy S10e
40
Asus Zenfone 6
36
Asus Zenfone 6 (Zen Power Boost)
36
Xiaomi Mi 9
35
OnePlus 6T
31
Xiaomi Mi Mix 3
30
Huawei P30 (perf. mode)
28
Honor View 20
28
Huawei P30
26
LG G8 ThinQ
20
OnePlus 7 Pro
19
Nokia 9 PureView
19
Google Pixel 3 XL
12
Google Pixel 3a XL
11
Oppo F11 Pro
7.4
Samsung Galaxy A70
7
We should also point out here, that the Zenfone does heat up substantially under load - the area up top where the mother board is, but also the rest of the body. That's good, because heat is inevitably generated, and the fact that the whole phone warms up, means it's being dissipated. However, it's not enough, and the performance does drop after sustained load due to thermal throttling. A quantitative measurement is the Antutu score which dips by up to 12% after 5-6 runs, but no more. In any case, the Zenfone 6 has raw power to spare, so it will rarely make you wait in day to day usage.