Asus unveils the ROG Ally, a handheld gaming console to rival Steam Deck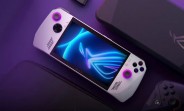 Just like that, Asus dropped the bomb and announced a brand new gaming console under the Republic of Gamers brand - ROG Ally. It's a handheld device running on Windows 11 and it's supposed to rival the Steam Deck.
However, the Taiwanese company didn't reveal much details and released only a couple of pictures, a teaser video and a few specs. Asus says that the device is powered by a custom AMD APU chip, which can be coupled with a ROG X6 Mobile eGPU. The display has 1080p resolution and runs at 120Hz.
Given that the device runs on Windows 11, it's probably safe to assume that all cloud-based gaming services will work, including Steam and Xbox Cloud Gaming.
The rest remains a mystery. In addition to the missing specs, we are yet to learn more about pricing and availability. You can only sign up for pre-order notification on Ally's landing page (source link below).
D
Since it runs win11, it'll run android just fine as windows runs android now, and has for a while now
?
Android gaming is meaningless . 10 years of absolute domination over handheld and android has done absolutely nothing for gaming .aparently google only interested in snooping around our data . Why would they give a shite about gaming ?
P
You can run android games in windows
ADVERTISEMENT