Introduction
Asus and more specifically the Republic of Gamers division has always been pretty straight-forward about its smartphone goals and priorities. To put it in their own word, the ROG Phone II is meant to deliver: "The ultimate smartphone gaming experience".
Just like its predecessor, the latest ROG Phone has been designed from the ground up as a professional gaming tool. The kind potentially aimed at the growing professional mobile e-sports crowd. An extremely niche, exuberant product offering for the very pro-grade and/or very affluent gamers out there.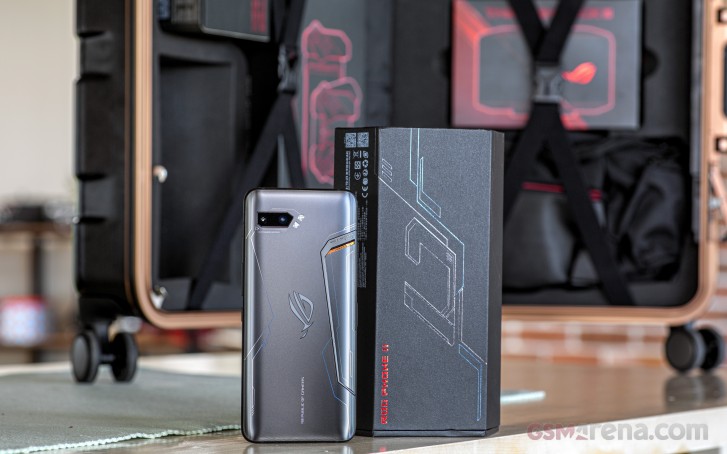 This is an important point to make straight off the bat before we start drooling over the beastly ROG Phone II and its unparalleled accessory ecosystem.
Asus ROG Phone II specs
Body: Metal frame; Gorilla Glass 6 front; 170.99x77.6x9.48mm, 240g.
Display: 6.59" AMOLED, 120Hz refresh rate, 1ms response time, 240Hz touch response rate; 1080x2340px resolution display (19.5:9 aspect ratio), 391ppi pixel density; 111.8% DCI-P3 color gamut; True 10-bit HDR support.
Rear camera: Main module: 48MP, 1/2.0" SONY IMX586 Quad Bayer sensor, f/1.79 aperture, 79-degree FOV (26mm equiv. focal length), PDAF/laser autofocus; Ultra wide module: 13MP, f/2.4 aperture, 125-degree FOV (11mm equiv. focal length), fixed focus. LED flash. 3-axis EIS for video on both cameras.
Front camera: 24MP, f/2.0 aperture, 0.9µm, Quad Bayer Technology.
OS/Software: Android 9.0 Pie; optional ROG UI overlay.
Chipset: Qualcomm Snapdragon 855 Plus (7 nm): octa-core CPU (1x2.96GHz & 3x2.4GHz Kryo Gold & 4x1.7GHz Kryo 485 Silver); Adreno 640 GPU (unlocked 400MHz).
Memory: 12GB of LPDDR4X RAM, up to 1TB of UFS3.0 storage.
Battery: 6,000 mAh Li-Po (sealed); 30W HyperCharge (25W for phone and 5W for accessories), QC4.0+/USB Power Delivery compliant.
Connectivity: Dual SIM (Nano), 4G on both slots; LTE Cat. 18 (1Gpbs download) on Elite edition/Cat. 20 (up to 2Gbps) on Ultimate Edition, Cat. 13 (150Mbps upload); 2x Type-C USB 3.0 port (USB 2.0 on bottom, USB 3.1 gen2/DP 1.4 on side); Wi-Fi a/b/g/n/ac/ad, WiGig Wi-Fi ad 60GHz; GPS, GLONASS, BDS; NFC; Bluetooth 5.0; FM radio.
Audio: Dual front-facing 5-magnet speakers; Hi-Res audio 192kHz/24-bit DAC; DTS:X Ultra; 4 microphones for noise cancellation.
Misc: Under-display fingerprint reader; 3.5mm jack; proprietary 48-pin Side-mount connector for accessories (a second Type-C port is part of it); ultrasonic sensors for AirTriggers and grip press.
When it comes to gaming Asus is definitely on its home turf and the company's analysis and projections more than justify an investment and sustained effort into mobile gaming hardware development. Mobile gaming actually comprises 37% on the entire world wide gaming industry, with a whopping 50 billion dollar revenue stream. It is also the fastest growing niche in gaming - 29% year over year, especially in Asia - 3.5 times faster than PC growth and 6.3 faster than console.
So mobile gaming is unsurprisingly getting bigger by the day. Granted, most of these numbers stem from a casual gaming crowd. Firing up the occasional puzzle or clicker game on your daily driver smartphone. But this general growth has also translated pretty well in serious and even professional mobile gaming. An average gaming session of Honor of Kings lasts about 116 minutes and the average daily playtime for PUBG Mobile is about 80 minutes. Multiply that by 100 million active users and you can quickly see why more and more specialized gaming smartphones might just have a place under the sun. That being said, even by gaming phone standards the ROG Phone II takes things to a whole different level.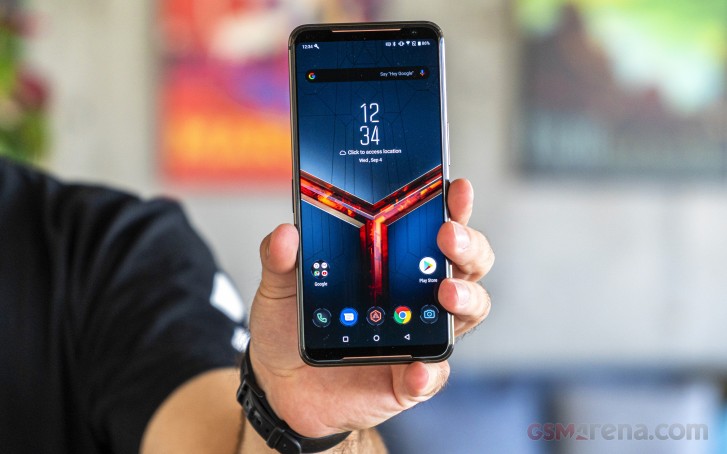 The ROG Phone II is meant to be an overkill device - one that is meant to satisfy a gamer's every whim. It takes absolutely every bit of the original ROG Phone, with no exception or omission, and somehow manages to improve every aspect of the already impressive formula.
Calling the ROG Phone an incremental update over the original would be an insult. Even with its near showcase status, the ROG Phone II can still be considered a milestone device for the industry as a whole. Boasting the title of "world's first and fastest 120Hz 1ms AMOLED with 240Hz touch response", it offers a glimpse into the future of smartphone and general end-user display tech as a whole. And that's just the cherry on top of the sundae. The ROG Phone II is so vastly overengineered in so many ways that even trying to go through it all in a review manner is a daunting task. That being said, we'll do our very best to showcase it in all of its trend-setting and affluent gaming glory.
Unboxing
Starting with the box, things already start getting out of hand. Just like the original ROG Phone, the second edition came to our office in a special reviewer's kit. It's a briefcase, which houses all the possible accessories you can get for your ROG Phone II. In case anybody counting really cares (pun intended), the briefcase is exactly the same as the original ROG Phone one.
While you won't be able to buy this kit, you can get pretty much all of the contents separately, but they are going to cost you.
Its contents, however, are slightly different this time since Asus made some changes to its accessory ecosystem. First the familiar bits from last year - the Desktop Dock is an impressive docking station for the ROG Phone II, complete with a number of powerful expandability options, as well as seamless passthrough for a regular PC. The WiGig Display Dock II also looks the same as last year's 60GHz wireless display solution. The second version has been refined, though. The same goes for the TwinView Dock II. Just like the original, it offers a second display for the ROG Phone II, along with physical controls and extra battery. It, however, has been re-thought from the ground up this time around to address most of the issues with the original.
Also in the briefcase is the new ROG Phone II Lighting Armour Case. It is an intriguing edge protector that incorporates light guides for RGB goodness and integrates an NFC chip for unlocking exclusive content. All pretty lavish and over the top and a perfect fit for the general tone of the phone. A nifty carrying case for the phone and all of its accessories is also included.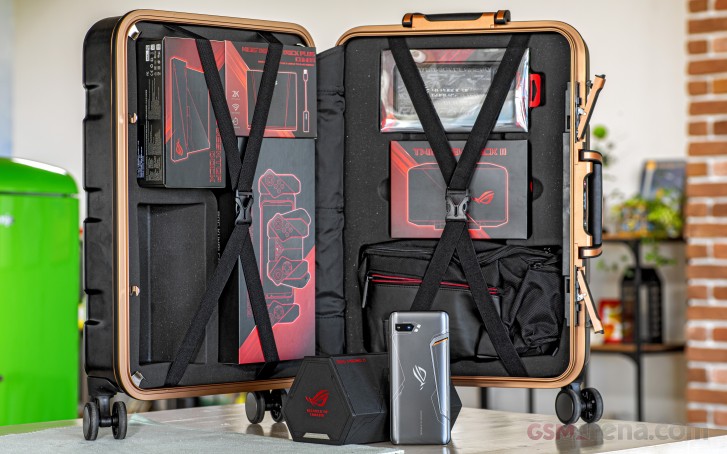 Last, but definitely not least - the ROG Kunai Gamepad. It comes to replace last year's third-party GAMEVICE accessory and is probably the extra most ROG Phone II owners are going to want and buy. This time around Asus designed its own solution and quite a versatile one at that, complete with the option of using it as a separate wireless controller.
For more in-depth info on the ROG Phone II accessories, skip forward a few pages in the review.
As for the core retail package of the ROG Phone II itself - it's pretty rich in terms of goodies and very eye-catching. It has an asymmetrical hexagon shape with a distinctly alien look to it. Pretty much the aesthetic you would expect from a Republic of Gamers product. Shape-wise, it is not too dissimilar from the original ROG Phone box, but has a totally different "slide-out" two piece design. Oddly enough, actually getting the stuff out of it turned out to be just as convoluted as its predecessor. Just in a different way.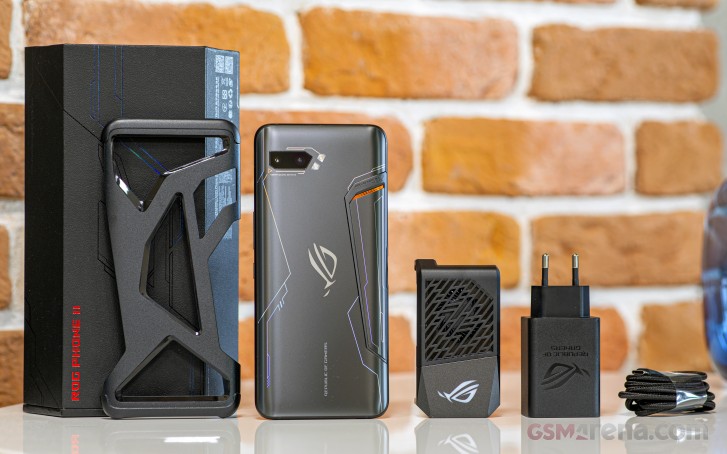 Inside the odd container, you get the phone itself, which also features similar design language, but more on that in a bit. Alongside it - a Type-C to Type-C braided USB cable and a pretty compact wall adapter, rated for a maximum output of the hefty 30W. The adapter is actually rated for QC4.0, PD3.0, as well as a proprietary Asus direct charging standard, making it amazingly versatile to carry around.
On the surface, the brick itself and all the charging rates look airily similar to those on the original ROG Phone as well. However, Asus' own proprietary HYPERCHARGE Technology has been pumped up from 20W to 25W in this generation. The clever 30W HyperCharger will deliver up to 25W to the phones and another 5W directly to whatever accessory is connected to the phone at that time.
Just like the original, the ROG Phone II still supports Quick Charge 4.0 as well, using its internal IC which in turn can accept a PD current, making it pretty versatile. But, more on charging in the battery section.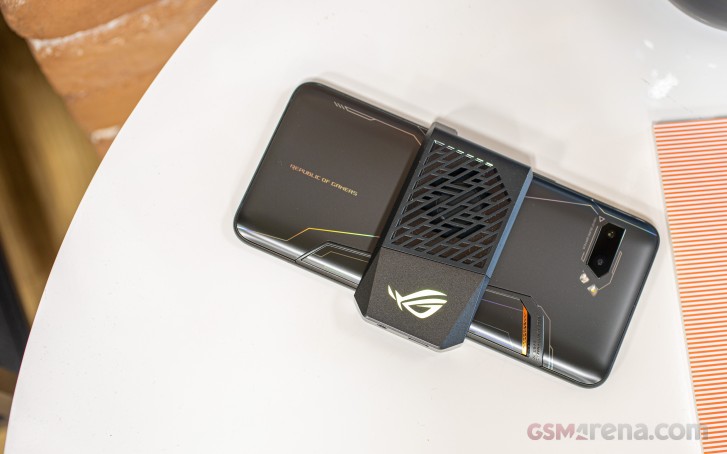 Back to the retail box and the run-down of its contents, which is far from over. Bundled with every ROG Phone II you get the new AeroActive Cooler II. Just like the original, it incorporates a snap-on design and it's powered by the proprietary side port. It also has RGB lighting on both sides, a Type-C port for charging an a 3.5mm jack. Along with it you also get an optional small rubber stand attachment, which allows the AeroActive Cooler II to act as a stand and hold the phone upright. The fan itself is improved compared to the first generation, which we will also discuss in the accessory section.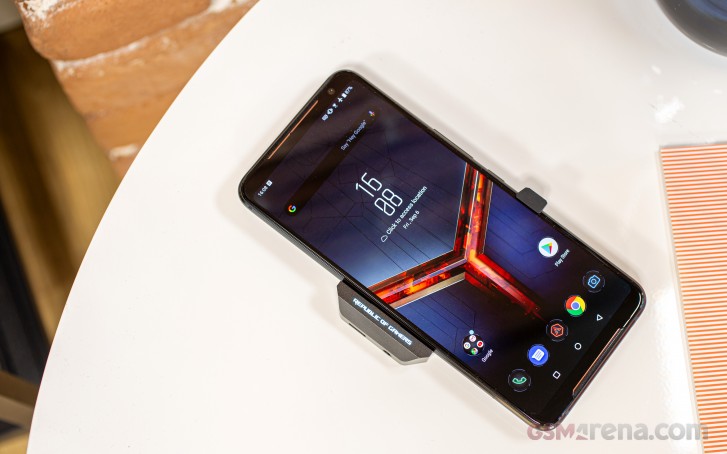 Speaking of rubber attachments, Asus also provides a couple of spare rubber plugs for the side port in the box. Apparently these are purely there for aesthetic and comfort purposes while you grip the phone. Leaving the port exposed is also perfectly fine. But it's still nice to see some nifty spares are included.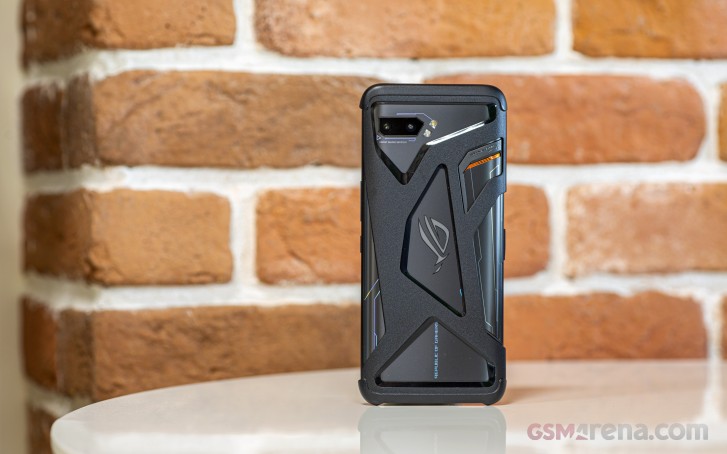 You also get a pair of earbuds in the box. Better still, like the phone itself, these are HRA certified. Finally, in certain markets, users will also find the funky ROG Aero case in the box. Well, it's sort of a case and more of a bumper protector since it barely covers any of the rest of the phone. Of course, this was done entirely purposefully to strike the best possible balance between protection and the ability to use the AeroActive Cooler II while the case is on.
Actually, this is sort of a core design principle for the ROG Phone II and all of its accessories which we will definitely be bringing up time and time again during the review. Every little detail was clearly adjusted and perfected with one thing in mind - to deliver the best possible gaming experience. Of course, that mission takes many shapes and has numerous nuances. And it all starts with design. Join us on the next pages as we first take a look at that.
A
this is my dream phone. but i don't have enough money to buy it i can't afford the price
R
Most irritating, as my ROG 2 auto reboots frequently, it seems the phone cannot handle abit of usage, it keeps shutting off during emergencies also.
o
Can i get all the accessories all along with the phone together??? jst like a complete setup....