Asus ROG Phone 7 Ultimate goes through torture test, lives to tell the story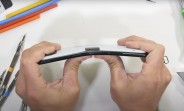 We reviewed the Asus ROG Phone 7 Ultimate not too long ago and crowned as arguably the best gaming phone at the moment. One of the main differentiating factors between the standard ROG Phone 7 and the Ultimate edition is the latter's AeroActive Portal – a motorized air-intake system that works in tandem with the AeroActive Cooler accessory and JerryRigEverything has his latest torture test to show us how it works and how the phone fares in his usual set of durability tests.
After the host breaks up the plastic window of the AeroAcrive Cooler and props the AeroActive Portal's flap open we get a better look at the copper fins inside the ROG Phone 7 Ultimate. Next up is the screen scratch test which yields familiar results, followed by a scratch test around the phone's aluminum frame. The most important part of the video is saved for last with the bend test yielding ample flex but the phone refuses to snap in half like its predecessors.
?
No why!!!!, the pain is too much, NOOOOO!!!
Yet explain to me how I managed to break one in half by sitting on it accidentally on a sofa
ADVERTISEMENT