Glorious 144Hz OLED display - bigger, faster, brighter and more efficient than ever
Asus has spared no expense when it comes to equipping the ROG Phone line with premium, cutting-edge displays. The ROG Phone 5 is no different. Granted, this time around, there is no instantly eye-catching jump in panel specs. The 6.76-inch OLED panel in question is just slightly larger than the 6.59-inch one on the ROG Phone 3 and has the same 144Hz refresh rate. The resolution is also mostly unchanged at FullHD+ and is now just a tad taller/wider, depending on how you hold the phone at 2448 x 1080 pixels.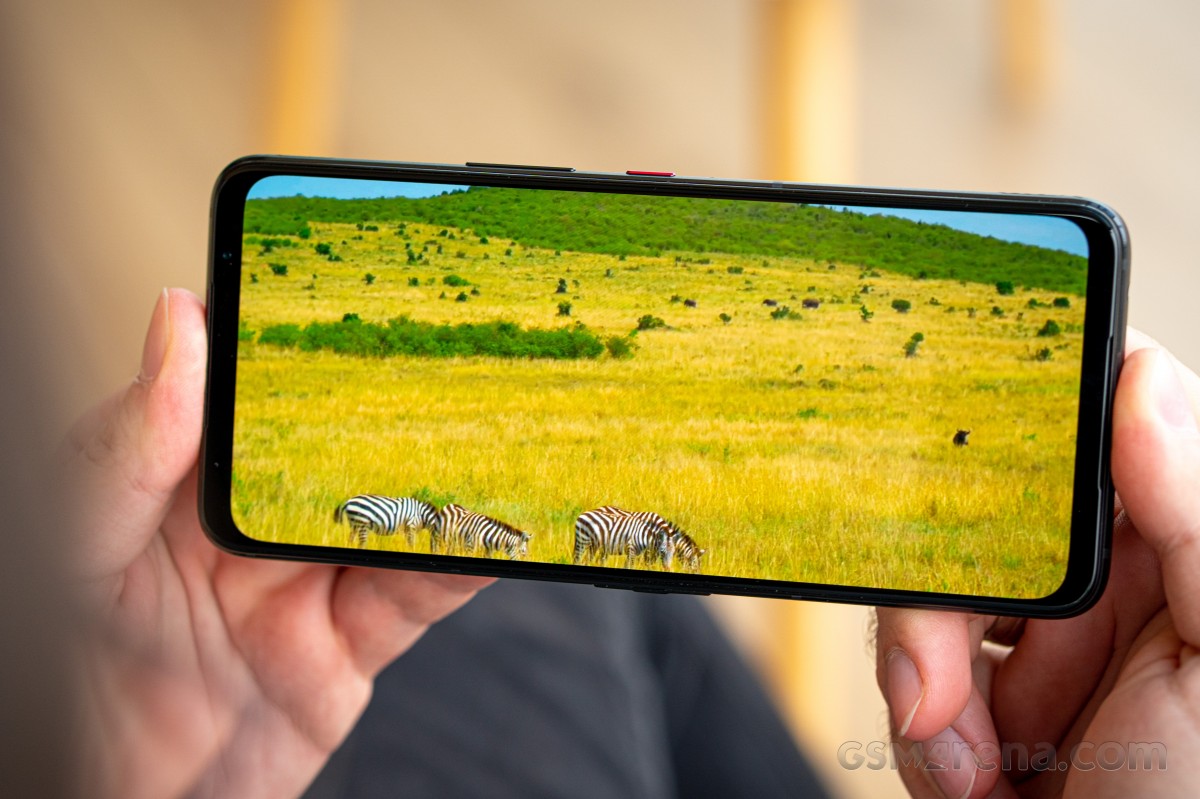 Honestly, even if the PR department didn't get many shiny new figures to flash on banners and posters, this setup still represents the optimal sweet-spot for mobile gaming. Asus has its priorities straight and still has ultimate gaming performance as its main goal, which is admirable. Upping the resolution would have meant more power consumption, a greater strain on the CPU and GPU, potentially lower refresh rate and average frame rates and higher input lag - all detrimental for pro-level gaming.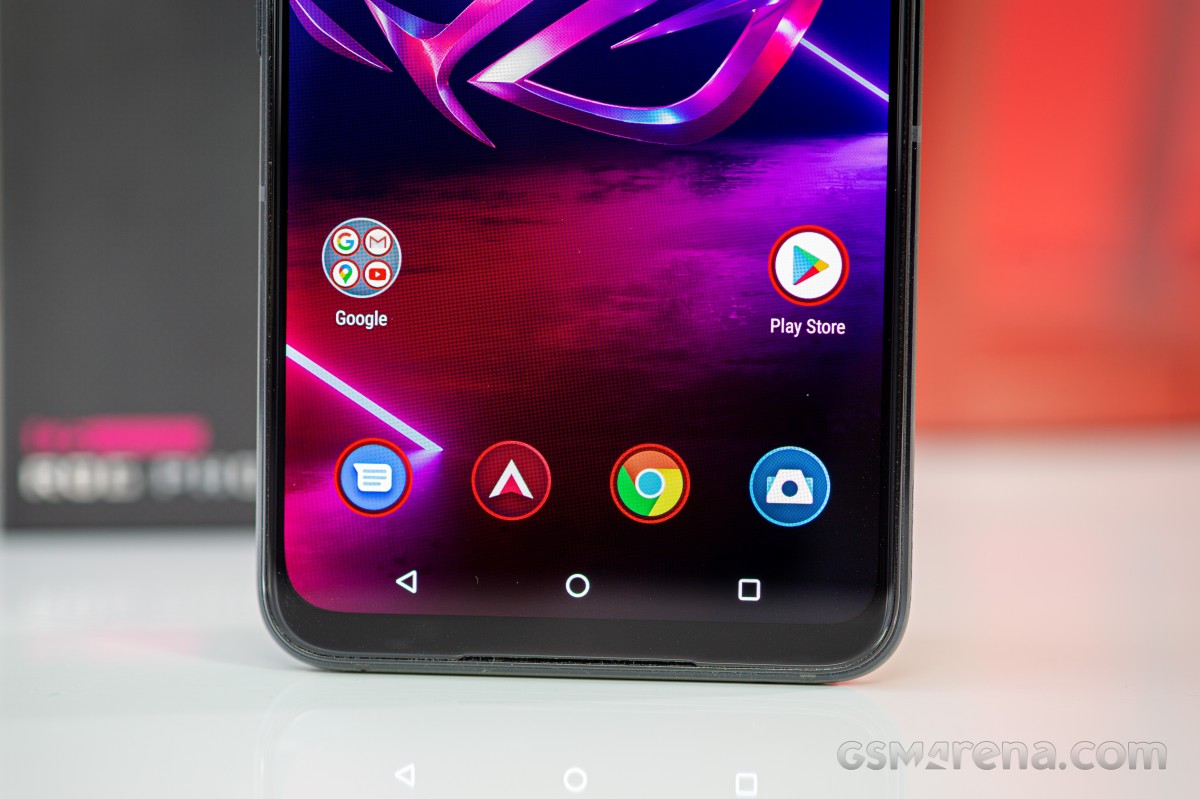 Plus, there are still less obvious advancements in display tech that Asus is reaping the benefits from. The particular panel inside the ROG Phone 5 is manufactured specifically to order, in the 20.4:9 aspect ratio by Samsung, using the modern E4 display tech. Simply-put, E4 denotes a new generation of materials Samsung is using to craft these Organic Light-Emitting Diode displays. Materials that result in higher brightness levels, improved contrast and color accuracy, all while saving power in the process.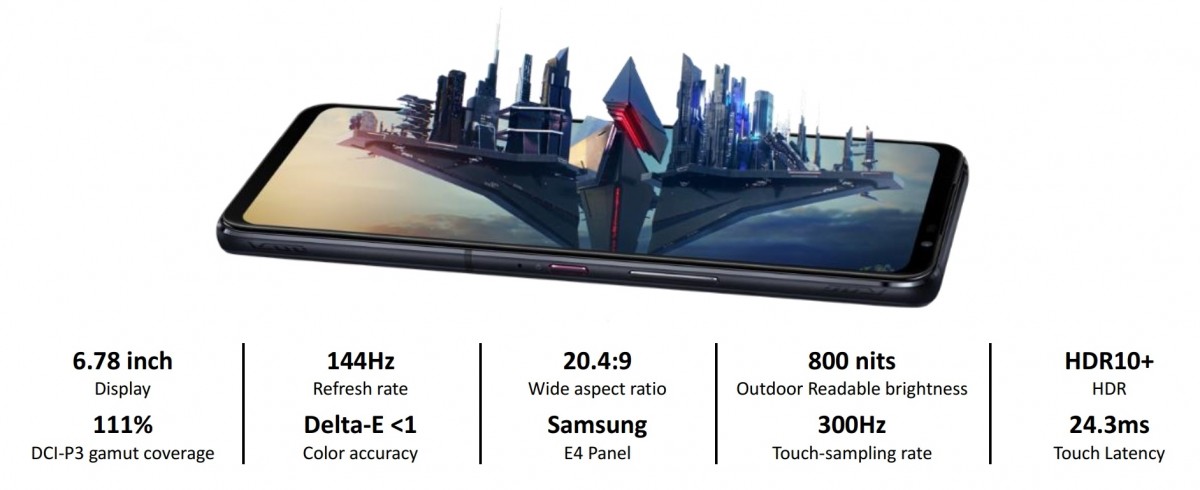 Asus advertises this panel as being capable of anything from as low as 5 nits to 800 nits at APL100 and up to 1200 nits at APL1, with a contrast ratio of 1,000,000:1. This would make the ROG Phone 5 23% brighter than the ROG Phone 3.
Naturally, we did some tests of our own, and while we didn't quite manage to match Asus' claims, the ROG Phone 5 is undoubtedly brighter than its predecessor. It has stellar outdoor visibility.
Display test
100% brightness
Black,cd/m2
White,cd/m2
Contrast ratio
Samsung Galaxy Note20 Ultra 5G (Max Auto)
0
1024
∞
Samsung Galaxy S21 Ultra 5G (Max Auto)
0
1023
∞
Xiaomi Mi 11 (Max Auto)
0
926
∞
Apple iPhone 12 Pro Max
0
822
∞
Huawei Mate 40 Pro (Max Auto)
0
807
∞
Asus ROG Phone 5 (Max Auto)
0
806
∞
OnePlus 8T (Max Auto)
0
802
∞
Asus ROG Phone 3 (Max Auto)
0
719
∞
Asus ROG Phone II (Max Auto)
0
626
∞
Sony Xperia 1 II (Max Auto)
0
538
∞
Samsung Galaxy Note20 Ultra 5G
0
504
∞
Xiaomi Mi 11
0
498
∞
OnePlus 8T
0
497
∞
Asus ROG Phone 5
0
492
∞
Huawei Mate 40 Pro
0
485
∞
Asus ROG Phone II
0
479
∞
Asus ROG Phone 3
0
464
∞
Samsung Galaxy S21 Ultra 5G
0
458
∞
Sony Xperia 1 II
0
333
∞
Asus also implemented some notable improvements to touch sampling and the entire touch latency chain in the ROG Phone 5. Starting with the display, which is now polling touch data at 300Hz. That was then combined with end-to-end optimization of the touch data pipeline, from hardware to software. The result is an advertised touch latency of just 24.3ms and a slide latency of 18ms. An achievement Asus is not shy in calling:
Currently the world's lowest latency
Naturally, this is all entirely done in the pursuit of the best possible gaming advantage. Eye strain with prolonged gaming sessions is also a major consideration on a gaming device, especially one with a smaller display, prone to more eye fatigue. The ROG 5 addresses this through SGS Eye Care 6.5% and SGS Seamless Pro (120Hz) certifications. There is also DC Dimming 2.0 support for low brightness situations. It is an optional toggle in the setting menu which we are sure PWM-sensitive gamers will appreciate.
As another little quality of life extra, the ROG Phone 5 also features AS coating for reduced friction with sweaty fingers on the display.
While color accuracy and multimedia prowess are likely not a primary concern for the target gamer demographic of the ROG Phone 5, Asus did not leave anybody wanting in this department either. Makes sense, since the enthusiast crowd tends to be demanding all-around in the first place. The excellent AMOLED panel in the ROG Phone 5 boasts 111% coverage of the DCI-P3 color space, 150.89% of sRGB and an average deltaE 2000 of less than 1. Every single unit is factory calibrated for the best possible results.
Once again, we ran tests of our own to verify these lofty claims, and while we couldn't get a deltaE 2000 of less than 1 in our test conditions, we got a very close result with an average deltaE of just 1.7 and a maximum of 3.7 by using the Standard color mode within the Splendid display menu. That is enough to be considered color accurate, for sure.
Beyond Standard mode, the ROG Phone 5 also has a trio of other color presets - Cinema, which slightly boosts some of the main color channels, but retains a rather subdued look, Default, which is probably the best choice for daily use, since it delivers that familiar OLED "punch" all around. And then there is Natural, which seems to make everything a bit redder and hotter, but also boosts the colder blue and similar channels a bit as well, making for a particular look we don't really appreciate. But, it's there if you want it.
A Custom slider allows you to adjust the color temperature up and down a bit. There is no proper custom white point adjustment, which is a bit disappointing to see on an otherwise so feature and options-heavy device, but it is hardly missed seeing how the Standard profile is excellently calibrated out of the box.
Last, but not least, the ROG Phone 5 is certified for HDR10+ and has Widevine L1, which means you can get the most out of streaming services like Amazon Prime Video and Netflix. And we do mean the most, since the ROG Phone 5's front-facing, symmetrical stereo speaker system with Dirac audio stage widening is on a whole other level than most other phones out there.
High refresh rate handling
High refresh rate on Android is still a bit of a Wild West in that there really is no universally accepted end-to-end solution to implement it in the most efficient way from hardware, through OS to apps and games themselves. Though there have been notable improvements in the space, manufacturers are still mostly left to their devices and wits in figuring things out. The situation will likely remain the same until Google steps in and implements an all-encompassing solution of its own. We might actually be closer to that point in time than even, seeing how Android 11 now actively monitors refresh rates.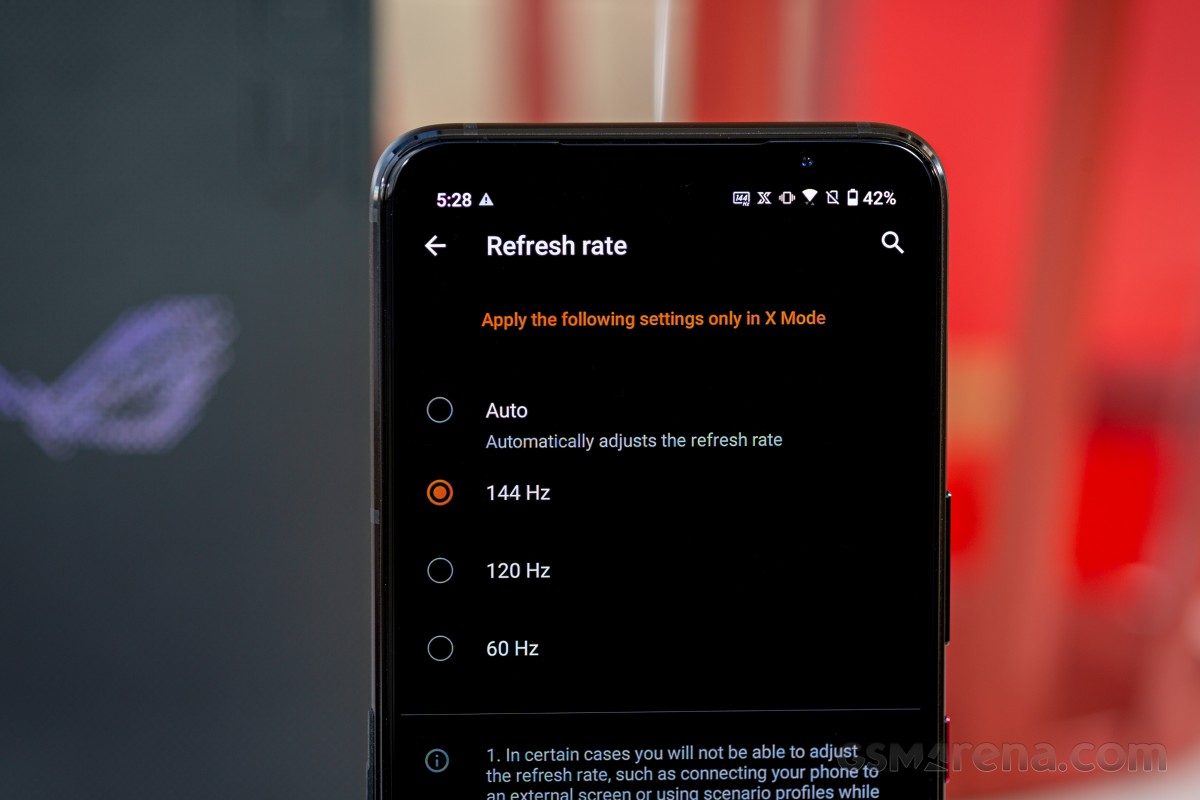 Asus has put a lot of effort into making its 144Hz panel work as fluently as possible, without tanking battery life, but also, without disappointing its gaming audience with a too conservative approach. The refresh rate settings menu on the ROG Phone 5 includes four specific settings - 60Hz, 90Hz, 120Hz and 144Hz, as well as an intriguing Auto option. Identical to the ROG Phone 3.
Just like with other aspects of its devices, like design and control location, thermal management or display optimization, the Asus' main priority always is delivering the best possible gaming performance, leaving any other consideration, like battery endurance, with lower priority. Hence, it makes sense that all four particular refresh rate settings in the menu act like strict frame rate targets, which the phone enforces almost universally across all apps.
The UI, in particular, gets fixed to the refresh rate you select, and so do most apps, regardless of whether they can even produce the required number of frames. Lots of mobile game engines, for instance, can't go beyond 60fps by design. Some can't even push beyond 30fps. However, there is no software issue forcing any app or game to run at any refresh rate.
Even so, however, Asus still reserves its right to automatically force some common-sense measures behind the scenes, even with strict refresh rate settings in place.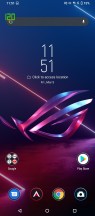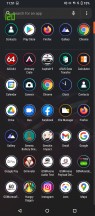 ROG Phone 5 operating at 120Hz
Most-notably, playing a video in the default Video player always drops the refresh rate down to 60Hz to save battery. Some other instances of video playback trigger the same logic, notably, playing a video in Google Photos switches to 60Hz. But the instant you start interacting with the UI, the refresh rate shoots back up to ensure smoother scrolling.
YouTube, on the other hand, was consistently stuck at 120Hz in the menus, as well as while playing back video, which is definitely wasteful in terms of battery life. We also tried Chrome and Firefox, as some of the most popular mobile browsers to see how they behave with the popular UFO test. Both can successfully climb above 60fps and even sync at 120Hz or 144Hz. Chrome seems to be having slightly more issues, though.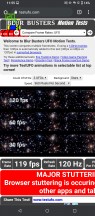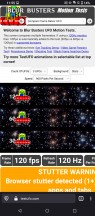 ROG Phone 5 120Hz: Chrome • Firefox
Of course, the main reason why you might want to use a high refresh rate is for gaming purposes. High refresh rate adoption is definitely improving rapidly among game developers and engines, though you still need to put in some effort to find titles that work. The good news is that Asus has not one but two dedicated curated sections within Armoury Crate - one with games that go up to 120Hz and another one with those that go up to 144Hz. There is obviously a big overlap. Excluding the occasional mislabeled title, it is a great resource to reference.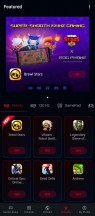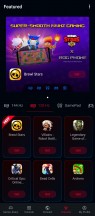 Armoury Crate curated high refresh rate game lists
In any case, games seem to have relatively straight-forward behavior in high refresh mode on average. The Asus way of applying what is essentially a frame rate upper cap with the 60, 120, and 144Hz modes agrees well with most engines, and the ROG Phone 5 typically has enough power to just lock the game at the target frame rate, even 144fps.
The only thing to potentially consider is that some games might require a quick visit to the options menu, in case they have their own frame rate setting that might not always sync-up automatically when changing the system refresh rate. Of course, there are plenty of games that do not support anything beyond 60fps or even 30fps and playing those with a high refresh rate set on the display is just wasting battery.
Flipping over to 144Hz results in an experience quite consistent with 120Hz. The UI gets locked to 144Hz, and so do many apps.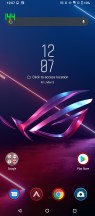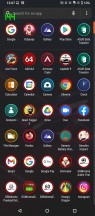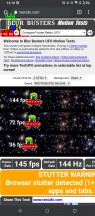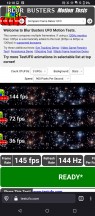 ROG Phone 5 operating at 144Hz
Video is still played at 60Hz in the default player, and Google Photos switches seamlessly between 144Hz in the UI and 60Hz when just playing a video.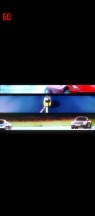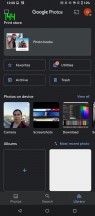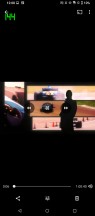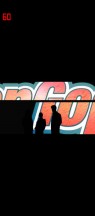 Native video player and Google Photos at 144Hz
YouTube behaves rather weird in 144Hz mode. The UI works at 144Hz, as expected for extra smoothness, but then the actual video player ends up in 120Hz mode. Almost as if Google deemed that the "safer", "rounder" number. It is still wasteful, though, and a great example of the fact that there are still plenty of behavioral bugs to iron out on a general OS level.
The few games we tried at 144Hz, validated to potentially go that high by the Asus Armoury Crate team, had no issues indeed.
Naturally, the most intriguing mode out of the bunch is Auto mode. Generally, the ROG Phone 5 seems to stick to 120Hz mode white on auto. We didn't see it go up to 144Hz for a single time, which is interesting and likely a battery-saving measure.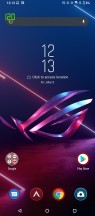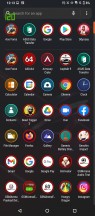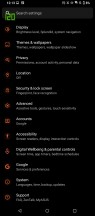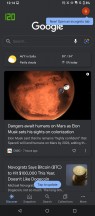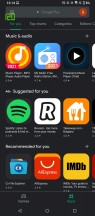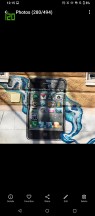 ROG Phone 5 operating in Auto mode
Google Photos had exactly the same behavior as in 120Hz mode, sensibly dropping the refresh rate down to 60Hz when only the video is on screen.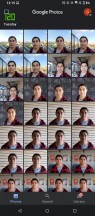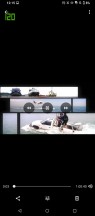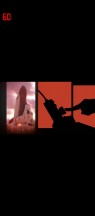 Google Photos operating in Auto mode
The default video player dropped to 60Hz while playing as well, and there are certain apps that explicitly declare that they can only operate at 60Hz. Google Maps and many apps using a Google Maps based interface within them are notable examples.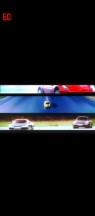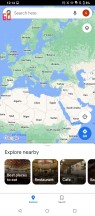 Default video player • Google Maps
Chrome generally had no issues sticking to the 120Hz mode set forth by the Auto setting, while Firefox did experience some oddities here and there, basically working at 120Hz until a new page gets loaded and that suddenly forces a drop to 60Hz. Just another weirdness to add to the list.
Games were not exempt from odd behavior either. From the trio of validated 144Hz titles we tested at Auto mode, two ran at 120Hz, while one dropped down to 60Hz.
Quickfire round: Facebook was fine with 120Hz in Auto mode, but did not do the smart thing to drop down when playing video. Messenger only did 60Hz.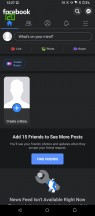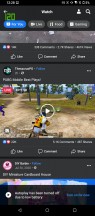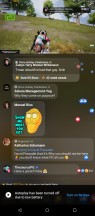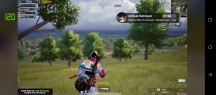 Facebook and Messenger in Auto mode
Instagram was locked at 120Hz, regardless of whether a video was on screen or not, same as Facebook. TikTok was 60Hz all the way.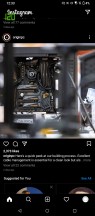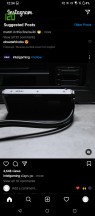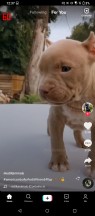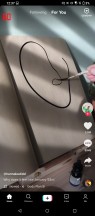 Instagram and TikTok in Auto mode
Bottom line then? Well, high refresh rate handling is still a mess on Android as a whole. Things are improving, and we have to hand it to Asus for doing its fair part. The Auto mode, as implemented in the ROG Phone 5, is perfectly good enough for daily use and strikes a nice and sensible balance between fluidity and battery endurance.
If you plan on making the most out of the high refresh rate capabilities of the phone, though, we would suggest leveraging the excellent per-app settings capabilities in Armoury Crate to run all of your video playback and similar apps, as well as games that don't have high refresh rate support at a forced 60Hz to save battery and conversely - all of the games that support high refresh rate at 120Hz or 144Hz.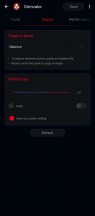 Armoury Crate per-app refresh rate settings
It's a bit of extra work to set up, for sure, but that's just the current state of affairs, and overall, Asus has its high refresh rate handling set up in a way that's about as good as it gets right now.
Battery life
A 6,000 mAh battery is sort of becoming the expected standard with ROG Phone users. Asus actually set the bar pretty high in yet another area with its ongoing attention to battery endurance and longevity combined. Circling back to some of last year's marketing points for the ROG Phone 3, there is plenty of justification for having a large 6,000 mAh battery, charging at a reasonable 30W rate. In no particular order - a bigger battery means ultimately better longevity since you are using up fewer cycle count than you would on a smaller cell. This is partially where the sensible 30W of charging comes into play, as well, since it does not generate overly huge amounts of heat, which also degrades cells.
A slower charger on a larger battery can also actually maintain higher voltages for longer, before it reaches a trickle charge (constant voltage) phase, which, if you do the math, can net you a better mAh/minute charge rate than say pumping 65W peaks into a 4,000 mAh cell. As another added bonus, slower charging can be done with thinner separators between the cathode and Anode, improving battery density.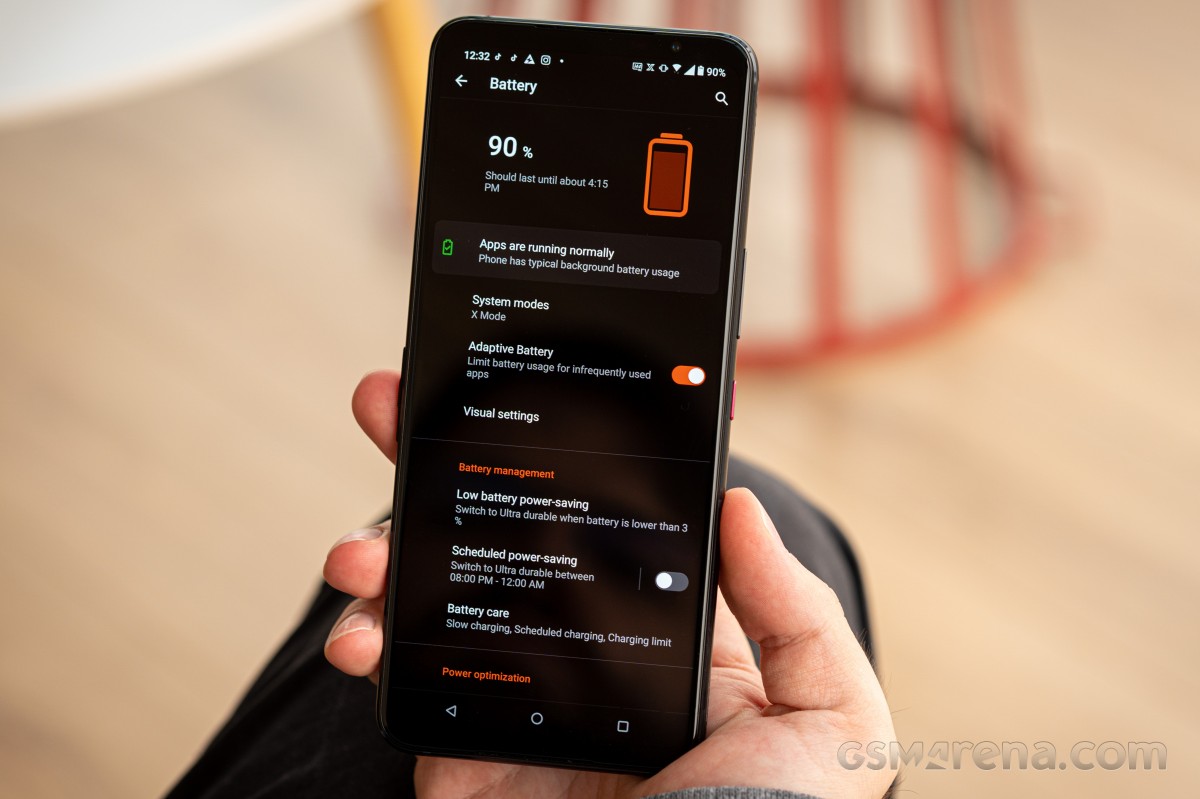 Asus brings up all of these points within the ROG Phone 5 presentation, as well. Though, unlike its predecessor, it has a totally different battery design. One that Asus still feels is just as good and to quote them:
The new dual-cell design has made it possible to keep out 6,000 mAh capacity while increasing charging from 30W to 65W with a lower charging temperature and without sacrificing battery lifespan
The total 6,000 mAh capacity is actually split between two symmetrical 3,000 mAh cells, which sit on both sides of the CPU PCB.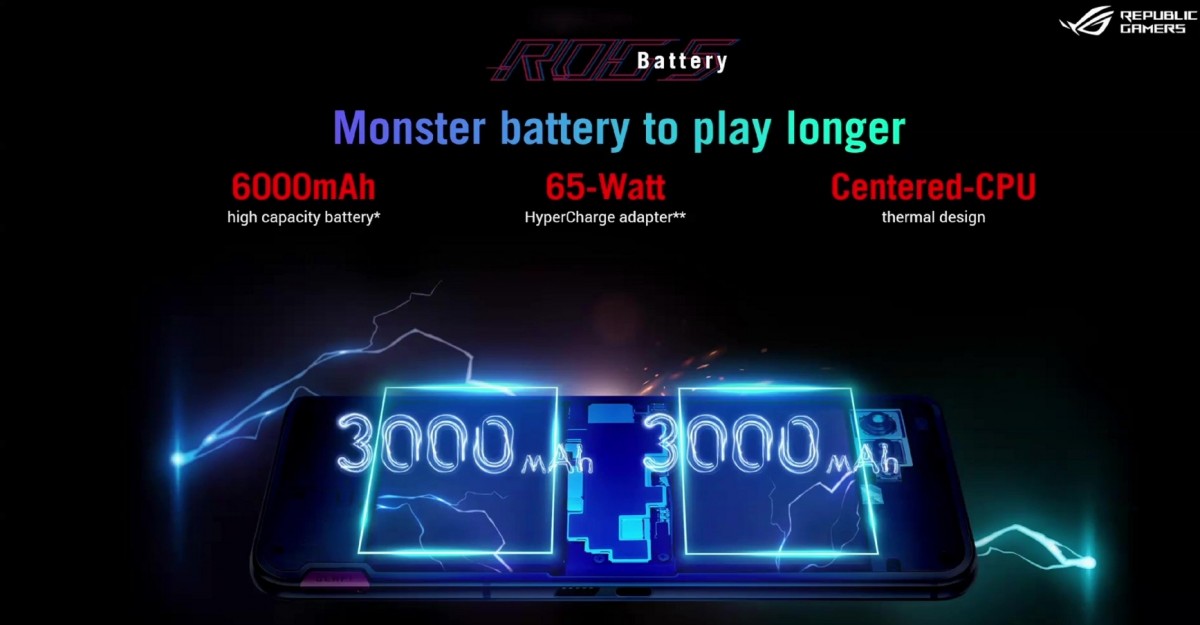 These feature MMT battery technology and a double-wired split design. MMT stands for Middle Middle Tab and increases the energy density in a battery by charging it from the middle outwards instead of from the ends, which lowers impedance and temperature.
Lower temperatures allow higher wattage charging to be sustained for longer periods before entering trickle charge (constant voltage). So, technically, what Asus has done here is approaching the problem of tapering-off charging wattages in a different way, through MMT tech, in place of simply a larger single battery. Neat!
This has unlocked higher overall charging speeds as well since now we are effectively charging two cells concurrently at the peak of 65W combined. But, before we get into charging, we should talk about endurance.
In keeping with our standing testing methodology, we did our best to run our two on-screen tests - video and browser at both 144Hz and 60Hz refresh rate. Mind you, this was no easy task, and we had to jump through hoops without testing tools, however, this is the only way to provide you with both a best- and worst-case scenario for these two activities.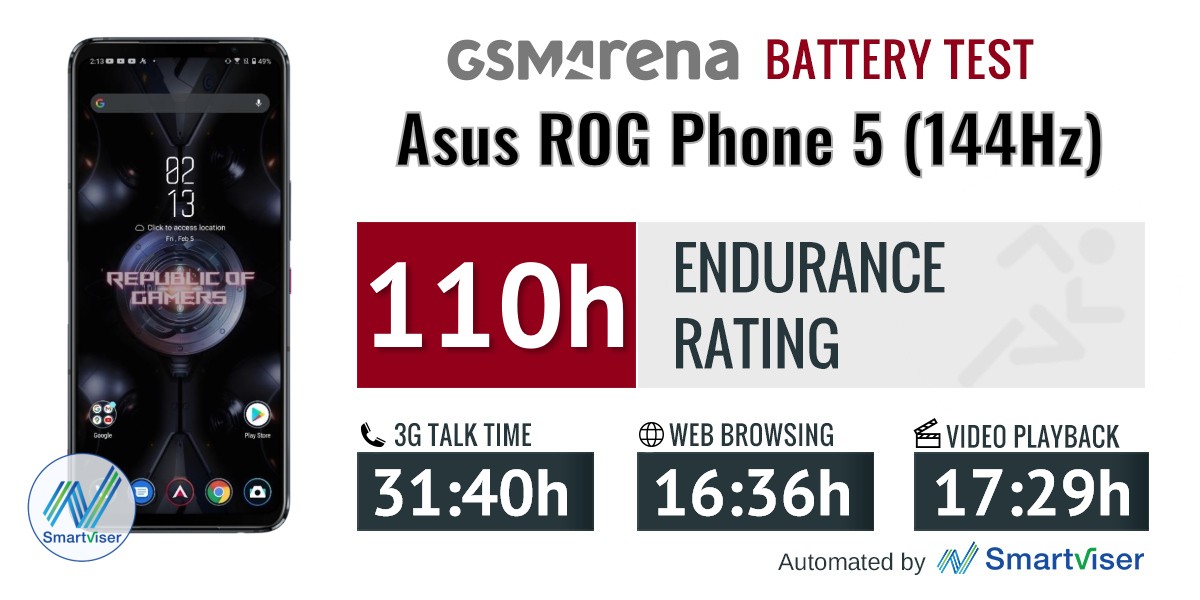 Starting with 144Hz mode, the ROG Phone 5 clocked-in a respectable Endurance rating of 110h. A bit less than its predecessor, but that was kind of expected, given that fancy technology aside, two smaller batteries are less efficient and can't really be utilized as fully as one big cell. Hence, the ROG Phone 5 did slightly worse in both its standby and call tests.
As for on-screen tests, the ROG Phone 5 managed to go for a really solid 25 hours on offline video looping on a single charge. Again, a bit less than its predecessor, but not too shabby. Interestingly, the ROG Phone 5 managed to improve in terms of web browsing endurance this year, despite generally scoring lower in the other battery categories. Furthermore, it kept the battery variance between browsing at 144Hz and 60Hz a lot tighter than the ROG Phone 3. A lot of the improvement can likely be attributed to better and more efficient Wi-Fi, too.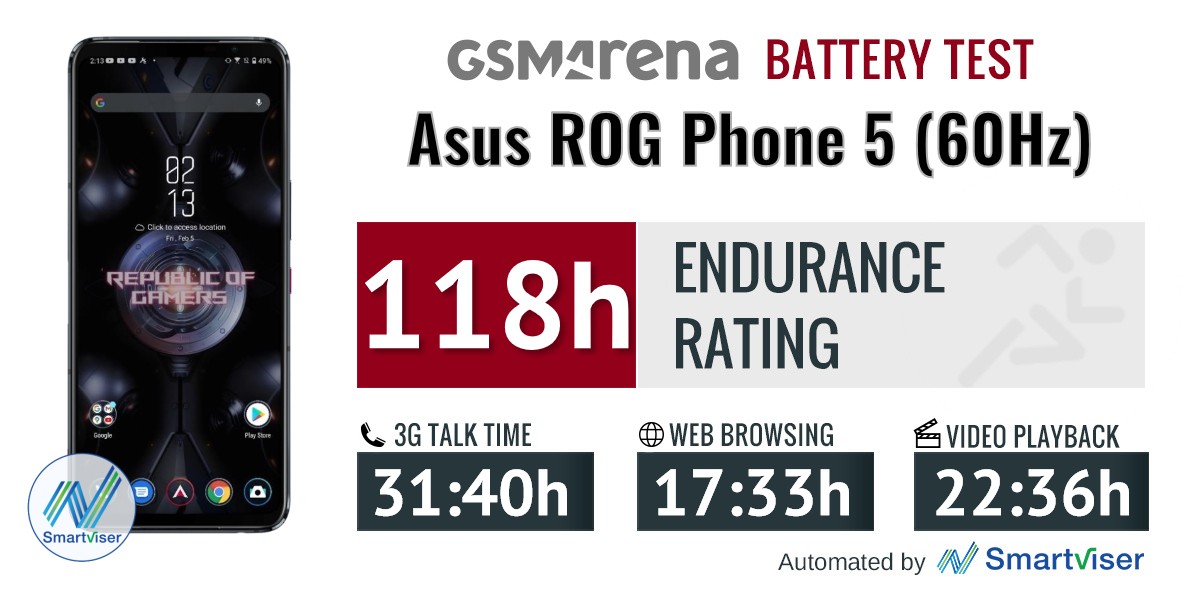 Lowering the refresh rate manually to 60Hz illustrates the huge unnecessary power waste during video playback. There is also a small endurance boost to be had in web browsing. All things considered, it looks like slowly, but surely, the battery cost associated with running a high refresh rate panel is getting smaller and smaller with advancements in tech.
As things currently stand, we see no reason not to use 144Hz on the ROG Phone 5 anywhere where that would be applicable. You might have to spend some time cherry-picking and setting-up specific refresh rates for some of your apps, but once that is fine-tuned, you should get both an amazingly-smooth visual experience and an impressive endurance. You can also just leave the refresh rate on Auto, which more often than not skips the highest possible 144Hz setting and goes for a more modest 120Hz instead. If you are fine with that, you can skip the extra per-app tuning work that way and still get an amazingly smooth experience.
Our battery tests were automated thanks to SmartViser, using its viSerDevice app. The endurance rating denotes how long the battery charge will last you if you use the device for an hour of telephony, web browsing, and video playback daily. More details can be found here.
All test results shown are achieved under the highest screen refresh rate mode. You can adjust the endurance rating formula manually so it matches better your own usage in our all-time battery test results chart where you can also find all phones we've tested.
Charging and battery care
Asus has upgraded the maximum charging rate on the ROG Phone 5 to 65W this year, up from the conservative 30W on the ROG Phone 3. Like we mentioned, this is in part enabled through the split battery design. Charging is done natively using ASUS HyperCharge technology (PD 3.0 + PPS, 3.3V - 21V and 3.0A). A pretty elegant system that is not only USB PD compliant but also only needs a standard 3A Type-C to Type-C cable instead of a beefier 5A one.
Asus advertises a charging rate of 70% or (4200 mAh) in just 30 minutes on the ROG Phone 5, which we basically matched to the dot in our testing. A full charge should take 52 minutes, but our tests (at room temperature and with the phone ON but screen OFF) put it at a little over an hour. Even so, these are massively impressive numbers!
30min charging test (from 0%)
Xiaomi Mi 11
83%
Asus ROG Phone 5
70%
Samsung Galaxy Note20 Ultra (01/2021 retest)
57%
Samsung Galaxy S21 Ultra 5G
54%
Sony Xperia 1 II
46%
Asus ROG Phone 3
43%
Apple iPhone 12 Pro Max (MagSafe)
28%
Poco M3
25%
Samsung Galaxy M30s
21%
Time to full charge (from 0%)
Xiaomi Mi 11
0:50h
Asus ROG Phone 5
1:05h
Samsung Galaxy S21 Ultra 5G
1:11h
Samsung Galaxy Note20 Ultra (01/2021 retest)
1:13h
Asus ROG Phone 3
1:50h
Sony Xperia 1 II
1:51h
Poco M3
2:30h
Asus also takes battery care pretty seriously. This is not a newfound priority either, as previous ROG Phones have also enjoyed more than a few extensive options and features in this regard. Now with the ROG Phone 5, everything related to PowerMaster is merged and organized within the battery settings menu, for added convenience.
Starting with the basics, there are quite a few System modes. A few pre-defined, as well as an Advanced one you can get really in-depth with. These modes are also accessible through the Armoury Crate app, since they do a lot more than just weak your battery profile and behavior, but basically, with X Mode, you get the fewest restrictions on battery usage, followed by Dynamic, which is the sort-of default one you are meant to use on a daily basis and then Ultra durable is your battery saver.
The Ultra Durable mode can also be activated on a schedule, which is kind of neat for off-hours. Beyond this there is also a dedicated Battery care menu. Custom charging limit is a pretty common and well-known feature in the laptop realm. Basically, it allows you to limit the time your battery spends at 100% charge, which is a detrimental state for in long-term and have the phone stop charging automatically at say 90% or 80%. Asus' own testing found that after 500 charge cycles at 100%, a test battery lost 15% capacity, while the same number of charges to 80% only cost it 7%.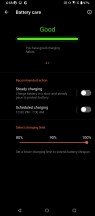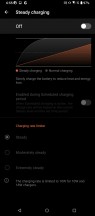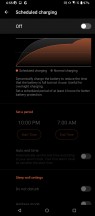 Battery care • Steady charging • Scheduled charging
While keeping a battery pinned at full charge for prolonged periods is definitely bad, the biggest battery killer is likely heat. Faster charging rate usually means more heat. Hence the inclusion of the Steady charging option. It allows you to effectively cap charging rate to lower wattage and choose longevity over a faster top-off. There are three levels of Steady Charging to choose from, and these actually behave differently depending on what charger you plug into the ROG Phone 5.
Charging Options
Charger (Maximum Power)
Steady
Moderately Steady
Extremely Steady
65W
45W
30W
18W
30W
18W
15W
10W
18W
(On) 10W
10W
(On) 10W
You can also combine Steady Charging and the Custom Charging limit with Scheduled charging. Like the name suggests, it is a system that charges your battery intelligently on a curve so that it does not stay pinned at 100%, constantly trickle charging for hours. Especially convenient for overnight charging and includes options such as end time by alarm, do not disturb, airplane mode and turning off the battery led indicator.
Speaker test
Asus' work in mobile audio has been nothing short of industry-leading. We're quite confident in stating this since the ROG Phone II remains one of the benchmark devices in our relatively new loudspeaker test. Last year, the ROG Phone 3 followed that up with its own set of hardware upgrades, as well as a newfound partnership with Swedish audio experts Dirac. The ROG Phone 5 does its fair share to push the envelope further still this year.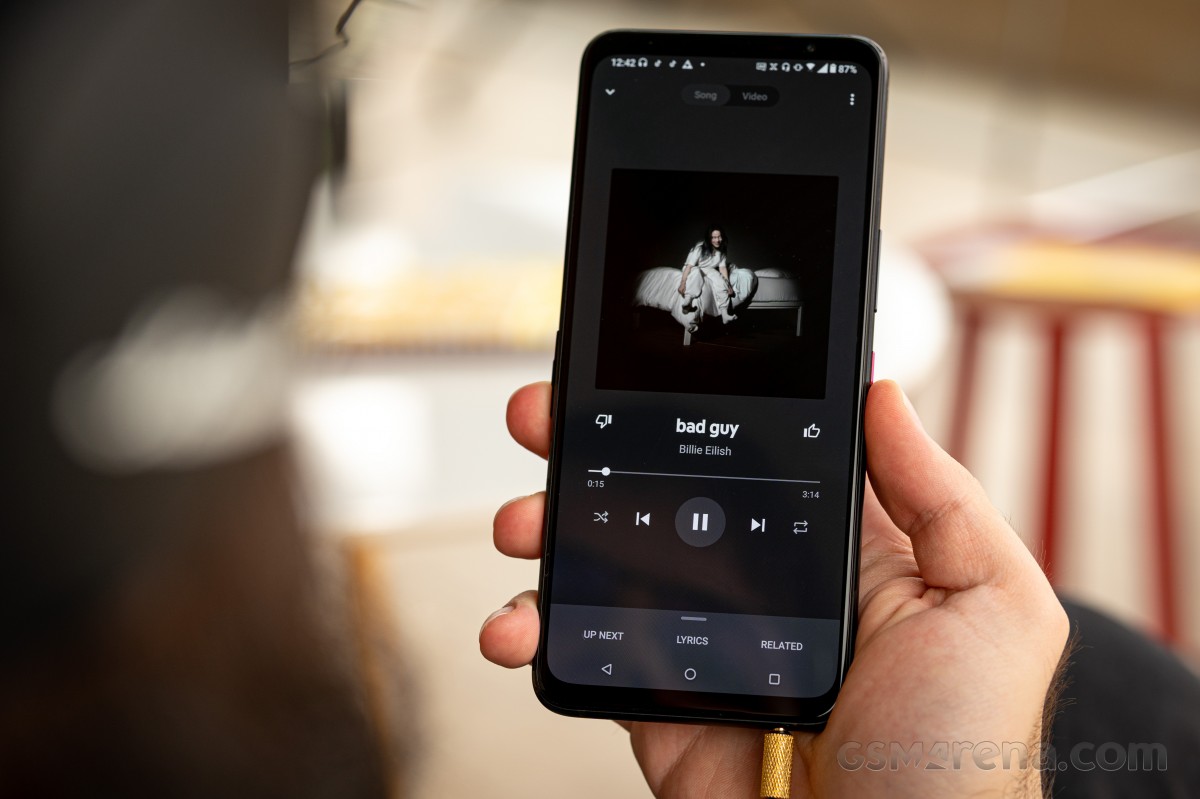 Just like its predecessor, the ROG Phone 5 has a pair of front-facing stereos speakers, with a 7-magnet design. One of the important new upgrades being that the two speakers is now symmetrical, meaning that they are identical on a hardware level, which was not the case with the ROG Phone 3. The units in question are 12x16 Super Linear Speakers with 35% larger combined speaker volume. Each speaker has a dedicated Cirrius Logic CS35L45 mono amp that delivers 21% more power than the amplifier in the previous model. It can even output its peak voltage at up to 15v, which is a 36% increase.
Use the Playback controls to listen to the phone sample recordings (best use headphones). We measure the average loudness of the speakers in LUFS. A lower absolute value means a louder sound. A look at the frequency response chart will tell you how far off the ideal "0db" flat line is the reproduction of the bass, treble, and mid frequencies. You can add more phones to compare how they differ. The scores and ratings are not comparable with our older loudspeaker test. Learn more about how we test here.
The ROG Phone 5 delivers an amazingly-rich and dynamic sound stage. Among the best we have heard coming out of a mobile phone.
Addressing the elephant in the room, yes, the ROG Phone 5 is slightly quieter, or rather less "chart-breakingly" loud than its predecessor. Just like the ROG Phone 3 was a bit quieter in our tests than its predecessor. What you should really be focusing on, however, is the impressive nature of its frequency response. If you want to just get more dB out of it, disregarding any quality degradation, you could achieve that. For instance, there the ROG Phone 5 specifically includes an option to boost volume for incoming calls, when it could, in fact, matter, to screeching high levels.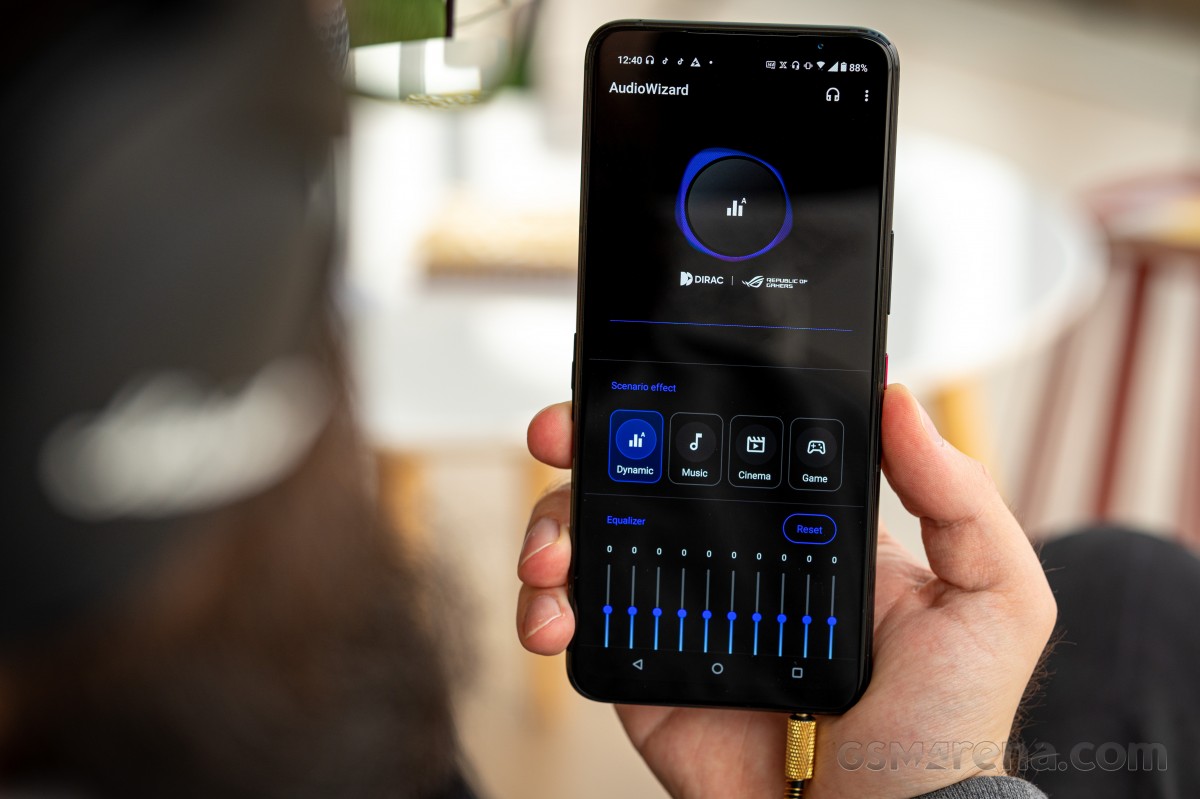 The audio prowess of the ROG Phone 5 goes way beyond hardware, too. Last year, Asus partnered with Dirac in order to leverage the unique customizability of their audio platform. This has been carried forward to the ROG Phone 5, as well. You still get all of the systems and behind-the-scenes algorithms as last year, only this time the measurement and calculation methods involved have been completely re-engineered to even better capture the acoustic characteristics of the particular speaker setup and improve efficiency, focus and performance.
Plenty of PR talk there, but credit where credit is due, the end results are quite impressive. Starting with AudioWizard, which is the centralized audio hub on the ROG Phone 5.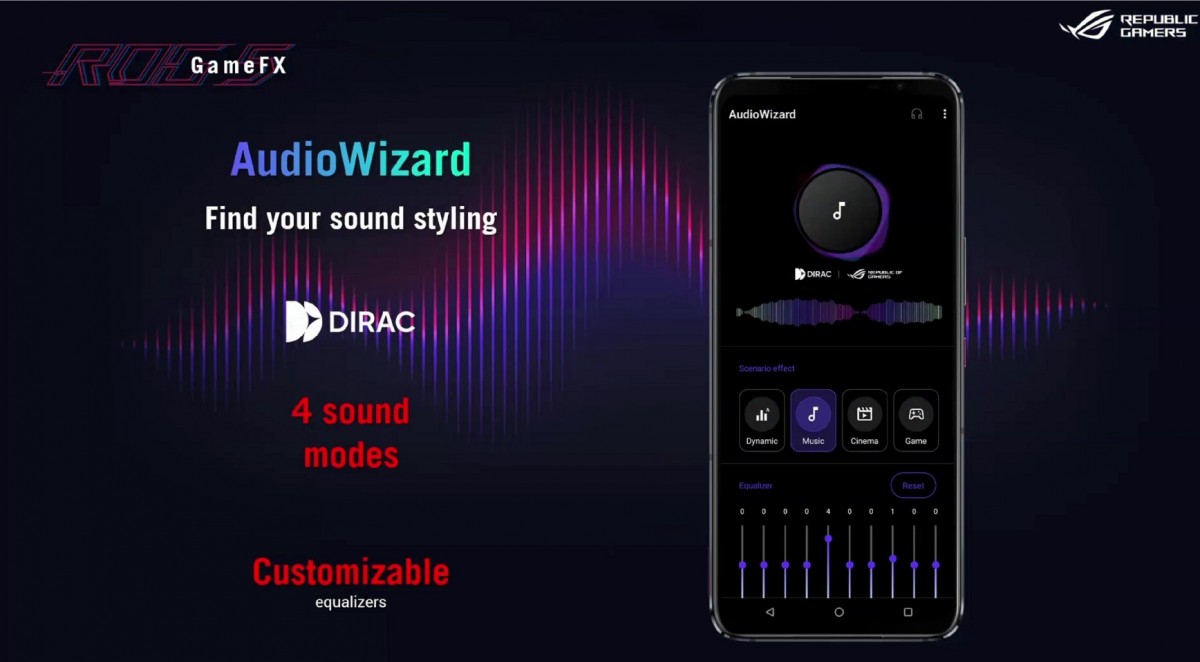 It offers access to a 10-band equalizer, as well a total of four pre-made modes: Dynamic, Music, Cinema and Game. Music is meant for general use, Cinema has a slightly wider sound stage and enhances bass and vocals. Game mode has the widest sound stage of the bunch and also enhances small sounds like footsteps, as well as high frequencies for a better special location.
Speaking of gaming sound, the ROG 5 now also has an intriguing haptic sound/vibration system that can automatically identify certain sounds, like a gun firing or even different guns firing and translate those to satisfying haptic feedback in supported games such as PUBG.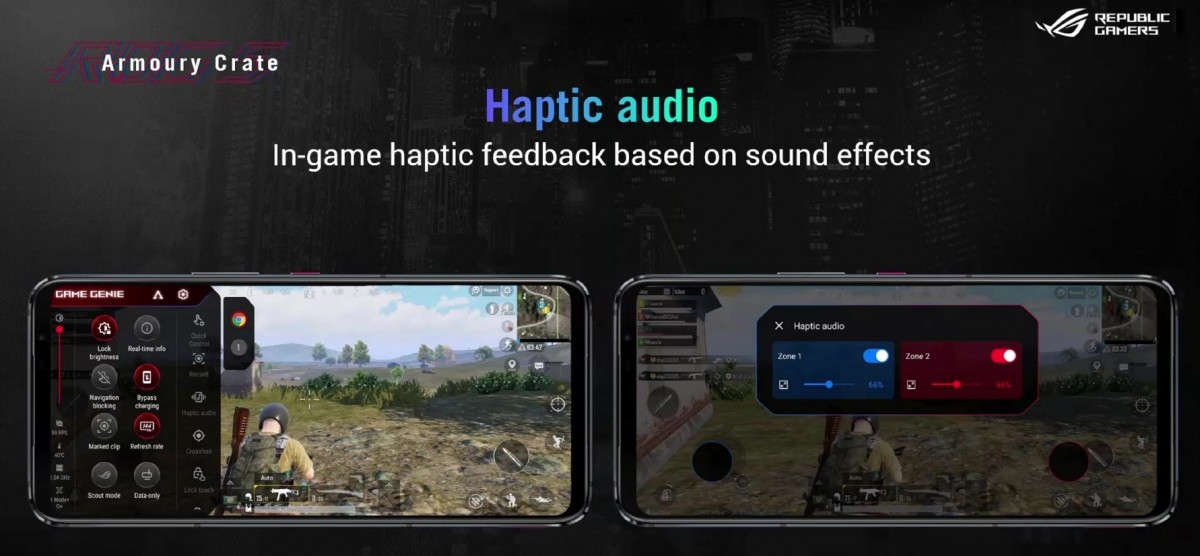 Finally, there is Dynamic mode, which intelligently switches between Music and Game modes depending on whether Game genie - the Asus in-game overlay is active or not. Our audio tests were done using the default Dynamic mode.
Owners of supported ROG headsets can also download and make use of specific impulse and frequency correction response profiles from within the AudioWizard app.
But the audio profiles and equalizer are just the tip of the iceberg. Asus and Dirac have crafted quite a few powerful background enhancement systems, all housed under the GameFX branding umbrella. Many of them might already be familiar to you from the ROG Phone 3. But there are also new additions, like MIMO, which stands for Multiple-Input and Multiple-Output. In short, it is a system traditionally found in luxury automobiles that treats a stereo speaker system as one unified system and co-optimizes its summed impulse and frequency response instead of dealing with each speaker in isolation.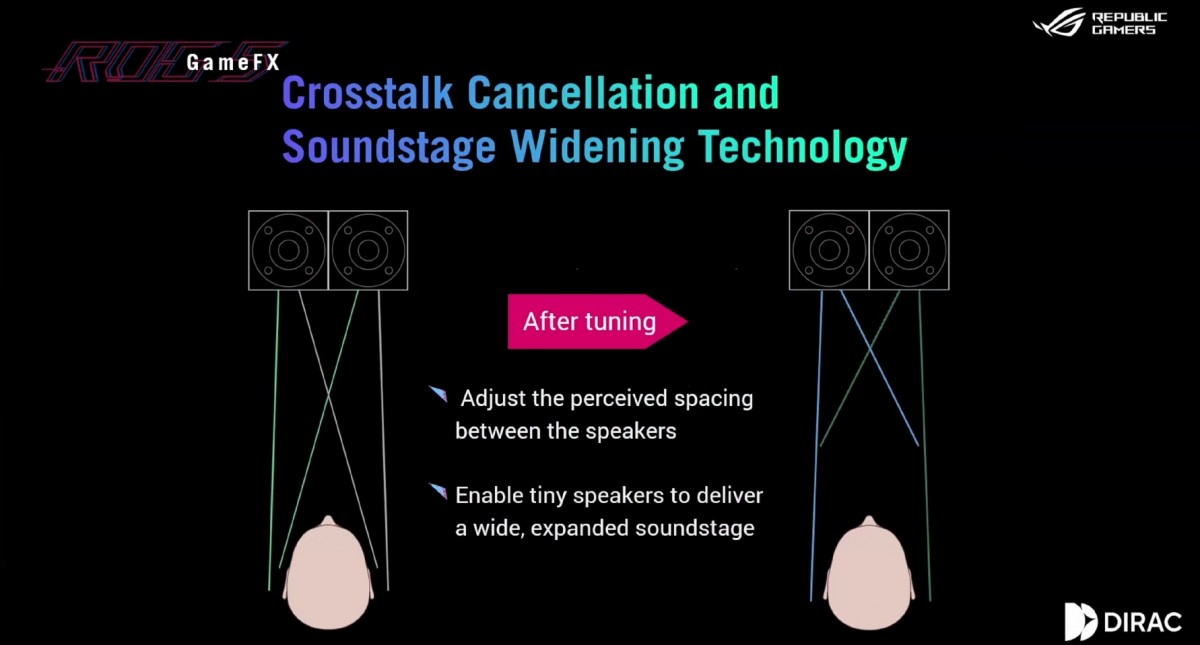 This approach has allowed for MIMO Crosstalk cancellation - an upgraded system from what was present in the ROG Phone 3 that adjusts the perceived spacing between the left and right speakers and tries to achieve better stereo separation, despite the physical proximity of the drivers. This is done by dynamically creating an inverted signal from each speaker and feeding it through the other with the right delay and phase.
We were particularly impressed by the Bass enhancement technology. By definition, true bass relies on large speaker volume and moving a large quantity of air. These things are outside the reach of a mobile speaker system, even one as beefy as the ROG Phone 3's. The proposed solution here relies on psychoacoustics. It's a fairly complex process of adding specific over-tones to the output of the speaker that extend the perceived bass tone by two octaves. In simpler terms, your brain is tricked into perceiving a 33% wider frequency range than what the physical speakers can output (16,000 - 234 Hz, enhanced to 16,000 - 58Hz), with only a small drop-off in volume as a tradeoff.

The key thing to note here is that the increase is just in perceived bass. That means that the tech works better in certain situations than others and is more convincing to some people than others. It is something hard to put into words, but when it works, you can swear that that kind of low-frequency, deep bass sound cannot, possibly be coming from a smartphone speaker.
Bass enhancement technology can be experienced on a system-wide level. The same goes for Impulse response correction, which tries its best to clean-up impulse frequency response and limit sound tapering-off effects, so they don't interfere with other sounds. Same goes for Frequency response correction, which tries to balance and smooth-out frequency responses across the board.
3.5mm audio output
Fans rejoice, after a hiatus on the ROG Phone 3, the on-board 3.5mm jack has made a triumphant return to the ROG Phone 5! And what a return indeed - it is hooked up to an ESS SABRE ES9280AC Pro DAC with HyperStream II QUAD DAC™ technology and a built-in Class G ESS Sabre Headphone amplifier.

The Class G Headphone amplifier automatically detects load impedance between 8 to 1000 Ohms. Enabling lower THD and 2Vrms in output for headphones with higher impedance than 50 Ohm. You can refer to the table for a breakdown.
| | | | |
| --- | --- | --- | --- |
| Headphone Impedance | SNR | THD+N | Power |
| 32 ohm | 121dB | -101dB | 1Vrms / 31mW |
| 100 ohm | 127dB | -101dB | 2Vrms / 40mW |
| 300 ohm | 127dB | -101dB | 2Vrms / 13.3mW |
| 600 ohm | 127dB | -101dB | 2Vrms / 6.7mW |
The Class G ESS Sabre Headphone amplifier promises best-in-class signal-to-noise performance of 130db. And is backed-up by a patented Time Domain Jitter Eliminator that can reach a dynamic range of 122dB.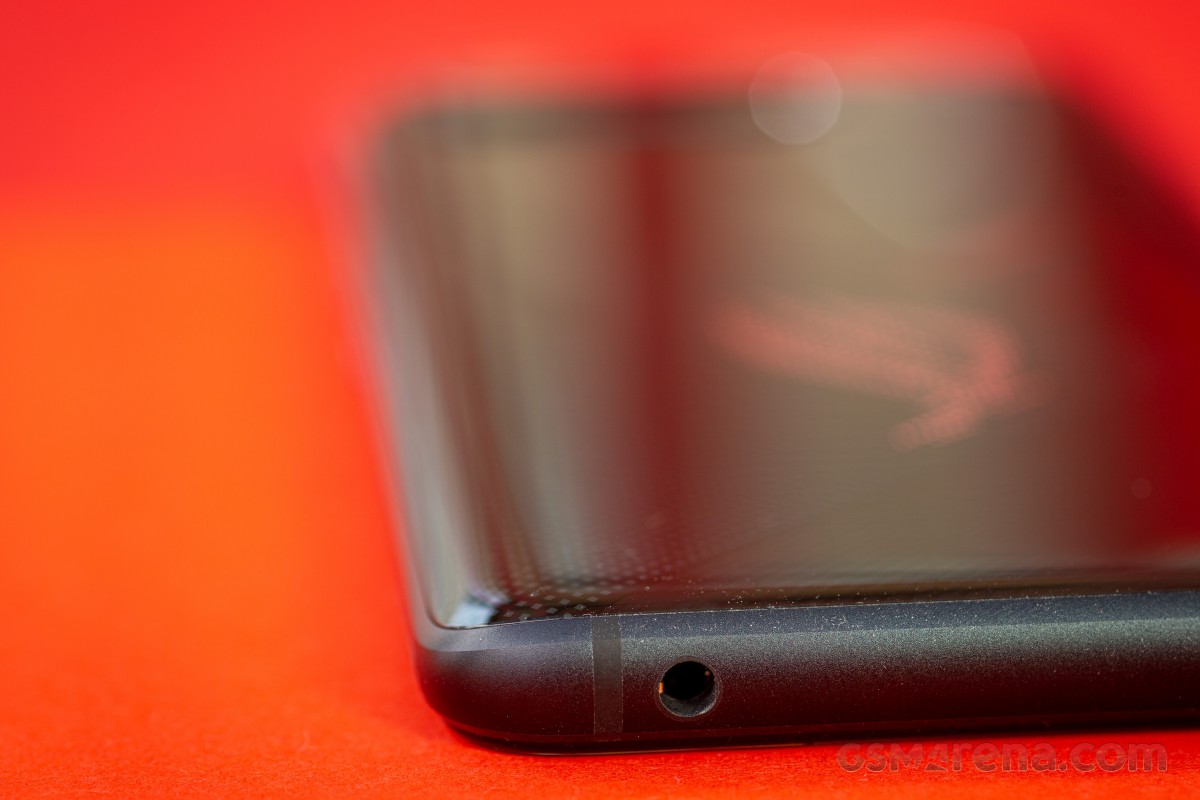 The ROG Phone 5 is also Hi-Res Audio (HRA) certified and when paired with a High-Res Audio certified output device can play back audio files rated at 24-bit/96kHz or 24-bit/192kH.