A glorious 144Hz AMOLED display
Just like its predecessors, the ROG Phone 3 is equipped with a gorgeous display, at the bleeding-edge of the current mobile scene. Specifically, in all the aspects that appeal to a gamer crowd. The 6.59-inch panel hasn't changed in diagonal from last year, nor has it adopted any trendy new curved edges or folding design. A flat surface with ample bezels is simply the optimal setup for maximum control and in-game comfort.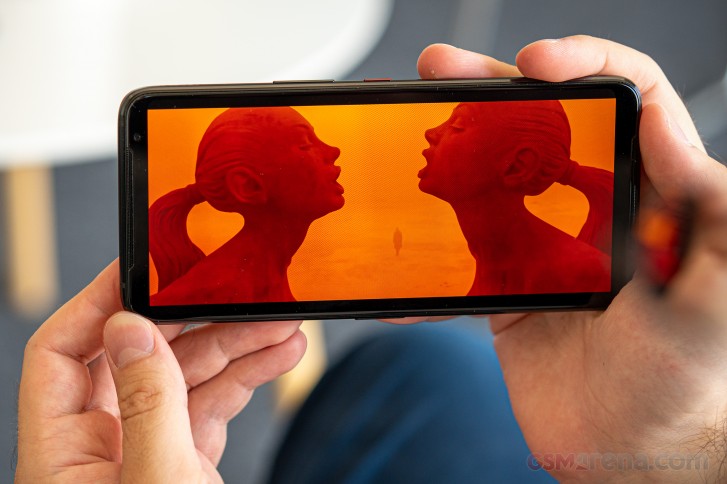 The main call to fame this year has to be the 144Hz refresh rate. Granted, the increase from 120Hz in the ROG Phone II is incremental, but is still notable in a pro-gamer context. Plus, it does not come in isolation, but rather alongside improvements in touch sampling rate, which is up to a blistering 270Hz on the ROG Phone 3. Asus has also worked hard to optimize the entire Android input and output chain and now boasts touch latency figures as low as 25ms and 18ms for swipe latency. As per the company's own believes - currently an industry-wide world record. Of course, certain finer points about differences in testing methodology between manufacturers might be important to this claim. Regardless, the important bit is that the ROG Phone 3 is responsive on a different level than most every other smartphone out there.
Display test
100% brightness
Black,cd/m2
White,cd/m2
Contrast ratio
Samsung Galaxy S20 Ultra 5G (Max Auto)
0
894
∞
OnePlus 8 Pro (Max Auto)
0
888
∞
Oppo Find X2 Pro (Max Auto)
0
871
∞
Xiaomi Mi 10 Pro (Max Auto)
0
858
∞
Apple iPhone 11 Pro Max
0
820
∞
Huawei P40 Pro+ (Max Auto)
0
760
∞
Asus ROG Phone 3 (60Hz Max Auto)
0
727
∞
Asus ROG Phone 3 (Max Auto)
0
719
∞
nubia Red Magic 5G (Max Auto)
0
685
∞
Asus ROG Phone II (Max Auto)
0
626
∞
LG V60 ThinQ 5G (Max Auto)
0
622
∞
Motorola Edge+ (Max Auto)
0
607
∞
Sony Xperia 1 II (Max Auto)
0
538
∞
OnePlus 8 Pro
0
538
∞
Oppo Find X2 Pro
0
536
∞
LG V60 ThinQ 5G
0
511
∞
Xiaomi Mi 10 Pro
0
510
∞
nubia Red Magic 5G
0
483
∞
Asus ROG Phone II
0
479
∞
Asus ROG Phone 3 (60Hz)
0
475
∞
Asus ROG Phone 3
0
464
∞
Huawei P40 Pro+
0
455
∞
Realme X3 SuperZoom
0.332
437
1316:1
Motorola Edge+
0
422
∞
Samsung Galaxy S20 Ultra 5G
0
398
∞
Sony Xperia 1 II
0
333
∞
Before we get into the nitty-gritty of how Asus handles high refresh rate, let's go through other performance aspects on the ROG Phone 3's display since it is a true powerhouse all around. The ROG Phone 3 can go up to 464 nits at 100% on its brightness slider and it will push beyond that to 719nits in max auto mode. The latter figure might not be as high as what current-gen Samsung flagships can offer, but is still squarely within modern flagship territory and plenty to deliver a great outdoor experience, even in direct sunlight. An important thing to note here is that these figures were achieved at the maximum 144Hz refresh rate of the panel.
Due to the way OLED technology works, it has certain intrinsic limitations and noticeably different behavior ad different refresh rates. Setting the ROG Phone 3 to 60Hz results in an increase in its manual max brightness to 475 nits and a max auto of 727. Not necessarily perceivable with a naked eye, but still a crucial behavior to take into account for our battery tests, which are conducted at a fixed 200 nits. As you can imagine, even with a few nits less in maximum brightness, at 144Hz the display is considerably more power-hungry than at 60Hz. A known fact that Asus is doing its best to mitigate with a smart auto refresh rate strategy, discussed in the next section.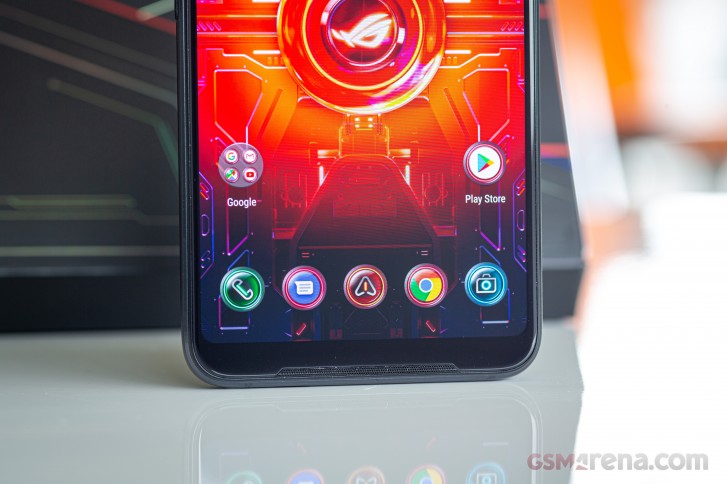 The ROG Phone 3 uses a true 10-bit display, capable of 1.07 billion colors. It is certified for HDR10+ and, as you can imagine, also covers Widevine L1 so that it can make use of all the high-definition, high dynamic range content on platforms like Netflix and Amazon Prime Video.
The ROG Phone 3 has a total of four distinct color profiles under a "Splendid" menu in Display settings. Also, a fifth Customized option, as well as a color temperature slider to tweak each one of the profiles. There is no advanced white point adjustment, but after testing the phone's color reproduction extensively, we don't think one is necessary at all. It would have just overcomplicated things for the user.
Just like with brightness and contrast, we ran all of our color tests at both the maximum 144Hz and the minimum 60Hz to once again find differences. We are happy to report that these were small to insignificant in real-world terms and that Asus seems to be optimizing for 144Hz, rather than 60Hz, which would have probably been the easier approach.
Not all of the included four display profiles are intended to be color-accurate or target a specific color space. The aptly-named out-of-the-box "Default" delivers a familiar "punchy" OLED aesthetic. It is still fairly balanced, in that sense, only leaving the cyan and yellow channels slightly more boosted to achieve the effect. In this mode, the ROG Phone 3 scores an average deltaE of 5.6 and a maximum of 10.5. In comparison, "Natural" mode boosts a few other color channels as well, resulting in a more balanced overall look. In terms of numbers, this results in an average deltaE of 6.4 and a maximum of 10.3. "Cinematic" strives for a more color-accurate output, although still features a few slight deviations from the perfect optimal, introduced to make a more subjectively pleasing look. When measured against the DCI-P3 color space, "Cinematic" mode manages a solid average deltaE of 2.8 and a maximum of 4.9.
Finally, there is "Standard" mode. This is meant to showcase how tight the ROG Phone 3 panel can keep to BT.709 color space. With an average deltaE of just 1.6 and a maximum of 2.8, it is well within the limits of "color accurate".
High refresh rate challenges and solutions
High refresh rate on Android is still a challenge on multiple levels. Beyond the hardware bit of the puzzle, which we are actually starting to crack faster and with improved consistency with each generation, there are software problems to overcome and the huge issue of increased battery drain, associated with higher refresh rates. The latter is a well-known and documented reality, which has necessitated clever solutions on the manufacturer's part. This will likely continue to be the norm, at least until Google decides to tackle high refresh rate handling in a centralized manned within the Android core. In the meantime, exploring how every manufacturer handles its high refresh rate implementation is important.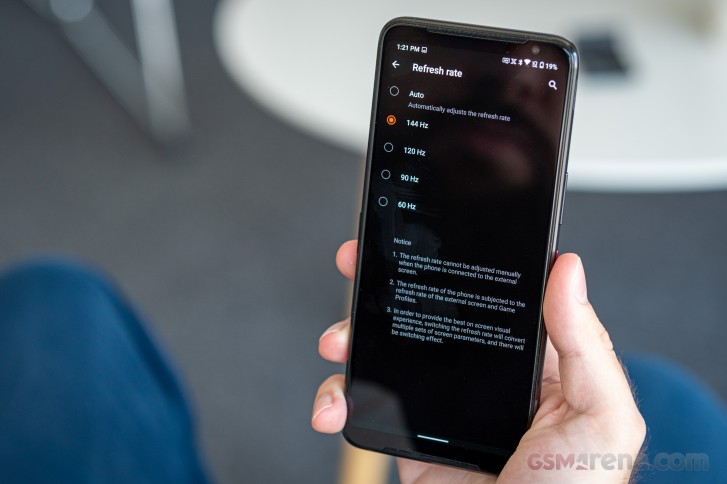 Asus has put a lot of effort into making its 144Hz panel work as fluently as possible, without tanking battery life, but also, without disappointing its gaming audience with a too conservative approach. The refresh rate settings menu on the ROG Phone 3 includes four specific settings - 60Hz, 90Hz, 120Hz and 144Hz, as well as an intriguing Auto option.
Just like with other aspects of the ROG Phone 3, like thermal management, the main driving logic here is to deliver the best possible gaming experience as a main priority, leaving any other consideration, like battery endurance, with lower priority. Hence, it makes sense that all four particular refresh rate settings in the menu act like quite strict frame rate targets, which the phone enforces almost universally across all apps.
The UI, in particular, gets fixed to the refresh rate you select, and so do most apps, regardless of whether they can even produce the required number of frames. Lots of mobile game engines, for instance, can't go beyond 60fps by design. Some can't even push beyond 30fps. However, there is no software issue in forcing any app or game to run at any refresh rate.
Even so, however, Asus still reserves its right to automatically force some common sense measures behind the scenes, even with strict refresh rate settings in place. Most-notably, playing a video in the default Video player always drops the refresh rate down to 60Hz to same battery. However, the same does not happen if you play the same video in Google Photos, or if you play a YouTube video. What Asus is doing is app-level recognition for this automatic switching logic and the justification behind leaving a higher refresh rate on in YouTube or Photos is that it does make for a smoother scrolling experience within the app, before you actually get to a full-screen video player. However, we have seen other manufacturers, like OnePlus go that extra step and actually detect any full-screen player and then switch to 60Hz. That might be a potential area for future improvement in the Asus logic. Though, we still get the reasoning behind the "the user wants 144Hz, so we give them 144Hz" logic.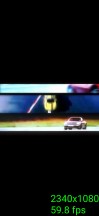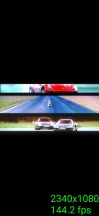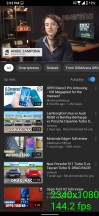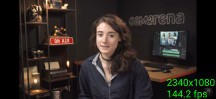 Default video player (60Hz) • Google Photos video player (144Hz) • YouTube (144Hz)
Auto is probably the most intriguing setting of them all. It is also the default option. While in it, the ROG Phone 3 tries its best to strike a good balance between smooth and responsive operation and battery endurance. In Auto, the phone has a definite affinity towards 90Hz, with most apps and games defaulting to that. However, there is a layer of extra smarts working behind the scenes, as well. While in auto mode, the ROG Phone 3 will "probe" for the lack of a better word, any given game's ability to run at increasingly higher refresh rates with consecutive launches of the app. If it discovers, say, that a particular game is designed to push 144Hz, it will eventually set an automatic per-app 144Hz setting for the game in question. Same logic applies for games that can do 120fps of just 60 fps.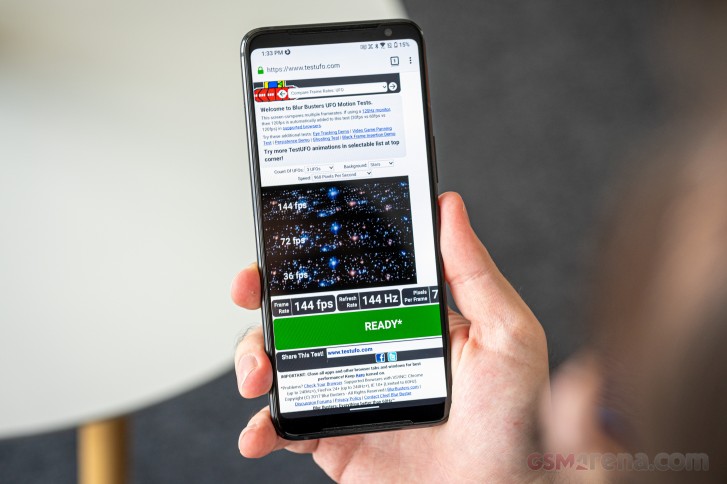 Currently, this system is only enabled for apps that are categorized as games in the Google Play Store. There is nothing really preventing Asus from enabling the same logic for regular apps as well. However, their justification for not doing so makes a lot of sense. Most apps made with standard UI components will actually be more than happy to run at 144Hz and if the intelligent Auto mode were enabled on them, they would end up with exactly that behavior. However, that might not necessarily be the desirable setup. A lot of apps can't benefit from the extra refresh and frame rate, but will still cost a lot in battery endurance.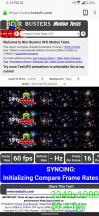 Firefox capped at 60Hz by default
On the flip side, in Auto mode, certain apps, like the Firefox browser, which, unlike Chrome does support high refresh rate up to 144Hz in its Webview in the current mainstream version gets locked to 60Hz. Chrome gets a slightly better auto treatment at 90Hz. Asus says that it is working on an intelligent way to address this issue and potentially even enable the automatic auto refresh rate adjustment, in some capacity, for all apps in a future update.
In the meantime, Armoury Crate has you covered with extensive per-app options for pretty much every performance and behavioral aspect of the phone, including app-specific refresh rate level. Any plain app can be manually added to the Armoury Crate list and benefit from these granular controls. These even work if the app last from the general app launcher, instead of Armoury Crate itself.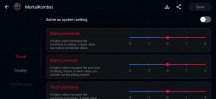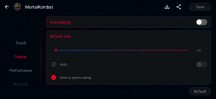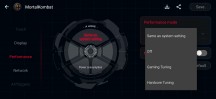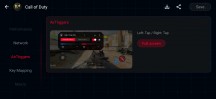 Armoury Crate per-app Scenario Profile
What about truly adaptive refresh rate then? That is sure to come up in the comments, and it was out instinct to ask Asus about it too. True adaptive refresh rate, in the say we think of it with G-Sync and FreeSync in the PC realm is still not really available in Android. Makes sense, considering that Google's mobile OS can't quite sort out its handling of high refresh rate panels on a much less-adaptive OS level and is leaving that up to manufacturers.
Hardware-wise, the GPU power might actually already be there. However, from a software standpoint on both an OS level, and OEM level and a game engine and developer level, this sort of thing is still some way off. Currently, Asus is doing its best to help with enabling and properly supporting frame rates beyond 60 in games and things like controllers. The whole sphere is still shrouded in uncertainty and most importantdire need of better organization.
Armoury Crate actually features separate curated sections for apps that are verified to support certain features, like high refresh rate or controller input properly. So, things are hopefully moving in the right direction.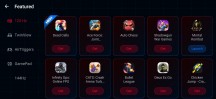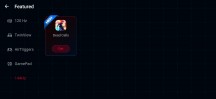 Curated lists of high refresh rate games in Armoury Crate
Beyond that, there are even more serious questions to still tackle, related to the very basics of high refresh rate technology. Like properly educating the consumer on what it is, what and when it can offer, and what are its drawbacks. Baby steps.
Battery life
Working our way to the battery department of the ROG Phone 3, we find yet another great example of Asus putting forward deliberate effort, thoughtful decisions, and laser-focused priorities. The huge 6,000 mAh battery from the ROG Phone II has successfully made it over into this generation, and the ROG design team was more than happy to motivate this decision, alongside the fairly take 30W charging speed and additional focus on slower and well-paced charging on multiple levels.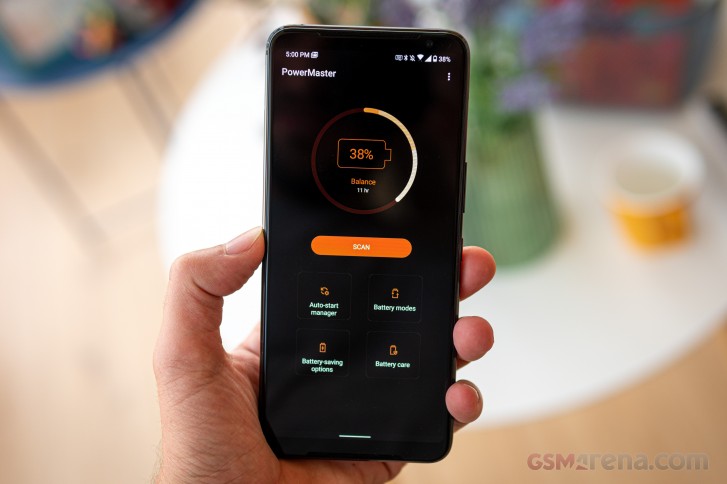 First, a core philosophy - Asus firmly believes that faster charging can't fully replace all the benefits of having a bigger battery. It can definitely mitigate the shortcomings of having a smaller one and is a valid approach to tacking the timeless endurance issue.
But, like most industry trends, Asus was not content with simply following along. On one hand, having more juice simply means more time away from the socket. And the ROG Phone 3 doesn't have to only deal with casual web browsing and social network use while on battery, like most other phones usually end up doing. It has to deliver the best possible gaming performance for the longest possible period. The 6,000 mAh battery capacity combined with ROG Kernel Optimization, which Asus claims can save about 180mh of juice while gaming, result in up to 9 hours of PUBG and 9.5 hours of Asphalt 9 game time on a single charge (display at 200 nits and 60Hz).
And for those that do end up rarely gaming on the go, a bigger battery means that they can easily do multiple days of casual use on a single charge. In our tests, the ROG Phone 3 clocked in an impressive 120 hours of total endurance, while working at its maximum 144Hz refresh rate.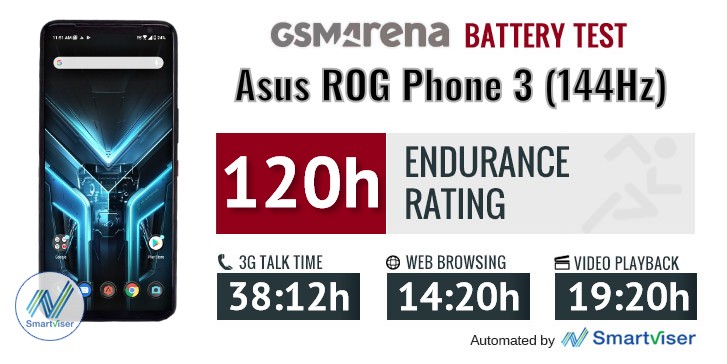 Mind you, we had to go through some hoops to ensure that our web test and especially the offline video playback test were actually conducted with a 144Hz refresh rate. While a higher refresh rate is definitely beneficial for web browsing, since it delivers buttery-smooth scrolling, not all current mainstream browsers handle anything past 60fps the same. Chrome can, theoretically go as high as 144Hz, but most current public builds require a bit of tinkering with internal settings to get there. Firefox, by contrast, is pretty-much ready out-of-the-box, but we did have to manually add it into Armoury Crate and set 144Hz on the ROG Phone 3, since, by default, it ran at 60Hz. Point here, being, that properly making use of high refresh rate still requires user awareness and involvement on a per-app basis.
As for the offline video playback bit of the testing at 144Hz, we had to go squarely against the better judgement of the phone and force 144Hz on our test player. This was done purely to stick to our established methodology. In practice, forcing anything beyond 60Hz on a full-screen video player is useless and simply wasting battery.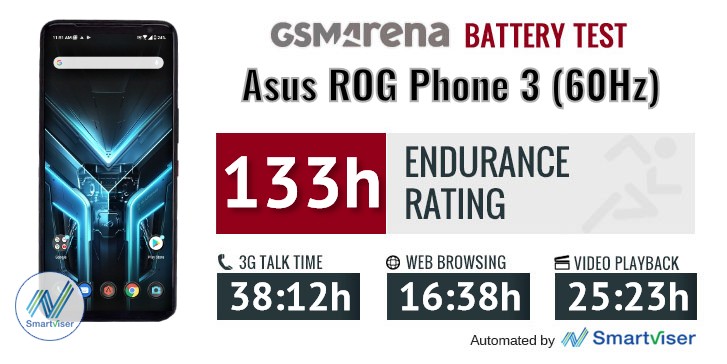 Lowering the refresh manually to 60Hz illustrates the unnecessary power waste during video playback. There is also a small endurance boost to be had in web browsing. All things considered, it looks like slowly, but surely, the battery cost associated with running a high refresh rate panel is getting smaller and smaller with advancements in tech. A trend we can definitely get behind.
As things currently stand, we see no reason not to use 144Hz on the ROG Phone 3 anywhere where that would be applicable. You might have to spend some time cherry-picking and setting-up specific refresh rates for some of your apps, but once that is fine-tuned, you should get both an amazingly-smooth visual experience and an impressive endurance rate somewhere between the 120- and 133-hour figures, we measured in our testing.
Our battery tests were automated thanks to SmartViser, using its viSer App. The endurance rating above denotes how long a single battery charge will last you if you use the Asus ROG Phone 3 for an hour each of telephony, web browsing, and video playback daily. We've established this usage pattern so that our battery results are comparable across devices in the most common day-to-day tasks. The battery testing procedure is described in detail in case you're interested in the nitty-gritty. You can check out our complete battery test table, where you can see how all of the smartphones we've tested will compare under your own typical use.
If you don't spend too long away from a power source on a daily basis, you can, alternatively, still make use of the big battery capacity by choosing to charge more frequently, but not to 100%, which has a proven positive effect on the overall longevity of a Li-Ion battery. Asus spared no effort in the battery care department. In fact, the company claims that their PowerMaster suite includes "the most versatile set of battery customization options found in any phone". While we can't confirm that title with absolute confidence, we can express our admiration with just how far Asus has gone in the quest to maintain the ROG Phone 3 battery in good health.
First off, there is the Custom charging limit, we already mentioned. Li-ion cells hate spending prolonged periods of time at maximum charge, as well as below a certain nominal voltage level. That is what is most likely to damage their capacity in the long run. According to Asus' figures, a battery charged for 500 full cycles to 100% loses around 15% of its original capacity, while charging the same number of cycles to 80% capacity results in 7% battery loss. That's not insignificant on a phone that has the potential to see a lot more abuse, all around, than you average daily driver smartphone, due to its mobile gaming-console DNA.
Even with a more gaming-heavy schedule, the ROG Phone 3 is still likely to have a good six- or eight-hour ballpark of downtime while its owner rests every night. Overnight charging in the traditional sense is bad, since it keeps the battery at maximum charge for longer periods than necessary. Addressing precisely that issue, the ROG Phone 3 has "Scheduled charging". You can either set a given period coinciding with your sleep schedule manually, leave the phone plugged-in during that time and have it to manage its charging so that it only tops-off the final few percentages of "trickle charge" just before you wake up. Or, in what is a new update, you can also use one of the new "Sleep well" options, such as End time by alarm, Do not Disturb, Airplane mode and turning off the charging LED indicator. It's an extra layer of charging smarts.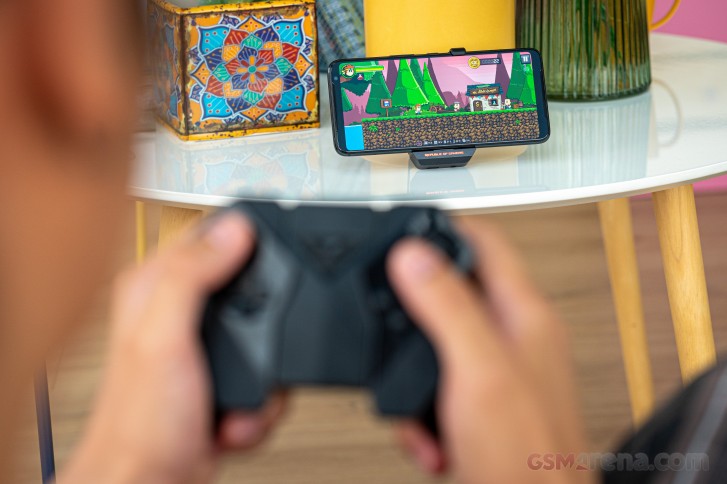 Speaking of charging, there are a few other bits worth pointing out. Like the fact that the ROG Phone 3 supports passthrough power. This is great for prolonged gaming sessions since you are not constantly charging your battery up to 100% and pinning it there to its detriment. You are also not generating any excess heat in the power conversion process. The wall adapter is just delivering the amount of power the ROG Phone 3 currently needs for its internals, with the battery at rest and still ready to spring into action as a UPS, of sorts, if something happens to mains power. It's a distinctly PC approach to power management, which makes a lot of sense, especially on a gaming phone.
Speaking of heat and battery health and longevity, Asus also offers a "Slow charging" mode in its battery menu. It caps charging at 10W and lowers the charging temperature by 34%. This is ideal to use both while charging overnight and when you do want to get some juice in your pack, but don't want to stop gaming.
Asus has a few things to say about its charging choices too. If you opt for full charging speed, the ROG Phone 3 can take up to 30W. Preferably using the provided Asus charger, since the included HYPERCHARGE standard uses a form of direct charging that has a lot of the circuitry and power conversion in the charger itself, instead of the phone, resulting in a lot less heat and from there, better performance and less wear and tear. Asus also claims that its technology does not need a fancy 5A Type-C to Type-C cable to work at full capacity. A good-quality 3A cable will do. Quick Charge 4 and PD are also options, in case you don't have the default charger at hand. You should probably hold on to it, though, as it is surprisingly versatile.
30W do not sound particularly impressive in a market continuously fixating on charging speeds and quickly pushing the 100W mark. Asus understands this all too well, as evidenced by the ample justification of its alternative charging approach and philosophy, laid-out here. However, for the charging-enthusiasts among you, there is yet another positive of a larger battery worth discussing. It has to do with the way current Li-ion battery packs have to be charged.
Regardless of technique, at around 70% of any battery's capacity, you have to switch over to constant voltage charging, which is significantly slower. In that sense, the large 6,000 mAh battery on the ROG Phone 3 can maintain its full 30W charging for longer and reaches 4500mAh in 46 minutes, or 15 minutes faster than a regular 4500mAh battery with its own 30W charger would. Speculative math, for sure, but the illustrated point is still valid - you get a higher total amount of juice quicker.
In our own charging tests, the ROG Phone 3 got from 0% to 24% in 15 minutes, then managed a 50% charge in a total of 35 minutes. It had accumulated 83% at the hour mark, and a full charge took around an hour and 50 minutes.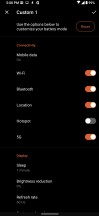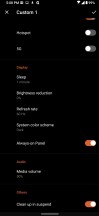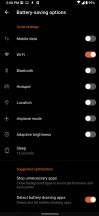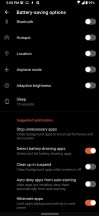 Custom battery savings profiles
Rounding off the battery section, we can't fail to mention that beyond a trio of battery-savings profiles, the ROG Phone 3 also has two slots for custom battery modes. You can set a combination of six different connectivity options, five display ones, audio volume, and an elective background app cleaner for each of the two. There is also a more standard "Hibernate apps" feature to manually or automatically, by suggestion, deal with rarely-used apps and save up to 67% of standby power, as measured by Asus.
Speaker test
Asus' work in mobile audio has been nothing short of industry-leading. We're quite confident in stating this since the ROG Phone II remains one of the benchmark devices in our relatively new loudspeaker test. And on a more subjective level, very few smartphones can even come close to the level of audio fidelity its speakers produce. The iPhone 11 lineup is one and the Xiaomi Mi 10 Pro 5G is another one that comes to mind. Now, so does the ROG Phone 3.
That is to say that the ROG Phone 3 is truly amazing in terms of speakers and does its fair share to push the envelope, but it a slightly different way than the ROG II, with a few noteworthy, but very much justified compromises along the way.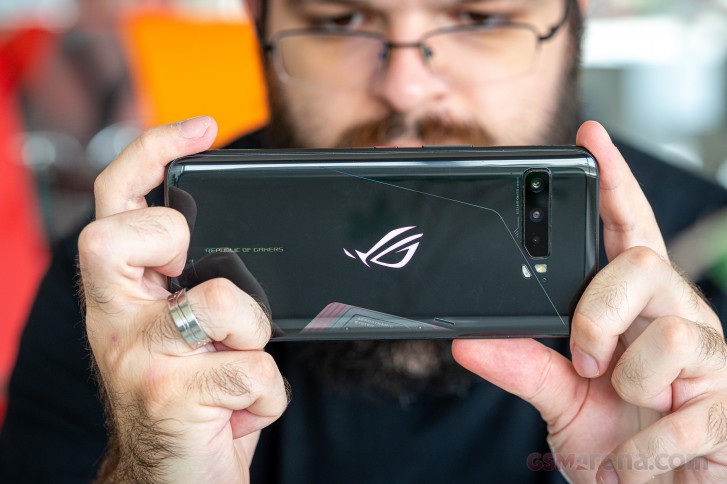 The ROG Phone 3 has a pair of huge front-facing stereo speakers, each powered by its own NXP TFA9874 amplifier. Each of the speakers now has a 7-magnet design, up from 5 in las year's phone. This is the hardware basis for what is an extremely well-balanced and potent stereo setup. Though, interestingly enough, it should be noted that the two speakers are not exactly symmetrical in size and raw output. Hardly an important fact, since the things Asus are doing with said speakers go way beyond their basic hardware characteristics.
Use the Playback controls to listen to the phone sample recordings (best use headphones). We measure the average loudness of the speakers in LUFS. A lower absolute value means a louder sound. A look at the frequency response chart will tell you how far off the ideal "0db" flat line is the reproduction of the bass, treble, and mid frequencies. You can add more phones to compare how they differ. The scores and ratings are not comparable with our older loudspeaker test. Learn more about how we test here.
This is precisely the kind of high-end battles we originally designed our new, detailed speakerphone test for. Addressing the elephant in the room, yes, the ROG Phone 3 is slightly quieter, or rather less "chart-breakingly" loud than its predecessor. And that's without factoring-in the outdoor mode the previous generation had, which seems to be absent this time around. It appears to have departed along with the much more-significant absence of DTS:X Ultra.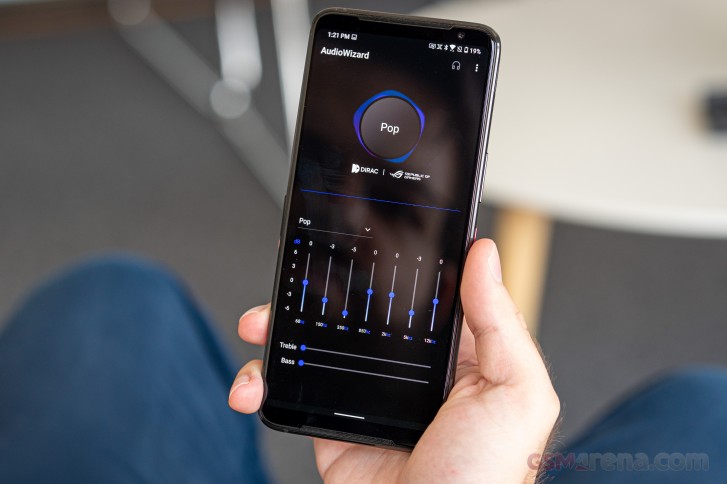 Taking its place, however, is a new tight partnership between Asus and Swedish audio-experts Dirac. The fruit of said partnership is a new audio platform, for the ROG Phone 3, called GameFX. Cutting straight to the point once again, the DTS:X Ultra shoes are unquestionably big and hard to fill, but we feel like this newfound partnership has more than managed to outdo previous efforts. Especially in the areas most-important to the ROG crowd - gaming.
Simplifying a lengthy and riveting discussion on the topic of audio with Asus representatives, Dirac's tech has enabled Asus to go in-depth with the audio tuning for the ROG Phone 3 and especially in a gaming-specific direction to a degree that was not easily achievable with what DTS:X Ultra previously offered. So, you can think of GameFX as a lot less of a "turnkey" solution, but one that opened-up numerous new possibilities.
There's genuinely a lot to go through in GameFX, but we'll try to stick to the most significant bits. First, we'll start with Bass enhancement technology, since that's the one that really managed to impress. By definition, true bass relies on large speaker volume and moving a big quantity of air. These things are outside the reach of a mobile speaker system, even one as beefy as the ROG Phone 3's. The proposed solution here relies on psychoacoustics. It's a fairly complex process of adding specific over-tones to the output of the speaker that extend the perceived bass tone by two octaves. In simpler terms, your brain is tricked into perceiving a 33% wider frequency range than what the physical speakers can output (16,000 - 234 Hz, enhanced to 16,000 - 58Hz), with only a small drop-off in volume as a tradeoff.

The key thing to note here is that the increase is just in perceived bass. That means that the tech works better in certain situations than others and is more convincing to some people than others. It is something hard to put into words, but when it works, you can swear that that kind of low-frequency, deep bass sound cannot, possibly be coming from a smartphone speaker. Probably because it's kind of a great illusion. When it doesn't quite hit its mark, the effect never actually sounds bad or off-putting, but it can fall into "uncanny valley" territory. In much the same way a very, very convincing piece of CGI can mess with your brain. As we said, it's weird and it needs to be experienced in person. We believe there is definitely something to it and that it merits further work.
Bass enhancement technology can be experienced on a system-wide level. The same goes for Impulse response correction, which tries its best to clean-up impulse frequency response and limit sound tapering-off effects, so they don't interfere with other sounds. Same goes for Frequency response correction, which tries to balance and smooth-out frequency responses across the board.

Crosstalk cancellation is a bit more self-explanatory, but still has some subtleties to it. The main concept is to combat the fact that the two speakers in the ROG Phone 3 are physically close to one another and prone to stereo crosstalk. The implemented solution has each of the speakers play the intended signal of the opposite one, with the right delay and phase to cancel-out crosstalk.
Most of these technological layers, however, really all come into play and perform the best in the automatic game-specific audio tuning ROG and Dirac have developed. It is specifically tweaked to offer a gaming advantage. In that sense, it does things like amplifying specific sounds and frequencies, like those of footsteps, instead of just aiming for a generally better audio experience for music or multimedia.
This is yet another case of Asus priorities showing through. GameFX manages to offer the best audio it can for in-game use. While the end results are still industry-leading and on a level of their own for general multimedia use, as well, in some of these scenarios, we found the older ROG Phone II to be a bit more subjectively pleasing to the ear. Even so, it still comes down to us nitpicking and trying to weigh two overwhelmingly excellent marks against one another. We get what Asus was striving towards with the ROG Phone 3 and we think it hit the nail right on the head.
Audio output quality
We've recently discontinued our audio output quality test.
The reason for that is that most phones that arrived for testing were already excellent in this regard and whatever difference there was, it was marginal and probably indistinguishable to anything but our lab equipment.