ARM unveils the Cortex-X4, its fastest CPU yet, Cortex-A720 and A520 and 5th gen GPUs join it
ARM's big.LITTLE CPU configurations have been around for years and the standard practice so far has been to have as many – or more – little cores as there are big cores. This is now changing with the introduction of ARM's new designs.
The high-power Cortex-X4, middle Cortex-A720 and small Cortex-A520 were unveiled today and will work in tandem to balance between performance and efficiency. ARM also introduced the DSU-120, which is what drives the DynamIQ Shared Unit system that allows different CPU cores to work together.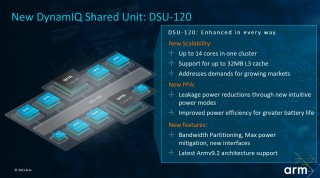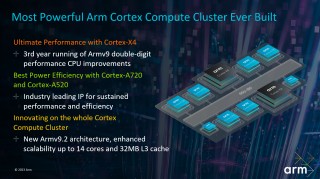 With the DSU-120, chipset makers can build designs with up to 14 CPU cores
Current high-end chipsets have a 1+3+4 or 1+4+3 configurations. While DSU-120 for up to 14-core CPUs, smartphones will probably stick to 8 total. However, the standard configuration will likely change to 1+5+2.
The new Cortex-X4 will take on heavy single-threaded tasks, it promises 15% higher performance than the X3 on equal power (which itself went 25% faster than the X2). For equal performance, the X4 can offer a massive 40% reduction in power use. But the X4 is built for speed, in fact, it is the fastest CPU core that ARM ever designed and is expected to hit clock speeds of 3.4GHz.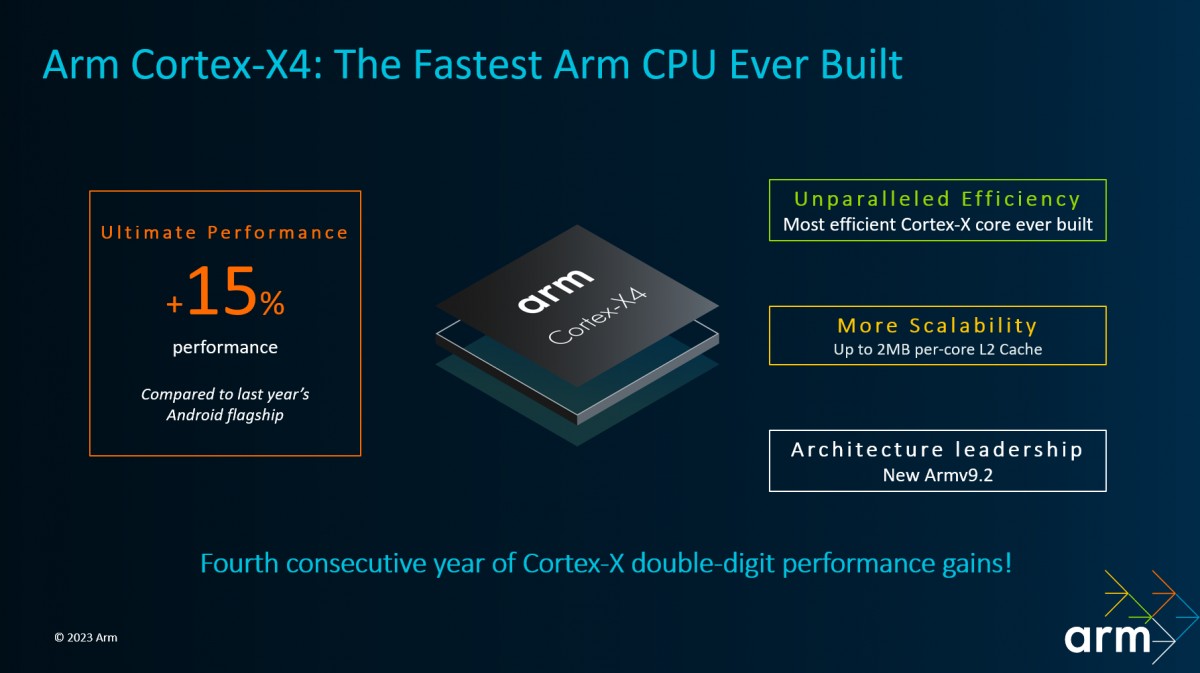 The Cortex-A720 is optimized for efficiency even more than the A700 cores before it. It is 20% more efficient than the A715, which itself was 20% more efficient than the A710. With five A720 cores, they will do a lot of the heavy lifting for multi-threaded workloads and will do it efficiently.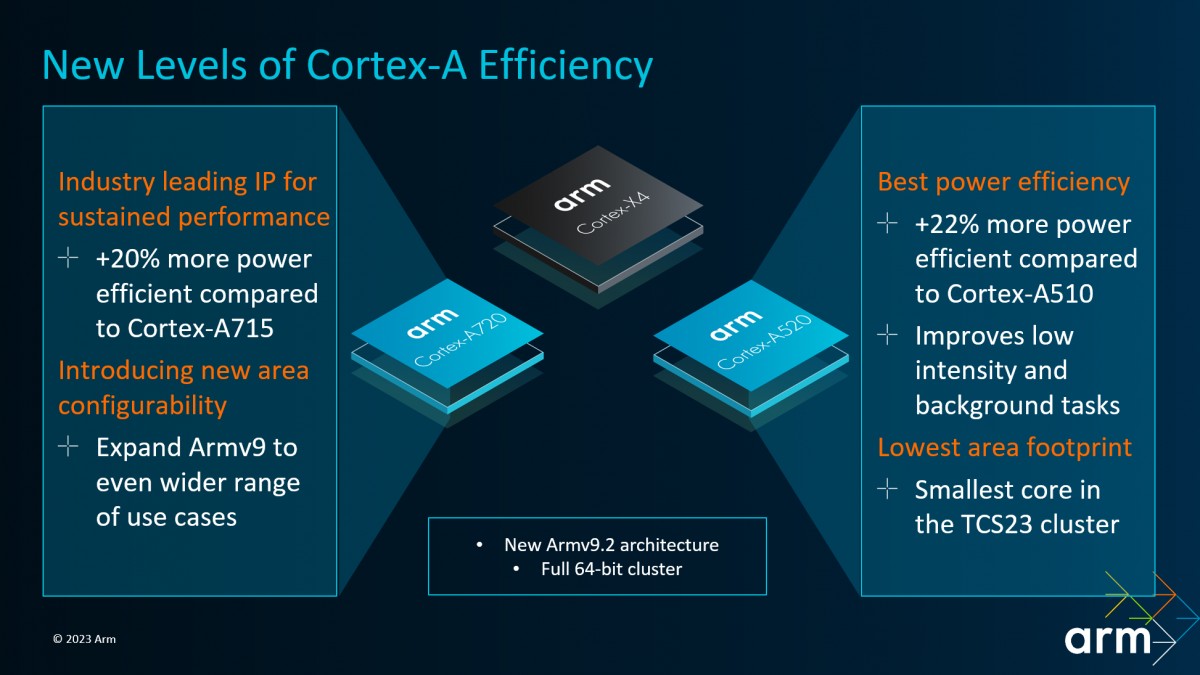 Finally, the Cortex-A520 is still an in-order core. It is designed so that two cores can share execution units to take up as little space on the silicon as possible. The other design goal was to sip power and the A520 is 22% more efficient than the A510. On high end chipsets these will likely focus on background tasks.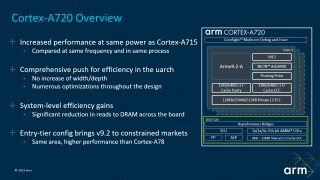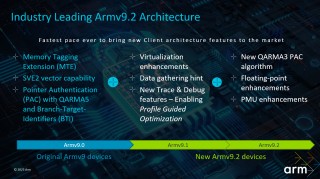 The Cortex-A720 is optimized for efficiency
A new chipset with X4, A720 and A520 cores in a 1+5+2 configuration will offer a 27% boost on Geekbench 6's multi-threaded test compared to a current 1+3+4 X3, A716, A510 CPU when running at the same frequency with the same amount of cache (i.e. before the node advantages of a new chip are accounted for).
Note that none of these cores support the old 32-bit ARM instruction set – software running on these will be optimized for ARMv9. Any companies that still need to support 32-bit can use the Cortex-A710 core.
ARM also unveiled the second generation Immortalis GPU, the G720, for flagship devices. For high-end and mid-range chips, there are the new Mali-G720 and Mali-G620. The three GPUs debut a new architecture, known simply as "5th Gen".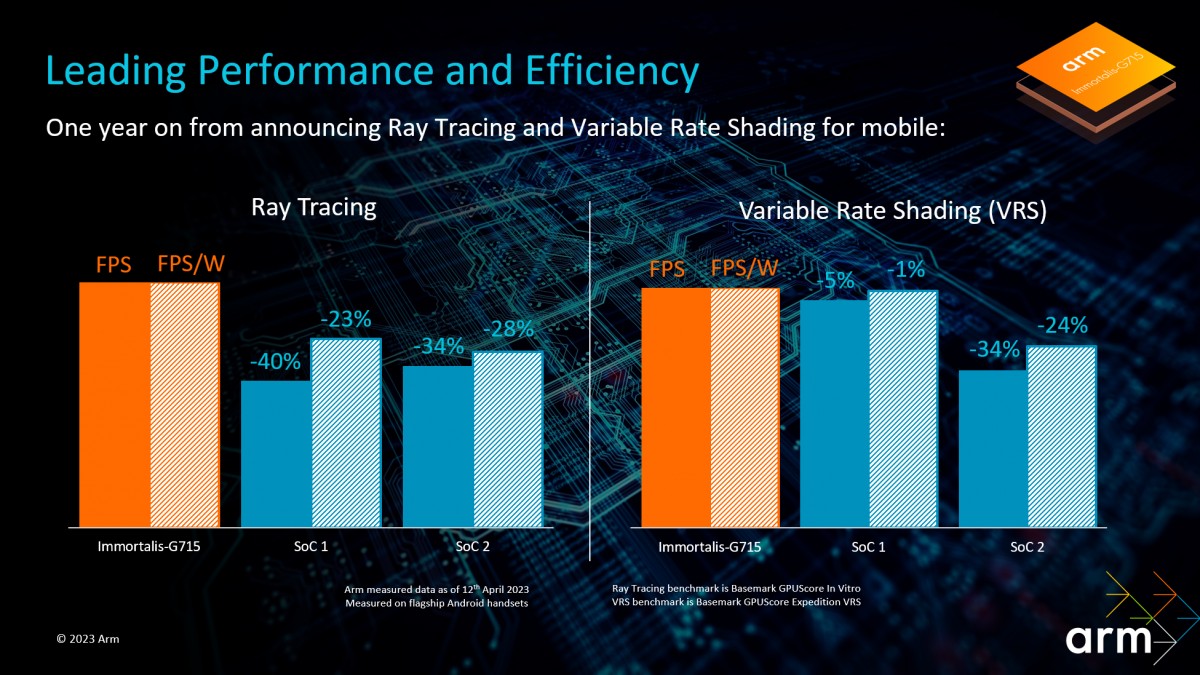 The major change this generation is the Deferred Vertex Shading pipeline. This change reduces the load on memory with 33% bandwidth reduction in Genshin Impact, 26% on Fortnite and 41% on Elven Ruins, a demo by Epic Games made to showcase the Unreal Engine.
The reduced load on the memory also reduces power usage and heat, the slack can be taken up by the GPU. Overall, the 5th gen architecture can offer 15% higher peak performance and 15% higher performance per watt on average.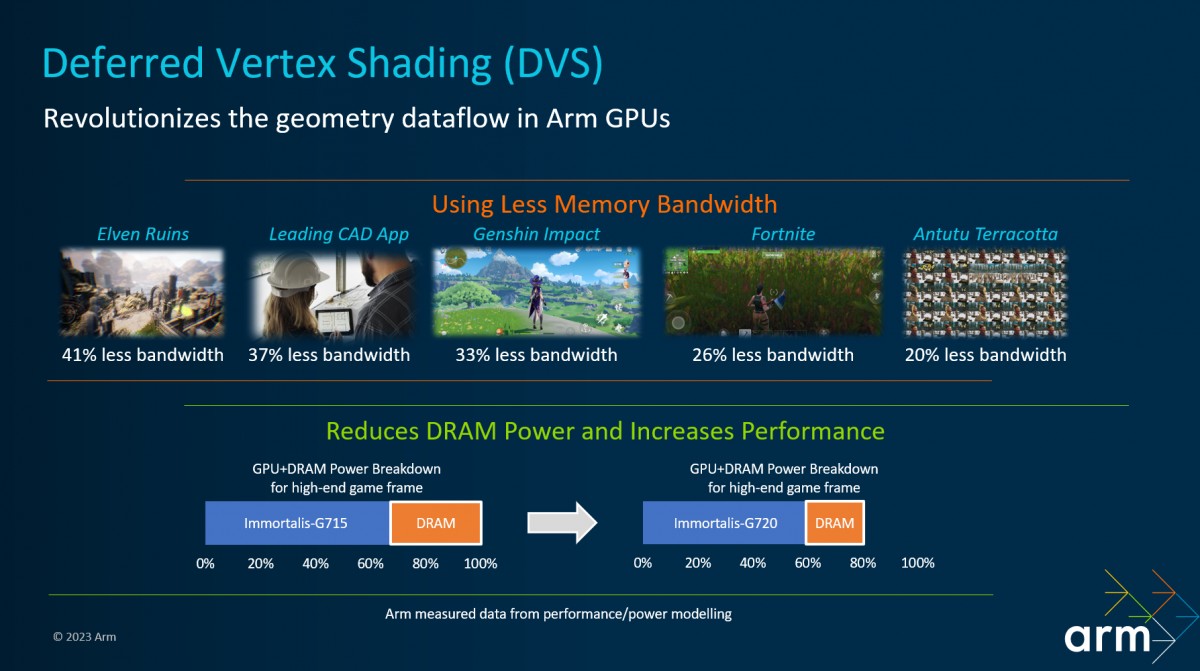 The Immortalis-G720 improves support for ray tracing. ARM is working in collaboration with Tencent Games and MediaTek to develop Smart Global Illumination (SmartGI) as an industry standard.
Immortalis-G720 GPUs will feature 10 or more cores, the Mali-G720 can be configured with between 6 and 9 cores, the Mali-G620 will go up to 5 cores, depending on what the chipset designer has planned.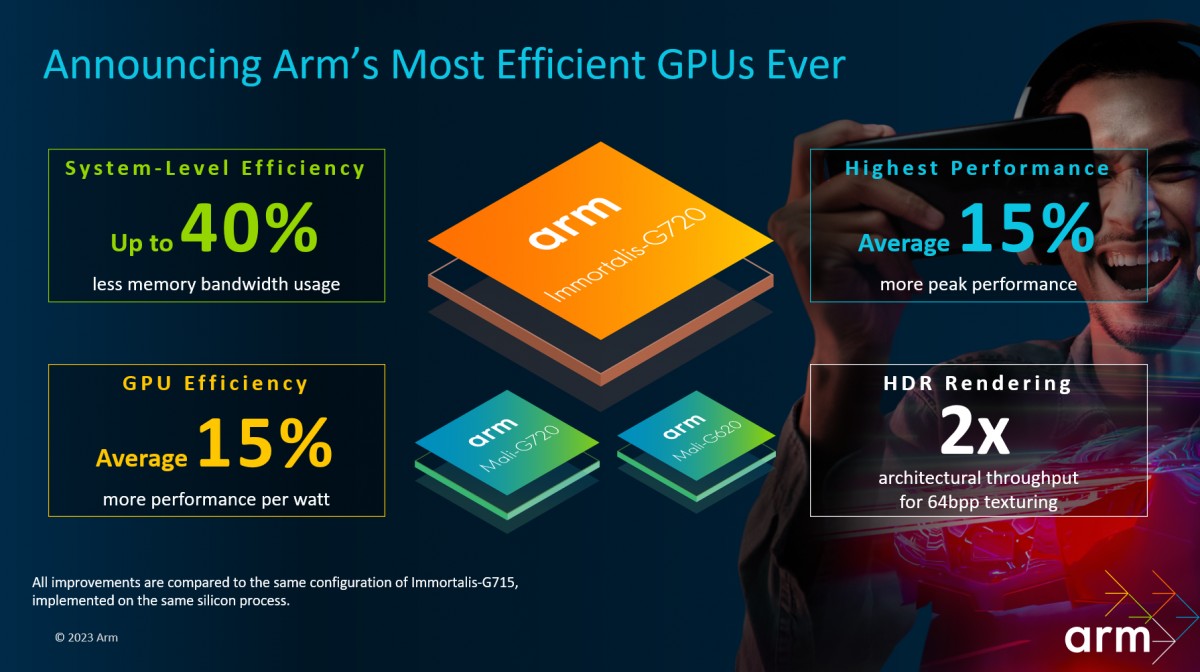 ARM's new CPU and GPU designs are expected to arrive later this year and in early 2024. Interestingly, the press release features quotes from TSMC and Samsung but also the Intel Foundry Services, which said "the combination of leading-edge Intel 18A technology with ARM's newest and most powerful CPU core, the Cortex-X4, will create opportunities for companies looking to design the next generation of innovative mobile SoCs." A third player in the foundry space can push innovation forward and prices lower.
?
Even something like the Mediatek Dimensity 8000/8200 with it's A78+A55 cores and G610 GPU are actually easily powerful yet efficient enoughpartixularly because of there lack of X-Core for most consumers. with the A520/A720 being more effici...
?
Its absolutely insane how quickly companies make certain standards outdated so carelessly now
ADVERTISEMENTS