Apple Vision Pro is introduced as the first "spatial computer", not a mere AR/VR headset
It's here. After years and years of rumors and speculation, today Apple has made the Vision Pro official. It's the company's first VR/AR headset, but of course, this being Apple, it's not calling it that - instead, it's billed as the first ever "spatial computer". It's running an entirely new operating system too, dubbed visionOS.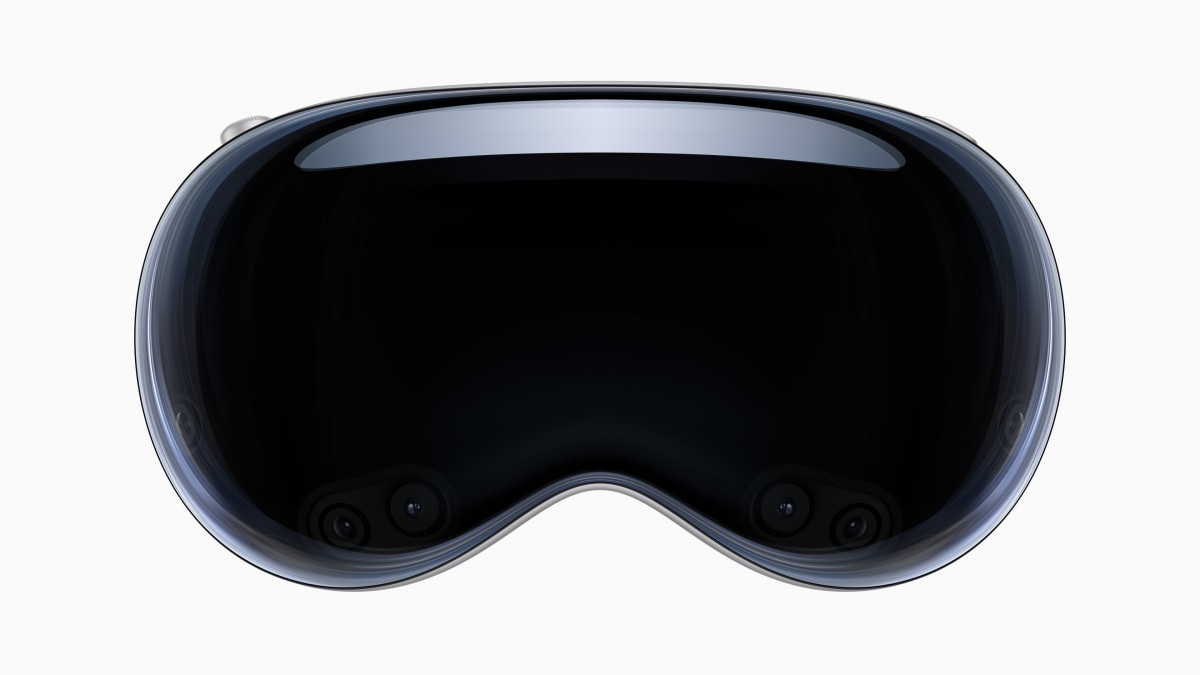 The headset's "display system" packs 23 million pixels ("more than a 4K TV for each eye") across two micro OLED screens, "each the size of a postage stamp", Apple boasts, in case anyone remembers what that is. There are custom catadioptric lenses in there too to enable "incredible sharpness and clarity" for "jaw-dropping experiences" with wide color and high dynamic range. For users with vision correction needs, there will be Zeiss Optical Inserts to ensure visual fidelity and eye tracking accuracy.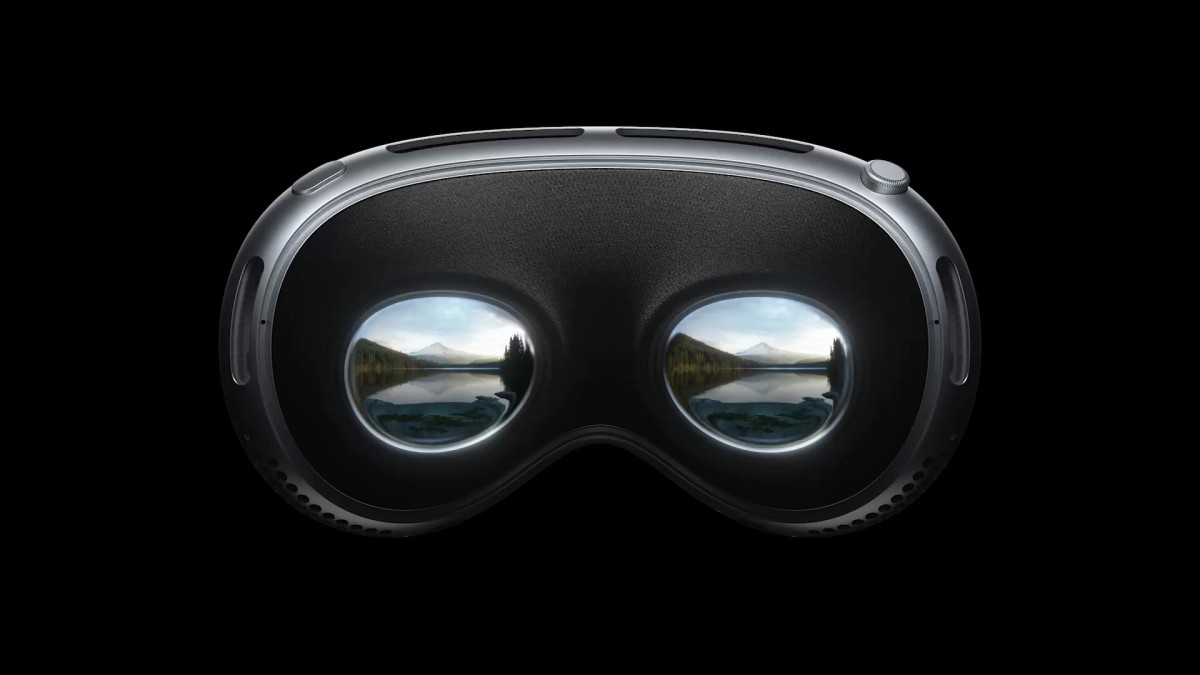 The Vision Pro is powered by a custom dual-core version of Apple's M2 chipset, aided by a brand new R1 chip that processes input from 12 cameras, five sensors, and six mics to ensure that content always appears right before your eyes. The R1 streams new images to the displays within 12ms, which is apparently 8 times faster than the blink of an eye.
The headset has two hours of battery life from an external, "high-performance" custom portable battery pack, or you can use it all day when plugged in.
You unlock Vision Pro with your retina via a new system called Optic ID, which is a new secure authentication system for analyzing your iris.
The visionOS UI is controlled by your eyes, hands, and voice - there are no physical controllers whatsoever. You can browse through apps by simply looking at them, tapping your fingers to select, flicking your wrist to scroll, or using your voice to dictate.
Through something which Apple calls EyeSight, when a person approaches you while you have the headset on, the device feels transparent - they can see an image of your eyes, while you can see them too. When you're immersed in an environment or using an app, EyeSight gives visual cues to others that you are "busy".
There's a new App Store for visionOS, where you can access hundreds of thousands of iPhone and iPad apps that will automatically work with the new input system for the Vision Pro. The headset lets you take FaceTime calls with everyone on the call shown in life-size tiles, and there's Spatial Audio, too so they all sound like they're speaking from where they're positioned.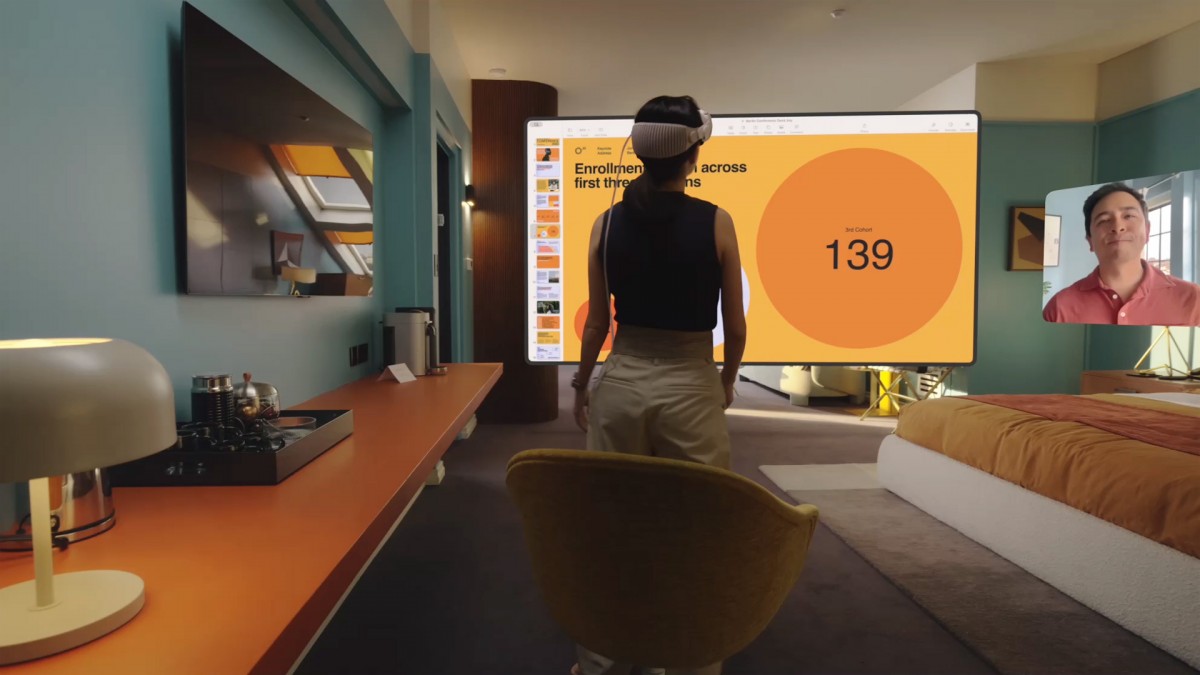 Users wearing the Vision Pro during a call are reflected as a "Persona", which is a digital representation of themselves created using Apple's most advanced machine learning techniques, reflecting face and hand movements in real time. You can watch a movie together, browse photos, or collaborate on a presentation.
visionOS' 3D interface lets apps appear side by side at any scale, and there's support for Magic Keyboard and Magic Trackpad too so you can set up a workspace bringing the capabilities of your Mac into the Vision Pro wirelessly, "creating an enormous, private, and portable 4K display with incredibly crisp text".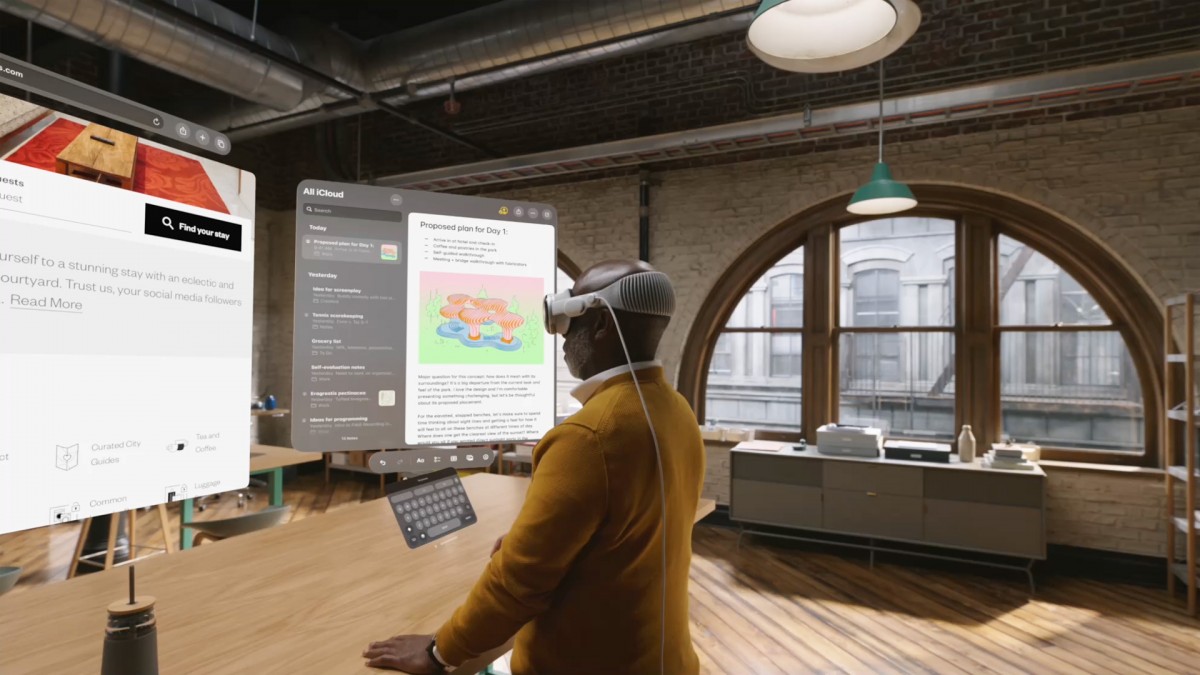 The Vision Pro can turn any space into a personal movie theater with a screen that "feels 100 feet wide" as well as an advanced Spatial Audio system. You can also play over 100 Apple Arcade games on a screen as large as you want, with immersive audio and support for popular game controllers.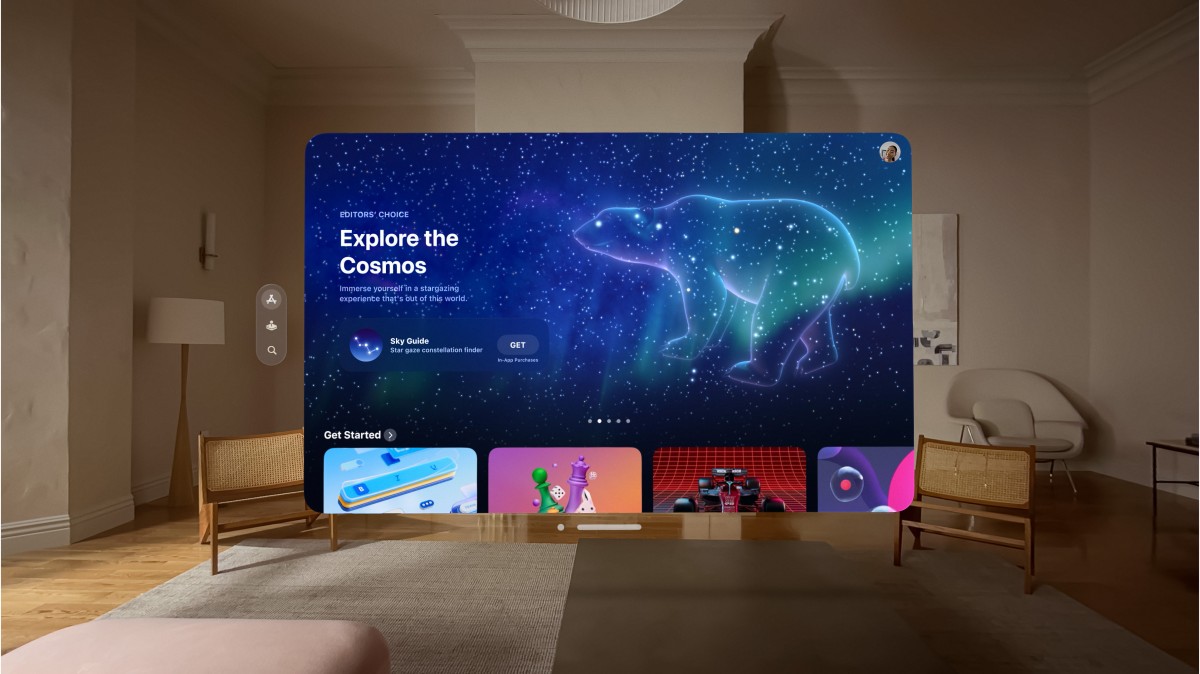 With a twist of the Digital Crown on the headset, you can control how present or immersed you are. The Vision Pro has Apple's first 3D camera, which lets you capture, relive, and immerse yourself in your favorite memories with Spatial Audio. You can access your entire photo library in iCloud, and view photos and videos at a life-size scale. And panoramas shot on iPhones expand and wrap around you, creating the sensation that you're standing right there where it was taken.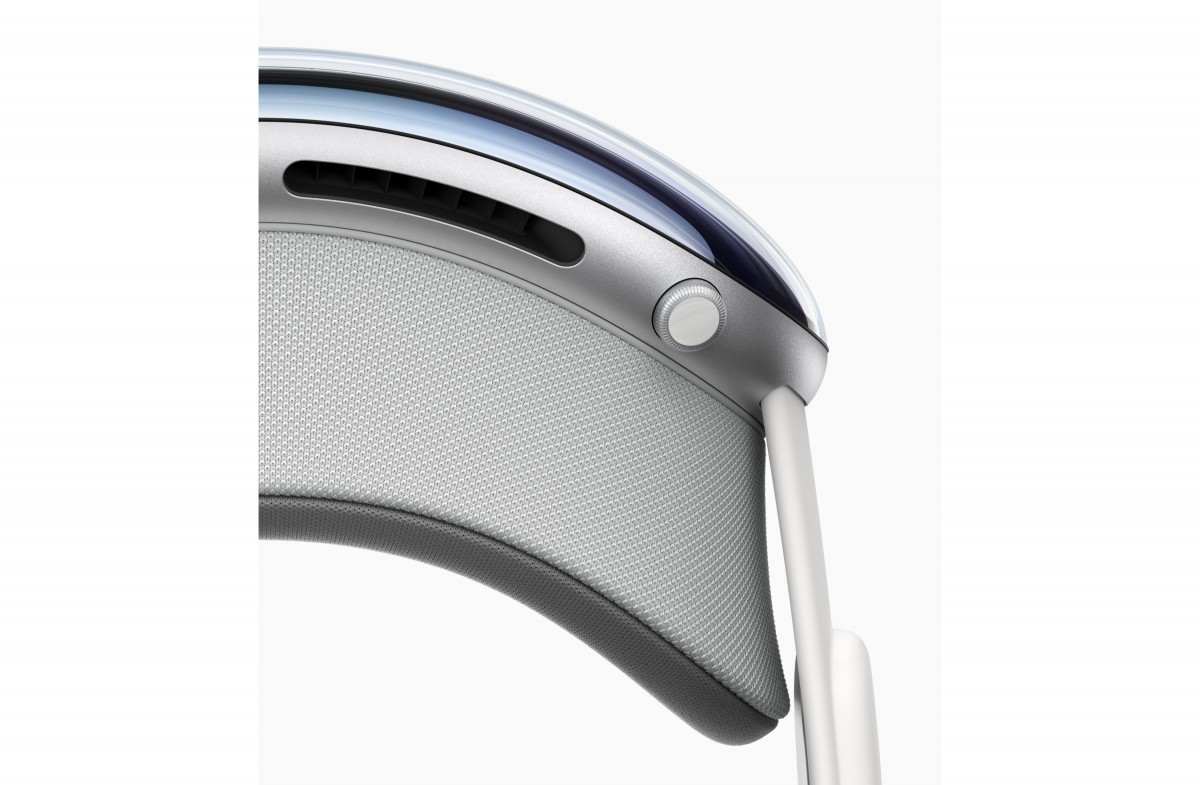 The Apple Vision Pro's glass "flows" seamlessly into a custom aluminum alloy frame that curves around your face, with a modular system allowing for a tailored fit. The Light Seal is made from soft textile in a range of shapes and sizes, flexing to conform to your face for a precise fit, while flexible straps ensure audio remains close to your ears. The Head Band is secured with a simple mechanism allowing for easy swaps to another size or another style. The default one is 3D knitted as a single piece to provide cushioning, breathability, and stretch.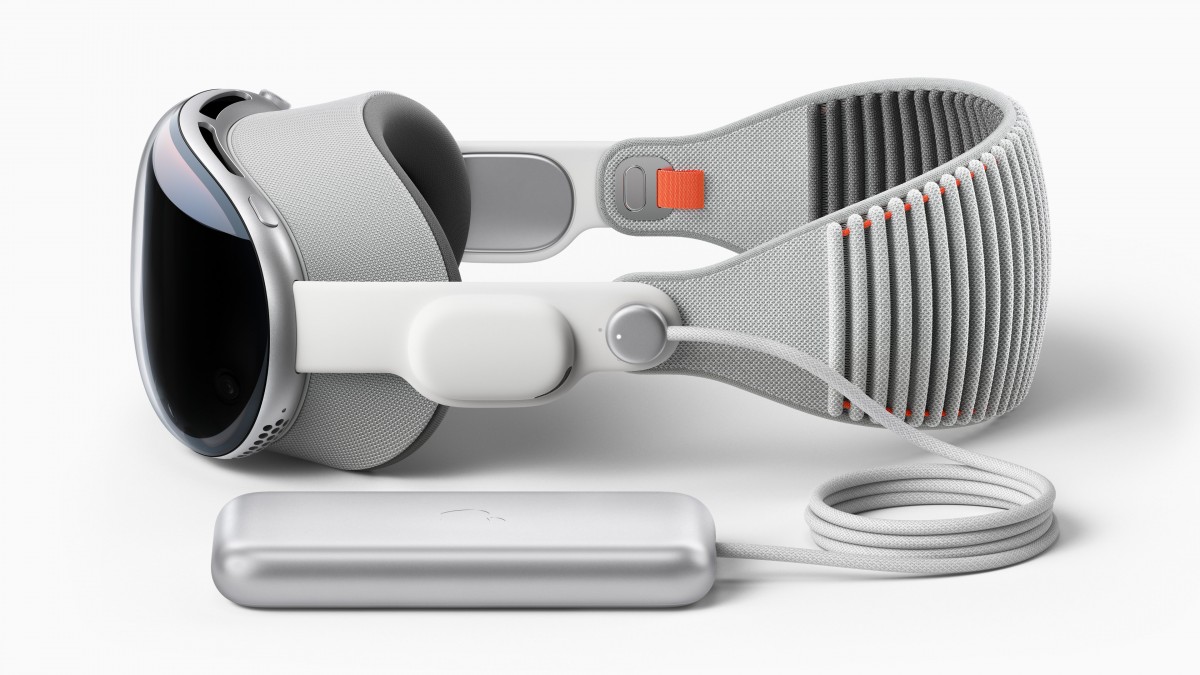 The Apple Vision Pro will become available in the US only early next year for $3,499. It will then expand to other countries later in 2024.
C
Why lots people are so concerned of the privacy. Because I'm not. I'm wide open to look on and I don't give a shit.
S
I see some main issues:- 1. Privacy disaster with all those cameras, mics, and a "company declared" privacy policy, rather than user declared. 2. Socially, this will bring huge distances if this is to go mainstream as a laptop/ mo...
?
Apple didn't released the first smartphone/tablet/wireless headphones...etc It the same with Vision Pro. All of this is overated with heavy marketing...the same with Vision Pro... Nothing new but a big show to make you think it's ...
ADVERTISEMENT