Display
The Apple iPhone SE (2022)'s 4.7-inch LCD dates back to the iPhone 7. It has 750 x 1,334 pixels or 326ppi - what Apple marketing likes to call Retina resolution, but that's a term long deprived of meaning.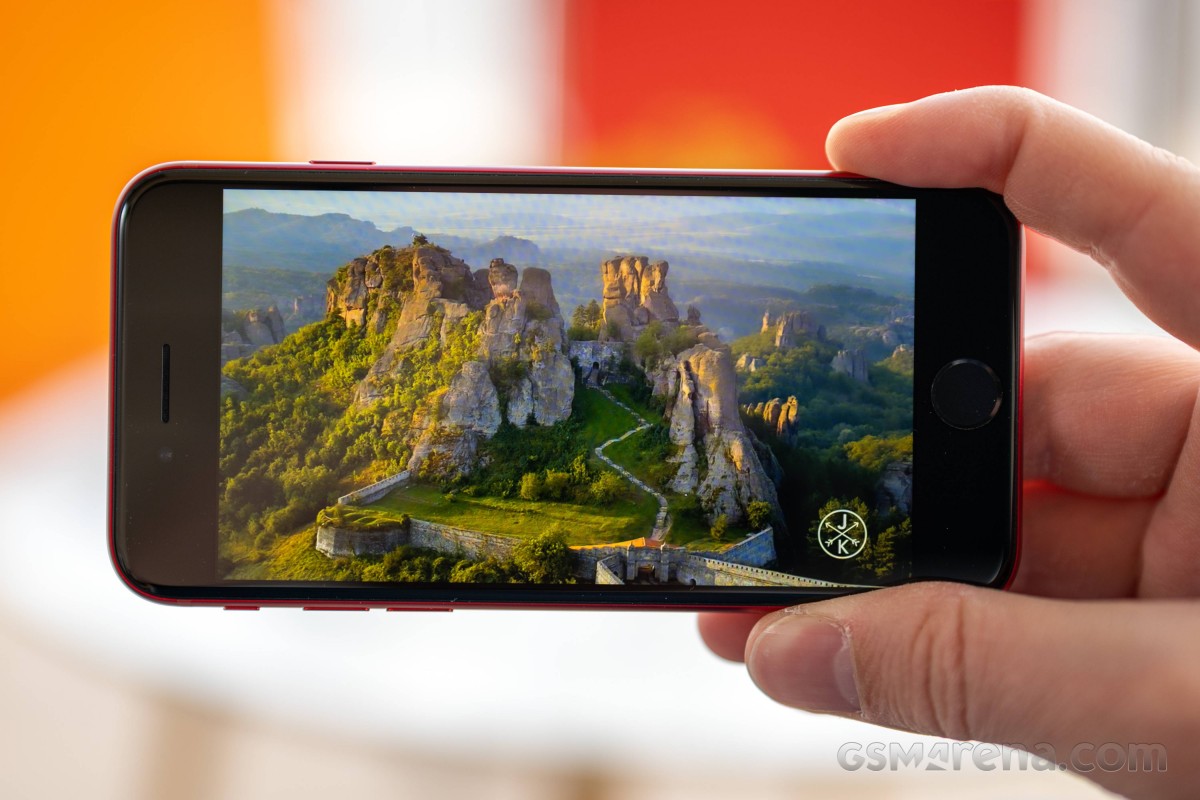 The panel is advertised to reach 625nits of maximum brightness, 1400:1 contrast and offers True Tone enhancement. The panels of the same sized used on the iPhone 6 and 6s had lower brightness, did not offer P3 color support, and True Tone wasn't a thing back then.
The iPhone SE (2022) screen has a fixed refresh rate of 60Hz and 60Hz of touch sampling rate.
The screen features a Corning-made protective glass with oleophobic coating for smudge resistance.
So, we start with our traditional display measurements. The LCD panel on the third iPhone SE scored an excellent contrast ratio of 1424:1 - in line with what Apple promises. The display offers deep enough black level and a high maximum brightness of 605 nits.
The minimum brightness we captured at point white was 2.6 nits - an impressive one for an LCD screen.
Display test
100% brightness
Black,cd/m2
White,cd/m2
Contrast ratio
Apple iPhone SE (2022)
0.425
605
1424:1
Apple iPhone SE (2020)
0.434
670
1544:1
Apple iPhone 8 (Standard)
0.399
566
1419:1
Apple iPhone 8 (Max Auto)
0.468
640
1368:1
Apple iPhone 7
0.35
561
1603:1
Apple iPhone 7 (max auto)
0.40
656
1640:1
Apple iPhone 12 mini
0
627
∞
Apple iPhone 13 mini
0
831
∞
Xiaomi 12X
0
504
∞
Xiaomi 12X (Max Auto)
0
925
∞
Samsung Galaxy A53 5G
0
427
∞
Samsung Galaxy A53 5G (Max Auto)
0
830
∞
OnePlus Nord 2 5G
0
438
∞
OnePlus Nord 2 5G (Max Auto)
0
633
∞
Realme GT2
0
517
∞
Realme GT2 (Max Auto)
0
846
∞
Color accuracy
The iPhone SE (2022) display has an outstanding calibration and color accuracy - we measured an average deltaE of 1.2 against sRGB targets. The screen fully supports DCI-P3, and it automatically switches to this gamma when DCI-P3 content is displayed.
Streaming
According to Apple the iPhone SE (2022) supports HDR10 and Dolby Vision video streaming, and indeed, all popular apps recognized the screen as such. Our experience with the streaming on the go was great - the colors, the brightness, and the contrast are very good. Of course, that ancient LCD is not actually an HDR panel, so it tone-maps HDR content to its SDR capabilities. Soo while HDR content will play don't expect to see any difference over SDR.
Battery life
The Apple iPhone SE (2022) is powered by a 2,018mAh battery, which is a 10% increase over the previous 2020 model. Combined with the new more power-efficient chipset, the third iPhone SE promises 2 more hours of video playback (both local and streamed), as well as 10 more hours of audio playback.
The phone also supports up to 20W wired fast charging, you just need a compatible USB Power Delivery charger.
So, the new iPhone SE (2022) scored an overall endurance rating of 62 hours, which is rather poor. It clocked 2 more hours on 3G calls and 1 additional hour on video playback compared to the SE (2020). The standby endurance and the web times remain virtually unchanged.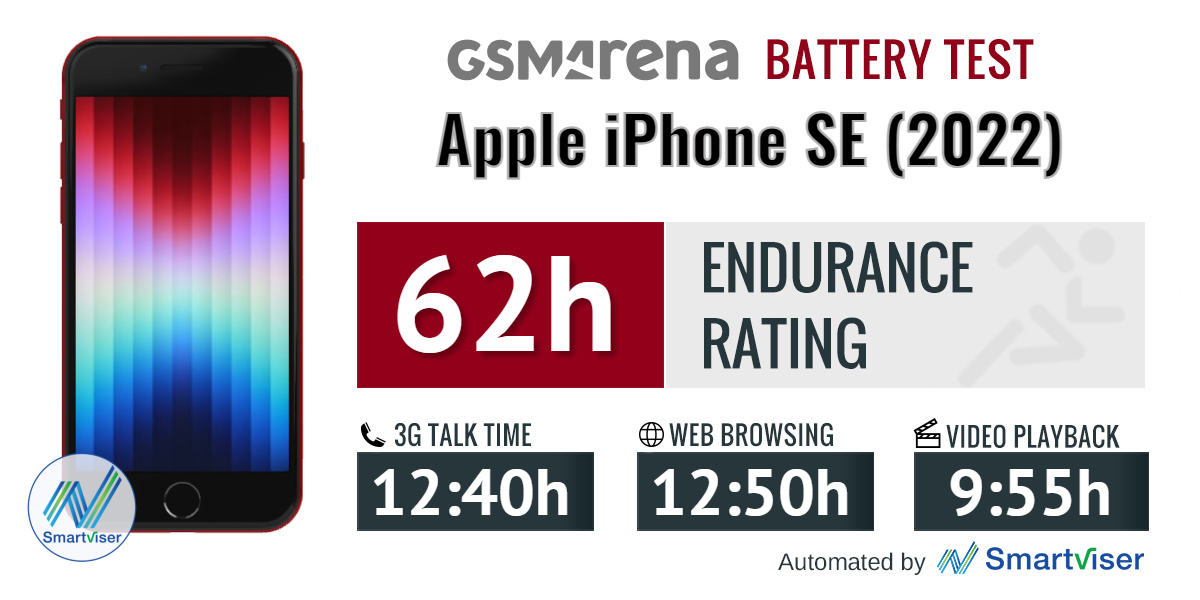 The endurance rating denotes how long the battery charge will last you if you use the device for an hour of telephony, web browsing, and video playback daily. More details can be found here.
While the endurance rating is low, it is mostly hurt by the standby performance, which is 165 hours - far less than the usual 350-450 hours we get from a smartphone this days, it is in line with other current and previous iPhone models. The standalone tests calls, web and video are actually pretty good for such a tiny device with a small battery.
To adjust the endurance rating formula to match your own usage patterns check out our all-time battery test results chart where you can also find all phones we've tested.
Charging speed
The iPhone SE (2022) supports wired charging up to 20W and basic wireless charging up to 7.5W. There is no MagSafe support for this iPhone, and just like the rest of the iPhone lineup, it ships without a charger.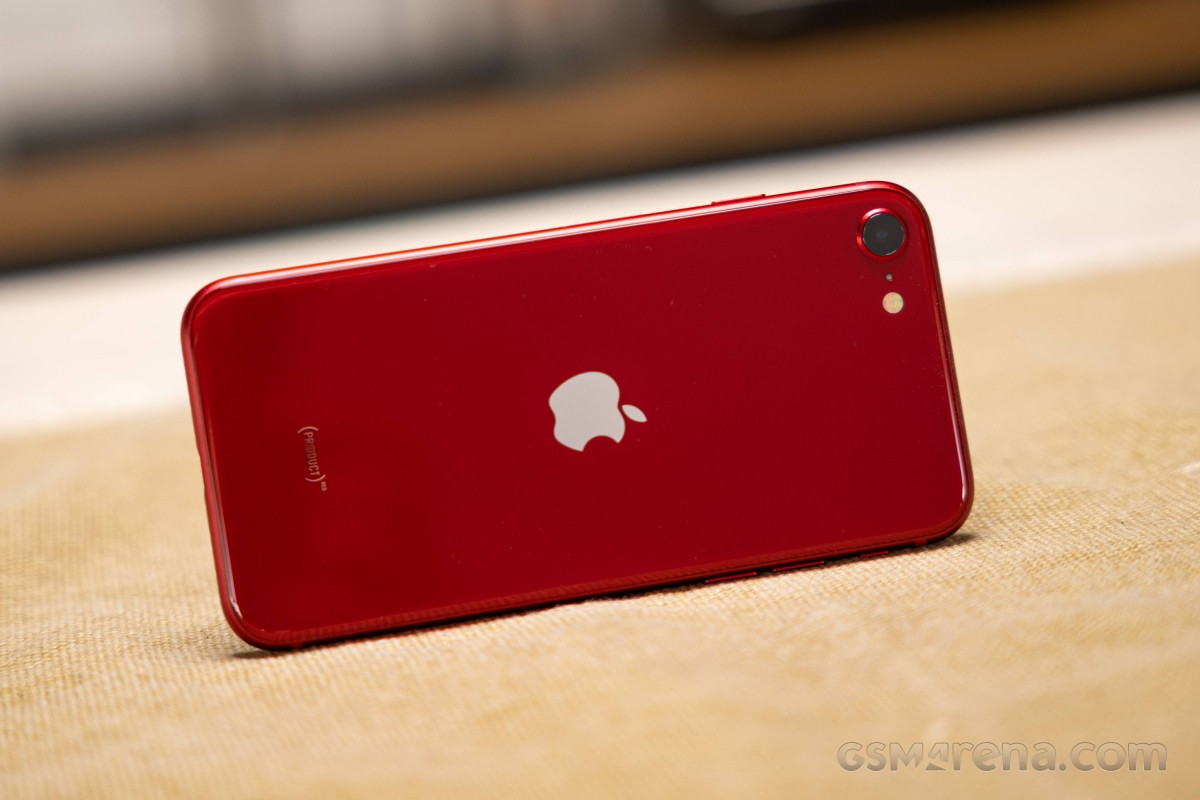 Any USB-C PD charger will do fine for the iPhone SE (2022). We used Apple's 20W Power Adapter as we think most iPhone users will get one and keep it for their next phones.
So, using Apple's 20W charger, the iPhone SE (2022) battery went from 0% to 61% in 30 minutes.
30min charging test (from 0%)
Higher is better
Samsung Galaxy S22
63%
Apple iPhone SE (2022)
61%
Apple iPhone 13 mini
61%
Apple iPhone 12 mini
60%
Asus Zenfone 8
60%
Apple iPhone 12
58%
Apple iPhone SE (2020)
57%
Apple iPhone 13
54%
A full charge requires 1 hour and 1 minutes, though we should note the last 10% took over 20 minutes.
Time to full charge (from 0%)
Lower is better
Samsung Galaxy S22
1:03h
Apple iPhone SE (2022)
1:18h
Apple iPhone 13 mini
1:24h
Asus Zenfone 8
1:28h
Apple iPhone 12 mini
1:29h
Apple iPhone 12
1:30h
Apple iPhone SE (2020)
1:40h
Apple iPhone 13
1:46h
Speakers - loudness and quality
The Apple iPhone SE (2022), just like the iPhone SE (2020) and many of the recent iPhone models, offers a hybrid stereo speaker setup. This means there is one speaker at the bottom of the phone, while the earpiece doubles as a second one.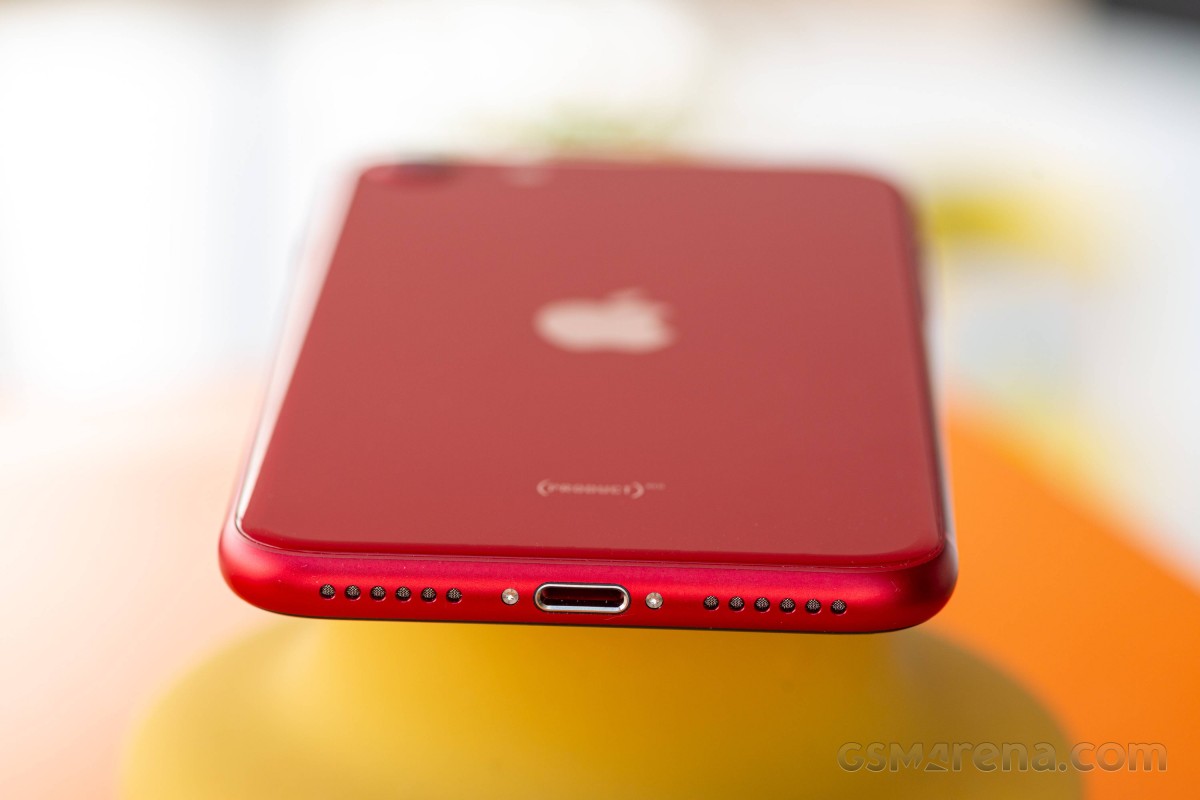 The speakers are not too mismatched and we are happy with the listening experience, whether it was in portrait or landscape orientation. Of course the bottom speaker is a bit louder and offers more bass, but it's not too bothersome.
The iPhone SE (2022) scored a Very Good mark on our loudness test, just like most of the recent iPhones we've tested.
Even better, its audio quality also deserves a Very Good mark for the balanced and rich sound. It is not as great as the deep sound coming from the iPhone 13, but close.
Use the Playback controls to listen to the phone sample recordings (best use headphones). We measure the average loudness of the speakers in LUFS. A lower absolute value means a louder sound. A look at the frequency response chart will tell you how far off the ideal "0db" flat line is the reproduction of the bass, treble, and mid frequencies. You can add more phones to compare how they differ. The scores and ratings are not comparable with our older loudspeaker test. Learn more about how we test here.