The 4" Retina display returns unchanged
There is a lot that can be said about the old 4" Retina display, and the opinions will be polarized. The naysayers will nag incessantly about the super small display, the big bezels, the low screen resolution while the opposite camp will praise the great colors and sunlight legibility, as well as the high brightness.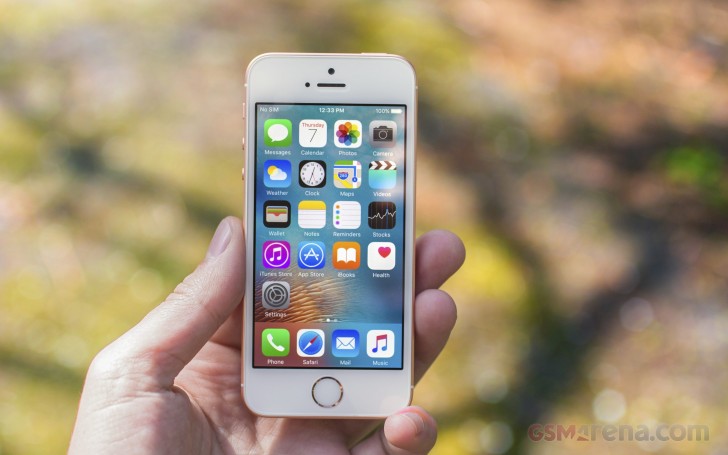 We'll keep it simple. The display uses a 4" IPS panel of 640 x 1136 pixels, which is 326ppi density - the very definition of a Retina display.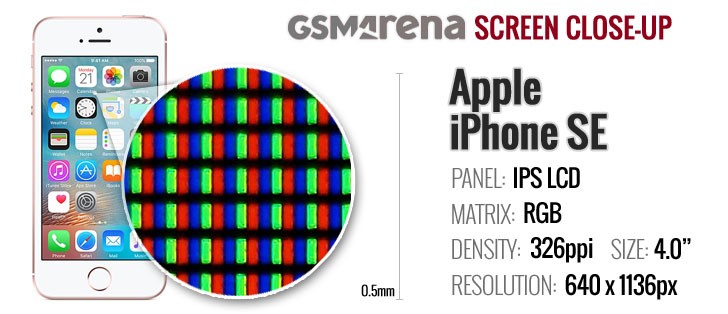 The iPhone SE rendition of blacks is brighter than we would prefer, but on the other end of the spectrum, the 600 nits worth of brightness level is quite appreciable. The resulting contrast of 1:804 is not as noteworthy mainly due to the poor black levels.
As a comparison, the 4.7" iPhone 6s screen has the same 326ppi but is a less bright screen with higher contrast.
Regarding color rendering, the iPhone SE scored excellently with an Average DeltaE of 2.3, which means an almost perfectly calibrated screen. The maximum deviation of 5.2 is in the whites which come out slightly bluish but it's not something you would notice without an external reference point.
Display test
100% brightness
Black, cd/m2
White, cd/m2
Contrast ratio
Apple iPhone 6s
0.36
536
1481
Apple iPhone SE
0.77
618
804
Xiaomi Mi 5
0.51
628
1227
Xiaomi Mi 4S
0.49
475
975
OnePlus X
0.00
340
∞
Samsung Galaxy S7
0.00
391
∞
Samsung Galaxy S6 edge
0.00
313
∞
LG G5
0.17
306
1855
As far as sunlight legibility goes, the iPhone SE is an excellent performer outside with excellent contrast under bright sunlight, which puts it towards the top of our chart.
Sunlight contrast ratio
Samsung Galaxy S6 edge+
4.615
Samsung Galaxy S7 edge
4.439
Samsung Galaxy S7
4.376
HTC One A9
4.274
Samsung Galaxy A3
4.241
Samsung Galaxy S6 edge
4.124
Samsung Galaxy Note5
4.09
Huawei Nexus 6P
4.019
OnePlus X
3.983
Oppo R7s
3.964
Samsung Galaxy A7 (2016)
3.918
Samsung Galaxy A5
3.895
Samsung Galaxy J7 outdoor
3.879
Samsung Galaxy J2 outdoor
3.873
Samsung Galaxy A8
3.859
Apple iPhone 6
3.838
Microsoft Lumia 950XL
3.837
Samsung Galaxy A9 (2016)
3.817
Motorola Moto X (2014)
3.816
Samsung Galaxy A5 (2016)
3.789
Apple iPhone 6s
3.783
Meizu Pro 5
3.781
Microsoft Lumia 650
3.772
Vivo X5Pro
3.706
Apple iPhone SE
3.681
Samsung Galaxy A7
3.679
BlackBerry Priv
3.645
Apple iPhone 6s Plus
3.53
Acer Jade Primo
3.521
Microsoft Lumia 950
3.512
Oppo R7 Plus
3.499
Samsung Galaxy J7
3.422
Meizu MX5
3.416
Oppo R7
3.32
Xiaomi Mi 5
3.24
Samsung Galaxy J2
3.235
Motorola Moto X Play
3.222
Lenovo Vibe Shot
3.113
LG Nexus 5X
3.092
Huawei Mate S
3.073
Microsoft Lumia 640 XL
3.065
Apple iPhone 6 Plus
3.023
Samsung Galaxy Note
2.97
Huawei Mate 8
2.949
LG G5
2.905
HTC One S
2.901
Sony Xperia Z5
2.876
Microsoft Lumia 550
2.851
Sony Xperia Z5 compact
2.784
LG V10
2.744
Xiaomi Redmi 3
2.735
Sony Xperia M5
2.69
Xiaomi Mi 4i
2.641
Xiaomi Mi 4c
2.574
Microsoft Lumia 640
2.563
Oppo F1
2.528
Sony Xperia Z5 Premium
2.525
Sony Xperia M4 Aqua
2.503
Motorola Moto G
2.477
Huawei G8
2.471
Sony Xperia Z
2.462
Huawei Honor 7
2.406
ZUK Z1 by Lenovo
2.382
HTC One E9+
2.305
Alcatel One Touch Hero
2.272
Apple iPhone 4S
2.269
Lenovo Vibe K4 Note
2.254
Sony Xperia C5 Ultra
2.253
Xiaomi Redmi Note 3 (MediaTek)
2.249
Sony Xperia C4 Dual
2.235
Motorola Moto G (2014)
2.233
LG Nexus 5
2.228
Huawei P8
2.196
Xiaomi Redmi Note 2
2.166
OnePlus Two
2.165
HTC One X
2.158
LG Aka
2.145
Archos 50 Diamond
2.134
Xiaomi Redmi Note
2.119
Xiaomi Mi 4S
2.095
Huawei P8lite
2.078
Moto G 3rd gen max manual
2.026
Sony Xperia E4g
1.972
OnePlus One
1.961
Meizu m2 note
1.892
BlackBerry Leap
1.892
HTC Butterfly
1.873
ZTE Nubia Z9 mini
1.759
Sony Xperia U
1.758
Asus Zenfone Selfie
1.68
Motorola Moto E (2nd Gen)
1.675
ZTE Nubia Z9
1.659
Motorola Moto E
1.545
Sony Xperia M
1.473
Xiaomi Redmi 2
1.311
Sony Xperia C
1.283
Meizu MX
1.221
Battery life
The battery inside the iPhone SE is slightly bigger than the one inside the iPhone 5s. The iPhone 5s has a 1,560mAh battery, whereas a 1,624mAh unit powers the iPhone Special Edition.
Apple iOS 9 introduced a Low-Power mode, which you will be prompted to turn on once the charge drops below 20%.
The iPhone SE posted very balanced score across all of our tests - it can do about 12 hours of 3G calls, 13 hours of web browsing, or 14 hours of video playback on a single charge.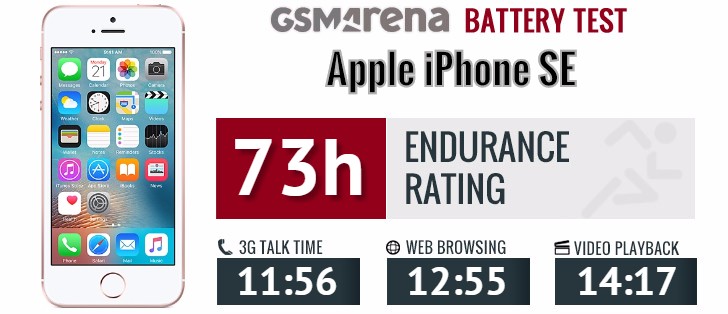 So, the total rating of the iPhone SE is 73 hours - 11 hours better than the iPhone 6s and 19 hours on top of the iPhone 5s.
This is how long a single battery charge will last you if you use the iPhone SE for an hour each of telephony, web browsing, and video playback daily. Such usage pattern is of course entirely artificial, but we've established it so our battery results are comparable across devices.
The battery testing procedure is described in detail in case you're interested in the nitty-gritties. You can also check out our complete battery test table, where you can see how all of the smartphones we've tested will compare under your own typical use.
Connectivity
The Apple iPhone SE comes with a bunch of wireless connectivity features. It supports fast LTE Cat. 4 (up to 150Mpbs down, 50Mbps up) with wide LTE bands coverage. Regular 2G and 3G connectivity are safely covered as well with a multitude of supported network bands.
The iPhone SE also supports the latest Voice over LTE (VoLTE), HD Voice and Wi-Fi calling protocols, but those are carrier-dependent features, so not everyone will enjoy them.
The iPhone SE supports all the current Wi-Fi a/b/g/n/ac standards. AirPlay is the only way to cast your screen's contents to an HDTV wirelessly, but you'd need to have an Apple TV set-top box.
Some apps will allow you to cast your screen to a Chromecast or a Smart HDTV, but compatibility with the latter will vary.
Additional local connectivity includes Bluetooth 4.2 LE. There is also support for NFC, but its functionality is only limited to Apple's region-restricted Apple Pay.
The iPhone SE uses a proprietary Lightning connector for wired data transfers and charging.
There is no support for USB On-the-go or USB host, but you can pair a Bluetooth keyboard to the phone should you need this sort of peripheral.
For transferring pretty much any content, you will be dependent on syncing it via the Apple iTunes software on your computer. The good news is that it can connect wirelessly to your iPhone over Wi-Fi. The bad news is that the paradigm of syncing content between the computer and the phone is quite old - as old as the first iPod and nowhere near as user-friendly and straightforward as copy-pasting. It also requires you add your content to iTunes library first.