Controls
Most of the front is taken up by the 4.7" display, with a resolution of 750 x 1334 pixels. Compared to the 640 x 1136 pixels on the iPhone 5S the jump in resolution is not a lot but it's enough to work out to a pixel density of 326ppi sharp - the same as last season's.
The display is of the LED-backlit IPS LCD variety, but more on that in the dedicated chapter.
The layout on the front is the same as on the iPhone 5s. The Home key below the screen doubles as a TouchID sensor and above the screen there is the earpiece and the usual array of sensors - proximity and ambient light, as well as the front camera.
The 1.2MP front facer hasn't seen an increase in resolution, but has a wider F/2.2 aperture (up from F/2.4) and can make use of the Auto HDR feature not just for photos but for videos as well. The camera has also moved to the left side of the earpiece instead of being placed dead center.
The Home button hides the Touch ID fingerprint sensor. It can store up to several authorized fingerprints and reportedly has even faster operation than the iPhone 5s thanks to a wider scanning area and iOS 8 optimizations but we noticed no difference in actual usage. Reports suggest it's slightly harder to fool with a fake fingerprint than the 5s, but is in no way hack-proof.
On the iPhone 6, a double tap on the sensor (as opposed to a double press on the button) activates the Reachability mode, which scales the interface down so it's easier to reach across in single-hand use. The iPhone 5S doesn't have that functionality.




Above and under the screen • the Touch ID sensor
On the left, you get the usual three buttons: volume up, volume down and a Mute toggle. The toggle is protruding more than before and seems a bit easier to switch accidentally now, but we guess they made it this way to be comfortably usable with a case on.
The top of the iPhone 6 is bare as opposed to the iPhone 5s. The reason is that the power key has been relocated to right side on this taller device - and that's the right thing to do. The button placement is quite convenient. Next to it on the right is the nanoSIM tray.
The bottom is busier, featuring the Lightning port in the center, the 3.5mm headphone jack to the left along with the main microphone and a single speaker under a micro-drilled holes that form the grille.
The benefit of the Lightning jack compared to regular microUSB is that it can be inserted either face up or down into the iPhone 6.



The lightning connector at the bottom and the 3.5mm audio jack
Finally, we come to the back of the iPhone 6. The protruding camera lens is certainly an eye sore and it makes the phone wobble when put on a flat surface.
The camera on the iPhone 6 is still 8MP - some four years and four different models in a row. But under the hood it's a new camera altogether. There is a new sensor with built in phase detection auto focus (Focus pixels, as per Apple PR talk), the camera shoots faster, focuses faster and has an even better digital video stabilization. There is also new high speed video modes in 120fps and 240fps, but still no 4K video.
It is certainly the best 8MP camera from Apple to date, but we are not sure that alone qualifies as the major upgrade Apple pretends it to be. It's like they are withholding the higher resolution camera and the 4K video recording just so they have a proper new feature to promote on the iPhone 6s.
Next to the camera lens is the dual color LED flash, similar to the one on the last year's iPhone, but it's a perfect circle instead of an oval shape. The flash, dubbed True tone by Apple marketing, features one white and one amber-colored LED. It is quite a successful concept, where the phone can dynamically mix the two colors of light in varying proportions, allowing it to match the ambient light and thus achieve more realistic photos.





The protruding camera lens and the True tone LED flash
Display
Apple has increased the resolution on the iPhone 6 just enough so is keeps the pixel density at 326 ppi. The screen is again a spectacular IPS LED-backlit LCD, but this time the resolution is 750 x 1334 pixels as opposed to last year's 640 x 1136 px resolution.
While we are as happy as a puppy about finally getting to enjoy iOS on a bigger screen, we can't but frown upon on the excessive bezels top and bottom of the screen. With the Galaxy Alpha, Samsung has managed to fit a 4.7-inch screen into a device smaller than the iPhone 6, while the Nexus 5 fits a 5-inch screen within a body frame as big. This alone should tell you that Apple is not challenging itself enough with creating a smaller footprint for the iPhone and has rather wasted effort into making it thinner to no one's benefit (except perhaps PR).



Compared to iPhone 5s, iPhone 6 Plus
Here's the iPhone 6 display matrix shot from up close with our digital microscope. It's a regular LCD matrix with equal number of red, green and blue pixels.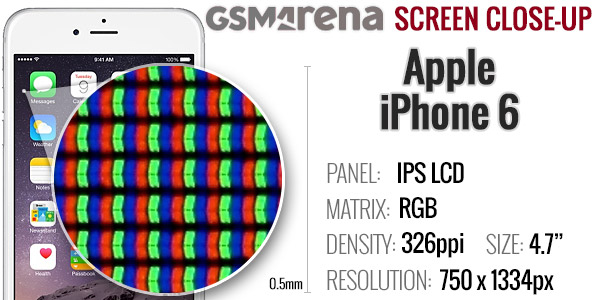 The screen of the iPhone 6 has different properties than the one on the iPhone 5s. For one, the blacks on the iPhone 6 are not as deep as on the 5s, but the display is brighter so the new iPhone's screen contrast ratio ended up in the same ballpark.
Display test
50% brightness
100% brightness
Black, cd/m2
White, cd/m2
Contrast ratio
Black, cd/m2
White, cd/m2
Contrast ratio
Apple iPhone 6
0.17
207
1230
0.61
740
1213
Sony Xperia Z3 Compact
-
-
-
0.77
725
942
Apple iPhone 5s
0.14
163
1145
0.49
596
1219
LG Nexus 5
0.31
298
948
0.54
526
967
Samsung Galaxy Alpha
0
228
∞
0
456
∞
Samsung Galaxy S5
0
274
∞
0
529
∞
HTC One (M8)
0.2
245
1219
0.46
577
1256
As far as sunlight legibility is concerned, the higher brightness of the iPhone 6 allows it score better than its predecessor, the 5s, but it's still falls short of the contrast ratio the iPhone 5 achieved under direct sunlight. However the contrast in direct sunlight remains excellent in all three cases.
Sunlight contrast ratio
Nokia 808 PureView
4.698
Apple iPhone 5
3.997
Samsung Galaxy Note 3
3.997
Apple iPhone 6
3.838
Samsung Galaxy K zoom
3.675
Nokia Lumia 930
3.567
Apple iPhone 5s
3.565
Samsung Galaxy S5
3.549
Alcatel Idol X+
3.527
Apple iPhone 5c
3.512
Samsung Galaxy Alpha
3.509
Samsung Galaxy Note 3 Neo
3.487
Motorola RAZR MAXX
3.42
Samsung I9300 Galaxy S III
3.419
Nokia Lumia 925
3.402
Gionee Elife S5.5
3.386
Samsung I9505 Galaxy S4
3.352
Samsung Omnia W
3.301
Samsung Galaxy S5 mini
3.174
Samsung I9000 Galaxy S
3.155
Samsung Ativ S
3.129
Samsung I9190 Galaxy S4 mini
3.127
Samsung Galaxy S4 zoom
3.118
Nokia N9
3.069
Samsung Galaxy Note
2.97
Samsung Galaxy Premier
2.958
Sony Xperia Z1
2.95
HTC One S
2.901
Samsung I8730 Galaxy Express
2.861
BlackBerry Q10
2.856
Samsung I9100 Galaxy S II
2.832
Samsung Galaxy S II Plus
2.801
BlackBerry Z30
2.79
Sony Xperia ZR
2.672
Huawei Ascend P1
2.655
Sony Xperia Z3 Compact
2.616
Sony Xperia T3
2.609
Nokia Lumia 900
2.562
Motorola Moto G 4G
2.546
HTC One Max
2.537
Nokia Lumia 720
2.512
HTC One
2.504
Motorola Moto G
2.477
Sony Xperia Z
2.462
Xiaomi Mi 4
2.424
Samsung Galaxy S III mini
2.422
LG G Flex
2.407
HTC One (M8)
2.371
Motorola RAZR i
2.366
Sony Xperia ZL
2.352
Samsung Galaxy Note II
2.307
Oppo Find 7a
2.279
Alcatel One Touch Hero
2.272
Apple iPhone 4S
2.269
HTC Desire 600 dual sim
2.262
Nokia Asha 311
2.25
LG Nexus 5
2.228
Nokia Lumia 820
2.193
HTC One (E8)
2.185
Nokia Lumia 920
2.17
HTC One X
2.158
Nokia N8
2.144
Nokia Lumia 620
2.142
Nokia 515
2.134
HTC Desire 500
2.129
Sony Xperia acro S
2.119
Nokia Lumia 1020
2.103
Oppo Find 5
2.088
Sony Xperia SL
2.078
Nokia Lumia 630
2.056
BlackBerry Z10
2.051
Samsung I9295 Galaxy S4 Active
2.022
Apple iPhone 4
2.016
HTC One mini
2.003
Xiaomi Mi 3
2.001
Huawei Ascend P7
1.992
LG G2
1.976
OnePlus One
1.961
Oppo R819
1.957
Sony Ericsson Xperia ray
1.955
Sony Xperia Z2
1.944
Nokia Lumia 1320
1.941
HTC One mini 2
1.94
Samsung Galaxy Camera
1.938
Sony Xperia J
1.932
Acer CloudMobile S500
1.931
LG Nexus 4
1.926
LG G Pro 2
1.922
Samsung Galaxy Mega 6.3
1.913
Nokia Asha 308
1.911
Sony Xperia T
1.894
HTC Desire X
1.878
HTC Windows Phone 8X
1.873
HTC Butterfly
1.873
HTC Butterfly S
1.867
Huawei Ascend P6
1.865
Huawei Ascend Mate
1.845
LG G2 mini
1.838
LG G3
1.82
Nokia Lumia 1520
1.813
HTC Desire 616 dual sim
1.797
Sony Xperia V
1.792
HTC Desire 816
1.783
Sony Xperia Z1 Compact
1.772
HTC Desire 700 dual sim
1.769
Sony Xperia U
1.758
Meizu MX3
1.754
LG Optimus G
1.753
Sony Xperia T2 Ultra
1.74
Sony Xperia SP
1.733
LG Optimus 4X HD
1.691
Oppo Find 7
1.691
HTC One V
1.685
BlackBerry Q5
1.682
LG Optimus Vu
1.68
Xiaomi Mi Pad 7.9
1.672
LG Optimus GJ
1.666
LG Optimus 3D Max
1.658
HTC Desire V
1.646
Samsung Galaxy Xcover 2
1.632
Samsung Galaxy Ace 3
1.622
Jolla Jolla
1.605
Sony Xperia Z Ultra
1.578
Sony Xperia go
1.577
Samsung Galaxy Ace 2 I8160
1.566
Samsung Galaxy Core
1.563
LG Optimus G Pro
1.552
Motorola Moto E
1.545
LG Optimus 3D
1.542
Nokia Asha 302
1.537
BlackBerry Curve 9320
1.488
Sony Xperia M
1.473
Oppo N1
1.47
Meizu MX 4-core
1.462
Nokia Lumia 610
1.432
Samsung Galaxy S Duos
1.4
Samsung Galaxy Grand Neo
1.393
Sony Xperia M2
1.393
Samsung Galaxy Grand 2
1.38
Sony Xperia E1
1.372
Nokia Lumia 625
1.371
Gigabyte GSmart G1355
1.361
Sony Xperia L
1.351
Samsung Galaxy Mega 5.8
1.35
Xiaomi Redmi 1S
1.35
Sony Xperia M2 Aqua
1.331
Sony Xperia miro
1.324
Samsung I9082 Galaxy Grand
1.321
Samsung I8530 Galaxy Beam
1.315
HTC Desire C
1.3
Nokia X
1.291
Sony Xperia C
1.283
Nokia Asha 503
1.281
Nokia Asha 501
1.27
LG Optimus L7
1.269
Nokia Lumia 510
1.268
Samsung Galaxy Fame
1.245
LG Optimus L9
1.227
Meizu MX
1.221
Samsung Galaxy Young
1.22
Sony Xperia E
1.215
Nokia XL
1.204
Sony Xperia E dual
1.203
Samsung Galaxy Pocket
1.18
Nokia Asha 305
1.178
Nokia Asha 306
1.175
Sony Xperia neo L
1.169
Sony Xperia tipo
1.166
Nokia Lumia 520
1.161
Samsung S6802 Galaxy Ace Duos
1.148
Samsung Galaxy mini 2
1.114
You can find more information on our various display tests here.
Battery life test
The iPhone 6 is equipped with a non-removable Li-Po 1810mAh battery, which is only about 15% bigger than the one of the iPhone 5s. The pixel count on the iPhone 6 is almost 40% higher than the 5s so just by looking at these numbers we guessed that battery life with the screen on won't be as hot. But we turned out wrong.
The standby endurance wasn't that good but it wasn't any better on the iPhone 5s when we last tested it. The manufacturer rates the iPhone 6 batteries for up to 250h of standby but our unit only lasted about 160h. The iPhone 5s lasted way less.
The iPhone 6 scored 9:24h in our own video playback test (10:31h for the iPhone 5s) and 10:29h in our Wi-Fi web browsing test (9:58 h for the iPhone 5s). These are respectable numbers on their own and as you'd see quite similar to the iPhone 5s.
UPDATE: After resetting the iPhone 6 we decided to run a new call test and see what's what. The result turned out to be a better 12 and a half hours, besting the mediocre 8:11 hours and more in line with the 14h stated by Apple themselves.
Our overall endurance rating for the iPhone 6 is 61h, which is how long the battery should last you if you use the phone for an hour of calling, an hour of video playback and an hour of web browsing each daily. In comparison, the iPhone 5s scored 54h, the iPhone 5 - 51h, while the Samsung Galaxy Alpha managed about 52h.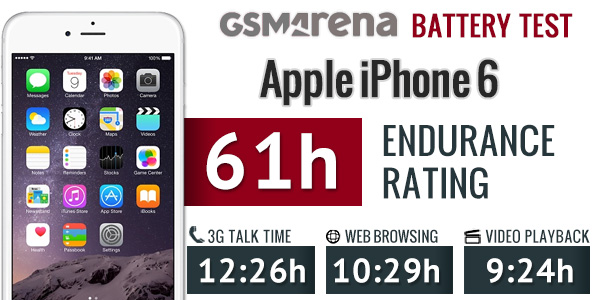 The result is by all means not breath-taking, but it's impressive that it managed to score a better battery rating than the iPhone 5s given the modes battery upgrade and the much bigger screen, which certainly draws more power.
Our battery testing procedure is described in detail in case you want to learn more about it.
You can see our detailed battery life test of the Apple iPhone 6 here.
Connectivity
The Apple iPhone 6 comes with a bunch of wireless connectivity features. It supports LTE Cat. 4 (up to 150Mpbs down, 50Mbps up) and even though competing smartphones support up to 300Mbps down we won't hold it against it. Regular 2G and 3G connectivity is all safely covered with a multitude of supported network bands.
The iPhone 6 also supports the latest Voice over LTE (VoLTE), HD Voice and Wi-Fi calling protocols, but those are carrier dependent features so not everyone will enjoy them.
Compared to the iPhone 5s, the iPhone 6 now has an upgraded Wi-Fi functionality - it supports all the current Wi-Fi a/b/g/n/ac standards. AirPlay is the only way to wirelessly cast your screen's contents to an HDTV, but you'd need to have an Apple TV for that.
Additional local connectivity includes Bluetooth 4.0 LE. There is also support for NFC, but its functionality is only limited to Apple's newly introduced and regionally-restricted payment system that's called Apple Pay.
The iPhone 6 uses a proprietary Lightning connector for wired data transfers and charging.
There is no support for USB On-the-go or USB host but your can pair a Bluetooth keyboard to the phone should you need this sort of peripheral.