Apple iPhone 14 and 14 Plus unveiled: satellite messaging, eSIM only in the US, old A15 chipset
Part of the rumors you heard about the iPhone 14 series are right, some are wrong. "Yes" on satellites, "no" on iPhone 14 Max. But putting the rumors aside, today's announcement has major implication for Apple's non-Pro phones.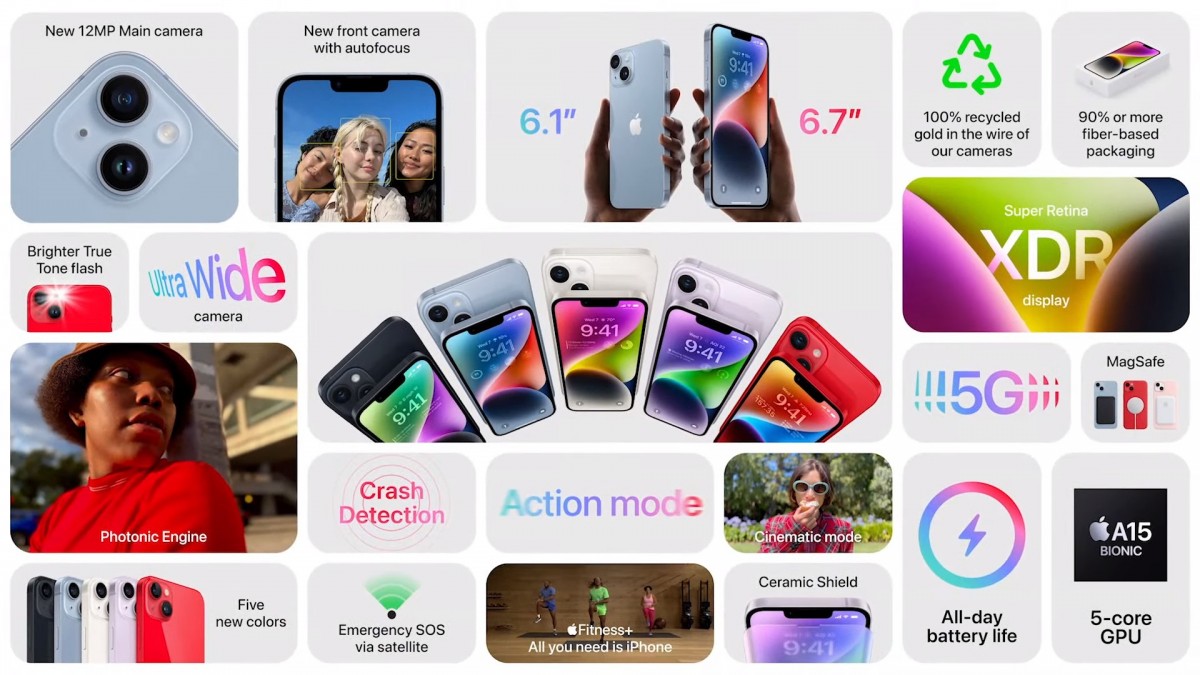 First things first, the mini is no more, the 6.1" iPhone 14 is the smallest, cheapest option (but we'll talk about the price in a moment). The series still has four members with the addition of a 6.7" non-Pro model. Its name is iPhone 14 Plus.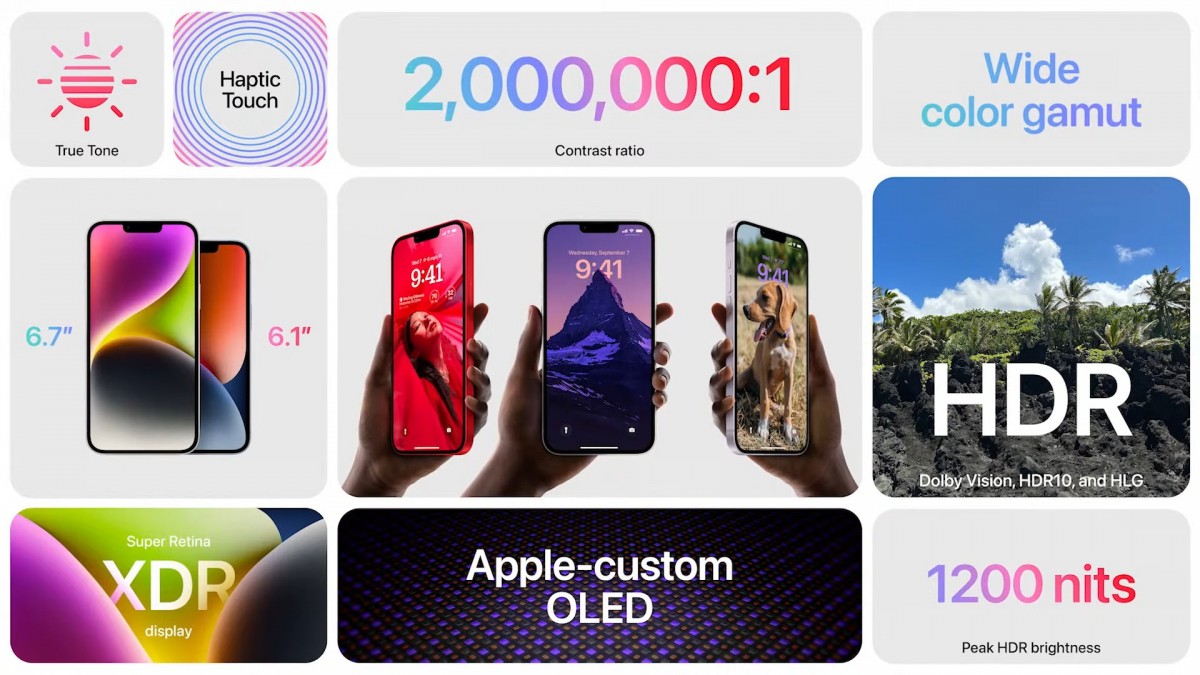 The Plus has the best battery on an iPhone ever, yes, including the iPhone 14 Pro models. You can watch up to 26 hours of video on the Plus, up to 20 hours on the vanilla 14 and 19 hours on the older iPhone 13. The extra size also allowed Apple to improve the cooling system to deliver better performance.
This is a nice segue into talking about the chipset – it is the Apple A15 from last year. One thing to note here is that this is the version with a 5-core GPU, which was inside the 13 Pro duo rather than the 4-core versions of the vanilla and mini phones. Thus it delivers an 18% graphics increase in performance over the previous non-Pro models.
Apple had a lead in processing power, so it claims it still has a performance lead over Androids of any price. And some of that processing power has been roped into improving the camera quality.
The iPhone 14 and 14 Plus still use 12MP cameras. The main camera uses a larger sensor with 1.9µm pixels (up from 1.7µm) and has a brighter f/1.5 aperture (up from f/1.6). The end result is that it captures 49% more light compared to the iPhone 13 camera.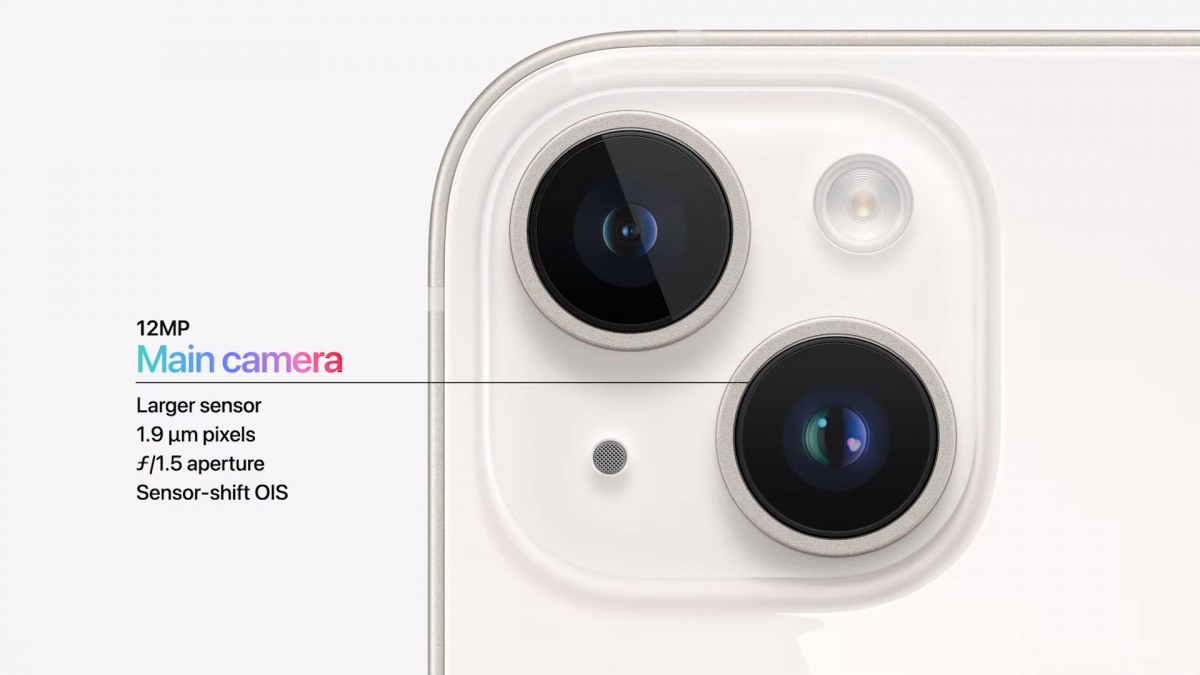 This is just the raw hardware advantage over last year's model. Software processing brings what Apple calls the Photonic Engine, building on Deep Fusion. The Photonic Engine dramatically improves low-light photos – compared to the iPhone 13 Apple promises 2x on the front camera, 2x on the ultrawide and 2.5x on the new main camera.
Also new is the Action Mode, which works kind of like an action camera – it provides better stabilization so you don't need a gimbal and it also supports capturing video in Dolby Vision HDR. The camera still maxes out at 4K resolution (60fps), however.
The iPhone 14 pair still uses a notched design for the TrueDepth camera, however, it now has autofocus for the first time. Also, hardware improvements allow it to capture 38% more light for better low-light performance, in part thanks to the brighter f/1.9 aperture (up from f/2.2).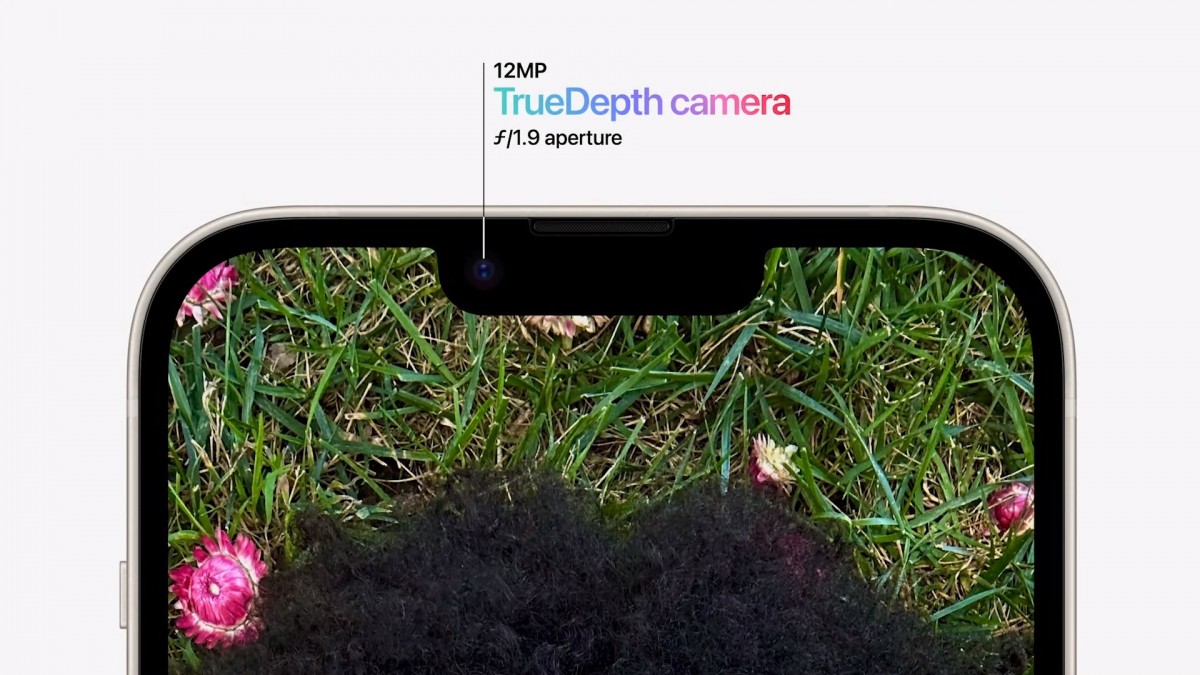 Okay, enough about the cameras – let's talk about connectivity. Apple dropped two bombshells tonight. First, satellites. Second, eSIM-only iPhones.
The satellite feature required designing all-new custom hardware and bespoke software to make sending out a message to a satellite possible without bulky antennas. This service is text-only and will be used mostly for emergencies, but it does support two-way communication so you will be notified when rescue is on the way. The Find My app will also be able to share your location with friends so that they can keep an eye on you.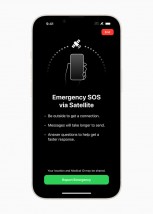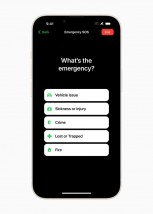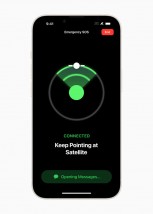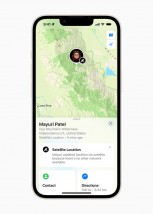 The new satellite messaging service • An emergency questionnaire • Find My reports location over satellite
You can compose custom messages to explain your situation, but when speed is life-saving several specially-prepared questions will let you send out a detailed SOS in just a few taps. In locations with a clear view of the sky a message can be transmitted in about 15 seconds, but if there are trees overhead it may take a couple of minutes. The satellite service will launch in November for users in the US and Canada and iPhone 14 buyers get a free 2-year subscription.
If you saw the new Apple Watch announcement, you've heard about crash detection. The iPhone 14 duo has it too, thanks to a new accelerometer that can detect up to 256G.
As for the eSIM-only iPhones, that applies only to the US for now. Apple touted the ability to quickly swap between multiple eSIMs and add carriers without visiting one of their offices. Dual eSIM is supported.
You can order the iPhone 14 and iPhone 14 Plus starting on September 9 (Friday). The vanilla iPhone 14 keeps the price of its predecessor, $800, and will be available on September 16. The iPhone 14 Plus will start at $900 and will be available a few weeks later on October 7 (but you can still order one today). These prices are for the 128GB models, there are also 256GB and 512GB phones.
For our European readers, the iPhone 14 starts at €1,000, the iPhone 14 Plus at €1,150. If you're in India, you're looking at ₹80,000 and ₹90,000, respectively. For China the prices are CNY 6,000 and CNY 7,000.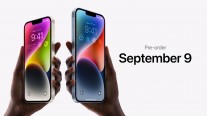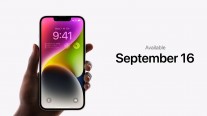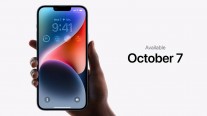 iPhone 14 and 14 Plus go on pre-order this Friday, the vanilla model will be available first (on September 16)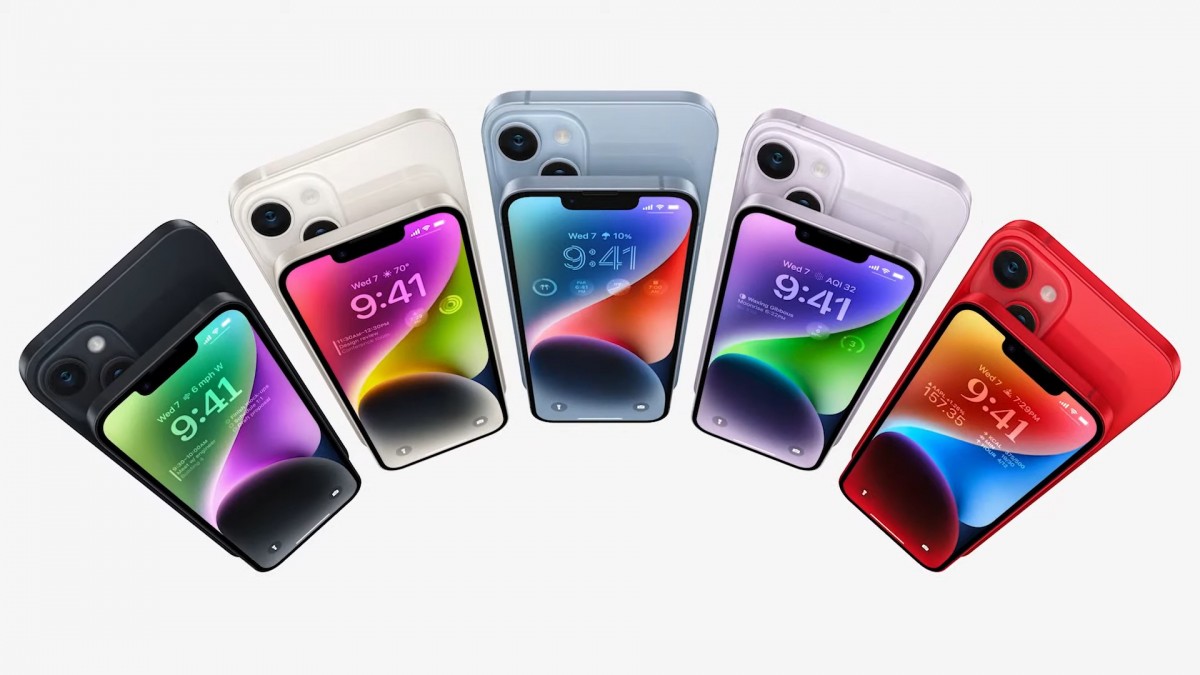 iPhone 14 and 14 Plus are available in Midnight, Starlight, Blue, Purple and (PRODUCT) RED
D
Isn't that called iPhone Mini?
A
no type-c is not go for me why EU didn't do it mandatory from 2022 ? and force apple
i
Flagship don't have 5 year old derived screen with massive notch, apple like to differentiate between regular and flagship with significantly differences especially when all the new technology goes to flagship, but takes years to trickle down to...
ADVERTISEMENT