The display gets a ProMotion, finally
The specs of the iPhone 13 Pro Max's display aren't all that different than last year's model, with one notable exception - Apple is at long last catching up with the high refresh rate trend. It got started in the Android world in late 2017 with the original Razer Phone, so 4 years later sounds about right.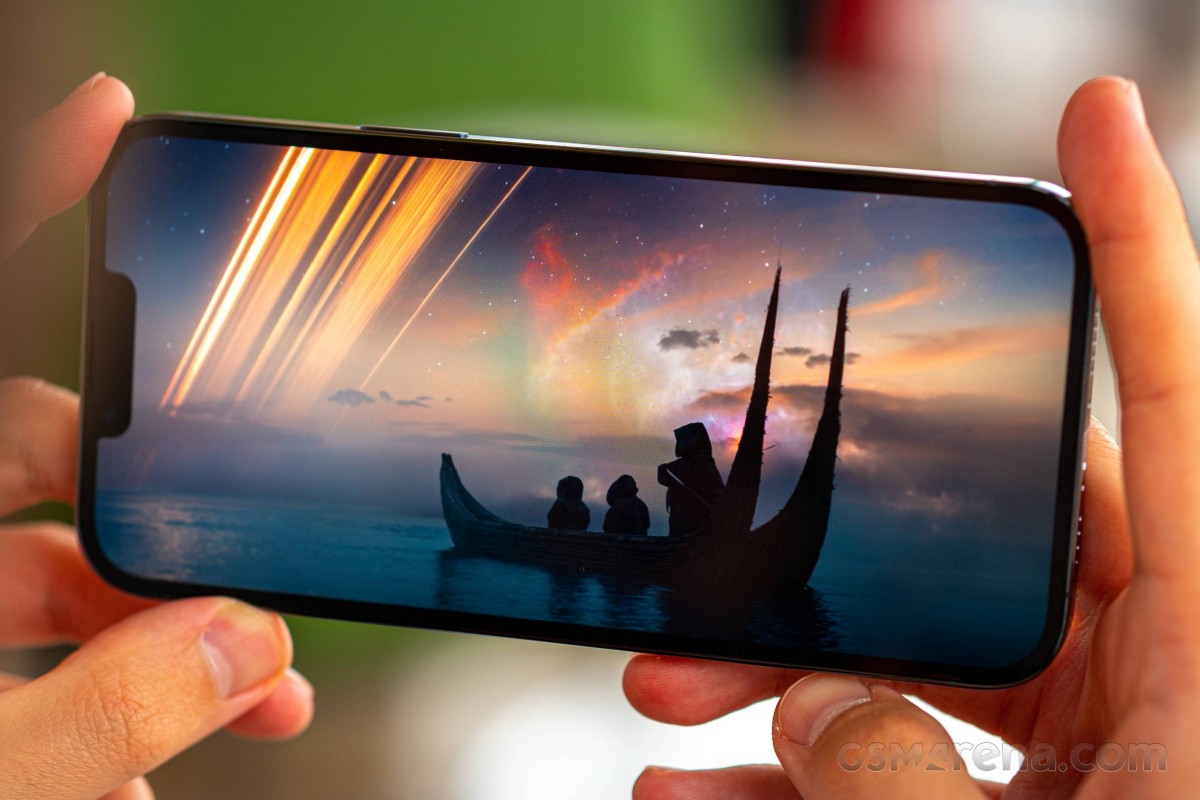 Both sizes of the 13 Pro feature a 120Hz maximum refresh rate with granular dynamic adjustment between 10Hz and 120Hz, depending on content and activity. Apple calls this ProMotion.
The adaptive behavior is one of these things that are somewhat problematic to verify on Android and nigh impossible on iOS, so we'll have to take Apple's word for it. What we'll say is that, indeed, the 13 Pro Max scrolls smoothly throughout the UI, more so than the plain 13 or older models.
There's the matter that at this point not all third-party apps can fully utilize the 120Hz ProMotion feature but that's going to improve as developers catch up.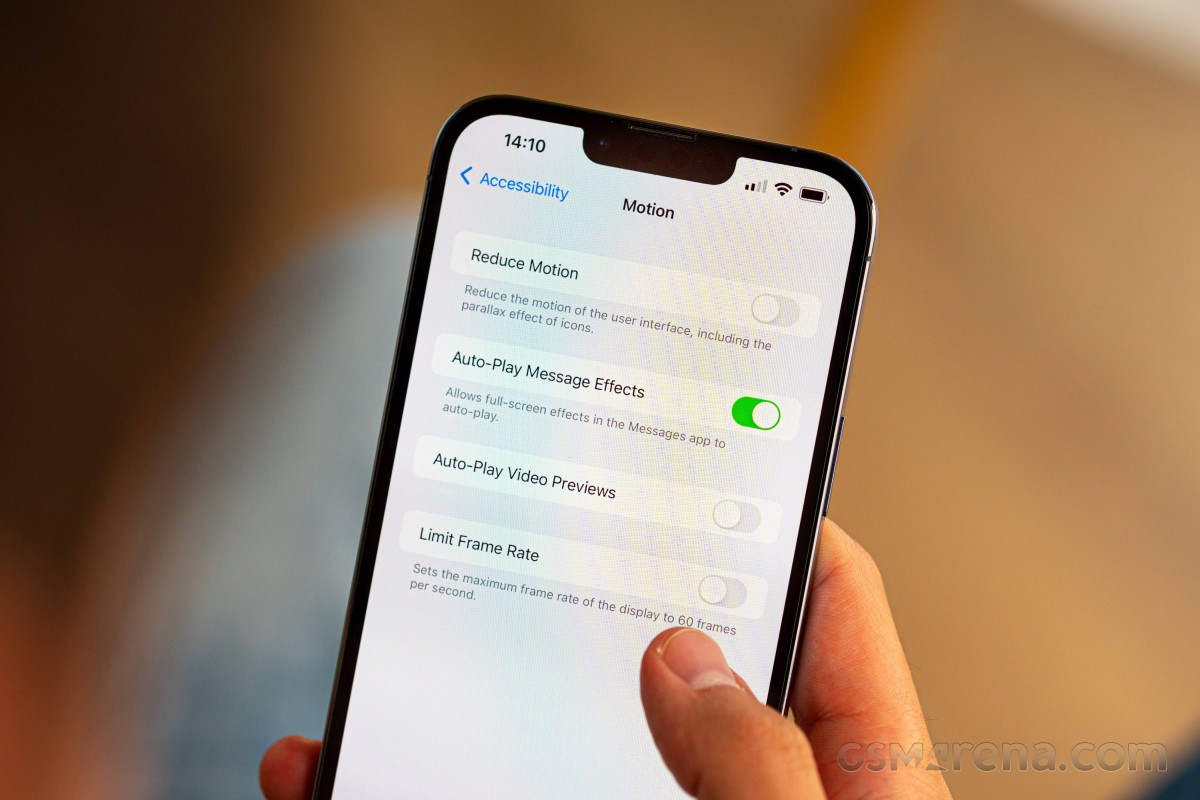 The display diagonal of the iPhone 13 Pro Max is the same 6.7 inches as last year's 12 Pro Max. The resolution is the same as well at 1284x2778px, making for a 458ppi pixel density - the 'Super Retina' in its official name alludes to that. It's also 'XDR' and that goes to indicate it's HDR10 and Dolby Vision compliant, but more eXtremely so than, say, the similarly HDR-specced non-XDR iPhone X of old - read higher peak brightness.
On the 13 Pros, Apple promises a further 25% increase in peak brightness compared to the 12 Pros, and our test proved that to be the case. In a more unusual turn of events, the 13 Pro Max achieved its top result of 1050nits only with Auto brightness enabled, while 'only' 850nits were available when operating the slider manually.
We say unusual, but that's how pretty much every non-iPhone behaves. On iPhones up until now, on the other hand, whatever the ambient light sensor could summon, you could get with your own fingers as well. It's only natural though that Apple wouldn't want you to have the full 1000+ nits at your disposal at all times, in order to prevent potential burn in and/or excessive battery drain. In any case - superb results for brightness.
Display test
100% brightness
Black,cd/m2
White,cd/m2
Contrast ratio
Apple iPhone 13 Pro Max
0
852
∞
Apple iPhone 13 Pro Max (Max Auto)
0
1050
∞
Apple iPhone 13
0
797
∞
Apple iPhone 12 Pro Max
0
822
∞
Apple iPhone 11 Pro Max
0
820
∞
Apple iPhone XS Max
0
653
∞
Apple iPhone X
0
679
∞
Samsung Galaxy S21 Ultra 5G
0
458
∞
Samsung Galaxy S21 Ultra 5G (Max Auto)
0
1023
∞
Oppo Find X3 Pro
0
493
∞
Oppo Find X3 Pro (Max Auto)
0
774
∞
Xiaomi Mi 11 Ultra
0
514
∞
Xiaomi Mi 11 Ultra (Max Auto)
0
943
∞
Samsung Galaxy Z Fold3 5G
0
489
∞
Samsung Galaxy Z Fold3 5G (Max Auto)
0
922
∞
The iPhone 13 Pro Max has a wide color gamut display that covers the DCI-P3 color space. The phone automatically goes in P3 mode when it recognizes compatible content, but that's not the case with our (industry standard) testing equipment and software, so we can't give exact numbers.
We did, however, measure an essentially flawless rendition of the sRGB test patterns - average dE2000 was 0.8, which is below being perceived as a difference to a naked eye. As we've come to expect from iPhones, the accuracy was maintained largely unchanged across the brightness range, all the way up to the maximum manually attainable setting on the slider. It only deteriorated slightly under the bright light conditions that we used to achieve the peak 1050nits brightness, and even then, it was a lot better than competitors in the same adverse circumstances.
Apple iPhone 13 Pro Max battery life
As with the entire 2021 lineup, the iPhone 13 Pro has gotten a battery capacity increase, and here it's the biggest one of the bunch. The new number is 4,352mAh, up 18% from the outgoing model. Apple says that's good for an extra 2.5 hours of use, although their use is very likely not quite the same as yours. Ultimately, the iPhone 13 Pro Max should be the longest-lasting iPhone, period. Well, is it really?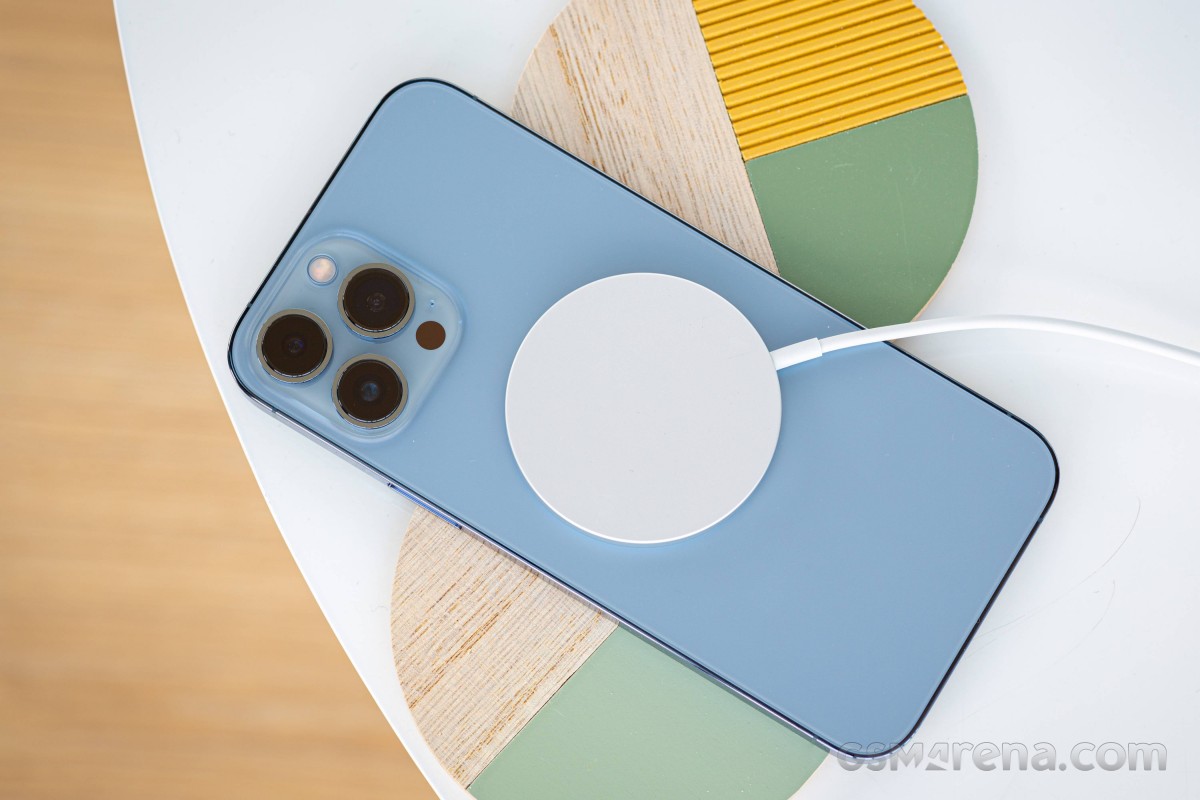 Yes, by a lot, but with a caveat. We can't tell for a fact what refresh rate the screen was using for the duration of the test. The standard UFO test reports a solid 60Hz in both Safari and Chrome and maintains that regardless of whether you're interacting with the screen or not. Even so, the 20 full hours we measured is a remarkable result - a good 6 hours more than last year's Pro Max. The Galaxy S21 Ultra calls it quits some 5h earlier, though that one does render at 120Hz for at least a brief portion of its web browsing.
In video playback, the iPhone 13 Pro Max was good for 24 hours of looping our test sample while offline - 9 hours more than the 12 Pro Max, and 6 on top of the S21 Ultra's figure. Here we couldn't be entirely certain what the refresh rate was, but it's only natural that it wasn't the full 120Hz, with 60Hz being a much safer bet. Again, that's an imposing result regardless of the refresh rate it was achieved at.
On a voice call, the 13 Pro Max also showed significant improvement over its predecessor, though that's somewhat of a low bar to clear, considering our experience with call longevity on iPhones. Having said that, the 27:26h result is, for a change, not one to be ashamed of in general, not just for an iPhone.
Dialing in all of these numbers in our formula, alongside the also surprisingly decent standby result, we're getting an Endurance rating of 121h for the iPhone 13 Pro Max - the longest ever for an iPhone.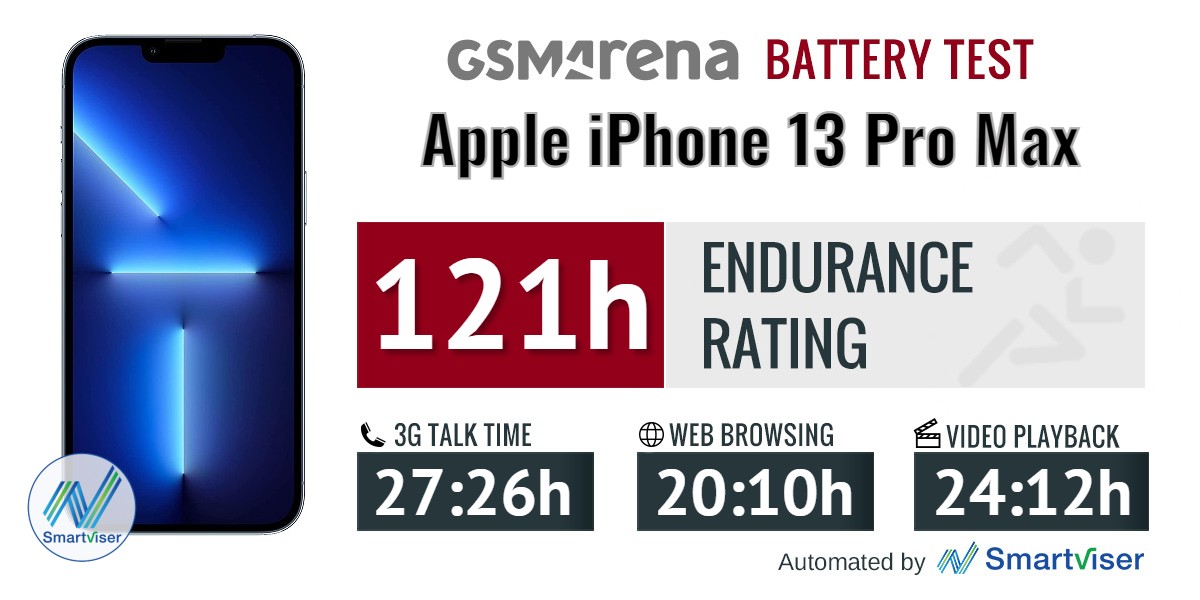 Our battery tests were automated thanks to SmartViser, using its viSerDevice app. The endurance rating denotes how long the battery charge will last you if you use the device for an hour of telephony, web browsing, and video playback daily. More details can be found here.
Video test carried out in 60Hz refresh rate mode. Web browsing test done at the display's highest refresh rate whenever possible. Refer to the respective reviews for specifics. To adjust the endurance rating formula to match your own usage - check out our all-time battery test results chart.
Charging speed
The iPhone 13 Pro Max ships without a charger. Apple's official specs are vague about the maximum charging power the iPhone 13 phones can achieve with USB-PD powered adapters. The tests show the iPhone 13 Pro Max's fast charging usually maxes out at 25W though it can go up to 27W with some specific charger models.
Some carriers in some places may choose to bundle a charger in for you (and quietly calculate its price in the total) or you may shop around for one yourself if you don't have a USB PowerDelivery brick lying around. Arguably, the most popular choice is Apple's own 20W adapter, so we tested with what one, and we also tried with the MagSafe puck.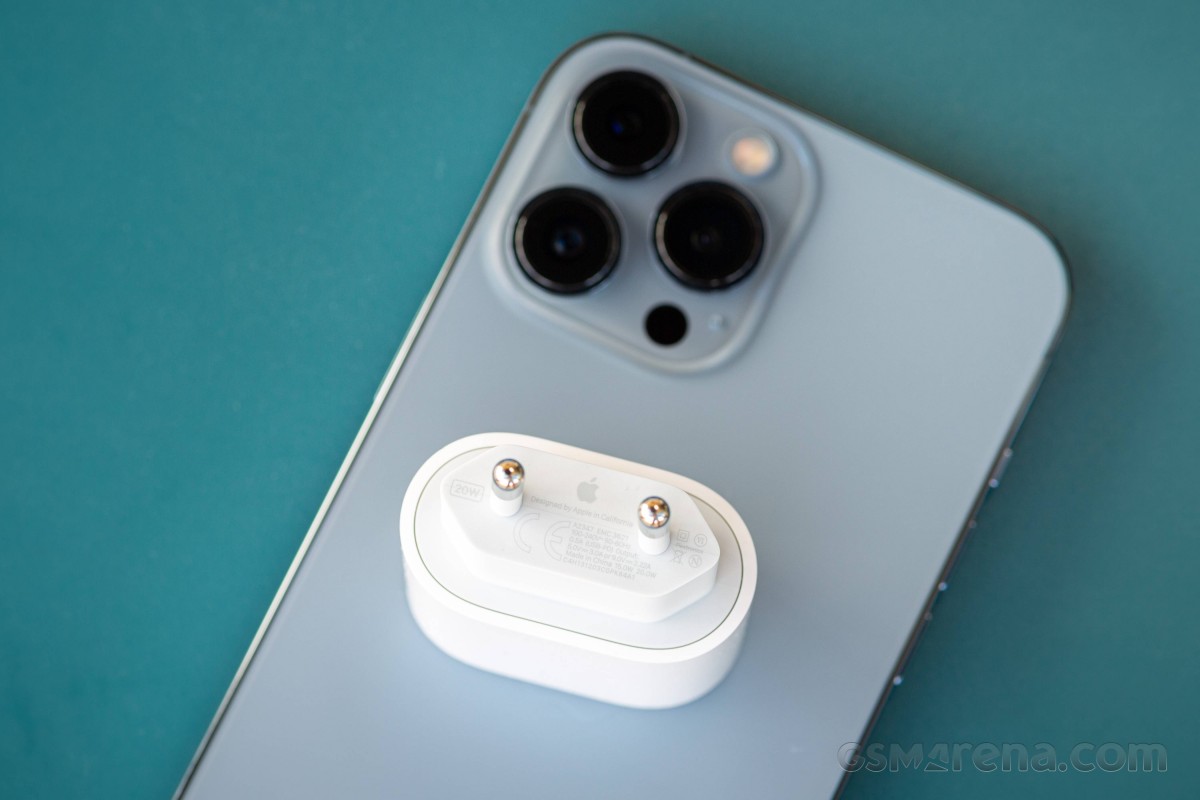 The fully wired solution got us to 42% in 30 minutes, hardly an impressive number. It's still better than MagSafe, which managed only 25% in as much time. A full charge took 1:46h with a cable and 2:20h with, well, MagSafe and its cable.
The MagSafe full charge time is respectable, but the regular wired one isn't too competitive. There's a caveat there, too - that time can only be achieved with the 'Optimized Battery Charging' option in the 'On' position. That's the feature, which makes the phone charge up to 80% and then stops and times the final top-up to coincide with your wake-up time as soon as it learns your routine. Switch that off, however, and you'll be looking at 2:10h for a full charge - maniacs, those people at Apple.
For what it's worth, the 13 Pro Max can charge at up to 27W, so the 20W adapter isn't giving it the most juice it can take. We did retest with a third-party 65W Power Delivery adapter and got a much better looking 55% at the half-hour mark. The gap narrowed as time passed and at the 1-hour mark the third-party unit stood at 83% vs. the 80% of the Apple brick, only to ultimately take longer for a full charge - 1:54h.
30min charging test (from 0%)
Higher is better
Oppo Find X3 Pro
100%
OnePlus 9 Pro
99%
Xiaomi Mi 11 Ultra
89%
Asus ROG Phone 5s Pro
71%
Apple iPhone 12 Pro Max
55%
Apple iPhone 13 Pro Max (65W PD)
55%
Apple iPhone 13
54%
Samsung Galaxy S21 Ultra 5G
54%
Sony Xperia 1 III
50%
Apple iPhone 13 Pro Max
42%
Samsung Galaxy Z Fold3 5G
33%
Apple iPhone 13 (MagSafe)
32%
Apple iPhone 12 Pro Max (MagSafe)
28%
Apple iPhone 13 Pro Max (MagSafe)
25%
Time to full charge (from 0%)
Lower is better
Oppo Find X3 Pro
0:28h
OnePlus 9 Pro
0:32h
Xiaomi Mi 11 Ultra
0:37h
Asus ROG Phone 5s Pro
1:03h
Samsung Galaxy S21 Ultra 5G
1:11h
Apple iPhone 12 Pro Max
1:32h
Apple iPhone 13
1:46h
Apple iPhone 13 Pro Max
1:46h
Samsung Galaxy Z Fold3 5G
1:46h
Sony Xperia 1 III
1:50h
Apple iPhone 13 Pro Max (65W PD)
1:54h
Apple iPhone 13 (MagSafe)
2:19h
Apple iPhone 13 Pro Max (MagSafe)
2:20h
Speaker test
The 13 Pro Max features the usual iPhone speaker setup - there's a bottom-firing driver for one channel, while the second channel is handled by the earpiece. When held in landscape, the phone respects the left-right orientation, and it will switch channels to match the way you're holding it. In portrait, on the other hand, the earpiece is in charge of the right channel.
There's a bit more to that because the bottom speaker also takes over some of the lower-end frequencies for the top one. Additionally, even if you only feed one channel, the opposite speaker will still output some sound, albeit at a much lower volume than the 'correct' one.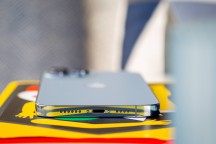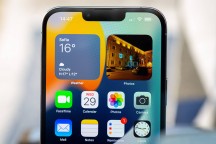 Bottom speaker • Earpiece/Top speaker
As we've come to expect from iPhones and, really, all top-level phones, the 13 Pro Max put up a great performance in our speaker test. It earned a 'Very Good' rating for loudness, same as all key competitors. It's the best sounding one among this tough crowd with the closest thing to bass, lively vocals and sparkly highs.
Use the Playback controls to listen to the phone sample recordings (best use headphones). We measure the average loudness of the speakers in LUFS. A lower absolute value means a louder sound. A look at the frequency response chart will tell you how far off the ideal "0db" flat line is the reproduction of the bass, treble, and mid frequencies. You can add more phones to compare how they differ. The scores and ratings are not comparable with our older loudspeaker test. Learn more about how we test here.