Apple iOS 15
All new iPhones come with Apple's iOS 15 out of the box. It's not a significant update over iOS 14, but it does round many UI elements shapes such as settings menus and icons, notifications, buttons. The new version improves heavily on FaceTime and Messages, Notification management, Safari browser (now with extensions), Wallet and Maps. It also makes Photos and Spotlight even more intelligent - the Photos app can now read and let you copy text in real-time.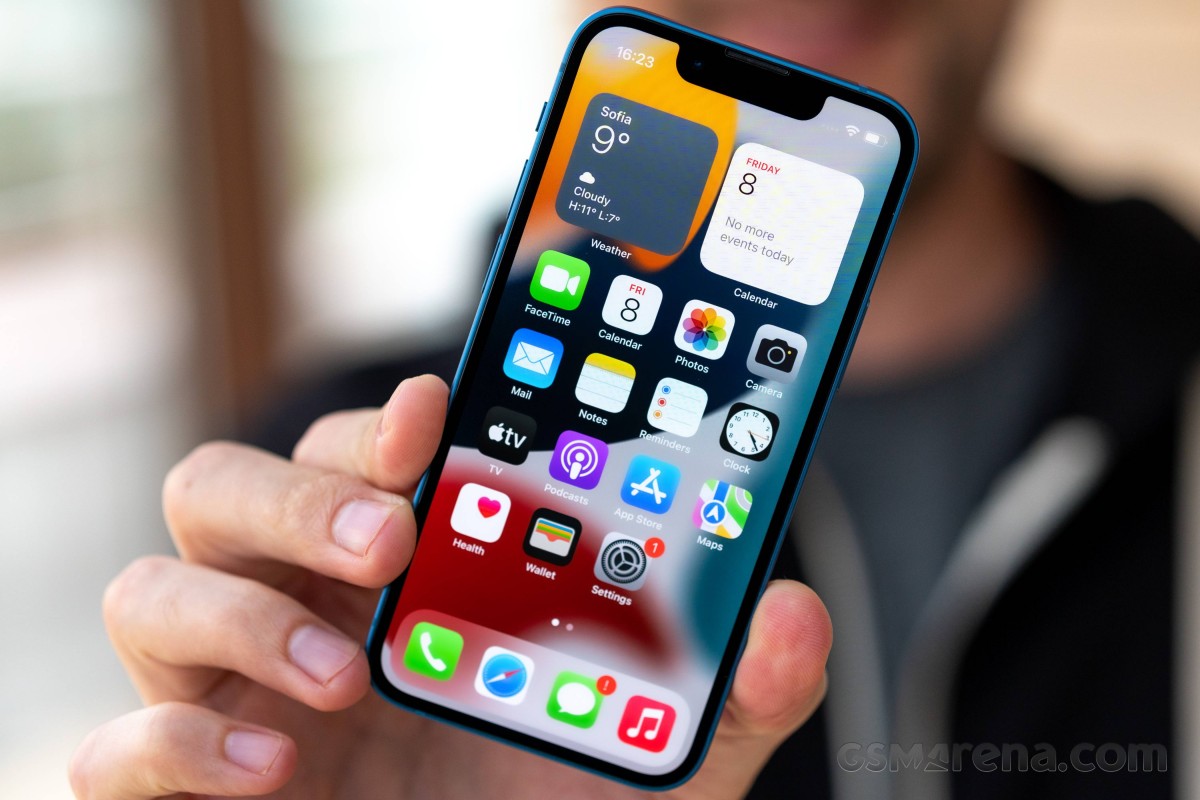 The iOS interface is still based on homescreens populated with apps and stackable widgets, App Library with automatic sorting is your app drawer, there are also the familiar and Notification and Control Centers.
Apple's iOS 15 has improved notification profiles (Focus) based on different automations, which are great for those who receive a ton of notifications per day. There is also a new Summary option to get you up to speed after a silent period.
The navigation gestures stay the same as they were on the iPhone X. Swipe upwards from the bottom line to close an app, swipe and stop midway for task switcher, swipe from the side of the screen for back and forward. You can also swipe on the line left or right to switch to your recently used apps instantaneously.
One of the most important updates in iOS 15 is in FaceTime. The new app looks more and more like Zoom, and it now supports Grid view! It has a cleaner interface, supports background blur, spatial audio, and most importantly - it can make conference calls, and non-Apple users can join the fun, too, by using an invite link and Chrome of Edge web browser.
The Apple users can enhance their microphone with Voice Isolation or Wide Spectrum and let others hear them much better.
The Safari web browser has seen quite the upgrade. First, the address bar is now at the bottom of the screen, easily accessible, and you can swipe on it left or right to switch tabs (in portrait mode) just like you fast scroll between apps via swipes on the infamous line. And second, Safari now supports extensions; you can download such from the App Store.
Apple uses its Siri and makes various upgrades to it every year. Multimedia is handled by Apple's own apps - Photos for your images and video clips, TV for movies and Apple TV+, Music for MP3s and Apple Music, and Maps for navigation.
Apple's system apps each year receive intelligence updates, which makes them even more powerful. For example, the Photos app now supports Live Text feature - if you see a text icon over an image and you tap on it, you will be able to (scan and) copy or look up the text you are seeing. You can even translate that text. Neat!
There is Files for your local files, Books are here for your documents, PDFs, and eBooks. Stocks and News are onboard. There is Weather app, too. Apple also offers its office suite for free - Pages, Numbers and Keynote. iMovie and Clips are also onboard, so you can edit your videos - there is newly added support for Cinematic shorts captured on the new iPhone 13 mini camera.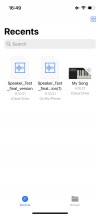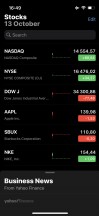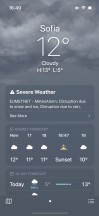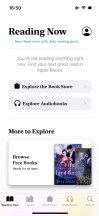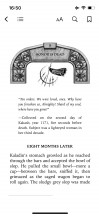 Files • Stocks • Weather • Books
Performance and benchmarks
The Apple iPhone 13 mini uses the latest Apple A15 Bionic chip, the same as the rest of the iPhone 13 series. It is the second 5nm Apple chip (second-gen 5nm TSMC process) and packs the whopping 15 billion transistors - that's 27% more than the A14 within the iPhone 12 phones.
The new A15 chip still relies on a hexa-core processor with 2 big Avalanche cores clocked at 3.23GHz and 4 small Blizzard cores working at 1.82GHz. The upgraded processor should deliver a 50% higher performance than the competition, whatever that means (Snapdragon 865 maybe?).
There is an improved 5-core Apple GPU for the Pro models and 4-core Apple GPU for the non-Pro devices such as our iPhone 13 mini.
The new A15 has a new 16 core Neural Engine, too, powering features such as on-device voice and image recognition and other advanced machine learning tasks. On top of that, there is a new ISP on board, twice the amount of cache, as well as a new display engine and new video encoders and decoders.
The iPhone 13 mini has 4GB of RAM, while the Pro models enjoy 6GB of RAM.
The Apple A15 Bionic also comes with Qualcomm's X60 5G modem.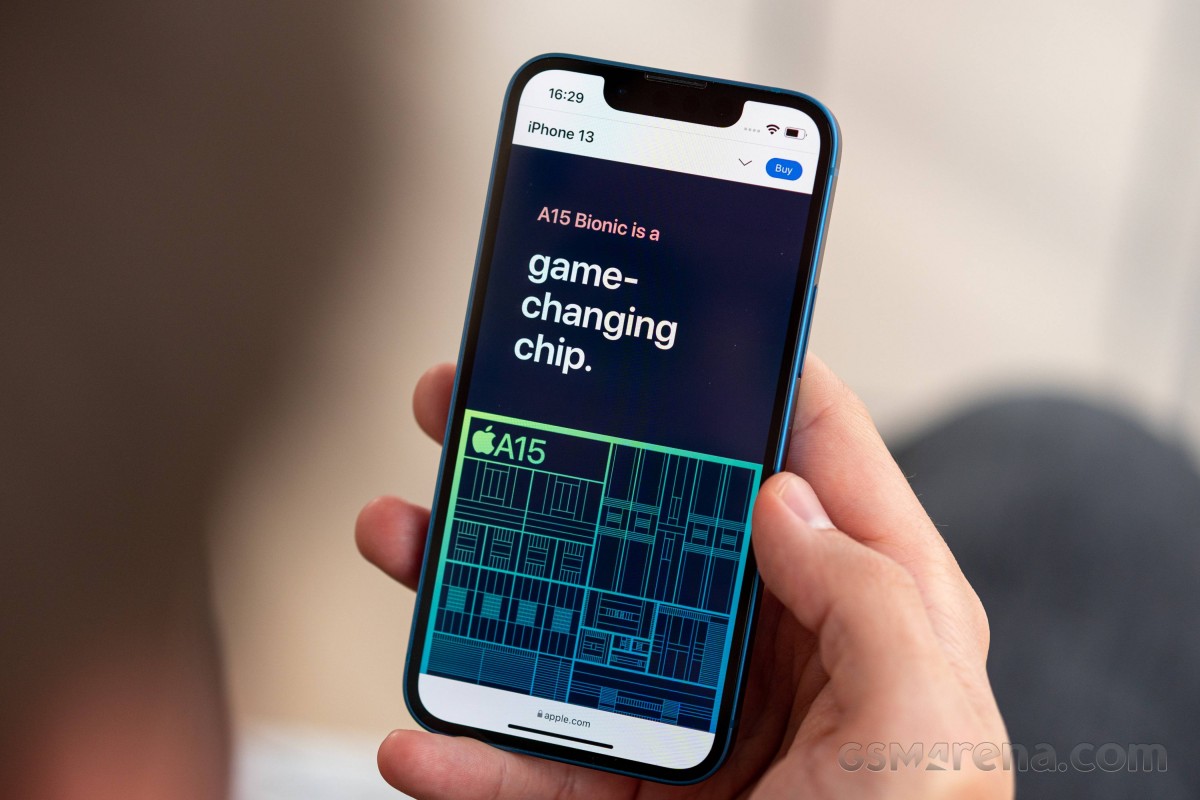 You bet the Apple A15 Bionic processor is the fastest mobile CPU to date, as it happens every year with Apple's hardware. It is way ahead of the Android competition. And it offers a 15% boost over the A14 in multi-core performance and a 10% jump in single-core operations.
GeekBench 5 (multi-core)
Higher is better
Apple iPhone 13 Pro
4687
Apple iPhone 13 mini
4681
Apple iPhone 12 mini
4174
Asus Zenfone 8
3604
Samsung Galaxy S21 5G
3238
Apple iPhone SE (2020)
3237
GeekBench 5 (single-core)
Higher is better
Apple iPhone 13 mini
1735
Apple iPhone 13 Pro
1709
Apple iPhone 12 mini
1599
Apple iPhone SE (2020)
1334
Asus Zenfone 8
1118
Samsung Galaxy S21 5G
1032
The iPhone 13 mini, just like the iPhone 13, packs an improved 4-core Apple GPU, while the Pro models offer an even faster 5-core GPU - we guess they need it for their 120Hz displays.
The 4-core GPU on the iPhone 13 mini is doing a marvelous job, and this phone will offer stellar gaming experience for the years to come.
GFX Manhattan ES 3.1 (offscreen 1080p)
Higher is better
Apple iPhone 13 Pro
181
Apple iPhone 13 mini
150
Apple iPhone 12 mini
131
Apple iPhone 11
121
Asus Zenfone 8
117
Samsung Galaxy S21 5G
97
GFX Car Chase ES 3.1 (offscreen 1080p)
Higher is better
Apple iPhone 13 Pro
119
Apple iPhone 13 mini
107
Apple iPhone 11
76
Apple iPhone 12 mini
73
Asus Zenfone 8
69
Samsung Galaxy S21 5G
60
3DMark Wild Life Vulkan 1.1 (offscreen 1440p)
Higher is better
Apple iPhone 13 mini
9199
Asus Zenfone 8
5666
Samsung Galaxy S21 5G
5412
We also ran CPU and GPU stability tests as we do for all our reviews lately.
First, we ran the CPU stress test (APSI Bench) for 30 minutes. The cooling system allowed the CPU to keep 74% of its maximum performance, which is outstanding for such a tiny glass phone, a thin one at that.
Then, we ran a GPU Stress Test via the 3D Mark Wild Life app. The iPhone 13 mini throttled down to 64% of its maximum performance when working at 100% for 20 minutes - not inspiring though still a good number.
The phone doesn't get dangerously hot during stress tests, but it does get noticeably warm.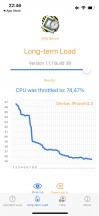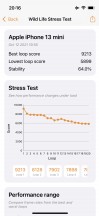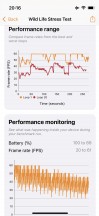 CPU stress test • GPU stress test
The iPhone 13 mini is great for gaming, believe it or not. The phone handles all games hassle-free, smoothly and with the best of graphics. It doesn't appear to be throttling in games and doesn't get hot while doing it, and it can keep offering such smooth gaming for at least 7-8 hours before its battery falls to critical levels.
The iPhone 13 mini employs the best mobile chip, and that's all anyone can hope for, especially in a small phone. Finally, 4GB RAM might seem inadequate for Android, but iOS and its apps manage perfectly fine with such capacity because of Apple's optimizations and the way of handling apps. Most games pause when minimized, and the worst that can happen is some of your minimized apps/games may need to restart if too much time has passed after you've minimized them. But this seems to be valid for any phone, Android and iOS alike, doesn't it?